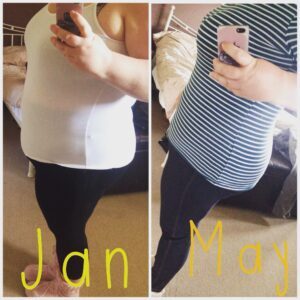 Hey all.. sorry I have not been about for a while.. I have been really busy with our holiday and my mum's wedding.
On the 24th April my mum finally married her lovely man of 15 years (they have only been engaged for 5!!!). It was an amazing day and it was followed quite nicely by the four of us jumping on a rather nice boat called "The explorer of the seas" for 10 days for a good old sail around the Canary islands.
During the 10 days of eating every single thing in sight I put on 10lb… yes 10! I went to the gym almost everyday too so i hate to think what it would of been if I hadn't of! But I literally lost 9lb in the week following the cruise so i think most of it was water..
Anyway I am all back on track now and my current weight loss is now 2 stone and 10lb! I am so close to that 3 stone award I can almost smell it!! I am already checking out what Hello kitty plush i can going to treat myself with when i reach it.
This morning i had a bit of a double take in the mirror.. I can really see my weight loss now 🙂 So thought I would share with you guys too!
Be good and have fun
Loadsa love Kirsty xx