Slimming World Essential products from the supermarket Aldi. Find lot's of  FREE and LOW ideas to help you create your shopping list.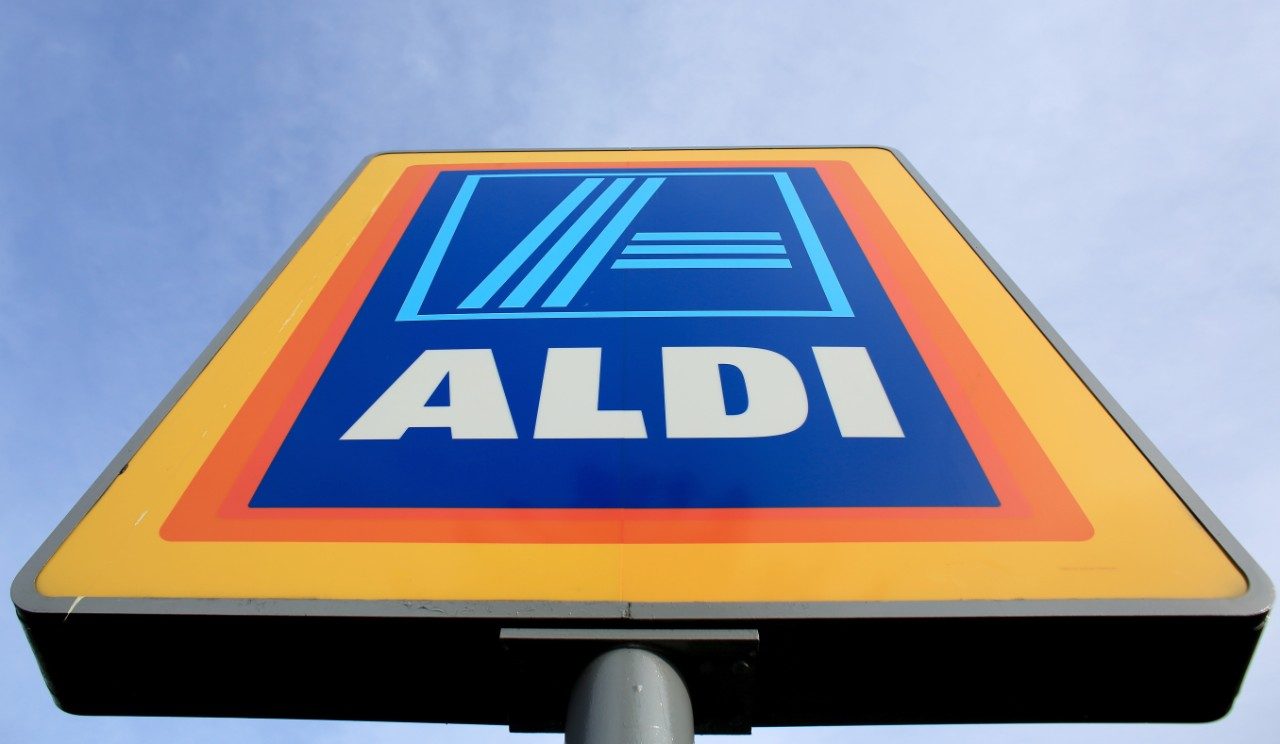 On this page you will find a huge list of Slimming World friendly, Syn free and Low Syn products available from the supermarket Aldi.
Please note: We do our best to keep this list up to date but products change regularly. This shopping list is for reference only, we always recommend using the Slimming World app to check the Syn values of products.
Find your local ALDI store here.
LIST UPDATED: 1st January 2021
SlimWell Ready Meals From Aldi
Aldi SlimWell Chicken & Chorizo-Style Sausage Paella, frozen [550g pack] – 1
Aldi SlimWell Chicken Chow Mein, frozen [550g pack] – 2
Aldi SlimWell Chicken Saag, frozen [500g pack] – 2
Aldi SlimWell Chicken Tikka Masala, frozen [500g pack] – 2
Aldi SlimWell Meatballs & Pasta, frozen [550g pack] – 2
Aldi SlimWell Smoky BBQ Chicken, frozen [500g pack] – 1
Aldi SlimWell Sweet & Sour Chicken, frozen [500g pack] – 1.5
Aldi SlimWell Sweet Potato Curry, frozen [550g pack] – 1.5
Aldi SlimWell Vegetable Biryani, frozen [550g pack] – 1
---
Baking/Cooking Essentials From Aldi
FREE:

 
Aldi Bramwells Distilled Vinegar – Free
Aldi Bramwells Malt Vinegar – Free
Aldi Bramwells Worcestershire Sauce – Free
Aldi Cucina Tomato Puree – Free

Aldi Stonemill All Purpose Seasoning –

 Free
Aldi Stonemill Basil  – Free
Aldi Stonemill Chilli Powder – Free
Aldi Stonemill Crushed Chilli – Free
Aldi Stonemill Cumin – Free
Aldi Stonemill Curry Powder, Medium – Free
Aldi Stonemill Garlic Granules – Free
Aldi Stonemill Garlic, Herbs & Tomato Seasoning Grinder – Free
Aldi Stonemill Ground Cinnamon – Free
Aldi Stonemill Ground Ginger – Free
Aldi Stonemill Mixed Herbs – Free
Aldi Stonemill Mixed Spice – Free
Aldi Stonemill Oregano – Free
Aldi Stonemill Paprika – Free
Aldi Stonemill Parsley – Free
Aldi Stonemill Peri Peri Seasoning  – Free
Aldi Stonemill Smoked Paprika  – Free
Aldi Stonemill Thyme – Free
Aldi Stonemill Turmeric – Free
Aldi Sweet Harvest Tomato Puree – Free
Aldi The Pantry Food Colouring, all varieties – Free
Aldi The Pantry Lemon Juice – Free
Aldi The Pantry Sucralose Granulated Sweetener (1 level tsp) – Free
Aldi The Pantry Stevia Granulated Sweetener (1 level tsp) – Free
Aldi The Pantry Sucralose Sweetener Tablets 300 pack (per tablet) – Free
Aldi The Pantry Vanilla Extract – Free
Aldi Quixo Beef Stock Cubes – Free
Aldi Quixo Vegetable Stock Cubes – Free
Aldi Quixo Beef Stock Pots – Free
Aldi Quixo Chicken Stock Pots – Free
Aldi Quixo Vegetable Stock Pots – Free
Aldi Bramwells Barbecue Marinade (35g sachet) – 6

Aldi Bramwells Barbecue Seasoning (30g sachet) –

4.5
Aldi Bramwells Cheddar Cheese Sauce Mix, dried (37g sachet) – 8
Aldi Bramwells Chilli Con Carne Seasoning Mix, dried (50g sachet) – 7
Aldi Bramwells Chinese Marinade (35g sachet) – 6

Aldi Bramwells Chinese Seasoning (30g sachet) –

5
Aldi Bramwells Katsu Curry Crumb (35g sachet) – 6
Aldi Bramwells Curry Sauce, dried (1 level tbsp) – 3
Aldi Bramwells Honey Glaze Seasoning Rub (35g sachet) – 6

Aldi Bramwells Marinade in a Bag, Garlic & Black Pepper (250g pouch) –

13.5

Aldi Bramwells Marinade in a Bag, Peri Peri (250g pouch) –

5.5
Aldi Bramwells Meal Mix, Chicken Casserole (48g sachet) – 7.5
Aldi Bramwells Recipe Mix, Chicken Chasseur , dried (45g pack) – 7

Aldi Bramwells Roast Potato Seasoning Mix, dried (35g sachet) –

5.5
Aldi Bramwells Meal Mix, Shepherds Pie, dried (35g sachet) – 5.5
Aldi Bramwells Mediterranean Style Vegetable Seasoning Mix, dried (35g sachet) – 5
Aldi Bramwells Peri-Peri Sauce & Marinade, Mango & Lime (1 level tbsp) – 1.5
Aldi Bramwells Seasoning Mix, Beef Casserole, dried (40g sachet) – 6
Aldi Bramwells Shake n Bake, Cajun Chicken Seasoning Mix, dried (45g sachet) – 8.5
Aldi Bramwells Shake n Bake, BBQ Chicken Seasoning Mix, dried (19g sachet) – 3.5
Aldi Bramwells Shake n Bake, Mediterranean Chicken Seasoning Mix, dried (33g sachet) – 6.5
Aldi Bramwells Southern Fried Wedges Seasoning Mix, dried (35g sachet) – 5.5

Aldi Bramwells Summer Lemon & Herb Seasoning Mix (30g sachet) –

5.5
Aldi Stonemill American BBQ Seasoning [1 level tsp] – 0.5
Aldi Stonemill Cajun Seasoning [1 level tsp] – 0.5
Aldi Stonemill Chicken & Steak Seasoning [1 level tsp] – 0.5
Aldi Stonemill Chicken Seasoning [1 level tsp] – 0.5
Aldi Stonemill Chilli Puree [1 level tbsp] – 0.5
Aldi Stonemill Chinese 5 Spice [1 level tsp] – 0.5
Aldi Stonemill Chip Seasoning [1 level tsp] – 0.5
Aldi Stonemill Curry Spice Blend, Madras [1 level tsp] – 0.5
Aldi Stonemill Curry Spice Blend, Tikka [1 level tsp] – 0.5
Aldi Stonemill Garlic Puree [1 level tsp] – 0.5
Aldi Stonemill Ginger Puree [1 level tbsp] – 0.5
Aldi Stonemill Mixed Herbs Puree [1 level tsp] – 0.5
Aldi Stonemill Seafood & Fish Seasoning [1 level tsp] – 0.5
Aldi Stonemill Shake 'n' Sprinkle, Deep South Brown Sugar [1 level tsp] – 0.5
Aldi Stonemill Shake 'n' Sprinkle, Fajita Seasoning [1 level tsp] – 0.5
Aldi Stonemill Shake 'n' Sprinkle, Pulled Pork Seasoning [1 level tsp] – 0.5
Aldi Stonemill Shake 'n' Sprinkle, Spanish Seasoning [1 level tsp] – 0.5
Aldi Stonemill Shake 'n' Sprinkle, Steak Seasoning [1 level tsp] – 0.5
Aldi Stonemill Squeezy Ginger [2 level tbsp] – 0.5
Aldi The Foodie Market Organic Coconut Flour (25g) – 3.5
Aldi The Pantry Bicarbonate of Soda [1 level tsp] – 0.5
Aldi The Pantry Caster Sugar [1 level tbsp] – 3
Aldi The Pantry Caster Sugar [1 level tsp] – 1
Aldi The Pantry Caster Sugar [25g] – 5
Aldi The Pantry Chocolate Chips, Dark [25g] – 6
Aldi The Pantry Chocolate Chips, Milk [25g] – 6.5
Aldi The Pantry Chocolate Chips, White [25g] – 6.5
Aldi The Pantry Chocolate Flavour Frosting [25g] – 5
Aldi The Pantry Chocolate Orange Flavour Frosting [25g] – 5
Aldi The Pantry Cocoa Powder [1 level tbsp] – 2.5
Aldi The Pantry Cocoa Powder [1 level tsp] – 1
Aldi The Pantry Cornflour [1 level tbsp] – 2.5
Aldi The Pantry Cornflour [1 level tsp] – 1
Aldi The Pantry Cream Cheese Flavour Frosting [25g] – 5
Aldi The Pantry Demerara Cane Sugar [1 level tbsp] – 3
Aldi The Pantry Demerara Cane Sugar [1 level tsp] – 1
Aldi The Pantry Demerara Cane Sugar [25g] – 5
Aldi The Pantry Golden Syrup [1 level tbsp] – 2.5
Aldi The Pantry Granulated Sugar [1 level tbsp] – 3
Aldi The Pantry Granulated Sugar [1 level tsp] – 1
Aldi The Pantry Granulated Sugar [25g] – 5
Aldi The Pantry Hundreds & Thousands [1 level tsp] – 1
Aldi The Pantry Icing Sugar [1 level tbsp] – 3
Aldi The Pantry Icing Sugar [1 level tsp] – 1
Aldi The Pantry Icing Sugar [25g] – 5
Aldi The Pantry Luxury Dark Cooking Chocolate 150g bar [per square] – 1.5
Aldi The Pantry Luxury Milk Cooking Chocolate 150g bar [per square] – 1.5
Aldi The Pantry Luxury White Cooking Chocolate 150g bar [per square] – 1.5
Aldi The Pantry Mincemeat 822g jar [1 level tbsp] – 2
Aldi The Pantry Mini Meringue Pieces [25g] – 6
Aldi The Pantry Mini Milk Chocolate Jazzies [25g] – 6
Aldi The Pantry Mixed Fruit, dried [30g] – 4.5
Aldi The Pantry Pink & White Mini Marshmallows [25g] – 4
Aldi The Pantry Pink Glimmer Sugar [25g] – 5
Aldi The Pantry Plain Flour (1 level tbsp) – 2
Aldi The Pantry Plain Flour (1 level tsp) – 1
Aldi The Pantry Plain Flour (25g) – 5
Aldi The Pantry Ready to Roll White Marzipan [25g] – 5.5
Aldi The Pantry Salted Caramel Fudge Pieces [25g] – 5.5
Aldi The Pantry Self Raising Flour (1 level tbsp) – 3
Aldi The Pantry Self Raising Flour (1 level tsp) – 1
Aldi The Pantry Self Raising Flour (25g) – 4.5
Aldi The Pantry Strong White Bread Flour (1 level tbsp) – 2.5
Aldi The Pantry Strong White Bread Flour (1 level tsp) – 1
Aldi The Pantry Strong White Bread Flour (25g) – 4.5
Aldi The Pantry Strong Wholemeal Bread Flour (1 level tbsp) – 2.5
Aldi The Pantry Strong Wholemeal Bread Flour (1 level tsp) – 1
Aldi The Pantry Strong Wholemeal Bread Flour (25g) – 4
Aldi The Pantry Sugar Crunch Decorations [25g] – 5
Aldi The Pantry Vanilla Flavour Frosting [25g] – 5.5
Aldi The Pantry White Chocolate & Raspberry Mix [25g] – 6
Aldi The Pantry White Chocolate Jazzies [25g] – 6
Aldi The Pantry Winter Spice Mix [25g] – 6
---
Bread/Rolls/Bakery From Aldi
HEALTHY B Options Marked in RED
Aldi Ballymore Crust 100% Wholemeal Bread 400g loaf (1 slice] – 4.5
Aldi Ballymore Crust 100% Wholemeal Bread 800g loaf (1 slice] – 4
Aldi Ballymore Crust Bagel Slims, Multiseed & Cereal 6 pack (55g each] – 7.5
Aldi Ballymore Crust Brown Bagel Thins 6 pack (55g each] – 7.5
Aldi Ballymore Crust Brown Bloomer 800g loaf (1 slice] –

HEX-B

or 5.5
Aldi Ballymore Crust Brown Bloomer 800g loaf (1 slice] – 5.5
Aldi Ballymore Crust Brown Finger Rolls 5 pack (50g each] – 6
Aldi Ballymore Crust Bungees Hot Dog Rolls 6 pack (70g each] – 9
Aldi Ballymore Crust Gourmet Burger Buns 4 pack (70g each] – 8.5
Aldi Ballymore Crust Multigrain Bread 400g loaf (1 slice] – 5
Aldi Ballymore Crust New York Style Sesame Bagels 4 pack (90g each] – 13
Aldi Ballymore Crust Plain Bagel Thins 6 pack (55g each] – 7.5
Aldi Ballymore Crust Plain Bagels 5 pack (90g each] – 12
Aldi Ballymore Crust Potato Farls 4 pack (70g each] – 6.5
Aldi Ballymore Crust Simply Both White Bread, Medium Sliced 800g loaf (1 slice] – 4
Aldi Ballymore Crust Thins, Brown Bread Squares with Seeds 6 pack (1 x 41g] –

HEX-B

or 6
Aldi Ballymore Crust Thins, Brown Bread Squares with Seeds 6 pack (41g each] – 6
Aldi Ballymore Crust Thins, Burger Buns 4 pack (35g each] – 4.5
Aldi Ballymore Crust Thins, Multigrain Bread Squares 6 pack (1 x 42g] –

HEX-B

or 6
Aldi Ballymore Crust Thins, Multigrain Bread Squares 6 pack (42g each] – 6
Aldi Ballymore Crust Thins, White Bread Squares 6 pack (35g each] – 5
Aldi Ballymore Crust Thins, Wholemeal Bread Squares 6 pack (38g each] – 4.5
Aldi Ballymore Crust Wheaten Loaf, Sliced 500g loaf (1 slice] – 5
Aldi Ballymore Crust White Soft Grain Sub Rolls 4 pack (70g each] – 9.5
Aldi Ballymore Crust Wholegrain Bread 800g loaf (1 slice] – 4.5
Aldi Ballymore Crust Wholemeal Burger Buns 4 pack (70g each] – 10.5
Aldi Ballymore Crust Wholemeal Pitta Breads 6 pack (1 x 63g] –

HEX-B

or 7.5
Aldi Ballymore Crust Wholemeal Pitta Breads 6 pack (63g each] – 7.5
Aldi Ballymore Crust Wholemeal Soft Grain Sub Rolls 4 pack (70g each] – 10
Aldi Ballymore Crust Wholemeal Sub Rolls twin pack (120g each] – 16.5
Aldi Ballymore Crust Wholemeal Thins, Tasty Wholemeal Sliced Bread 600g loaf (1 slice] – 3
Aldi Ballymore Crust Wholemeal Thins, Tasty Wholemeal Sliced Bread 600g loaf (2 slices] –

HEX-B

or 6
Aldi Ballymore Crust Wholewheat Brown Bread, Sliced 454g loaf (1 slice] – 4

Aldi Everyday Essentials Medium Sliced Wholemeal Bread 800g loaf (1 slice) – 3.5
Aldi Everyday Essentials Medium Sliced Wholemeal Bread 800g loaf (2 slices) –

HEX-B

or 7

Aldi Everyday Essentials White Bread 800g loaf (1 slice) –

4
Aldi Village Bakery All Butter Scones 6 pack [60g each] – 11.5
Aldi Village Bakery Bake at Home, Brown Baguettes, twin pack 150g each [75g serving] – 10
Aldi Village Bakery Bake at Home, Brown Bread Rolls 6 pack [45g each] – 6
Aldi Village Bakery Bake at Home, Seeded Dinner Rolls 8 pack [63g each] – 8.5
Aldi Village Bakery Bake at Home, White Baguettes, twin pack 150g each [75g serving] – 10.5
Aldi Village Bakery Bake at Home, White Bread Rolls 4 pack [70g each] – 10
Aldi Village Bakery Bake at Home. White Dinner Rolls 8 pack [63g each] – 8
Aldi Village Bakery Barbecue Flatbuns 4 pack [80g each] – 11
Aldi Village Bakery Both in One, White & Wholegrain Bread 800g loaf [1 slice] – 4.5
Aldi Village Bakery Both in One, White & Wholemeal Bread 800g loaf [1 slice] – 4.5
Aldi Village Bakery Both in One, White & Wholemeal Bread 800g loaf [1 slice] – 4.5
Aldi Village Bakery Brioche Burger Buns 4 pack [58g each] – 9
Aldi Village Bakery Cheesy Topped Rolls 4 pack [75g each] – 10.5
Aldi Village Bakery Chocolate Filled Crepes 6 pack [30g each] – 7
Aldi Village Bakery Cinnamon & Raisin Bagels 5 pack [85g each] – 11.5
Aldi Village Bakery Danish White Bread 400g loaf [1 slice] – 2.5
Aldi Village Bakery Extra Large Teacakes 4 pack [92g each] – 13
Aldi Village Bakery Fluffy Crumpets 6 pack [56g each] – 6
Aldi Village Bakery Folded Flatbreads, White 6 pack [35g each] – 5.5
Aldi Village Bakery Fruit Loaf 400g loaf [1 slice] – 4.5
Aldi Village Bakery Fruity Lemon & Raisin Pancakes 6 pack [35g each] – 4.5
Aldi Village Bakery Fruity Teacakes 4 pack [68g each] – 9
Aldi Village Bakery Giant Buttermilk Pancakes 4 pack [65g each] – 7.5
Aldi Village Bakery Giant Crumpets 2 pack [100g each] – 9
Aldi Village Bakery Giant Crumpets, Both in One 2 pack [100g each] – 8.5
Aldi Village Bakery Hot Cross Buns 6 pack [70g each] – 9
Aldi Village Bakery Iced Finger Buns 6 pack [40g each] – 6.5
Aldi Village Bakery Italian Style Ciabatta Rolls 4 pack [90g each] – 11.5
Aldi Village Bakery Italian Style Panini Rolls 4 pack [90g each] – 12
Aldi Village Bakery Large Soft White Baps 4 pack [95g each] – 12.5
Aldi Village Bakery Large Soft Wholemeal Baps 4 pack [95g each] – 11.5
Aldi Village Bakery Lightly Seeded Loaf 800g loaf [1 slice] – 5.5
Aldi Village Bakery Malted Bloomer 800g loaf [1 slice] – 7
Aldi Village Bakery Mini Tortilla Wraps, Both in One 8 pack [31g each] – 4.5
Aldi Village Bakery Mini Wholemeal Pitta Breads 12 pack [20g each] – 2.5
Aldi Village Bakery Mini Wholemeal Pitta Breads 12 pack [3 x 20g pittas] –

HEX-B

or 7.5
Aldi Village Bakery Multigrain Toasting Muffins 4 pack [55g each] – 6.5
Aldi Village Bakery Multiseed Deli Rolls 4 pack [65g each] – 9.5
Aldi Village Bakery Oat Topped Wholemeal Deli Rolls 4 pack [1 x 65g] –

HEX-B

or 7.5
Aldi Village Bakery Oat Topped Wholemeal Deli Rolls 4 pack [65g each] – 7.5
Aldi Village Bakery Oven Bottom Muffins 4 pack [68g each] – 8.5
Aldi Village Bakery Plain Bagel Thins 6 pack [45g each] – 6
Aldi Village Bakery Plain Bagels 5 pack [85g each] – 11
Aldi Village Bakery Sandwich Thins, Soft Brown 6 pack [40g each] – 4.5
Aldi Village Bakery Sandwich Thins, Soft White 6 pack [40g each] – 5
Aldi Village Bakery Sandwich Thins, Super Seeded 6 pack [40g each] – 4.5
Aldi Village Bakery Scotch Pancakes 6 pack [28g each] – 3.5
Aldi Village Bakery Scotch Pancakes 6 pack [32g each] – 4.5
Aldi Village Bakery Seeded Burger Buns 4 pack [76g each] – 10
Aldi Village Bakery Seeded White Loaf 400g loaf [1 slice] – 4.5
Aldi Village Bakery Soft Medium Sliced White Bread 800g loaf [1 slice] – 4.5
Aldi Village Bakery Soft Medium Sliced Wholemeal Bread 800g loaf [1 slice] – 5
Aldi Village Bakery Soft Medium Sliced Wholemeal Bread 800g loaf [1 slice] –

HEX-B

or 5
Aldi Village Bakery Soft Sliced Both in One Rolls 6 pack [60g each] – 7
Aldi Village Bakery Soft White Finger Rolls 6 pack [48g each] – 6
Aldi Village Bakery Soft White Oven Bottom Muffins 4 pack [68g each] – 8.5
Aldi Village Bakery Soft White Toastie Bread 800g loaf [1 slice] – 5.5
Aldi Village Bakery Soft White Toasting Muffins 4 pack [68g each] – 7.5
Aldi Village Bakery Splendid Seeds Sliced Bread 800g loaf [1 slice] – 5.5
Aldi Village Bakery Sultana Scones 6 pack [60g each] – 9.5
Aldi Village Bakery Super Seeded Deli Rolls 4 pack [70g each] – 9.5
Aldi Village Bakery Super Soft Mini Wraps, Original 8 pack [31g each] – 4.5
Aldi Village Bakery Super Soft Seeded Wraps 8 pack [64g each] – 10
Aldi Village Bakery Super Soft White Rolls 6 pack [63g each] – 7.5
Aldi Village Bakery Super Soft Wholemeal Rolls 6 pack [1 x 63g] –

HEX-B

or 6.5
Aldi Village Bakery Super Soft Wholemeal Rolls 6 pack [63g each] – 6.5
Aldi Village Bakery Super Soft Wraps, Both in One 8 pack [64g each] – 10
Aldi Village Bakery Super Soft Wraps, Mediterranean Herb 8 pack [62g each] – 8.5
Aldi Village Bakery Super Soft Wraps, Original 8 pack [64g each] – 10
Aldi Village Bakery Super Soft Wraps, Seeded 8 pack [62g each] – 8.5
Aldi Village Bakery Super Soft Wraps, Spinach 8 pack [64g each] – 9
Aldi Village Bakery Super Soft Wraps, Wholemeal 8 pack [64g each] – 9
Aldi Village Bakery Syrup & Sultana Pancakes 6 pack [32g each] – 4.5
Aldi Village Bakery The Great Tiger Bloomer 800g loaf [1 slice] – 8
Aldi Village Bakery The Honey Soaked Seeded Bloomer 800g loaf [1 slice] – 8
Aldi Village Bakery The Traditional Malted Bloomer Rolls 4 pack [60g each] – 7
Aldi Village Bakery The Wholemeal Rustic Bloomer 400g pack [1 slice] – 4
Aldi Village Bakery Toasting Waffles 12 pack [21g each] – 5
Aldi Village Bakery Wheat Toasting Muffins 4 pack [55g each] – 5.5
Aldi Village Bakery White Pittas 6 pack [60g each] – 7.5
Aldi Village Bakery White Sliced Rolls 12 pack [56g each] – 7
Aldi Village Bakery White Toastie Bread 400g loaf [1 slice] – 3.5
Aldi Village Bakery Wholemeal Pittas 6 pack [1 x 60g] –

HEX-B

or 7.5
Aldi Village Bakery Wholemeal Pittas 6 pack [60g each] – 7.5
Aldi Village Bakery Wholemeal Pittas 6 pack [70g each] – 8.5


---
Canned/Tinned/Cartons/Jars From Aldi
FREE:
Aldi Bramwells Jackfruit in Water, canned – Free

Aldi Bramwells Pickled Gherkins – Free
Aldi Bramwells Pickled Silverskin Onions – Free

Aldi Bramwells Sliced Beetroot  – Free
Aldi Bramwells Sweet Silverskin Onions in Spirit Vinegar – Free
Aldi Bramwells Whole Baby Beetroot – Free
Aldi Corale No Added Sugar Baked Beans, canned – Free
Aldi Cucina Chunky Chopped Tomatoes 400g can – Free
Aldi Everyday Essentials Baked Beans in Tomato Sauce, canned – Free
Aldi Everyday Essentials Chopped Tomatoes, canned – Free
Aldi Everyday Essentials Garden Peas, canned – Free
Aldi Everyday Essentials Peeled Plum Tomatoes, canned – Free
Aldi Everyday Essentials Peeled Potatoes, canned – Free
Aldi Everyday Essentials Red Kidney Beans, canned – Free
Aldi Everyday Essentials Tuna Chunks in Brine, canned – Free
Aldi Four Seasons Black Beans in Water, canned – Free
Aldi Four Seasons Butter Beans in Water, canned – Free
Aldi Four Seasons Cannellini Beans in Water, canned – Free
Aldi Four Seasons Chickpeas, canned – Free
Aldi Four Seasons Green Lentils in Water, canned – Free
Aldi Four Seasons Marrowfat Peas, canned – Free
Aldi Four Seasons Mildly Spiced Taco Mixed Beans in a Tomato Sauce, canned – Free
Aldi Four Seasons Mixed Beans in Water, canned – Free
Aldi Four Seasons Mushy Peas, canned – Free
Aldi Four Seasons Red Kidney Beans in Water, canned – Free
Aldi Four Seasons Sliced Carrots in Water, canned – Free
Aldi Four Seasons Sliced Mushrooms in Water, canned – Free
Aldi Four Seasons Small New Potatoes in Water, canned – Free
Aldi Four Seasons Spicy Red Kidney Beans in Chilli Sauce, canned – Free
Aldi Four Seasons Supersweet Sweetcorn, canned – Free
Aldi Ocean Rise Mackerel in Tomato Sauce, canned – Free
Aldi Ocean Rise Red Salmon, canned – Free
Aldi Ocean Rise Salmon Fillets in Chilli & Lemon Tomato Sauce, canned twin pack – Free
Aldi Ocean Rise Sardines in Tomato Sauce, canned – Free
Aldi Ocean Rise Tuna Chunks in Brine, canned – Free
Aldi Ocean Rise Wild Pacific Pink Salmon, canned – Free
Aldi Specially Selected Cherry Tomatoes, canned – Free
Aldi Sweet Harvest Baby Whole Carrots, canned – Free
Aldi Sweet Harvest Butter Beans in Water, canned – Free
Aldi Sweet Harvest Cannellini Beans in Water, canned – Free
Aldi Sweet Harvest Chopped Tomatoes, canned – Free
Aldi Sweet Harvest Garden Peas, canned – Free
Aldi Sweet Harvest Mushy Peas, canned – Free
Aldi Sweet Harvest Peeled Plum Tomatoes, canned – Free
Aldi Sweet Harvest Processed Peas, canned – Free
Aldi Sweet Harvest Sliced Carrots, canned – Free
Aldi Sweet Harvest Small New Potatoes in Water, canned – Free
Aldi Sweet Harvest Sweetcorn, No Added Salt or Sugar, canned – Free
Aldi The Fishmonger Mackerel in Tomato Sauce – Free
Aldi The Fishmonger Pink Salmon, canned – Free
Aldi The Fishmonger Red Salmon, canned – Free
Aldi The Fishmonger Sardines in Tomato Sauce, canned – Free
Aldi The Fishmonger Tuna Chunks in Brine, canned – Free
Aldi The Fishmonger Tuna Chunks In Spring Water, canned – Free
Aldi The Fishmonger Tuna Steaks in Brine, canned – Free
Aldi The Fishmonger Tuna Steaks in Spring Water, canned – Free
LOW: 
Aldi Ashfield Farm British Boozy Bangers, canned 4 pack [100g each] – 4.5
Aldi Asia Specialities Coconut Milk, canned [1 level tbsp] – 1.5
Aldi Asia Specialities Coconut Milk, Reduced Fat, canned [1 level tbsp] – 0.5 
Aldi Bilash Chicken Curry, Hot [400g can] – 10
Aldi Bilash Chicken Curry, Mild [400g can] – 9.5
Aldi Bilash Chickpea Dahl [400g can] – 1.5
Aldi Bilash Vegetable Curry, Bombay Potato in a Spicy Tomato & Onion Sauce [400g can] – 8.5
Aldi Bilash Vegetable Curry, Chickpea Dahl in a Spicy Tomato & Onion Sauce [400g can] – 1
Aldi Bramwells Beef Ravioli in a Juicy Tomato Sauce [400g can] – 3.5
Aldi Bramwells Carrot & Coriander Soup [400g can] – 3
Aldi Bramwells Chicken & Noodle Soup [400g can] – 2
Aldi Bramwells Chunky Soup, Beef & Veg [400g can] – 4.5
Aldi Bramwells Chunky Soup, Chicken & Veg [400g can] – 4
Aldi Bramwells Chunky Soup, Minted Lamb [400g can] – 3.5
Aldi Bramwells Chunky Soup, Vegetable, canned [400g can] – 2.5
Aldi Bramwells Classic Chicken in White Sauce [400g can] – 1
Aldi Bramwells Classic Stewed Steak [400g can] – 9.5
Aldi Bramwells Corned Beef, canned 340g can [85g serving] – 3.5
Aldi Bramwells Cream of Chicken Soup [400g can] – 6.5
Aldi Bramwells Cream of Mushroom Soup [400g can] – 6
Aldi Bramwells Cream of Tomato Soup [400g can] – 4.5
Aldi Bramwells Hot Chicken Curry [392g can] – 9.5
Aldi Bramwells Meatballs in a Rich Gravy [380g can] – 11.5
Aldi Bramwells Minestrone Soup [400g can] – 1.5
Aldi Bramwells Oxtail Soup [400g can] – 3
Aldi Bramwells Short Cut Spaghetti in Tomato Sauce [400g can] – 1.5
Aldi Bramwells Tomato & Basil Soup [400g can] – 4.5
Aldi Bramwells Vegetable Soup [400g can] – 2.5
Aldi Corale Baked Beans & Pork Sausages in a Rich Tomato Sauce [420g can] – 5.5
Aldi Corale Beef Ravioli in Tomato Sauce [400g can] – 3.5
Aldi Corale Macaroni Cheese [410g can] – 8
Aldi Corale Spaghetti in Rich Tomato Sauce [400g can] – 2
Aldi Cucina Tuna with Tomatoes, Olives & Capers 160g can [80g serving] – 11.5
Aldi Delicious Desserts Rice Pudding 400g can [200g serving] – 9.5
Aldi Dessert Menu Evaporated Milk, canned [1 level tbsp] – 1
Aldi Duncan's Carrot & Coriander Soup [400g can] – 4.5
Aldi Duncan's Chicken Broth [400g can] – 2.5
Aldi Duncan's Chicken Noodle Soup [400g can] – 2
Aldi Duncan's Minestrone Soup [400g can] – 2
Aldi Duncan's Spicy Parsnip Soup [400g can] – 3.5
Aldi Everyday Essentials Peach Slices in Light Syrup, canned [per 100g] – 3.5
Aldi Everyday Essentials Rice Pudding 400g can [200g serving] – 7.5
Aldi Everyday Essentials Spaghetti Hoops in Tomato Sauce [410g can] – 1.5
Aldi Four Seasons Fruit Cocktail in Juice, canned [per 100g] – 2
Aldi Four Seasons Fruit Cocktail in Light Syrup, canned [per 100g] – 3.5
Aldi Four Seasons Peach Slices in Juice, canned [per 100g] – 2
Aldi Four Seasons Peach Slices in Light Syrup, canned [per 100g] – 3
Aldi Four Seasons Prunes in Juice, canned [per 100g] – 4
Aldi Four Seasons Sweet Mandarin Segments in Juice, canned [per 100g] – 1.5
Aldi Four Seasons Sweet Pear Halves in Juice 410g can [per 100g] – 3
Aldi Four Seasons Sweet Pineapple Slices in Juice, canned [per 100g] – 2.5
Aldi Grapefruit Segments 540g can [per 100g] – 3.5
Aldi Hunters Bockwurst Sausages, canned 5 pack [50g each] – 5
Aldi Hunters Chicken in White Sauce [400g can] – 10
Aldi Hunters Chilli Con Carne [400g can] – 7.5
Aldi Hunters Chopped Pork & Ham 300g can [per 100g] – 8.5
Aldi Hunters Corned Beef 340g can [per 100g] – 4
Aldi Hunters Haggis 392g can [per 100g] – 4.5
Aldi Hunters Hot Chicken Curry, canned [392g can] – 9.5
Aldi Hunters Irish Stew [400g can] – 8.5
Aldi Hunters Meatballs in Gravy [380g can] – 9
Aldi Hunters Mild Chicken Curry, canned [392g can] – 8
Aldi Hunters Stewed Steak, canned [400g can] – 6.5
Aldi Ocean Rise Fillets of Anchovies in Olive Oil, Drained [50g can] – 0.5 
Aldi Ocean Rise Herring Fillets in Mango & Peppercorn Sauce [200g can] – 4
Aldi Ocean Rise Herring Fillets in Tomato Sauce [200g can] – 2.5
Aldi Ocean Rise Herring with Pineapple in Curry Sauce [200g can] – 4.5
Aldi Ocean Rise Pole & Line Caught Tuna Steaks in Sunflower Oil [200g can] – 7
Aldi Ocean Rise Sardines in Sunflower Oil, Drained [125g can] – 2.5
Aldi Ocean Rise Tuna Chunks in Sunflower Oil, canned [160g can] – 4
Aldi Ocean Rise Tuna Flakes in Thai Dressing [85g can] – 4.5
Aldi Ocean Rise Tuna Flakes with Chilli & Onion Dressing [85g can] – 5
Aldi Ocean Rise Tuna Flakes with Lemon & Black Pepper Dressing [85g can] – 1.5
Aldi Ocean Rise Tuna Flakes with Sundried Tomato & Basil Dressing, canned [85g can] – 2
Aldi Ocean Rise Tuna Mix, Tomato & Onion [85g can] – 1
Aldi Ready, Set… Cook! Coconut Milk, Reduced Fat, canned [1 level tbsp] – 0.5
Aldi Ready, Set… Cook! Coconut Milk, Reduced Fat, canned [per 100ml] – 3.5
Aldi Ready, Set… Cook! Rich & Creamy Coconut Milk, canned [1 level tbsp] – 1.5
Aldi Ready, Set… Cook! Rich & Creamy Coconut Milk, canned [per 100ml] – 8.5
Aldi Soupreme Classics, Cream of Chicken Soup [400g can] – 7.5
Aldi Soupreme Classics, Cream of Mushroom Soup [400g can] – 6
Aldi Soupreme Classics, Cream of Tomato Soup [400g can] – 5
Aldi Soupreme Classics, Oxtail Soup [400g can] – 2.5
Aldi Soupreme Classics, Vegetable Soup [400g can] – 2
Aldi Soupreme Creations, Carrot & Coriander Soup [400g can] – 2.5
Aldi Soupreme Creations, Chicken & Mushroom [400g can] – 7
Aldi Soupreme Creations, Tomato & Basil Soup [400g can] – 4.5
Aldi Specially Selected Butternut Squash & Smoked Bacon Soup [400g can] – 8.5
Aldi Specially Selected Cajun Sweet Potato & Lentil Soup [400g can] – 3
Aldi Specially Selected Cream of Chicken & Beechwood Smoked Bacon Soup [380g can] – 6
Aldi Specially Selected Masala Spiced Cauliflower Soup [400g can] – 7
Aldi Specially Selected Pea, Edamame & Mint Soup, canned [400g can] – 3
Aldi Specially Selected Sundried Tomato, Lentil & Smoked Paprika Soup [380g can] – 3
Aldi Specially Selected Thai Chicken Soup [380g can] – 7
Aldi Specially Selected Tomato & Chorizo Soup [400g can] – 10
Aldi Sweet Valley Mandarin Segments in Juice, canned [per 100g] – 2
Aldi Sweet Valley Pineapple Slices in Juice, canned [per 100g] – 3.5
Aldi The Fishmonger Anchovies in Extra Virgin Olive Oil, canned [per 100g] – 0.5
Aldi The Fishmonger Fusions, Chilli & Garlic Tuna, canned [80g can] – 2.5
Aldi The Fishmonger Fusions, Jalapeno Tuna, canned [80g can] – 3
Aldi The Fishmonger Fusions, Lemon & Thyme Tuna, canned [80g can] – 4.5
Aldi The Fishmonger Fusions, Soy & Ginger Tuna, canned [80g can] – 3.5
Aldi The Fishmonger Mackerel in Sunflower Oil, Drained [125g can] – 1
Aldi The Fishmonger Sardines in Sunflower Oil, canned [125g can] – 2.5
Aldi The Fishmonger Tuna Fillets in Extra Virgin Olive Oil, canned [111g can] – 3.5
Aldi The Fishmonger Tuna Steaks in Sunflower Oil [120g can] – 2.5
Aldi Viva Espana, Calamari in Tomato Sauce [111g can] – 1
---
Cheese From Aldi
FREE: 
Aldi The Cheese Emporium Quark, Fat Free –

 Free
Aldi Glen Lochy Cottage Cheese with Pineapple, Low Fat – Free
Aldi The Cheese Emporium Cottage Cheese with Onion & Chive, Low Fat – Free
Aldi The Cheese Emporium Fat Free Cottage Cheese – Free
LOW:
Healthy A marked in RED
Aldi Ardagh Grated Irish Cheese, Reduced Fat 250g pack (25g) – 4
Aldi Ardagh Lighter Mature Red Cheese Slices 10 pack (20g slice) – 3
Aldi Bavarian Soft Cheese with Garlic & Herbs 150g pack (25g) – 5.5
Aldi Cowbelle Cheese Triangles 8 pack (17.5g each) – 2.5
Aldi Cowbelle Light Cheese Triangles 8 pack (17.5g each) – 1.5
Aldi Cucina Italian Grated Cheese (25g) – 6
Aldi Emporium Vanilla Quark (250g pot) – 4.5
Aldi Everyday Essentials Cheese Singles 10 pack (20g slice) – 3
Aldi Lyttos Cheese Cubes in Oil with Olives, chilled 375g pack (25g) – 3.5
Aldi Lyttos Cheese Cubes in Oil with Red Pepper & Chilli, chilled 375g pack (25g) – 3.5
Aldi Lyttos Cheese Cubes in Oil, chilled 375g pack (25g) – 4
Aldi Soft Cheese with Garlic & Herbs, Reduced Fat (25g) – 2
Aldi Specially Selected Blue Cheese Burger Melts, chilled 4 pack (25g slice) – 5
Aldi Specially Selected Continental Cheese Selection, Brie De Meaux (25g) – 3.5
Aldi Specially Selected Continental Cheese Selection, Roquefort (25g) – 5
Aldi Specially Selected Continental Cheese Selection, St Paulin (25g) – 3.5
Aldi Specially Selected Continental Cheese Selection, Taleggio (25g) – 4
Aldi Specially Selected Double Gloucester Cheese (25g) – 5
Aldi Specially Selected Farmhouse Blue Cheese (25g) – 5
Aldi Specially Selected Lancashire Cheese (25g) – 5
Aldi Specially Selected Mature Cheddar Cheese Bake with Cider, chilled 150g pack (37.5g serving) – 5.5
Aldi The Cheese Emporium Breaded Goats Cheese, chilled 8 pack (25g each) – 4
Aldi The Cheese Emporium Breaded Mozzarella Sticks, chilled 10 pack (25g each) – 4
Aldi The Cheese Emporium Cheddar, all varieties (25g) – 5
Aldi The Cheese Emporium Cheese Singles 10 pack (20g slice) – 2
Aldi The Cheese Emporium Cheese Singles 10 pack (3 x 20g) – 

HEX-A

or 6 
Aldi The Cheese Emporium Cheese Slices, Lighter 8 pack (2 x 25g) –

HEX-A

or 5 
Aldi The Cheese Emporium Cheese Slices, Lighter 8 pack (25g slice) – 2.5
Aldi The Cheese Emporium Cheese Triangles, Lighter (17.5g each) – 1.5
Aldi The Cheese Emporium Cheese Triangles, Lighter (4 x 17.5g) –

HEX-A

or 5.5 
Aldi The Cheese Emporium Double Gloucester with Onion & Chives (25g) – 5.5
Aldi The Cheese Emporium Edam Cheese Slices 12 pack (21g slice) – 3.5
Aldi The Cheese Emporium Flavoured Mini Brie, Blue (25g) – 5.5
Aldi The Cheese Emporium Flavoured Mini Brie, Chilli (25g) – 5.5
Aldi The Cheese Emporium Flavoured Mini Brie, Garlic & Herbs (25g) – 5.5
Aldi The Cheese Emporium Fromage de Chevre (25g) – 4
Aldi The Cheese Emporium Full Fat Soft Cheese (25g) – 3
Aldi The Cheese Emporium Full Fat Soft Cheese with Garlic (25g) – 3
Aldi The Cheese Emporium Full Fat Soft Cheese with Herbs (25g) – 3
Aldi The Cheese Emporium Full Fat Soft Cheese with Paprika (25g) – 3
Aldi The Cheese Emporium Garlic Roule (25g) – 4
Aldi The Cheese Emporium Grated Mozzarella (25g) – 3.5
Aldi The Cheese Emporium Greek Style Salad Cheese (25g) – 3.5
Aldi The Cheese Emporium Lighter Mature Grated Cheddar Cheese (25g) – 4
Aldi The Cheese Emporium Lighter Soft Cheese (25g) – 2
Aldi The Cheese Emporium Lighter Soft Cheese, Garlic & Herbs (25g) – 2
Aldi The Cheese Emporium Low Fat Cottage Cheese with Pineapple (300g pot) – 2.5
Aldi The Cheese Emporium Mature Cheese, Lighter (25g) – 4
Aldi The Cheese Emporium Mature Cheese, Lighter (40g) –

HEX-A

or 6 
Aldi The Cheese Emporium Mature Grated Cheddar Cheese (25g) – 5
Aldi The Cheese Emporium Mini Mild Cheddar Sticks 6 pack (20g each) – 4
Aldi The Cheese Emporium Onion & Chive Cheddar Slices 7 pack (20g slice) – 4
Aldi The Cheese Emporium Orkney Mild/Dark Smoked Cheddar Cheese (25g) – 5
Aldi The Cheese Emporium Plain Goats Cheese (25g) – 3
Aldi The Cheese Emporium Ripening Brie (25g) – 3.5
Aldi The Cheese Emporium Smoked Cheese Slices, Bavarian Style, 10 pack (20g slice) – 3.5
Aldi The Cheese Emporium Smokey Cheddar Cheese (25g) – 4.5
Aldi The Cheese Emporium Smokey Cheddar Slices 7 pack (20g slice) – 4
Aldi The Cheese Emporium Spicy Mex Cheddar Cheese (25g) – 5
Aldi The Cheese Emporium Spicy Mex Cheddar Cheese Slices 7 pack (20g slice) – 4
Aldi The Cheese Emporium White Stilton with Cranberries (25g) – 5
Aldi The Cheese Emporium White Stilton with Date & Orange (25g) – 4.5
---
Drinks From Aldi
FREE:
Aldi Aqua Vale Flavoured Sparkling Water, Apple & Elderflower, No Added Sugar – Free
Aldi Aqua Vale Flavoured Sparkling Water, Apple & Raspberry, No Added Sugar – Free
Aldi Aqua Vale Flavoured Sparkling Water, Lemon & Lime, No Added Sugar – Free
Aldi Aqua Vale Flavoured Sparkling Water, Peach & Passion Fruit, No Added Sugar – Free
Aldi Aqua Vale Flavoured Sparkling Water, Summer Fruits, No Added Sugar – Free
Aldi Aqua Vale Flavoured Sparkling Water, White Grape & Blackberry, No Added Sugar – Free
Aldi Aqua Vale Flavoured Still Spring Water, Orange & Peach, No Added Sugar – Free
Aldi Aqua Vale Flavoured Still Spring Water, Strawberry, No Added Sugar – Free
Aldi Aqua Vale Flavoured Still Spring Water, Summer Fruits, No Added Sugar – Free
Aldi Aqueo Flavoured Still Spring Water, all varieties – Free
Aldi Everyday Essentials Diet Cola – Free
Aldi Radnor Sparkling Water, Cranberry & Raspberry, No Added Sugar – Free
Aldi Radnor Sparkling Water, Lemon & Lime, No Added Sugar – Free
Aldi Red Thunder Energy Drink, Diet – Free
Aldi Ridge Valley Premium Rhubarb Light Tonic Water – Free
Aldi Rio D'Oro Blackcurrant Juice Drink, Light – Free
Aldi Rio D'Oro Peach, Camomile & Green Tea – Free
Aldi Rio D'Oro Strawberry Juice Drink, No Added Sugar – Free
Aldi Rio D'Oro Watermelon, Coconut & White Tea – Free
Aldi Sun Quench Double Strength Squash, No Added Sugar, all varieties – Free
Aldi Sun Quench Fruit & Barley Squash, No Added Sugar, all varieties – Free
Aldi Sun Quench Fruity Blasts Juice Drink, No Added Sugar, all varieties – Free
Aldi Sun Quench Fruity Water, No Added Sugar, all varieties – Free
Aldi Sun Quench Squash, No Added Sugar, all varieties – Free
Aldi Sun Quench Super Concentrated Squirty Squash, No Added Sugar, all varieties – Free
Aldi Vive Arancia Rossa, Sparkling Blood Orange Italian Style Soda, No Added Sugar – Free
Aldi Vive Arancia, Sparkling Orange Italian Style Soda, No Added Sugar – Free
Aldi Vive Cherry Cola, Zero Sugar – Free
Aldi Vive Cherry Lips Sparkling Drink, No Added Sugar – Free
Aldi Vive Cola Xtreme Taste, Zero Sugar – Free
Aldi Vive Cream Soda, No Added Sugar – Free
Aldi Vive Diet Cola – Free
Aldi Vive Diet Pink Lemonade – Free
Aldi Vive Diet White Lemonade – Free
Aldi Vive Fruit Salad Drink, No Added Sugar – Free
Aldi Vive Ginger Beer, No Added Sugar – Free
Aldi Vive Grape Soda, No Added Sugar – Free
Aldi Vive Lemon & Lime Zero Sugar – Free
Aldi Vive Limone e Menta, Sparkling Lemon & Mint Soda, No Added Sugar – Free
Aldi Vive Low Calorie Indian Tonic Water – Free
Aldi Vive Orange & Pomegranate Soda with Sweeteners – Free
Aldi Vive Pineapple Cubes Drink, No Added Sugar – Free
Aldi Vive Premium Indian Tonic Water – Free
Aldi Vive Rhubarb & Custard Drink, No Added Sugar – Free
Aldi Vive Root Beer, American Style, No Added Sugar – Free
Aldi Vive Soda Water – Free
Aldi Vive Sparkling Fruit Crush Drink, No Added Sugar, all varieties – Free
Aldi Vive Sparkling Lemon & Lime Zero – Free
Aldi Vive Sparkling Lemonade with Real Lemon Juice – Free
Aldi Vive Sparkling Lychee & Strawberry Twist, No Added Sugar – Free
Aldi Vive Sparkling Morello Cherry, No Added Sugar – Free
Aldi Vive Sparkling Orange, Zero Sugar – Free
Aldi Vive Tropical Blast, Zero Sugar – Free
Aldi Vive Zero Lemon – Free
LOW: 
Aldi Alcafe Hot Chocolate Light (10g sachet) – 2
Aldi Alcafe Hot Chocolate Light, Mint (10g sachet) – 2
Aldi Choceur Instant Hot Chocolate Drink (1 level tsp) – 1
Aldi Choceur Instant Hot Chocolate Drink, Light (11g serving) – 2
Aldi Del Rivo Apple & Mango Juice, not from concentrate, chilled (250ml) – 6
Aldi Del Rivo Apple & Raspberry Juice Drink, from concentrate, chilled (250ml) – 6.5
Aldi Del Rivo Apple Juice, from concentrate, chilled (250ml) – 6
Aldi Del Rivo Apple Juice, not from concentrate, chilled (250ml) – 5.5
Aldi Del Rivo Cranberry Juice, chilled (250ml) – 6
Aldi Del Rivo Orange Juice with Bits, from concentrate (250ml) – 6
Aldi Del Rivo Orange Juice with Bits, not from concentrate, chilled (250ml) – 5.
Aldi Del Rivo Pineapple Juice, from concentrate, chilled (250ml) – 6.5
Aldi Del Rivo Pressed Apple Juice, not from concentrate, chilled (250ml) – 5.5
Aldi Del Rivo Pressed Orange & Mango Juice, not from concentrate, chilled (250ml) – 5
Aldi Del Rivo Smooth Orange Juice, from concentrate (250ml) – 6
Aldi Del Rivo Smooth Orange Juice, not from concentrate, chilled (250ml) – 6
Aldi Del Rivo Tropical Juice Drink, from concentrate, chilled (250ml) – 6.5
Aldi Dominion Sugar Free Sweets, Cola 44g box (3.2g each) – 0.5
Aldi Everyday Essentials Apple Juice, from Concentrate, chilled (250ml) – 6
Aldi Everyday Essentials Orange Juice, Smooth, from Concentrate, chilled (250ml) – 5.5
Aldi Everyday Essentials Value Orange Juice (250ml) – 6
Aldi Pressd Cold Pressed Juice, Wow Blue, chilled (250ml) – 5.5
Aldi Pressd Cold Pressed Juice, Wow Green, chilled (250ml) – 5.5
Aldi Pressd Cold Pressed Juice, Wow Orange, chilled (250ml) – 5
Aldi Red Thunder Energy Drink, Regular (250ml) – 5.5
Aldi Red Thunder Energy Drink, Tropical (250ml) – 6
Aldi Rio DOro Apple & Elderflower Juice Drink (250ml) – 1
Aldi Rio DOro Apple Juice (200ml carton) – 4.5
Aldi Rio DOro Apple Juice (250ml) – 5.5
Aldi Rio DOro Cranberry & Blackcurrant Juice Drink (250ml) – 7
Aldi Rio DOro Cranberry & Raspberry Juice Drink (250ml) – 7.5
Aldi Rio DOro Cranberry Juice Drink (250ml) – 7
Aldi Rio DOro Cranberry Juice Drink, Light, No Added Sugar (250ml) – 1
Aldi Rio DOro Exotic Juice Drink (250ml) – 5.5
Aldi Rio DOro Forest Fruit Juice Drink (250ml) – 6
Aldi Rio DOro Juiced Orange & Passion Fruit Juice Drink (250ml) – 1.5
Aldi Rio DOro Orange Juice 6 pack (200ml carton) – 4.5
Aldi Rio DOro Orange Juice 6 pack (250ml carton) – 6
Aldi Rio DOro Pineapple Juice Drink (250ml) – 7
Aldi Rio DOro Pomegranate Juice Drink (250ml) – 6
Aldi Rio DOro Tropical Juice Drink, No Added Sugar (250ml) – 3
Aldi Rio DOro White Grape & Peach Juice Drink (250ml) – 4
Aldi Specially Selected Freshly Squeezed Apple Juice (250ml) – 7.5
Aldi Specially Selected Freshly Squeezed Orange Juice (250ml) – 6.5
Aldi Sun Quench 50% Apple & Mango High Juice Squash, No Added Sugar, undiluted (50ml) – 0.5
Aldi Sun Quench 50% Orange High Juice Squash, No Added Sugar, undiluted (50ml) – 1
Aldi Sun Quench 50% White Grape & Peach High Juice, No Added Sugar, undiluted (50ml) – 0.5
Aldi Sweet Valley Fruit Cocktail in Juice, canned (per 100g) – 1.5
Aldi Sweet Valley Peach Snack Pots in Juice 4 pack (125g pot) – 4.5
Aldi Sweet Valley Pear Halves in Natural Juice, canned (per 100g) – 2
Aldi Sweet Valley Pineapple Slices in Pineapple Juice, canned (per 100g) – 2.5
Aldi Vive Premium Cola (250ml) – 5.5
Aldi Vive Premium Cola (330ml can) – 7
---
Frozen Food From Aldi
FREE: 
Aldi Everyday Essentials Peas, frozen 907g pack – Free
Aldi Everyday Essentials Prawns, frozen 200g pack – Free
Aldi Four Seasons 100% Natural Fruit, Blueberries, frozen 300g pack – Free
Aldi Four Seasons 100% Natural Fruit, Summer Fruits, frozen 500g pack – Free
Aldi Four Seasons Black Forest Fruits, frozen – Free
Aldi Four Seasons Farm Fresh Single Steam Vegetable Bags, frozen – Free
Aldi Four Seasons Garden Peas, frozen 1kg pack – Free
Aldi Four Seasons Mango Chunks, frozen 300g pack – Free
Aldi Four Seasons Micro Steam, Cauliflower Rice, frozen 400g pack – Free
Aldi Four Seasons Mini Corn Cobs, frozen 750g pack – Free
Aldi Four Seasons Petit Pois, frozen 700g pack – Free
Aldi Four Seasons Pineapple Chunks, frozen 300g pack – Free
Aldi Four Seasons Pitted Cherries, frozen 350g pack – Free
Aldi Four Seasons Raspberries, frozen 300g pack – Free
Aldi Four Seasons Steam Microwave Veg Bowl, Green Veg, frozen – Free
Aldi Four Seasons Steam Microwave Veg Bowl, Mixed Veg, frozen – Free
Aldi Four Seasons Steam Microwave Veg Bowl, Steam Sprouts, frozen – Free
Aldi Four Seasons Sweetcorn, frozen 900g pack – Free
Aldi Four Seasons Whole Green Beans, frozen 1kg pack – Free
Aldi Maes Kitchen Meat Free Chicken Style Pieces, frozen 300g pack – Free
Aldi Maes Kitchen Meat Free Mince, frozen 454g pack – Free
Aldi Northern Catch Lemon & Dill Salmon Fillets, frozen – Free
Aldi Northern Catch Salmon Fillets, frozen – Free
Aldi Oakhurst 100% Chicken Breast Fillets, frozen 700g pack – Free
Aldi Oakhurst Cooked Sliced Chicken Breast Pieces, Defrost & Eat, frozen – Free
Aldi Specially Selected Lobster Tails, frozen 283g pack – Free
Aldi Specially Selected New Zealand Venison Steaks, frozen – Free
Aldi Specially Selected Whole Sea Bream, frozen – Free
Aldi The Fishmonger Premium Salmon Portions, Boneless, frozen – Free
Aldi The Fishmonger Seafood Selection, frozen – Free
Aldi The Fishmonger Wild Pink Salmon Fillets, Skinless & Boneless, frozen 5 pack – Free
LOW: 
Aldi Bucklers Buffalo, Tomato & Basil Burgers, frozen (110g each) – 0.5
Aldi Bucklers Venison Sausages, frozen 6 pack (60g each) – 1.5
Aldi Bucklers Wild Boar & Apple Burgers, frozen (110g each) – 1.5
Aldi Champion Potato Croquettes, frozen (each baked) – 1.5
Aldi Champion Potato Waffles, frozen 12 pack (52g each) – 2.5
Aldi Everyday Essentials Yorkshire Puddings, frozen 15 pack (17.3g each) – 2.5
Aldi Four Seasons Golden Vegetable Rice, Microwaveable, frozen (200g pack) – 1
Aldi Four Seasons Indian Inspired Rice, frozen (200g pack) – 1
Aldi Four Seasons Mashed Potato, frozen 650g pack (163g serving) – 1.5
Aldi Four Seasons Moroccan Inspired Rice, frozen (200g pack) – 1.5
Aldi Frasers Haggis Pie, frozen (375g pack) – 2
Aldi Frasers Lorne Sausage Slices, frozen 12 pack (72g slice) – 5.5
Aldi Lets Party, Filo Prawns, frozen 10 pack (12g each) – 1.5
Aldi Northern Catch Cod Fish Fingers, frozen 10 pack (30g each) – 1.5
Aldi Northern Catch Fish Fingers, frozen 15 pack (each baked) – 1.5
Aldi Northern Catch Lightly Dusted Cod Fillets, frozen (each baked) – 5
Aldi Northern Catch Lightly Dusted Haddock, frozen (each baked) – 4.5
Aldi Northern Catch Salmon Burgers, frozen (100g each) – 1
Aldi Oakhurst Beef Burgers, frozen 16 pack (57g each) – 3
Aldi Oakhurst Chicken Kebabs, Tikka, frozen 4 pack (70g each) – 0.5
Aldi Oakhurst Irish Recipe Sausages, frozen 16 pack (50g each) – 2.5
Aldi Oakhurst Lamb Quarter Pounders, frozen 4 pack (114g each) – 4.5
Aldi Oakhurst Large Gammon Joint, Honey & Muscavado, frozen (per 100g) – 0.5
Aldi Oakhurst Moroccan Style Lamb Shanks, frozen (per pouch) – 2
Aldi Oakhurst Sweet & Sour Pork Shanks, frozen (375g each) – 3.5
Aldi Oakhurst Turkey Crown, frozen (per 100g) – 1
Aldi Roosters Chicken Burgers, frozen 10 pack (68g each) – 5.5
Aldi Roosters Chicken Chargrills, BBQ Flavour, frozen (each baked) – 2.5
Aldi Roosters Chicken Chargrills, Original, frozen (each baked) – 2.5
Aldi Roosters Turkey Zoo Animals, frozen 9 pack (48g each) – 4.5
Aldi Specially 5 Bird Roast with Pork, Clementine & Cranberry Stuffing, frozen 1.85kg (per 100g) – 2.5
Aldi Specially Selected Mediterranean King Prawns, frozen (250g pack) – 1
Aldi Specially Selected Spicy Chilli King Prawns, frozen (250g pack) – 1
Aldi Todays Special Sliced Beef in Gravy, frozen (210g pack) – 1.5
---
Meat (Chilled) From Aldi
Beef
FREE

:
Aldi Appleby's Cooked Beef Slices, chilled – Free
Aldi Appleby's Roast Topside of Beef, chilled 100g pack – Free
Aldi Ashfield Farm Beef Medallion Steaks, chilled – Free
Aldi Ashfield Farm Beef Steak, 21 Day Matured, chilled – Free
Aldi Ashfield Farm Cooked Beef Slices, chilled – Free
Aldi Ashfield Farm Lean Beef Mince, 5% Fat, chilled – Free
Aldi Ashfield Farm Peppered Topside of Beef Slices, chilled – Free
Aldi Ashfield Farm Rump Steak – Free
Aldi Ashfield Farm Sirloin Steak, chilled [Fat trimmed] – Free
Aldi Ashfield Farm Topside of Beef Slices, Ready to Eat, chilled – Free
Aldi Ashfield Farm Welsh Rump Steak, chilled – Free
Aldi Butcher's Selection Irish Beef Medallions, chilled – Free
Aldi Glen Meadow 5% Fat Lean Steak Mince, chilled – Free
Aldi Nature's Glen Beef Frying Steak, chilled – Free
Aldi Nature's Glen Scottish Lean Steak Mince, 5% Fat, chilled – Free
Aldi Specially Selected Lean Aberdeen Angus Beef Mince, 5% Fat, chilled – Free
Aldi Specially Selected Roast Beef Topside, chilled – Free
Aldi Specially Selected Salt Beef Slices, chilled – Free
Aldi Specially Selected Venison Leg Steak, chilled – Free
LOW:
Aldi Applebys Corned Beef, Chilled 175g pack (per slice) – 1.5
Aldi Applebys Slow Cooked BBQ Beef, chilled (400g pack) – 1.5
Aldi Applebys Slow Cooked Beef Brisket with Red Wine Sauce, chilled (400g pack) – 1
Aldi Applebys Slow Cooked Bourbon BBQ Beef Brisket, chilled 400g pack (per 100g) – 2.5
Aldi Ashfield Farm BBQ Beef Kebabs, chilled 4 pack (80g each) – 2
Aldi Ashfield Farm Beef Meatballs, 5% Fat, chilled 12 pack (3 meatballs) – 0.5
Aldi Ashfield Farm Beef Quarter Pounders, 5% Fat, chilled 4 pack (113g each) – 1
Aldi Ashfield Farm Chimichurri Beef Steaks with a Tangy Dressing, chilled (297g pack) – 3
Aldi Ashfield Farm Hot & Spicy Beef Kebabs, chilled 8 pack (40g each) – 2
Aldi Ashfield Farm Lean Beef Burgers, Reduced Fat, chilled 4 pack (100g each) – 1
Aldi Brannans Corned Beef, chilled 120g pack (12g slice) – 0.5
Aldi Macaulays Skinny Beef Steak Lorne Sausage, Reduced Fat, chilled 4 pack (55g slice) – 0.5
Aldi Natures Glen Scottish Peppered Steaks, chilled (140g each) – 0.5
Aldi Natures Isle Irish Beef Mince, chilled 300g pack (per 100g) – 6
Aldi Natures Isle Irish Premium Beef Steak Mince, chilled 450g pack (per 100g) – 1.5
Aldi Severn Vale Beef Meatballs, chilled 360g pack (per 100g) – 5.5
Aldi Specially Selected Bresaola Spiced Beef Slices, chilled (80g pack) – 0.5
Aldi Specially Selected Gourmet Burgers, British Beef with Vintage Cheddar, chilled (170g each) – 3.5
Aldi The Grill Selection, Reduced Fat Irish Beef Burges, chilled (140g each) – 0.5
Chicken/Turkey
FREE: 
Aldi Applebys British Chicken Breast Slices, Jamaican Jerk, chilled – Free
Aldi Applebys Chargrilled Chicken Mini Fillets, chilled – Free
Aldi Applebys Chicken Breast Slices, Mediterranean, chilled – Free
Aldi Applebys Chicken Chargrill Slices, chilled 240g pack – Free
Aldi Applebys Cooked Chicken Breast Slices, chilled – Free
Aldi Applebys Roast Sliced Chicken, chilled 145g pack – Free
Aldi Applebys Roast Sliced Turkey, chilled 145g pack – Free
Aldi Applebys Sweet & Smoky Chicken Chunks, chilled 300g pack – Free
Aldi Applebys Wafer Thin Roast Chicken Slices, chilled 400g pack – Free
Aldi Ashfield Farm Cajun Chicken Fillets, Ready To Cook, chilled – Free
Aldi Ashfield Farm Cajun Chicken Sizzlers, chilled 300g pack – Free
Aldi Ashfield Farm Deli Chicken Tikka Breast Slices, chilled – Free

Aldi Ashfield Farm Sweet n Smoky BBQ Chicken Slices, Ready to Eat,

chilled – Free
Aldi Brannans Deli Style Chicken Slices, chilled 130g pack – Free
Aldi Brannans Smokey Turkey Rashers, chilled 6 pack – Free
Aldi Brannans Wafer Thin Roast Chicken, chilled 200g pack – Free
Aldi Brannans Wafer Thin Roast Turkey, chilled 200g – Free
Aldi Glensallagh Chicken Tikka Breast Pieces, chilled – Free
Aldi Specially Selected Cajun Spiced Chicken Breast, chilled – Free
Aldi Specially Selected Roast Peppered Turkey , chilled 140g pack – Free
Aldi The Chefs Store BBQ Pulled Chicken, Ready to Eat, chilled – Free
Aldi The Chefs Store Pulled Fajita Chicken, Ready to Eat, chilled – Free
LOW:
Aldi Applebys British Chicken Breast Slices, Barbecue, chilled (180g pack) – 1.5
Aldi Applebys Chicken Tikka Slices, chilled 240g pack (per 100g) – 0.5
Aldi Applebys Honey Cured Turkey Slices, chilled (per 100g) – 0.5
Aldi Applebys Mini Chicken Fillets, Piri Piri, Ready to Eat, chilled (170g pack) – 2
Aldi Ashfield Farm Butchers Selection Turkey Sausages, chilled 8 pack (57g each) – 1
Aldi Ashfield Farm Chicken Sizzlers, Garlic & Herb, chilled 4 pack (63g each) – 0.5
Aldi Ashfield Farm Chilli, Lime & Coriander Chicken Breasts, Ready to Cook, chilled (145g each) – 1.5
Aldi Ashfield Farm Moroccan Style Chicken Mini Fillets, Ready to Eat, chilled (170g pack) – 2.5
Aldi Ashfield Farm Paprika & Chilli Chicken Crown, Ready to Cook, chilled 740g pack (per 100g) – 1.5
Aldi Ashfield Farm Spicy Mango Chicken Mini Fillets, Ready to Eat, chilled (170g pack) – 0.5
Aldi Ashfield Farm Stir Fry Turkey, chilled 300g pack (per 100g) – 0.5
Aldi Ashfield Farm Sweet Chilli & Lime Chicken Slices, Ready to Eat, chilled (180g pack) – 2
Aldi Ashfield Farm Turkey Mince, Typically 7% Fat, chilled 450g pack (per 100g) – 1.5
Aldi Everyday Essentials Chicken Roll, chilled 400g pack (20g slice) – 1.5
Aldi Lets Eat, Thai Marinated Chicken Escallops, chilled (107g each) – 1
Aldi Oakhurst Turkey Crown, frozen (per 100g) – 1
Aldi Ready to Cook Butter Basted Turkey Breast Joint, chilled 465g pack (per 100g) – 2
Aldi Ready to Cook Chicken Breasts with Green Thai Style Sauce, chilled (138g each) – 0.5
Fish/Seafood
FREE:
Aldi Almare Cod Fillets, Chilled – Free
Aldi Almare Hot Smoked Salmon Fillets, Chilled – Free

Aldi Almare Salmon Fillets, Chilled – Free

Aldi Almare Seafood King Prawns, Chilled) – Free
Aldi Almare Seafood Sliced Smoked Scottish Salmon, Chilled – Free

Aldi Almare Seafood Sticks, Chilled – Free

Aldi Almare Smoked Coley, Chilled – Free

Aldi Almare Smoked Scottish Salmon, Chilled –  Free
LOW

:
Aldi Almare Hot Smoked Salmon Fillet with Cracked Black Pepper, chilled (185g pack) – 2.5
Aldi Almare Hot Smoked Salmon Fillet with Dill, chilled (125g each) – 2
Aldi Almare Smoked Mackerel Fillets, chilled 200g pack (per 100g) – 1
Pork/Ham/Gammon/Bacon
FREE:
Aldi Alpenmark Baked Ham Slices, chilled – Free
Aldi Alpenmark Bavarian Ham Slices, chilled – Free
Aldi Alpenmark Classic Roast Pork Loin Slices, chilled – Free
Aldi Applebys Breaded Ham Deli Joint, chilled – Free
Aldi Applebys Breaded Ham Joint, chilled 1kg – Free
Aldi Applebys Breaded Lean Ham, chilled 300g pack – Free
Aldi Applebys British Breaded Ham, chilled – Free
Aldi Applebys British Cooked Ham, chilled – Free
Aldi Applebys British Honey Roast Ham, chilled – Free
Aldi Applebys Cooked Lean Ham, chilled 300g pack – Free
Aldi Applebys Dry Cure Ham Joint, chilled 1kg – Free
Aldi Applebys Half Spiral Ham, chilled 2.25kg – Free
Aldi Applebys Ham Deli Joint, chilled 500g  – Free
Aldi Applebys Honey Roast Ham Joint, chilled 1kg – Free
Aldi Applebys Roasted Ham Deli Joint, chilled 500g pack – Free
Aldi Applebys Smoked Cooked Ham, chilled – Free
Aldi Applebys Wafer Thin Smoked Ham, chilled 400g pack – Free
Aldi Ashfield Farm Deli Honey & Mustard Dry Cured Ham, chilled – Free
Aldi Ashfield Farm Pork Loin Steaks, chilled 480g pack – Free
Aldi Brannans Cooked Lean Ham, chilled 320g pack – Free
Aldi Brannans Crumbed Lean Ham, chilled 320g pack – Free
Aldi Brannans Wafer Thin Carved Ham, chilled 125g pack – Free
Aldi Brannans Wafer Thin Cooked Ham, chilled 400g pack – Free
Aldi Brannans Wafer Thin Honey Roast Ham, chilled 400g pack – Free
Aldi Casa Barelli Basil Ham, chilled – Free
Aldi Casa Barelli Beechwood Smoked Ham, chilled 120g pack – Free
Aldi Casa Barelli Ham with Rosemary, chilled 120g pac  – Free
Aldi Casa Barelli Ham, chilled – Free
Aldi Cooked Ham Trimmings, chilled 400g pack  – Free
Aldi Deli Continental German Smoked Baked Ham, chilled – Free
Aldi Deli Continental Italian Style Calabria Ham, chilled – Free
Aldi Deli Continental Italian Style Genoa Ham, chilled – Free
Aldi Deli Continental Torchon Ham, chilled – Free
Aldi Everyday Essentials Economy Cooked Ham, chilled 400g pack – Free
Aldi Everyday Essentials Gammon Round Steaks, chilled 225g pack – Free
Aldi Everyday Essentials Mild Cure Ham, chilled 400g pack – Free
Aldi Freshcure Extra Large Gammon Joint, Smoked, chilled 1.9kg pack  – Free
Aldi Murrays Honey Roast Ham Chunks, chilled 110g pack – Free
Aldi Murrays Scottish Honey Roast Ham, chilled 300g pack  – Free
Aldi Murrays Scottish Smoked Ham, chilled 300g pack – Free
Aldi Natures Isle Large/Medium/Small Irish Ham Fillet, chilled – Free
Aldi Specially Selected Applewood Smoked Ham, chilled  – Free
Aldi Specially Selected Cranberry & Orange Ham, chilled 1kg pack – Free
Aldi Specially Selected Wiltshire Cured Honey Ham, Finely Sliced, chilled  – Free
Aldi Specially Selected Wiltshire Ham, chilled – Free
Aldi The Chefs Store Shredded Ham Hock, Ready to Eat, chilled – Free
LOW:
Aldi Alpenmark Air Dried Ham 150g pack (per slice) – 0.5
Aldi Applebys Caramelised Apple Ham Hock (110g pack) – 1.5
Aldi Applebys Gammon Shanks with a Maple & Balsamic Sauce, chilled (280g each) – 1.5
Aldi Applebys Pork Lunch Tongue, chilled 100g pack (25g slice) – 1
Aldi Ashfield Farm Gammon Joint with Honey Glaze chilled 750g pack (125g serving) – 3.5
Aldi Ashfield Farm Hawaiian Gammon Steaks Cheese & Pineapple, chilled 340g pack(170g serving) – 2.5
Aldi Ashfield Farm Pork Saltimbocca, chilled (140g each) – 3.5
Aldi Ashfield Farm Unsmoked Bacon, chilled 400g pack (40g slice) – 0.5
Aldi Everyday Essentials Back Bacon, Smoked 250g pack (per 100g) – 2
Aldi Everyday Essentials Back Bacon, Unsmoked 250g pack (per 100g) – 1
Aldi Freshcure Bacon Chops, chilled 225g pack (per 100g) – 4
Aldi Freshcure Extra Large Gammon Joint, Unsmoked, chilled 1.9kg pack (per 100g) – 0.5
Aldi Freshcure Unsmoked Hunters Gammon Steaks, Ready to Cook, chilled 345g pack (173g serving) – 5
Aldi Natures Isle Pork Mince, chilled 500g pack (per 100g) – 4.5
Aldi Oakhurst Sweet & Sour Pork Shanks, frozen (375g each) – 3.5
Aldi Ready to Cook Gammon Joint, Sweet Cured with a Honey Glaze, chilled 480g pack (per 100g) – 0.5
Aldi Specially Selected Bourbon BBQ Bacon Medallion, chilled (150g each) – 1
Aldi Specially Selected Honey & Tewkesbury Mustard Ham, chilled (120g pack) – 4
Aldi Specially Selected San Daniele Ham, chilled 80g pack (25g) – 1.5
Aldi Specially Selected Sweet Barbecue Pulled Pork, chilled (130g pack) – 2.5
Sausages
Aldi Applebys Cooked Cocktail Sausages, chilled 200g pack (10g each) – 1
Aldi Applebys Garlic Sausage, chilled 100g pack (10g piece) – 0.5
Aldi Ashfield Farm British Pork Cocktail Sausages, chilled 20 pack (15g each) – 1
Aldi Ashfield Farm Butchers Choice Lincolnshire Sausages, chilled 8 pack (57g each) – 4
Aldi Ashfield Farm Butchers Choice Pork Sausages, chilled 8 pack (57g each) – 5
Aldi Ashfield Farm Butchers Select British Pork Sausages, Reduced Fat, chilled 8 pack (57g each) – 3
Aldi Ashfield Farm Butchers Selection Turkey Sausages, chilled 8 pack (57g each) – 1
Aldi Ashfield Farm Cumberland Sausages, chilled 8 pack (57g each) – 4.5
Aldi Ashfield Farm Irish Recipe Sausages, chilled 8 pack (57g each) – 5
Aldi Ashfield Farm Ultimate British Pork Sausages, chilled 12 pack (67g each) – 5.5
Aldi Ashfield Farm Ultimate Premium Pork Sausages, chilled 6 pack (67g each) – 5
Aldi Brannans Skinless Pork Sausages, chilled 16 pack (28g each) – 3
Aldi Brannans Turkey Sausages, chilled 6 pack (40g each) – 3
Aldi Has No Irish Pork Sausages, Gluten Free, chilled 8 pack (27g each) – 2.5
Aldi Macaulays Irish Recipe Pork Sausages, chilled 8 pack (53g each) – 6
Aldi Macaulays Scottish Steak Sausage Slices, chilled 4 pack (75g slice) – 5.5
Aldi Macaulays Skinny Beef Steak Lorne Sausage, Reduced Fat, chilled 4 pack (55g slice) – 0.5
Aldi McKechnie Jess Lorne Sausages, chilled 4 pack (70g each) – 5
Aldi Murrays Standard Sausages, Pork, chilled 8 pack (57g each) – 4.5
Aldi Sonetta Tapas al Minuto, Mini Spanish Pork Sausages with Paprika, chilled 12 pack (7g each) – 1
Aldi Specially Selected Butchers Choice Sausages, chilled 9 pack (40g each) – 3.5
Aldi Specially Selected Hopping Hog Ale Pork Sausages, chilled 6 pack (67g each) – 4.5
Aldi Specially Selected Jumbo Pork Sausages with Apple, chilled 380g pack (63g each) – 5
Aldi Specially Selected Jumbo Pork Sausages with Garlic & Herb, chilled 380g pack (63g each) – 3
Aldi Specially Selected Lincolnshire Pork Sausages, chilled 6 pack (61g each) – 5
Aldi Specially Selected Pork Chipolata Sausages, chilled 12 pack (30g each) – 3.5
Aldi Specially Selected Pork Sausages Canadian Maple Syrup Smoked Bacon, chilled 6 (59g each) – 5
Aldi Specially Selected Pork Sausages with Caramelised Red Onion, chilled 6 pack (54g each) – 4
Aldi Specially Selected Pork Sausages with Hoisin & Ginger, chilled 6 pack (67g each) – 3
Aldi Specially Selected Pork Sausages with Italian Style Tomato & Mozzarella, chilled 6 (67g each) – 5
Aldi Specially Selected Pork Sausages, chilled 6 pack (67g each) – 6.5
Aldi Specially Selected Skinny Pork Sausages, chilled 6 pack (67g each) – 0.5
---
Pasta/Rice/Noodles From Aldi
FREE:
Aldi Asia Specialities Medium Egg Noodles, dried  – Free
Aldi Cucina Armoniche All'Uovo Pasta, dried – Free
Aldi Cucina Conchiglie Pasta, dried – Free
Aldi Cucina Fusilli Pasta, dried – Free
Aldi Cucina Gemelli All'Uovo Pasta, dried – Free
Aldi Cucina Macaroni Pasta, dried – Free
Aldi Cucina Penne Pasta, dried – Free
Aldi Cucina Wholewheat Fusilli Pasta, dried – Free
Aldi Everyday Essentials Long Grain Rice – Free
Aldi Everyday Essentials Penne Pasta, dried – Free
Aldi Has No Pasta, Gluten Free, dried – Free, all varieties – Free
Aldi Inspired Cuisine Brown Folded Rice Noodles, dried – Free
Aldi Inspired Cuisine Folded Rice Noodles, dried – Free
Aldi Inspired Cuisine Soba Noodles, dried – Free
Aldi Inspired Cuisine Udon Noodles, dried – Free
Aldi Inspired Cuisine Vermicelli Rice Noodles, dried – Free

Aldi Nature's Pick Broccoli Rice, chilled – Free

Aldi Nature's Pick Cauliflower Rice, chilled – Free
Aldi The Foodie Market Chickpea Fusilli Pasta, dried – Free
Aldi The Foodie Market Green Pea Penne Pasta, dried – Free
Aldi The Foodie Market Red Lentil & Beetroot Fusilli Pasta, dried – Free
Aldi Worldwide Foods Classic Basmati Rice, dried – Free
Aldi Worldwide Foods Wholegrain Brown Rice – Free
LOW:
Aldi Asia Specialities Ready to Wok Medium Noodles twin pack [150g bag] – 2
Aldi Asian Inspired Cantonese Hoisin Duck Egg Noodles [78g pot] made up as directed – 2
Aldi Asian Inspired Chinese Chow Mein Egg Noodles [78g pot] made up as directed – 2
Aldi Asian Inspired Singapore Curry Egg Noodles [78g pot] made up as directed – 2
Aldi Asian Inspired Thai Sweet Chilli Egg Noodles [78g pot] made up as directed – 2
Aldi Balanced Cuisine Laksa Chicken Noodles, chilled [360g pack] – 7
Aldi Cupshotz Noodle Snack, Chicken & Sweetcorn, dried [54g sachet] – 2
Aldi Cupshotz Noodle Snack, Chicken, dried [54g sachet] – 1
Aldi Cupshotz Noodle Snack, Spicy Sweet & Sour, dried [67g sachet] – 1.5
Aldi Cupshotz Noodle Snack, Sweet & Sour, dried [67g pack] – 1.5
Aldi Cupshotz on the Go! Chicken & Sweetcorn Noodles [54g pot] – 1.5
Aldi Cupshotz Pasta Snack, Chicken, dried [55g sachet] – 3
Aldi Eat & Go Cheese & Tomato Pasta Pot [300g pot] – 14
Aldi Eat & Go Tuna & Sweetcorn Pasta Pot [300g pot] – 13.5
Aldi Make in Minutes Instant Noodles, Bacon, dried [100g pack] made up as directed – 7
Aldi Make in Minutes Instant Noodles, Beef, dried [100g pack] made up as directed – 9.5
Aldi Make in Minutes Instant Noodles, Chicken, dried [100g pack] made up as directed – 8
Aldi Make in Minutes Instant Noodles, Chow Mein, dried [100g pack] made up as directed – 12.5
Aldi Make in Minutes Instant Noodles, Curry, dried [100g pack] made up as directed – 9.5
Aldi Make in Minutes Savoury Rice, Beef Flavour [120g pack] made up as directed – 1.5
Aldi Make in Minutes Savoury Rice, Chicken Flavour [120g pack] made up as directed – 1
Aldi Make in Minutes Savoury Rice, Golden Vegetable [120g pack] made up as directed – 1
Aldi Make in Minutes Snack Noodles, Spicy Curry Flavour, dried [90g pot] made up as directed – 9
Aldi Nature's Pick Sweet Chilli Noodles, chilled [300g pack] – 3.5
Aldi Snack Noodle Pot Chicken & Mushroom [90g pot] – 8.5
Aldi Snack Noodle Pot Spicy Curry [90g pot] – 5
Aldi Specially Selected Mushroom Rice, chilled 300g pack [150g serving] – 3.5
Aldi Specially Selected Pilau Rice, chilled 300g pack [150g serving] – 2
Aldi Worldwide Foods Classic Basmati Rice [250g pouch] – 2
Aldi Worldwide Foods Classic Egg Fried Rice [250g pouch] – 3
Aldi Worldwide Foods Classic Long Grain Rice [250g pouch] – 2
Aldi Worldwide Foods Classic Wholegrain Rice [250g pouch] – 2.5
Aldi Worldwide Foods Coconut Rice [250g pouch] – 5
Aldi Worldwide Foods Rice & Grains, Long Grain Brown Rice [250g pouch] – 2.5
Aldi Worldwide Foods Rice & Grains, Wholegrain & Quinoa [250g pouch] – 4
Aldi Worldwide Foods Special Curry Rice [250g pouch] – 1.5
Aldi Worldwide Foods Special Golden Vegetable Rice [250g pouch] – 2
Aldi Worldwide Foods Special Mexican Style Rice [250g pouch] – 2
Aldi Worldwide Foods Steamed Basmati Rice 280g pack [140g serving] – 1.5
Aldi Worldwide Foods Steamed Pilau Rice 280g pack [140g serving] – 1
Aldi Worldwide Foods Wholegrain Wild & Red Rice [250g pouch] – 3.5
---
Sandwich Fillers From Aldi
Aldi The Deli Cheese & Onion Sandwich Filler, chilled 250g pot [1 level tbsp] – 2
Aldi The Deli Coronation Chicken Sandwich Filler, chilled 250g pot [1 level tbsp] – 1.5
Aldi The Deli Egg Mayonnaise Sandwich Filler, chilled 250g pot [1 level tbsp] – 1.5
Aldi The Deli Tuna & Sweetcorn Sandwich Filler, chilled 230g pot [1 level tbsp] – 1.5
---
Sauces/Dips/Dressings From Aldi
Aldi Bilash Mango Chutney [1 level tbsp] – 1.5
Aldi Bramwells British Apple Sauce [1 level tbsp] – 1
Aldi Bramwells Brown Sauce [1 level tbsp] – 0.5
Aldi Bramwells Burger Mayonnaise [1 level tbsp] – 2
Aldi Bramwells Classic BBQ Sauce [1 level tbsp] – 1
Aldi Bramwells Classic Caesar Salad Dressing [1 level tbsp] – 3
Aldi Bramwells Classic Salad Cream [1 level tbsp] – 2
Aldi Bramwells Curry Sauce, dried [1 level tbsp] – 3
Aldi Bramwells Dijon Mustard [1 level tbsp] – 1
Aldi Bramwells English Mustard [1 level tbsp] – 1.5
Aldi Bramwells Fat Free Vinaigrette Salad Dressing [1 level tbsp] – 0.5
Aldi Bramwells Garlic Mayonnaise [1 level tbsp] – 2.5
Aldi Bramwells Honey & Mustard Dressing [1 level tbsp] – 1
Aldi Bramwells Horseradish Sauce [1 level tbsp] – 1
Aldi Bramwells Hot Dog Pickle Relish [1 level tbsp] – 0.5
Aldi Bramwells House Salad Dressing [1 level tbsp] – 2
Aldi Bramwells Jerk Sauce & Marinade [1 level tbsp] – 1
Aldi Bramwells Kansas BBQ Sauce [1 level tbsp] – 1
Aldi Bramwells Light French Salad Dressing [1 level tbsp] – 0.5
Aldi Bramwells Light Honey & Mustard Dressing [1 level tbsp] – 0.5
Aldi Bramwells Light Mayonnaise [1 level tbsp] – 2
Aldi Bramwells Light Salad Cream, 30% Reduced Fat [1 level tbsp] – 1.5
Aldi Bramwells Lighter Than Light Mayonnaise [1 level tbsp] – 0.5
Aldi Bramwells Mango & Chilli Salad Dressing [1 level tbsp] – 1.5
Aldi Bramwells Mild South Carolina Style Mustard Sauce [1 level tbsp] – 1
Aldi Bramwells Mint Sauce [1 level tbsp] – 0.5
Aldi Bramwells Original Barbecue Sauce [1 level tbsp] – 1
Aldi Bramwells Peri-Peri Mayonnaise [1 level tbsp] – 2.5
Aldi Bramwells Peri-Peri Sauce & Marinade, Lemon & Herb [1 level tbsp] – 1
Aldi Bramwells Peri-Peri Sauce & Marinade, Mango & Lime [1 level tbsp] – 1.5
Aldi Bramwells Real Mayonnaise [1 level tbsp] – 5
Aldi Bramwells Red Hot Buffalo Wings Sauce [1 level tbsp] – 0.5
Aldi Bramwells Seafood Sauce [1 level tbsp] – 2.5
Aldi Bramwells Smokey Chipotle Mayonnaise [1 level tbsp] – 2.5
Aldi Bramwells Smooth Cranberry Sauce [1 level tbsp] – 1
Aldi Bramwells Squeezy Real Mayonnaise [1 level tbsp] – 5
Aldi Bramwells Sweet & Spicy Sticky Barbecue Sauce [1 level tbsp] – 1
Aldi Bramwells Sweet & Spicy Sticky Barbecue Sauce [1 level tsp] – 0.5
Aldi Bramwells Sweet Pickle [1 level tbsp] – 1
Aldi Bramwells Taco Mayonnaise [1 level tbsp] – 2
Aldi Bramwells Tartare Sauce [1 level tbsp] – 2
Aldi Bramwells Thousand Island Dressing [1 level tbsp] – 1.5
Aldi Bramwells Tomato Ketchup [1 level tbsp] – 1
Aldi Bramwells Tomato Ketchup, 50% Reduced Sugar & Salt [1 level tbsp] – 0.5
Aldi Bramwells Tomato Relish [1 level tbsp] – 1
Aldi Bramwells Whole Cranberry Sauce [1 level tbsp] – 1
Aldi Bramwells Wholegrain Mustard [1 level tbsp] – 1.5
Aldi Inspired Cuisine Mango Chutney [1 level tbsp] – 2
Aldi Inspired Cuisine Taste of India Dip Selection, Mint & Cucumber Raita [1 level tbsp] – 1.5
Aldi Inspired Cuisine Taste of India Dip Selection, Spiced Mango Chutney [1 level tbsp] – 2
Aldi Specially Selected Alphonso Mango & Apricot Sweet Chutney [1 level tbsp] – 1.5
Aldi Specially Selected Apricot, Gin & Ginger Chutney [1 level tbsp] – 1.5
Aldi Specially Selected Beetroot & Horseradish Chutney [1 level tbsp] – 1
Aldi Specially Selected Caramelised Red Onion Chutney [1 level tbsp] – 1.5
Aldi Specially Selected Chutney For Cheese [1 level tbsp] – 1.5
Aldi Specially Selected Fig & Balsamic Chutney [1 level tbsp] – 1.5
Aldi Specially Selected Plum & Apple Chutney 295g jar [1 level tbsp] – 1
Aldi Specially Selected Red Pepper Chutney [1 level tbsp] – 1
Aldi Specially Selected Tomato & Chilli Chutney [1 level tbsp] – 1.5
---
Spreads/Jams/Sweet Sauces From Aldi
FREE:
Aldi Grandessa Mighty Yeast Extract  – Free
LOW:
Aldi Carrington's Thick/Fine Cut Marmalade [1 level tsp] – 0.5
Aldi Dessert Menu Dessert Sauce, Chocolate Flavour [1 level tbsp] – 2.5
Aldi Dessert Menu Dessert Sauce, Chocolate Flavour [1 level tsp] – 1
Aldi Everyday Essentials Crunchy Peanut Butter [1 level tbsp] – 4.5
Aldi Everyday Essentials Orange Marmalade [1 level tsp] – 0.5
Aldi Everyday Essentials Strawberry Jam [1 level tsp] – 0.5
Aldi Grandessa Apricot Jam [1 level tsp] – 0.5
Aldi Grandessa Cinnamon Honey [1 level tsp] – 1
Aldi Grandessa Clear Honey [1 level tsp] – 1
Aldi Grandessa Dessert Sauces, Chocolate [1 level tbsp] – 2
Aldi Grandessa Dessert Sauces, Dulce De Leche [1 level tbsp] – 2.5
Aldi Grandessa Dessert Sauces, Raspberry [1 level tbsp] – 1.5
Aldi Grandessa Duo Chocolate Spread [1 level tbsp] – 4
Aldi Grandessa Fine Cut Orange Marmalade [1 level tsp] – 0.5
Aldi Grandessa Hazelnut Chocolate Spread [1 level tbsp] – 4.5
Aldi Grandessa Irish Conserves, Rhubarb & Vanilla [1 level tsp] – 0.5
Aldi Grandessa Irish Conserves, Strawberry [1 level tsp] – 0.5
Aldi Grandessa Irish Conserves, Summer Fruits [1 level tsp] – 0.5
Aldi Grandessa Irish Marmalades, Dark Orange [1 level tsp] – 0.5
Aldi Grandessa Irish Marmalades, Seville Orange [1 level tsp] – 0.5
Aldi Grandessa Irish Marmalades, Three Fruits [1 level tsp] – 0.5
Aldi Grandessa Lemon Curd [1 level tsp] – 0.5
Aldi Grandessa Peanut Butter, Crunchy [1 level tbsp] – 4.5
Aldi Grandessa Peanut Butter, Smooth [1 level tbsp] – 4.5
Aldi Grandessa Peanut Butter, Super Smooth American Style [1 level tbsp] – 4.5
Aldi Grandessa Raspberry Conserve [1 level tsp] – 0.5
Aldi Grandessa Raspberry Jam [1 level tsp] – 0.5
Aldi Grandessa Raspberry Jam, Seedless [1 level tsp] – 0.5
Aldi Grandessa Smooth Biscuit Spread [1 level tbsp] – 4
Aldi Grandessa Squeezy Honey [1 level tsp] – 1
Aldi Grandessa Strawberry Jam [1 level tsp] – 0.5
Aldi Grandessa Thick Cut Orange Marmalade [1 level tsp] – 0.5
Aldi Grandessa White Swirl Chocolate Spread [1 level tbsp] – 4.5
Aldi Nutoka Hazelnut Chocolate Spread [1 level tbsp] – 4
Aldi The Foodie Market Crunchy Peanut Butter, Palm Oil Free [1 level tbsp] – 4.5
Aldi The Foodie Market Rich Roast Crunchy Peanut Butter, Palm Oil Free [1 level tbsp] – 4.5
Aldi The Foodie Market Smooth Peanut Butter, Palm Oil Free [1 level tbsp] – 4.5
Aldi The Foodie Market Wholenut Crunchy Peanut Butter [1 level tbsp] – 5
Aldi The Foodie Market Wholenut Smooth Peanut Butter [1 level tbsp] – 5
---
Sweet/Savoury Treats From Aldi
BISCUITS:
Aldi Belmont All Butter Scottish Shortbread Assortment [each] – 5
Aldi Belmont All Butter Scottish Shortbread Fingers [each] – 4.5
Aldi Belmont All Butter Scottish Shortbread Petticoat Tails [per segment] – 3
Aldi Belmont All Butter Shortbread Selection [each] – 5
Aldi Belmont Biscuit Barrel Assortment, Bourbon Cream [each] – 3
Aldi Belmont Biscuit Barrel Assortment, Custard Cream [each] – 3
Aldi Belmont Biscuit Barrel Assortment, Nice Biscuit [each] – 2
Aldi Belmont Biscuit Barrel Assortment, Shortcake [each] – 2.5
Aldi Belmont Bourbon Cream Biscuits [each] – 3.5
Aldi Belmont Caramel Wacko, Chunky Chocolate Biscuits Bars [21g bar] – 5
Aldi Belmont Caramel Waffles 10 pack [29g each] – 6.5
Aldi Belmont Caramelised Biscuits [each] – 2
Aldi Belmont Choc Chip Cookies [each] – 2.5
Aldi Belmont Choc Chunk Cookies, Half Coated [each] – 6.5
Aldi Belmont Choco Break Bars 8 pack [21.5g bar] – 5.5
Aldi Belmont Chocolate Chunk Cookies 200g pack [each] – 5.5
Aldi Belmont Chocolate Wacko, Chunky Chocolate Biscuit Bars 9 pack [21g bar] – 5.5
Aldi Belmont Chocolate Wafer Bars 9 pack [19g bar] – 5
Aldi Belmont Chunky, Milk Chocolate Biscuits Bars 6 pack [24g bar] – 6.5
Aldi Belmont Cookies 'n' Cream, Chocolatey Creamy Sandwich Cookies [each] – 2.5
Aldi Belmont Crunchy Biscuit Spread [1 level tbsp] – 4
Aldi Belmont Custard Creams [each] – 3.5
Aldi Belmont Dark Chocolate Butter Biscuits [each] – 3.5
Aldi Belmont Digestive Bites 120g pouch [20g serving] – 5
Aldi Belmont Digestives, Dark Chocolate [each] – 4
Aldi Belmont Digestives, Milk Chocolate [each] – 4
Aldi Belmont Digestives, Plain [each] – 3.5
Aldi Belmont Digestives, Sugar Free [each] – 3.5
Aldi Belmont Fig Rolls [each] – 3.5
Aldi Belmont Fruit & Nut Cookies, Half Coated [each] – 6.5
Aldi Belmont Ginger Nuts [each] – 2.5
Aldi Belmont Groovy Biscuits 6 pack [each] – 6
Aldi Belmont Iced Rings 125g pack [each] – 1.5
Aldi Belmont Iced Rings 6 pack [21g bag] – 4.5
Aldi Belmont Jaffa Cake Bars [25g each] – 5
Aldi Belmont Jaffa Cakes [each] – 2.5
Aldi Belmont Jammie Cart Wheels 6 pack [each] – 8.5
Aldi Belmont Jammy Wheels [each] – 4
Aldi Belmont Malted Milk Biscuits [each] – 2
Aldi Belmont Marvellous Mallows 6 pack [12g each] – 2
Aldi Belmont Milk Chocolate Butter Biscuits [each] – 3.5
Aldi Belmont Milk Chocolate Caramel Wafer Bars 8 pack [28g bar] – 6.5
Aldi Belmont Milk Chocolate Fingers 125g pack [each] – 1
Aldi Belmont Milk Chocolate Just Divine Biscuits [each] – 4.5
Aldi Belmont Milk Chocolate Shortcake Biscuits [each] – 2.5
Aldi Belmont Milk Chocolate Teacakes 12 pack [each] – 4.5
Aldi Belmont Milk, White & Dark Chocolate Biscuit Assortment [each] – 4
Aldi Belmont Milkshake Biscuits 6 pack [each] – 6.5
Aldi Belmont Mini Choc Chip Cookies 7 pack [19.8g bag] – 5
Aldi Belmont Mixed Chocolate Chunk Cookies 200g pack [each] – 5.5
Aldi Belmont Oaties, Crunchy Oat Biscuits [each] – 3.5
Aldi Belmont Oaties, Milk Chocolate [each] – 5
Aldi Belmont Rich Tea Biscuits [each] – 2
Aldi Belmont Safari Snacks, Mini Milk Chocolate Coated Biscuits [22g bag] – 5.5
Aldi Belmont Seal Bars 8 pack [25g bar] – 6.5
Aldi Belmont Smooth Biscuit Spread [1 level tbsp] – 4.5
Aldi Belmont Take Away Milk Chocolate Sandwich Biscuits 5 pack [each] – 7
Aldi Belmont Toffyooze [15g each] – 3.5
Aldi Belmont Triple Chocolate Cookies 200g pack [each] – 5.5
Aldi Belmont Viennese Fingers, Jam & Cream [each] – 4
Aldi Belmont Viennese Fingers, Milk Chocolate [each] – 3
Aldi Belmont Wafer, Chocolate Covered Wafer Fingers 5 pack [15g twin pack] – 4
Aldi Belmont White Chocolate & Cranberry Cookies 200g pack [each] – 6
Aldi Belmont White Chocolate Cookies [each] – 5.5
Aldi Belmont White Chocolate Fingers 125g pack [each] – 1
Aldi Dairyfine Mini Delights, Cookies & Milk Snack Sticks 11 pack [18g each] – 5
Aldi Dairyfine Mini Delights, Cookies & Milk Snack Sticks 11 pack [18g each] – 5
Aldi Everyday Essentials Chocolate Chip Cookies [each] – 2.5
Aldi Memento French Salted Caramel Butter Biscuits 150g box [12g each] – 3
Aldi Peter's Craft Bakery, Ginger Parkin Biscuits 6 pack [40g each] – 9
Aldi Specially Selected All Butter Fruit & Oat Cookies 200g pack [each] – 5.5
Aldi Specially Selected All Butter Quadruple Chocolate Cookies 200g pack [each] – 6.5
Aldi Specially Selected All Butter Salted Caramel Cookies Half Coated with Milk Chocolate 200g pack [each] – 6
Aldi Specially Selected All Butter Stem Ginger Cookies 200g pack [26g each] – 6
Aldi Specially Selected Fruit Granola Cookies [each] – 5
Aldi Specially Selected Hand Finished Cookies & Cream Slices 4 pack [40g each] – 11
Aldi Specially Selected Luxury All Butter Cookies with Chocolate & Coconut [each] – 6
Aldi Specially Selected Luxury All Butter Cookies with White Chocolate Chunks [each] – 6.5
Aldi Specially Selected Nutty Granola Cookies [each] – 5.5
Aldi The Foodie Market Free From Ginger Cookies [18g each] – 4
Aldi Vegan Chunky Chocolate Chip Cookies 8 pack [25g each] – 5.5
Aldi Vegan Fruity Flapjack Cookies 8 pack [25g each] – 5.5
CHOCOLATE/SWEETS:
Aldi Choceur Almond Milk Chocolate 200g bar [25g] – 7.5
Aldi Choceur Almond Milk Chocolate 200g bar [each rectangle] – 8.5
Aldi Choceur Alpine Milk Bar 100g bar [25g] – 6.5
Aldi Choceur Belgian Chocolate Waves, Caramel 125g pack [25g] – 7
Aldi Choceur Belgian Chocolate Waves, Milk 125g pack [25g] – 7
Aldi Choceur Belgian Chocolate Waves, Mint 125g pack [25g] – 6.5
Aldi Choceur Belgian Chocolate Waves, Orange 125g pack [25g] – 7
Aldi Choceur Belgian Chocolate Waves, Salted Caramel 125g pack [25g] – 6.5
Aldi Choceur Cherry Liqueurs [each] – 2.5
Aldi Choceur Choc 'N Bisc, Choc & Caramel [26g bar] – 6.5
Aldi Choceur Choc 'N Bisc, Chocolate [26g bar] – 6.5
Aldi Choceur Choc 'N Bisc, Milk & Choc [26g bar] – 6.5
Aldi Choceur Chocolate Assortment 600g box [each] – 3
Aldi Choceur Classic Mint Collection [each] – 1.5
Aldi Choceur Coconut Crunch White Chocolate 200g bar [25g] – 7
Aldi Choceur Creamy Milk Chocolate 200g bar [25g] – 7
Aldi Choceur Creamy Milk Chocolate 200g bar [each square] – 2
Aldi Choceur Crunchy Salted Caramel Milk Chocolate 200g bar [each rectangle] – 2
Aldi Choceur Dark Chocolate with Hazelnuts 200g bar [25g] – 7
Aldi Choceur Dark Chocolate with Hazelnuts 200g bar [each rectangle] – 8
Aldi Choceur Dark Chocolate, 45% Cocoa 200g bar [25g] – 7
Aldi Choceur Dark Chocolate, 45% Cocoa 200g bar [per square] – 2
Aldi Choceur Dark Chocolate, 50% Cocoa 5 pack [40g bar] – 10
Aldi Choceur Double Chocolate Cake Bars 5 pack [each] – 7
Aldi Choceur Fruit & Nut Milk Chocolate 200g bar [per rectangle] – 8
Aldi Choceur Marzipan Bar, Classic Marzipan 100g bar [25g] – 5.5
Aldi Choceur Marzipan Bar, Hazelnut Praline 125g bar [25g] – 6.5
Aldi Choceur Marzipan Bar, Rum & Raisin 125g bar [25g] – 5.5
Aldi Choceur Milk Chocolate with Hazelnuts [40g bar] – 11
Aldi Choceur Milk Chocolate with Hazelnuts 100g bar [25g] – 7
Aldi Choceur Milk Chocolate with Hazelnuts 100g bar [each square] – 1
Aldi Choceur Milk Chocolate, Smooth & Silky 200g bar [25g] – 7
Aldi Choceur Milk Chocolate, Smooth & Silky 200g bar [each square] – 2
Aldi Choceur Mint Sticks [2 sticks] – 1.5
Aldi Choceur Orange Sticks [2 sticks] – 1.5
Aldi Choceur Rum, Raisin & Nut Milk Chocolate 200g bar [each rectangle] – 7
Aldi Choceur Salted Pretzel Milk Chocolate 200g bar [each rectangle] – 7.5
Aldi Choceur Smooth Caramel Milk Chocolate 200g bar [25g] – 6
Aldi Choceur Smooth Caramel Milk Chocolate 200g bar [each square] – 2
Aldi Choceur Sweet & Creamy White Chocolate [25g] – 7
Aldi Choceur Sweet & Creamy White Chocolate [each square] – 2
Aldi Dairyfine Beanie Eggs 100g bag [12.5g each] – 3
Aldi Dairyfine Bubbles Minis [15g each] – 4
Aldi Dairyfine Caramel Crunch Chocolate Bars 4 pack [38g bar] – 10
Aldi Dairyfine Caramel Hazelnut Mighty Bites, Milk Chocolate [per square] – 2.5
Aldi Dairyfine Choc Ums, Crispy 121g bag [25g] – 6
Aldi Dairyfine Choc Ums, Peanut 140g bag [25g] – 6.5
Aldi Dairyfine Chocetts Milk Chocolate Covered Toffees 150g pack [25g] – 6
Aldi Dairyfine Choco-Low, No Added Sugar Dark Chocolate 100g bar [each square] – 2.5
Aldi Dairyfine Choco-Low, No Added Sugar Milk Chocolate 100g bar [each square] – 2.5
Aldi Dairyfine Cookies n Cream Mighty Bites, Milk Chocolate [per square] – 2.5
Aldi Dairyfine Dark Chocolate Bar 200g bar [25g] – 6
Aldi Dairyfine Dark Chocolate Bar 200g bar [each square] – 1.5
Aldi Dairyfine Dreamy Bars, Treat Size [16g each] – 3.5
Aldi Dairyfine Fruit & Nut Milk Chocolate 200g bag [25g] – 6
Aldi Dairyfine Giant Chocolate Moons 175g bag [25g] – 6.5
Aldi Dairyfine Giant Milk Chocolate Buttons 120g bag [30g serving] – 8.5
Aldi Dairyfine Giant Milk Chocolate Caramel Buttons 120g bag [25g] – 6
Aldi Dairyfine Jive Caramel Shortcake Bars 5 pack [42g twin bar] – 9.5
Aldi Dairyfine Legends Family Treat Bag, Jive Bar [21g treat size] – 5.5
Aldi Dairyfine Legends Family Treat Bag, Racer Bar [18g treat size] – 4.5
Aldi Dairyfine Legends Family Treat Bag, Roar Bar [17g treat size] – 4.5
Aldi Dairyfine Legends Family Treat Bag, Titan Bars [18g treat size] – 4.5
Aldi Dairyfine Milk Chocolate 200g bar [25g] – 7
Aldi Dairyfine Milk Chocolate 200g bar [each square] – 1.5
Aldi Dairyfine Milk Chocolate Bubbly 100g bar [25g] – 7
Aldi Dairyfine Milk Chocolate Bubbly Minis [10g each] – 2.5
Aldi Dairyfine Milk Chocolate Bubbly, Mint 100g bar [25g] – 7
Aldi Dairyfine Milk Chocolate Bubbly, Orange 100g bar [25g] – 7
Aldi Dairyfine Milk Chocolate Bubbly, Vanilla 100g bar [25g] – 7
Aldi Dairyfine Milk Chocolate Buttons 70g bag [35g serving] – 9.5
Aldi Dairyfine Milk Chocolate Coins 70g bag [each] – 2
Aldi Dairyfine Milk Chocolate Easter Bunny [25g] – 6.5
Aldi Dairyfine Milk Chocolate Orange Miniatures 125g pack [25g] – 6.5
Aldi Dairyfine Milk Chocolate Peanuts 180g bag [25g] – 7
Aldi Dairyfine Milk Chocolate Raisins 180g bag [25g] – 5.5
Aldi Dairyfine Milk Chocolate Santa Lolly 10 pack [14g each] –  4
Aldi Dairyfine Mini Delights, Cookies & Milk Snack Sticks 11 pack [18g each] – 5 
Aldi Dairyfine Mini Delights, Crispy Snack Sticks 11 pack [18g each] – 5
Aldi Dairyfine Mini Delights, Milk Chocolate Snack Sticks 11 pack [18g each] – 5
Aldi Dairyfine Mini Milk Chocolate Santas 25 pack [5g each] – 1.5
Aldi Dairyfine Mini Milk Chocolate Snowmen 25 pack [5g each] – 1.5
Aldi Dairyfine Mint Creme 150g bar [25g] – 6
Aldi Dairyfine Mint Creme 150g bar [each square] – 2
Aldi Dairyfine Munchy Chocolate Dipped Bars, Choc Chip 6 pack [32g bar] – 6
Aldi Dairyfine Munchy Chocolate Dipped Bars, Peanut 6 pack [32g bar] – 6.5
Aldi Dairyfine Munchy Chocolate Dipped Bars, Raisin 6 pack [32g each] – 6
Aldi Dairyfine Peanut Crisp Mighty Bites, Milk Chocolate [per square] – 2.5
Aldi Dairyfine Racer Chocolate Bars 6 pack [38g bar] – 9
Aldi Dairyfine Racer Chocolate Bars triple pack [55g each] – 13.5
Aldi Dairyfine Romeo Treat Size Bars 250g multipack [25g bar] – 6
Aldi Dairyfine Spirals, Coconut 7 pack [21g bar] – 6
Aldi Dairyfine Spirals, Double Chocolate 7 pack [21g bar] – 6
Aldi Dairyfine Spirals, Hazelnut 7 pack [21g bar] – 6
Aldi Dairyfine Spirals, Rich Choc 7 pack [21.4g bar] – 6
Aldi Dairyfine Titan Bar [38g bar] – 8.5
Aldi Dairyfine Titan Bar [55g bar] – 12
Aldi Dairyfine Titan Cake Bars 5 pack [26g each] – 6
Aldi Dairyfine Turkish Delight 150g bar [25g] – 6
Aldi Dairyfine Turkish Delight 150g bar [each square] – 2
Aldi Dairyfine White Bubbly Bar 100g bar [25g] – 7
Aldi Dairyfine White Chocolate Bubbly Minis 15 pack [10g each] – 3
Aldi Dairyfine White Chocolate Buttons 70g bag [35g serving] – 9.5
Aldi Dairyfine Whole Nut Chocolate [25g] – 7
Aldi Dairyfine Whole Nut Chocolate [each square] – 1.5
Aldi Dominion All Sports Sweets 190g bag [25g] – 4
Aldi Dominion Amazon Mix Sweets 170g bag [25g] – 4.5
Aldi Dominion Blackcurrant Liquorice, Sugar Free 70g box [5g each] – 0.5
Aldi Dominion Butter Mintoes 200g bag [25g] – 5
Aldi Dominion Chocolate Eclairs 160g bag [25g] – 6
Aldi Dominion Cola Bottles [25g] – 4
Aldi Dominion Complimints, Sugar Free Mints [5 mints] – 0.5
Aldi Dominion Dairy Toffees 200g bag [25g] – 6
Aldi Dominion Dairy Toffees 200g bag [each] – 2
Aldi Dominion Dolly Mixtures 75g bag [25g] – 5
Aldi Dominion Extra Strong Peppermints 5 pack [per roll] – 8.5
Aldi Dominion Fizzy Belts 75g pack [25g] – 4.5
Aldi Dominion Fizzy Cola Lances 75g pack [25g] – 4.5
Aldi Dominion Fizzy Pineapple Gourmet Gummy Candies 120g bag [25g] – 4.5
Aldi Dominion Fizzy Strawberry Lances 75g pack [25g] – 4.5
Aldi Dominion Foam Bananas & Shrimps 75g bag [25g] – 4.5
Aldi Dominion Fruit Candy Canes [12g each] – 2.5
Aldi Dominion Fruit Chews 450g bag [each] – 1.5
Aldi Dominion Fruit Gums 150g bag [25g] – 4.5
Aldi Dominion Fruit Gums 150g bag [each] – 0.5
Aldi Dominion Fruit Pastilles 230g bag [25g] – 4.5
Aldi Dominion Fruit Pastilles 230g bag [each] – 0.5
Aldi Dominion Fruit Sherbets 200g pack [25g] – 5
Aldi Dominion Fudge 200g bag [each] – 2
Aldi Dominion Groovee Vegetarian Foam Mix 170g bag [25g] – 4.5
Aldi Dominion Groovee Vegetarian Gummy Mix 170g bag [25g] – 4.5
Aldi Dominion Gummy Mix 75g bag [25g] – 4.5
Aldi Dominion Jelly Babies 230g bag [25g] – 4
Aldi Dominion Jelly Babies 230g bag [each] – 1
Aldi Dominion Jelly Beans, 20 Flavours 200g bag [25g] – 4.5
Aldi Dominion Jelly Beans, Sours 200g bag [25g] – 4.5
Aldi Dominion Jelly Cherries 75g bag [25g] – 4
Aldi Dominion Juicy Strawberry Gourmet Gummy Candies 120g pouch [each] – 1.5
Aldi Dominion Lemon Sherbets 200g bag [25g] – 5
Aldi Dominion Lemon Sherbets, Sugar Free 70g box [each] – 0.5
Aldi Dominion Liquorice Allsorts 230g bag [25g] – 4.5
Aldi Dominion Liquorice Allsorts 230g bag [each] – 1
Aldi Dominion Marshmallow Cubes 300g pack [30g serving] – 5
Aldi Dominion Marshmallow Twists 300g pack [30g serving] – 5
Aldi Dominion Midget Gems 200g bag [25g] – 4
Aldi Dominion Milk Bottles 75g bag [25g] – 4.5
Aldi Dominion Mini Gums, Sugar Free 75g pouch [25g] – 2.5
Aldi Dominion Mint Humbugs 200g bag [25g] – 5
Aldi Dominion Mint Imperials 200g bag [25g] – 5
Aldi Dominion Mint Selection [each] – 1.5
Aldi Dominion Ocean Mix Sweets 170g bag [25g] – 4
Aldi Dominion Pink & White Marshmallows 200g bag [each] – 1.5
Aldi Dominion Pomegranate Turkish Delight [17g each] – 3
Aldi Dominion Rainbow Dots [3 sweets] – 0.5
Aldi Dominion Rhubarb & Custard Sweets 200g bag [25g] – 5
Aldi Dominion Ropes, Strawberry, Raspberry & Blueberry 5 pack [24g pack] – 4
Aldi Dominion Soft & Fruity Yogurty Gums 210g bag [25g] – 4
Aldi Dominion Soft Eating Liquorice 150g pack [25g] – 3.5
Aldi Dominion Soft Foams, Sugar Free 75g pouch [25g] – 2.5
Aldi Dominion Sour Watermelon Gourmet Gummy Candies 120g pouch [each] – 1.5
Aldi Dominion Strawberry Laces 85g pack [25g] – 4.5
Aldi Dominion Strawberry Pencils 75g pack [25g] – 4.5
Aldi Dominion Sugar Free Sweets, Butterscotch 44g box [3.2g each] – 0.5
Aldi Dominion Sugar Free Sweets, Clear Fruits 44g box [3.2g each] – 0.5
Aldi Dominion Sugar Free Sweets, Clear Mints 44g box [3.2g each] – 0.5
Aldi Dominion Sugar Free Sweets, Cola 44g box [3.2g each] – 0.5
Aldi Dominion Sugar Free Sweets, Creamy Butterscotch 44g box [each] – 0.5
Aldi Dominion Sugar Free Sweets, Creamy Cappuccino 42g box [each] – 0.5
Aldi Dominion Sugar Free Sweets, Creamy Strawberry 44g box [each] – 0.5
Aldi Dominion Sugar Free Sweets, Rhubarb & Custard 44g box [each] – 0.5
Aldi Dominion Sweet Liquorice, Sugar Free 75g pouch [25g] – 3
Aldi Dominion Teeth & Lips 75g bag [25g] – 4
Aldi Dominion Traditional Turkish Delight [each] – 3
Aldi Dominion Veggie Leo the Lion Chewy Fruit Gums [each] – 1.5
Aldi Dominion Veggie Walter The Worm Chewy Fruit Gums [13g each] – 2
Aldi Dominion Wendy the Worm Fizzy Fruit Gums [13g each] – 2
Aldi Dominion Wine Gums 230g pack [25g] – 4
Aldi Dominion Wine Gums 230g pack [each] – 1
Aldi Moser-Roth Assorted Neapolitan Chocolates [6g each] – 1.5
Aldi Moser-Roth Belgian Chocolate Seashells [each] – 3.5
Aldi Moser-Roth Belgian Cocoa Dusted Truffles [each] – 2.5
Aldi Moser-Roth Belgian Dark Chocolate Flaked Truffles [each] – 3.5
Aldi Moser-Roth Belgian Milk Chocolate Flaked Truffles [each] – 3.5
Aldi Moser-Roth Belgian Milk Chocolate Stirrers 2 pack [30g each] – 8.5
Aldi Moser-Roth Belgian Salted Caramel Chocolate Stirrers 3 pack [30g each] – 8.5
Aldi Moser-Roth Belgian Salted Caramel Truffles 170g box [each] – 2.5
Aldi Moser-Roth Belgian White Chocolate Flaked Truffles [each] – 4
Aldi Moser-Roth Belgian White Chocolate Stirrers 2 pack [30g each] – 8.5
Aldi Moser-Roth Caramel Dore White Chocolate with Pecans & Himalayan Pink Salt 100g bar [25g] – 7.5
Aldi Moser-Roth Christmas Classics, Festive Chocolates [each] – 3
Aldi Moser-Roth Cocktail Truffles 200g pack [each] – 3
Aldi Moser-Roth Columbian Dark Chocolate with Quinoa & Orange Flavour [25g bar] – 7
Aldi Moser-Roth Columbian Milk Chocolate with Coconut & Himalayan Salt, No Added Sugar [25g bar] – 7
Aldi Moser-Roth Dark Chocolate Bars with Chilli 5 pack [25g bar] – 6.5
Aldi Moser-Roth Dark Chocolate Bars with Ginger 5 pack [25g bar] – 6.5
Aldi Moser-Roth Dark Chocolate Bars with Mint 5 pack [25g bar] – 7
Aldi Moser-Roth Dark Chocolate Bars with Orange & Almond Pieces 5 pack [25g bar] – 6.5
Aldi Moser-Roth Dark Chocolate Bars, 70% Cocoa 5 pack [25g bar] – 7
Aldi Moser-Roth Dark Chocolate Bars, 85% Cocoa 5 pack [25g bar] – 7
Aldi Moser-Roth Dark Chocolate Bars, Salted Caramel 5 pack [25g bar] – 6.5
Aldi Moser-Roth Dark Chocolate Buttons, 70% Cocoa 100g bag [25g serving] – 7
Aldi Moser-Roth Dark Chocolate Mountain Bar with Honey & Almond Nougat 400g pack [per triangle] – 5
Aldi Moser-Roth Dark Chocolate with Sea Salt 5 pack [25g bar] – 6.5
Aldi Moser-Roth Dark Chocolate with Sea Salt, 56% Cocoa 125g bar [per square] – 3.5
Aldi Moser-Roth Dark Chocolate, 71% Cocoa with Goji Berries & Forest Fruits 100g bar [25g] – 6.5
Aldi Moser-Roth Fantasy Truffles, Cocoa Nibs 200g pack [each] – 3
Aldi Moser-Roth Fantasy Truffles, Orange 200g pack [each] – 3
Aldi Moser-Roth Finest Chocolate Collection 10 pack [25g bar] – 7
Aldi Moser-Roth Finest Milk Chocolate Bars 5 pack [25g bar] – 7
Aldi Moser-Roth Finest Milk Chocolate Caramel Bars 5 pack [25g bar] – 7
Aldi Moser-Roth Gin Truffles 100g box [each] – 2
Aldi Moser-Roth Honey Salted Almond Chocolate Nut Bites 160g pack [6 pieces] – 5
Aldi Moser-Roth Just Dark, Assorted Dark Chocolates [each] – 3.5
Aldi Moser-Roth Just Milk Chocolate Assortment 200g box [each] – 3.5
Aldi Moser-Roth Merry Toddies, Milk, White & Dark Filled Chocolate Assortment 195g box [each] – 3
Aldi Moser-Roth Milk Chocolate Bars with Hazelnut 5 pack [25g bar] – 7
Aldi Moser-Roth Milk Chocolate with Ghanaian Cocoa Nibs 100g bar [25g] – 7
Aldi Moser-Roth Milk Chocolate with Salted Caramel Pieces 100g bar [per square] – 2.5
Aldi Moser-Roth Milk, White & Dark Filled Chocolate Selection 198g box [each] – 3.5
Aldi Moser-Roth Mint Creams [each] – 2
Aldi Moser-Roth Mousse au Chocolat, Dark Sour Cherry & Chilli 5 pack [37.5g bar] – 9.5
Aldi Moser-Roth Mousse au Chocolat, Orange 4 pack [37.5g bar] – 10
Aldi Moser-Roth Mousse au Chocolat, White 4 pack [37.5g bar] – 11.5
Aldi Moser-Roth Orange Creams [each] – 2
Aldi Moser-Roth Organic Peruvian Dark Chocolate with Ginger & Mandarin 100g bar [per square] – 2.5
Aldi Moser-Roth Organic Peruvian Dark Chocolate, 70% Cocoa 100g bar [per square] – 3
Aldi Moser-Roth Organic Peruvian Dark Chocolate, 85% Cocoa 100g bar [per square] – 3
Aldi Moser-Roth Peruvian Dark Chocolate, 62% Cocoa 5 pack [25g bar] – 7
Aldi Moser-Roth Peruvian Dark Chocolate, 64% Cocoa with Almonds, Coconut & Quinoa 100g bar [25g] – 7
Aldi Moser-Roth Pink Gin Creams [each] – 2
Aldi Moser-Roth Raspberry & Aronia Berry Chocolate Fruit Bites [6 pieces] – 4.5
Aldi Moser-Roth Rockin Robins 14 pack [10g each] – 3
Aldi Moser-Roth Rose Creams [9g] – 2
Aldi Moser-Roth Strawberry Creams [each] – 2
Aldi Moser-Roth Swiss Collection, Assorted Chocolate Truffles [each] – 4
Aldi Moser-Roth Swiss White Chocolate with Vanilla 100g bar [per square] – 3
Aldi Moser-Roth The Artisan Collection [each] – 3
Aldi Moser-Roth Truffles, Marc De Champagne 140g box [each] – 2.5
Aldi Moser-Roth Truffles, Salted Caramel 140g box [each] – 2.5
Aldi Moser-Roth Violet Creams [9g each] – 2
Aldi Moser-Roth White Chocolate Bars, Madagascan Vanilla 5 pack [25g bar] – 7.5
Aldi Moser-Roth White Chocolate with Feuilletine & Coffee 100g bar [25g] – 7
Aldi Moser-Roth Winter Dessert Chocolate Selection [each] – 3.5
CRISPS:
Aldi Be Light Cheese & Onion Crisps (25g bag) – 6 Syns
Aldi Be Light Ready Salted Crisps 6 pack (25g bag) – 6 Syns
Aldi Be Light Salt & Vinegar Crisps (25g bag) – 6 Syns
Aldi Be Light Satin Crunch Crisps, Cheese & Onion (25g bag) – 5 Syns
Aldi Be Light Sweet Chilli Cassava Crisps (20g bag) – 4.5 Syns
Aldi Be Light Thai Lemongrass Cassava Crisps (20g bag) – 4.5 Syns
Aldi Everyday Essentials Value Tortilla Chips 200g bag (25g serving) – 6.5 Syns
Aldi Passions Deli, Lattice Cut Crisps, Cheddar & Red Onion (25g) – 6.5 Syns
Aldi Passions Hand Cooked Crisps, Salt & Vinegar (25g) – 6.5 Syns
Aldi Passions Hand Cooked Crisps, Sour Cream & Sweet Chilli (25g) – 6 Syns
Aldi Passions Tortilla Chips, all varieties (25g bag) – 6.5 Syns
Aldi Snackrite Crinkle Cut Crisps, Cheddar & Onion (28g bag) – 7.5 Syns
Aldi Snackrite Crinkle Cut Crisps, Ready Salted (28g bag) – 7.5 Syns
Aldi Snackrite Crisps, Prawn Cocktail (25g bag) – 6.5 Syns
Aldi Snackrite Crisps, Ready Salted (25g bag) – 6.5 Syns
Aldi Snackrite Crisps, Roast Chicken (25g bag) – 6.5 Syns
Aldi Snackrite Vegetable Crisps 100g bag (25g serving) – 6 Syns
Aldi Specially Selected Hand Cooked Crisps, Pork & Apple (25g) – 6.5 Syns
Aldi Specially Selected Hand Cooked Parsnip Crisps, Garlic & Rosemary (25g) – 6 Syns
Aldi Specially Selected Red Pepper & Cheddar Corn Tortilla Chips (25g) – 6.5 Syns
Aldi Specially Selected Sea Salt & Lime Corn Tortilla Chips (25g) – 6 Syns
Aldi Specially Selected Steak Fajita Corn Tortilla Chips (25g) – 6 Syns
ICE CREAM/LOLLIES:
Aldi Giannis Chocolate Brownie Ice Cream 480ml tub (per 100ml) – 7.5 Syns
Aldi Giannis Deluxe Mini Ice Cream Lollies, Almond 12 pack (36g each) – 7 Syns
Aldi Giannis Deluxe Mini Ice Cream Lollies, Dark Chocolate 12 pack (34g each) – 6.5 Syns
Aldi Giannis Deluxe Mini Ice Cream Lollies, Milk Chocolate 12 pack (34g each) – 6.5 Syns
Aldi Giannis Deluxe Mini Ice Cream Lollies, White Chocolate 12 pack (34g each) – 6.5 Syns
Aldi Giannis Ice Blitz Ice Cream Lollies 6 pack (60ml each) – 3.5 Syns
Aldi Giannis Ice Cream Sandwiches, Cookies n Ice Cream 6 pack (55ml each) – 5.5 Syns
Aldi Giannis Oval Ice Cream, Mint Choc Chip 900ml tub (per 100ml) – 5.5 Syns
Aldi Giannis Oval Ice Cream, Strawberries & Cream 900ml tub (per 100ml) – 4.5 Syns
Aldi Giannis Oval Ice Cream, Vanilla 900ml tub (per 100ml) – 5 Syns
Aldi Giannis Screwball Ice Creams 6 pack (100ml each) – 5.5 Syns
Aldi Killeigh Farm Luxury Irish Ice Cream, Banoffee 900ml tub (per 100ml) – 5.5 Syns
Aldi Killeigh Farm Luxury Irish Ice Cream, Caramel 900ml tub (per 100ml) – 5.5 Syns
Aldi Killeigh Farm Luxury Irish Ice Cream, Chocolate 900ml tub (per 100ml) – 5.5 Syns
Aldi Killeigh Farm Luxury Irish Ice Cream, Cookies & Cream 900ml tub (per 100ml) – 5.5 Syns
Aldi Killeigh Farm Luxury Irish Ice Cream, Mint Caramel 900ml tub (per 100ml) – 5.5 Syns
Aldi Killeigh Farm Luxury Irish Ice Cream, Vanilla 900ml tub (per 100ml) – 5 Syns
Aldi Specially Selected Mini Ice Cream Chocsticks, White Chocolate & Raspberry (38g each) – 6.5 Syns
---
Vegetables From Aldi
Aldi Lets Cook Oriental Crunchy Vegetable Stir Fry 300g pack – Syn Free
Aldi Lets Cook Vegetable Soup Mix, chilled 600g pack – Syn Free
Aldi Natures Pick Cauliflower & Parsley Rice, chilled – Syn Free
---
Yogurt From Aldi
SYN FREE:
Aldi Brooklea Fat Free Authentic Greek Yogurt 500g pot (125g serving) – Syn Free
Aldi Brooklea Fat Free Greek Style Yogurt, Natural (per 100g) – Syn Free
Aldi Brooklea Fat Free Natural Yogurt (per 100g) – Syn Free
Aldi Brooklea Natural Fromage Frais, 0% Fat (per 100g) – Syn Free
LOW SYN:
Aldi Brooklea Active 0% Fat Yogurt, Raspberry, 0% Added Sugar (125g pot) – 0.5 Syns
Aldi Brooklea Active Yogurt, Kiwi (125g pot) – 4 Syns
Aldi Brooklea Authentic Greek Yogurt (125g serving) – 4.5 Syns
Aldi Brooklea Chocolate Dessert with Crunch Bites (90g pot) – 11.5 Syns
Aldi Brooklea Chocolate Dessert with Milk Chocolate Buttons (90g pot) – 11 Syns
Aldi Brooklea Chocolate Dessert with Mini Chocolate Eggs (90g pot) – 12 Syns
Aldi Brooklea Cholesterol Reducing Yogurt Drink, Strawberry, chilled 8 pack (100g bottle) – 2 Syns
Aldi Brooklea Duo Crunch Split Pot Yogurt, Banana Choco Flakes (175g pot) – 10.5 Syns
Aldi Brooklea Duo Crunch Split Pot Yogurt, Vanilla Choco Balls (175g pot) – 11 Syns
Aldi Brooklea Duo Fruit Split Pot Yogurt, Peach & Apricot (175g pot) – 6 Syns
Aldi Brooklea Duo Fruit Split Pot Yogurt, Strawberry (175g pot) – 6 Syns
Aldi Brooklea Fat Free Greek Style Yogurt, Cherry 4 pack (125g pot) – 1.5 Syns
Aldi Brooklea Fat Free Greek Style Yogurt, Peach & Honey 4 pack (125g pot) – 1.5 Syns
Aldi Brooklea Fat Free Greek Style Yogurt, Toffee 4 pack (125g pot) – 1.5 Syns
Aldi Brooklea Fat Free Layered Greek Style Yogurt, Cherry 4 pack (125g pot) – 1.5 Syns
Aldi Brooklea Fat Free Layered Greek Style Yogurt, Peach & Passion Fruit 4 pack (125g pot) – 1.5 Syns
Aldi Brooklea Fat Free Layered Greek Style Yogurt, Strawberry 4 pack (125g pot) – 1.5 Syns
Aldi Brooklea Fat Free Orange Yogurt with Chocolate Sprinkles (165g pot) – 1 Syn
Aldi Brooklea Fat Free Raspberry & Cranberry Yogurt (175g pot) – 1.5 Syns
Aldi Brooklea Fat Free Strawberry Yogurt (450g pot) – 9 Syns
Aldi Brooklea Fat Free Vanilla Yogurt (450g pot) – 10.5 Syns
Aldi Brooklea Fat Free Vanilla Yogurt with Chocolate Sprinkles (165g pot) – 1.5 Syns
Aldi Brooklea Fat Free Yogurt, Papaya & Coconut (175g pot) – 1 Syn
Aldi Brooklea Greek Style Low Fat Split Pot Yogurt, Apricot & Honey multipack (150g pot) – 6 Syns
Aldi Brooklea Greek Style Low Fat Split Pot Yogurt, Rhubarb multipack (150g pot) – 5.5 Syns
Aldi Brooklea Greek Style Low Fat Split Pot Yogurt, Strawberry multipack (150g pot) – 6 Syns
Aldi Brooklea Greek Style Natural Yogurt (per 100g) – 4.5 Syns
Aldi Brooklea Heavenlies, Lemon Yogurt with Meringue Pieces (107g pot) – 2.5 Syns
Aldi Brooklea Heavenlies, Toffee Yogurt with Chocolate Coated Balls (107g pot) – 3.5 Syns
Aldi Brooklea Light Fat Free Yogurt, Banana & Custard (175g pot) – 1.5 Syns
Aldi Brooklea Light Fat Free Yogurt, Cherry (175g pot) – 1.5 Syns
Aldi Brooklea Light Fat Free Yogurt, Gingerbread (175g pot) – 1 Syn
Aldi Brooklea Light Fat Free Yogurt, Key Lime Pie (175g pot) – 1 Syn
Aldi Brooklea Light Fat Free Yogurt, Mango & Passion Fruit (175g pot) – 1 Syn
Aldi Brooklea Light Fat Free Yogurt, Strawberry (175g pot) – 1 Syn
Aldi Brooklea Light Fat Free Yogurt, Toffee (175g pot) – 1 Syn
Aldi Brooklea Light Fat Free Yogurt, Vanilla (175g pot) – 1 Syn
Aldi Brooklea Light Greek Style Fat Free Yogurt, Coconut & Vanilla, 0% Added Sugar (125g pot) – 1 Syn
Aldi Brooklea Light Greek Style Fat Free Yogurt, Coconut & Vanilla, 0% Added Sugar (450g pot) – 3 Syns
Aldi Brooklea Light Greek Style Fat Free Yogurt, Honey (125g pot) – 1 Syn
Aldi Brooklea Light Greek Style Fat Free Yogurt, Lemon, 0% Added Sugar (125g pot) – 0.5 Syns
Aldi Brooklea Light Greek Style Fat Free Yogurt, Raspberry, 0% Added Sugar (125g pot) – 0.5 Syns
Aldi Brooklea Light Greek Style Fat Free Yogurt, Strawberry, 0% Added Sugar (125g pot) – 0.5 Syns
Aldi Brooklea Low Fat Berries & Cherries Yogurts, Cherry multipack (125g pot) – 4 Syns
Aldi Brooklea Low Fat Berries & Cherries Yogurts, Forest Fruits multipack (125g pot) – 3.5 Syns
Aldi Brooklea Low Fat Berries & Cherries Yogurts, Strawberry multipack (125g pot) – 3 Syns
Aldi Brooklea Low Fat Natural Yogurt (500g pot) – 3.5 Syns
Aldi Brooklea Low Fat Strawberry Yogurt individual (125g pot) – 3.5 Syns
Aldi Brooklea Low Fat Sunshine Fruits Yogurt, Apricot multipack (125g pot) – 3.5 Syns
Aldi Brooklea Low Fat Sunshine Fruits Yogurt, Mango & Passion Fruit multipack (125g pot) – 3 Syns
Aldi Brooklea Low Fat Sunshine Fruits Yogurt, Peach multipack (125g pot) – 3.5 Syns
Aldi Brooklea Low Fat Yogurt, Blueberry with a Hint of Lime (450g pot) – 13 Syns
Aldi Brooklea Low Fat Yogurt, Raspberry (450g pot) – 13.5 Syns
Aldi Brooklea Low Fat Yogurt, Rhubarb & Custard (450g pot) – 14.5 Syns
Aldi Brooklea Milk Snack Bar, Cocoa (30g each) – 7 Syns
Aldi Brooklea Natural Low Fat Greek Style Yogurt (500g pot) – 5.5 Syns
Aldi Brooklea Pots of Choc, Milk Chocolate & Caramel Desserts 4 pack (70g pot) – 7 Syns
Aldi Brooklea Rice Pudding, Original, chilled (190g pot) – 10 Syns
Aldi Brooklea Rice Pudding, Strawberry, chilled (190g pot) – 10 Syns
Aldi Brooklea Rice, Low Fat, Apple, chilled (180g pot) – 10 Syns
Aldi Brooklea Rice, Low Fat, Raspberry, chilled (180g pot) – 9.5 Syns
Aldi Brooklea Skyr High Protein Fat Free Yogurt, Blueberry (150g pot) – 3 Syns
Aldi Brooklea Skyr High Protein Fat Free Yogurt, Cherry (150g pot) – 3 Syns
Aldi Brooklea Skyr High Protein Fat Free Yogurt, Passion Fruit (150g pot) – 3 Syns
Aldi Brooklea Skyr High Protein Fat Free Yogurt, Strawberry (150g pot) – 2.5 Syns
Aldi Brooklea Squidgy Pouches, Raspberry Yogurt (80g pouch) – 2 Syns
Aldi Brooklea Squidgy Pouches, Strawberry Yogurt (80g pouch) – 2 Syns
Aldi Brooklea Sweet Treats Desserts, Banana, chilled (125g pot) – 5.5 Syns
Aldi Brooklea Sweet Treats Desserts, Toffee , chilled (125g pot) – 6 Syns
Aldi Brooklea Sweet Treats Desserts, Vanilla, chilled (125g pot) – 5.5 Syns
Aldi Brooklea Thick & Creamy Yogurt (150g pot), all varieties – 9 Syns
Aldi Brooklea Tube It Fromage Frais, Strawberry/Vanilla 9 pack (40g tube) – 1.5 Syns
Aldi Brooklea Yogurt Drinks, Fat Free, Original 12 pack (100g bottle) – 1.5 Syns
Aldi Brooklea Yogurt Drinks, Low Fat, Multifruit 12 pack (100g bottle) – 3.5 Syns
Aldi Duneen 0% Fat Irish Yogurt, Raspberry (125g pot) – 0.5 Syns
Aldi Duneen 0% Fat Irish Yogurt, Vanilla (500g pot) – 3 Syns
Aldi Duneen Active Low Fat Yogurt with Cereal 4 pack (125g pot) – 2 Syns
Aldi Duneen Active Low Fat Yogurt with Prune Layer 4 pack (125g pot) – 1.5 Syn
Aldi Duneen Active Low Fat Yogurt with Raspberry Layer 4 pack (125g pot) – 1.5 Syns
Aldi Duneen Active Low Fat Yogurt with Strawberry Layer 4 pack (125g pot) – 1.5 Syns
Aldi Duneen Active Yogurt with Seeds, Strawberry 4 pack (125g pot) – 6 Syns
Aldi Duneen Active Yogurt with Seeds, Summer Fruits 4 pack (125g pot) – 6 Syns
Aldi Duneen Active Yogurt with Seeds, Vanilla 4 pack (125g pot) – 5.5 Syns
Aldi Duneen Fruit Crumble Yogurt, Apple (150g pot) – 7.5 Syns
Aldi Duneen Fruit Crumble Yogurt, Rhubarb (150g pot) – 9.5 Syns
Aldi Duneen Fruit Crumble Yogurt, Strawberry (150g pot) – 9.5 Syns
---
Healthy Extra A Options
CHEESE:
Aldi The Cheese Emporium Cheese Singles 10 pack – 3 x 20g
Aldi The Cheese Emporium Cheese Slices, Lighter 8 pack – 2 x 25g
Aldi The Cheese Emporium Cheese Triangles, Lighter – 4 x 17.5g
Aldi The Cheese Emporium Mature Cheese, Lighter – 40g Serving
MILK:
Aldi Acti Leaf Almond Dairy Free Milk Alternative, Original – 400ml Serving
Aldi Acti Leaf Almond Dairy Free Milk Alternative, Unsweetened – 550ml Serving
Aldi Acti Leaf Coconut Dairy Free Milk Alternative, Original – 600ml Serving
Aldi Acti Leaf Soya Dairy Free Milk Alternative, Sweetened – 250ml Serving
Aldi Acti Leaf Soya Dairy Free Milk Alternative, Unsweetened – 350ml Serving
---
Healthy Extra B Options
BREAD/ROLLS/CRISPBREADS:
Aldi Ballymore Crust Thins, Brown Bread Squares with Seeds 6 pack – 1 x 41g
Aldi Ballymore Crust Thins, Multigrain Bread Squares 6 pack – 1 x 42g
Aldi Ballymore Crust Wholemeal Thins, Tasty Wholemeal Sliced Bread 600g loaf – 2 slices
Aldi Has No Multigrain Loaf, Gluten Free – 1 Slice
Aldi Has No Soda Bread, Unsliced – 1 x 50g Slice
Aldi Has No Wholegrain Rolls, Gluten Free – 1 x 60g Roll
Aldi Savoury Bakes Crispbreads, Original Rye – 4 Crispbreads
Aldi The Pantry Crusty Wholemeal Bread Mix – 60g Made Up
Aldi The Village Bakery Bake at Home, Brown Bread Rolls 6 pack – 1 x 45g
Aldi The Village Bakery Medium Sliced Wholemeal Bread 800g loaf – 1 slice
Ballymore Crust 100% Wholemeal Bread 800g Loaf – 1 Slice
CEREAL/CEREAL BARS:
Aldi Everyday Essentials Porridge Oats, Dried – 40g Serving
Aldi Harvest Morn Benefit Cereal Bars, 69 Calories, Chocolate & Fudge – 2 Bars
Aldi Harvest Morn Bran Flakes – 45g Serving
Aldi Harvest Morn Fruit Wheats, Apricot – 45g Serving
Aldi Harvest Morn Fruit Wheats, Bluberry – 45g Serving
Aldi Harvest Morn Fruit Wheats, Cherry – 45g Serving
Aldi Harvest Morn Light Benefit Bars – 2 Bars
Aldi Harvest Morn Malt Wheaties Cereal 625g Pack – 45g Serving
Aldi Harvest Morn Swiss Style Muesli – 40g Serving
Aldi Harvest Morn Wheat Bisks – 2 Biscuits
---
Don't Miss A Single Email From Fatgirlskinny.net Sign Up Below