Slimming World Friendly Easter Treats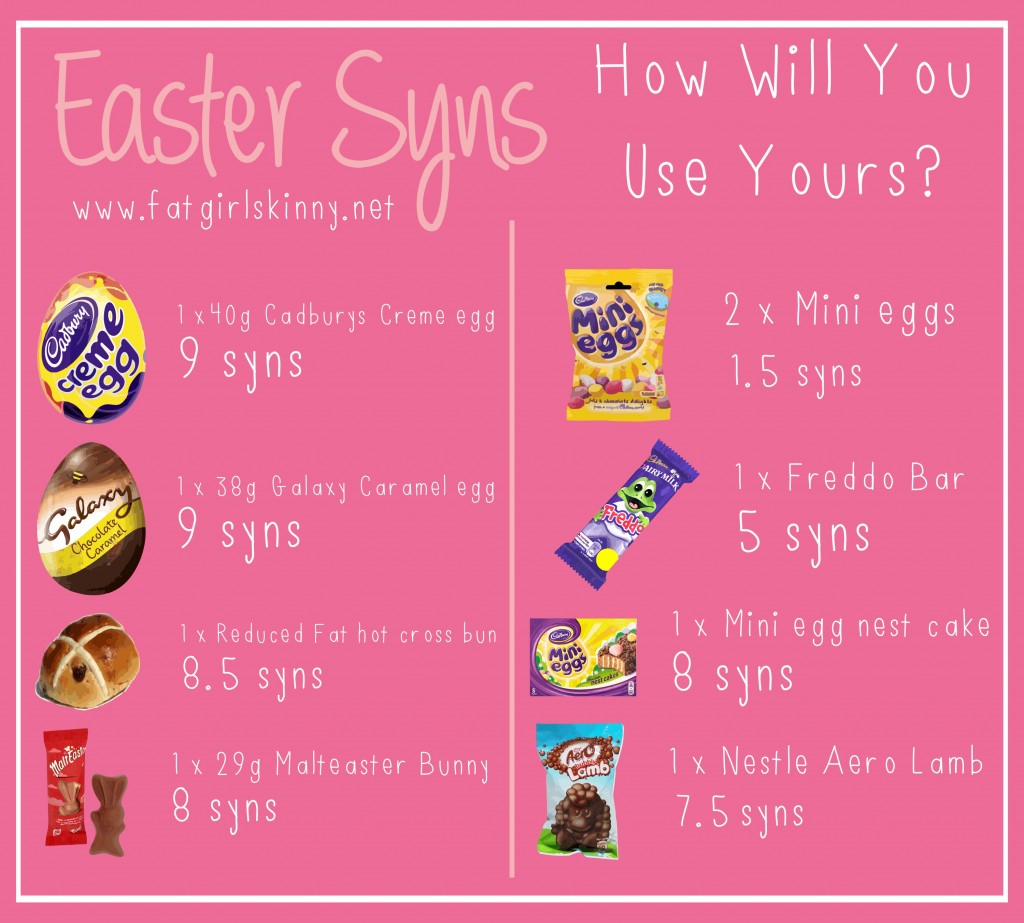 So Easter is near… the holiday of Chocolate.. Perfect for us Slimming worlders right? Wrong… Anyone who has suffered with their weight knows that temptation is the hardest thing to deal with and Easter does not help with that… BUT we really don't have to miss out…
Come on girls and guys we have 15 Syns per day to treat ourselves and we can easily have a lovely Easter treat for under 10 Syns.. or push yourself to the full 15 🙂
So how will you use yours? I am going to have a Cadburys Creme egg which has always been one of my favourite anyway.
To make sure i don't completely feel left out I have hinted to my better half that i would LOVE a Hello Kitty beanie to add to my collection 🙂 They do have lots of love Easter style ones he he!!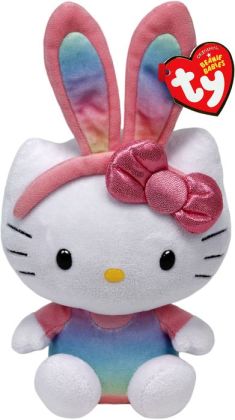 Also don't forget Easter can still be fantastic… we can devour a syn free full english and a gorgeous Sunday roast too.. Why not save 6 syns for a glass of wine?
Have a wonderful Easter everyone – Resist temptation 🙂
This is a reduced Easter chocolate list.. if you would like a larger chocolate syn guide try this page here.
Enjoy my full list of Slimming World Easter Syns Guide:
Aldi Dominion Easter Marshmallows – 1 Syn Each
Aldi Dairyfine Milk Chocolate Easter Bunny Lolly (15g each) – 4 Syns
Asda Easter Chicks & Rabbits Mallows (25g) – 4.5 Syns
Cadbury Caramel Egg – 9.5 Syns
Cadburys Caramel Mini Eggs – 2.5 Syns Per Egg
Cadburys Creme Egg – 9 Syns
Cadburys Creme Egg Twisted Bar 45g – 10.5 Syns
Cadburys Creme Ice Cream Cone mini's – 3.5 Syns
Cadburys Creme Egg Mini Eggs – 2.5 Syns Per Egg
Cadburys Curly Wurly 26g – 6 Syns
Cadburys Dairy Milk Egg 100g – 27 Syns
Cadburys Dairy Milk Egg 28g – 7.5 Syns
Cadburys Dairy Milk Vanilla Mousse Bunny 30g – 8.5 Syns
Cadburys Dairy Milk hollow mini bunny – 4 Syns
Cadbury Egg 'N' Spoon Chocolate Mousse 34g – 9.5 Syns
Cadbury Dairy Milk Chocolate Mini Eggs with Oreo Pieces 82g bag- 3 Syns Per Egg
Cadbury Dairy Milk Chocolate Mini Eggs with Daim 86g bag – 3 Syns Per Egg
Cadburys Freddo – 5 Syns
Cadburys Mini Egg Chocolate Cakes 26g – 6 Syns
Cadburys Mini Egg Nest Cake – 9 Syns
Cadburys Mini Eggs – 1 Syn Per Egg
Galaxy Caramel Egg – 9 Syns
Galaxy Caramel Mini Eggs – 3 Syns Per Egg
Hot Cross Bun mini – 4.5 Syns
Hot Cross Bun reduced fat – 8.5 Syns
Hot Cross Bun standard – 9.5 Syns
Kinder Surprise Egg 30g – 5.5 Syns
Lindt Chocolate Bunny 100g – 27 Syns
Lindt Chocolate Bunny 50g – 13.5 Syns
Lindt Gold bunny paws 20g – 5.5 Syns Per Paw
Lindt Lindor Milk Chocolate Egg 31g – 10 Syns
Lindt Lindor Mini Eggs – 1.5 Syns Per Egg
Maltesers Malteaster Bunny 29g – 8 Syns
Maltesers Malteaster Mini Bunnies – 3 Syns
Mars Egg – 9.5 Syns
Mars Mini Eggs – 2 Syns
Nestle Aero Lamb – 7.5 Syns
Nestle Easter Smarties Shaker Egg w/Smarties 90g – 25.5 Syns
Nestle Milky Bar Bluebell Cow 100g – 28 Syns
Nestle Milkybar Chicken In A Egg 100G – 7 Syns
Nestle Milky Bar Mini Egg – 2 for 1.5 Syns
Nestle Rolo Filled Egg – 9 Syns
Nestle Smarties Mini Eggs – 2 Syns Each
Terry's Chocolate Orange Mini Eggs – 2 Syns Each
Terry's Segsation Mini Eggs – 2.5 Syns Each
Tesco Easter Milk Chocolate Coins 72g bag – 2 Syns Each
Tesco Mini Eggs – 1.5 Syns Each
Tesco Milk Chocolate Easter Lollies 4 pack – 2.5 Syns Each Lolly
Thorntons Easter Bunny Chocolate Lolly – 11 Syns