Best Ever Slimming World Friendly Lunch Ideas
Whether you work from home or in a busy office it is important to plan ahead when it comes to finding the right Slimming World friendly lunch. If you are struggling with ideas, this article can offer you over 32 great unofficial Slimming World lunch ideas to enjoy at home or prepare ahead of time.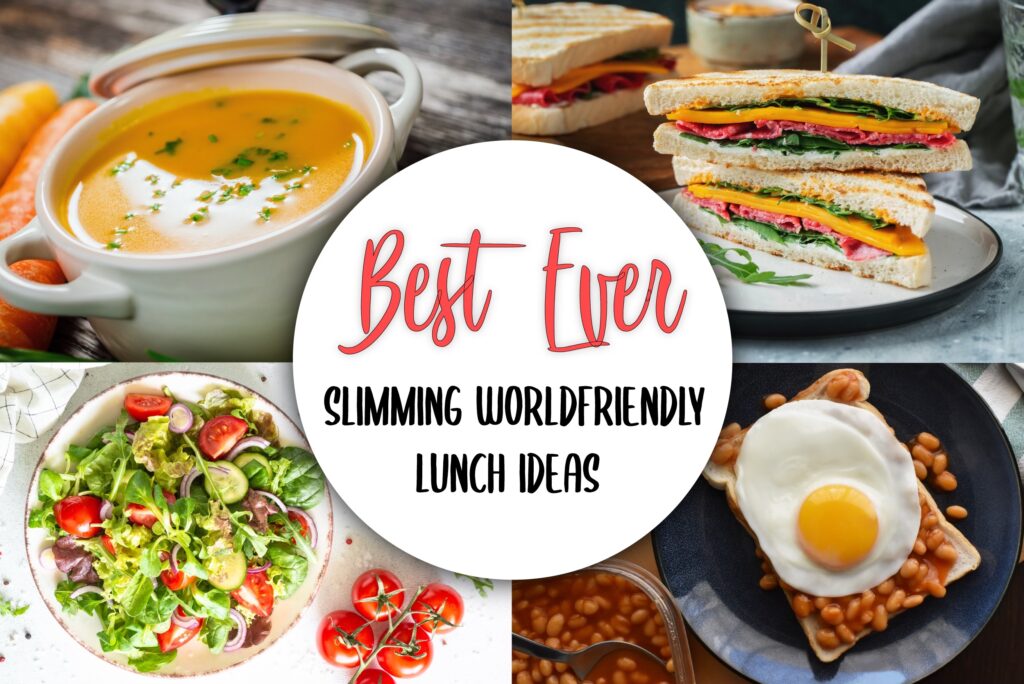 80% of Slimming World followers use up there Healthy Extra B option in the morning. Toast, cereal etc is all classed as a Healthy Extra B. So when lunch comes along usually there is no allowance left for bread! So coming up with ideas can be a real struggle….
Related Article: What is Healthy Extra B?
With a little help from my followers I have compiled a list of ideas for you to look at.. hopefully it will give you some ideas to help you stay on plan.
---
Syn Free ideas [No Healthy Extra B]
3 Egg Omelette with your choice of filling (Bacon, Ham, Spinach, Tomatoes, Mushroom, Onion).
Scrambled egg with baked beans on top of a bed of spinach.
A baked potato, salad and your choice of Syn free filling (Baked beans, Plain Tuna, Tinned Spaghetti, Quark mixed with garlic and black pepper,  Fat Free Cottage Cheese, My Syn Free Coleslaw, Last nights left over Chilli)
Sweet baked potato, sliced ham, beetroot and a salad.
Syn Free Chips, bacon and baked beans.
Syn Free Cloud bread filled with ham, tomato and lettuce.
A nice big speedy salad.. lettuce, tomato, beetroot, grated carrot, cucumber, radish, apple and slices of chicken.
Homemade soup – Click here for many exciting recipes
---

Syn free Slimming World friendly ideas using your Healthy Extra A or B allowance
3 Slices of Kingsmill wholemeal bread topped with baked beans and cheese.
3 Slices of Kingsmill wholemeal bread topped with baked beans and scrambled egg.
2 Slices of wholemeal Nimble bread filled with chicken, bacon, lettuce and tomato.
2 poached eggs, 1 sliced of wholemeal bread, tinned spaghetti and cheese.
A baked potato filled with baked beans and topped with grated cheese.
A 3 egg omelette filled with ham, spinach and cheese served with a big speedy salad.
A tin of Healthy Extra B Soup
A wholemeal roll filled with a quarter pounder burger, bacon, egg and tomato.
2 Slices of Wholemeal Nimble bread filled with egg and bacon.
Slimming World sausages in a wholemeal roll.
---

Low Syn Slimming World friendly ideas
A frozen baked potato (1 Syn) filled with tuna, sweetcorn and lighter than lighter mayonnaise (0.5 Syn)
A frozen baked potato (1 Syn) with your choice of fillings (Egg mayo, baked beans, cottage cheese)
Chicken, bacon, tomatoes, cucumber, peppers, beetroot and lettuce topped with low fat salad cream.
Tuna, sweetcorn and pasta made with 2 Tbsp of lighter than light mayonnaise (1 Syn)
2 Slices of Kingsmill Wholemeal crustless bread (4 Syns) filled with ham and tomato.
A packet of crips (see my syn guide for crisps here) and a chocolate bar (see my syn guide here).