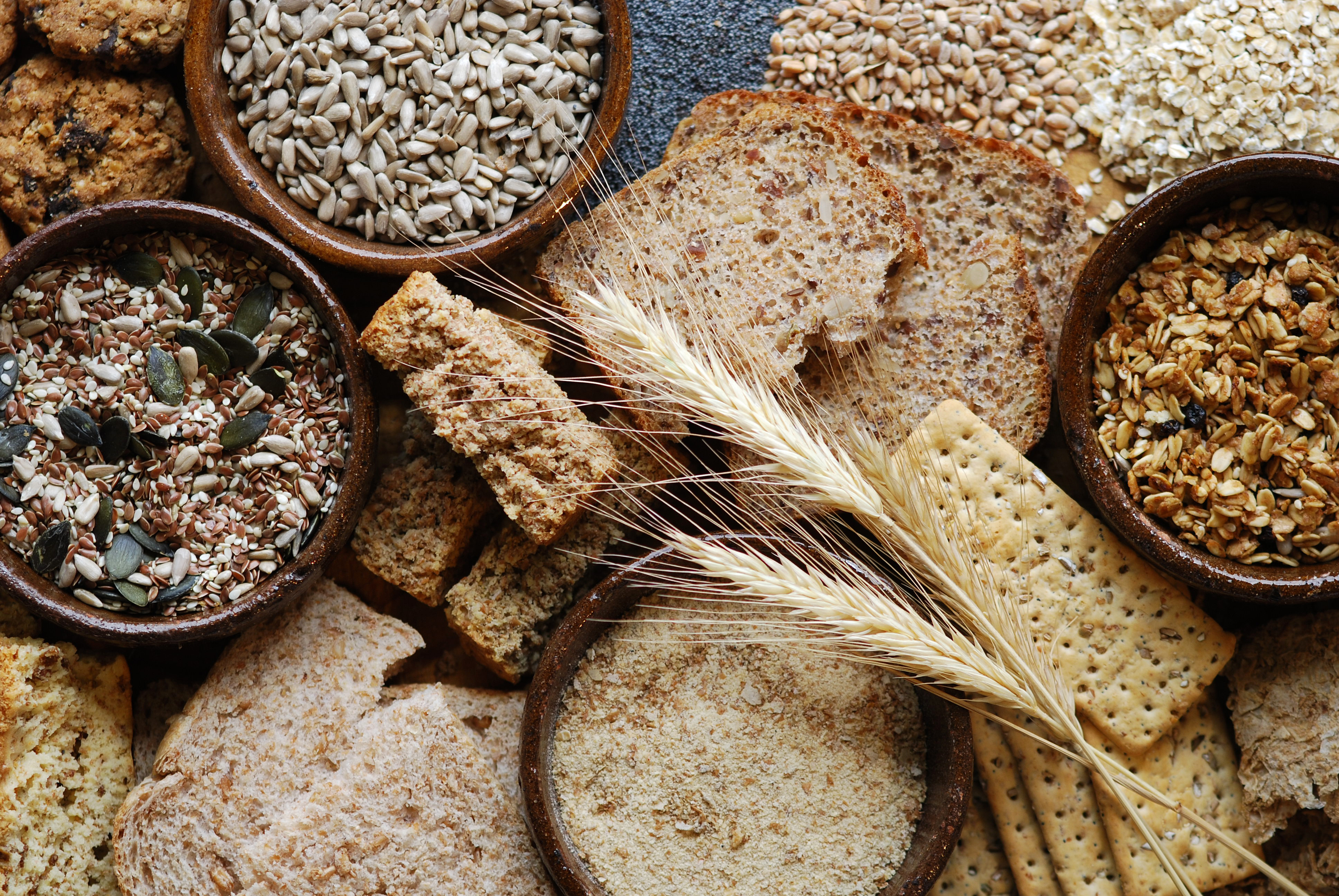 Each day you are allowed a portion size of fibre. This is called your Healthy Extra B allowance. Use this for breakfast or for a sandwich at lunch time etc.
It can be hard keeping on top of what portion sizes and current healthy extras are available so I will try to keep this list up to date. But please check the Slimming World website for correct values.
Please see the products below with the daily allowance next to it. Slimming World state that you can mix and match your healthy extra allowances. I.e taking half of one product and half of another.
---
Bakery
1 BFree Foods Stone Baked Pitta Breads 4 pack
1 BFree Multigrain Wrap / Quinoa & Chia Seed Wrap, Wheat & Gluten free
1 CarbZone Rich Fibre Tortilla Bread 8 pack
1 Fitzgeralds Family Bakery Round Pittas, Multiseed 6 pack
1 Fitzgeralds Family Bakery Round Pittas, Wholemeal 10 pack
1 Kingsmill Wholemeal Sandwich Thins 6/9 pack
1 Schar Brown Ciabatta Rolls, Gluten Free 4 pack
1 Schar White Ciabatta Roll, Gluten & Wheat Free 4 pack
1 Slice Aldi Ballymore Crust 100% Wholemeal Bread 800g loaf
1 Slice Brennans Wholemeal Bread 400g loaf
1 Slice Hovis Good Inside Wholemeal Bread 800g loaf
1 Slice Hovis Premium Baked Farmhouse Bread, Wholemeal 800g loaf
1 Slice Hovis Tasty Wholemeal Bread 800g loaf
1 Slice Kingsmill Farmhouse Wholemeal Bread 800g loaf
1 Slice Kingsmill Farmhouse Wholemeal Bread 800g loaf
1 Slice Lidl Connell Bakery Wholemeal Soda Bread 500g loaf
1 Slice Roberts Bakery Wholesome Wholemeal Bread 800g loaf
1 Slice Tesco Free From Brown Sliced Bread 550g loaf
1 Slice Tesco Free From Seeded Sliced Bread 550g loaf
1 Slice Vogels Wholemeal & Oat Bread 800g loaf
1 Slice Warburtons Stoneground Wholemeal Batch Bread 800g loaf
1 slice Warburtons Wholemeal Rye bread (800g thick sliced loaf)
1 Slice Warburtons Wholemeal Rye Bread 800g loaf
1 slice wholemeal bread (800g sliced loaf) 50g rye bread
1 Spar Brown Pittas 8 pack
1 SuperValu Round Wholemeal Pitta Breads 8 pack
1 Waitrose Duchy Organic Brown Pittas 6 pack
1 Warburtons Wholemeal Roll, sliced 6 pack
1 Weight Watchers White Wraps, Low Fat 6 pack
2 medium slices gluten free wholemeal / multigrain bread
2 medium slices wholemeal bread (small 400g loaf)
2 Slices Aldi Ballymore Crust Wholemeal Thins, Tasty Wholemeal Sliced Bread 600g loaf
2 Slices Brennans Be Good Wholemeal Bread 600g loaf
2 slices Hovis Nimble Malted Wholegrain / Wholemeal bread (400g sliced loaf )
2 Slices Hovis Nimble Wholemeal Bread 400g loaf
2 Slices Kingsmill Wholemeal Bread, medium sliced 400g loaf
2 Slices Warburtons Wholemeal Bread 400g loaf
2 Slices Warburtons Wholemeal Protein Bread, Baked with a Blend of Pulses 400g loaf
3 Slices Kingsmill Wholemeal No Crusts Bread 400g loaf
60g of any wholemeal bread
60g wholemeal roll
---
Cereal
1 Sachet Quaker Oat So Simple Big Bowl Porridge, Original
1 Sachet Quaker Super Goodness, Super Fruits Porridge, all varieties
1 x 29g Aldi Harvest Morn Cereal Bars, Fruit & Fibre 8 pack
1 x Aldi Harvest Morn Cereal Bars, Cranberry 8 pack
1 x Aldi Harvest Morn Cereal Bars, Fruit & Fibre 8 pack
1x 29g Aldi Harvest Morn Cereal Bars, Cranberry 8 pack
2 x Aldi Harvest Morn Benefit Cereal Bars, Apple & Sultana 5 pack
2 x Aldi Harvest Morn Benefit Cereal Bars, Apple & Sultana 5 pack
2 x Aldi Harvest Morn Benefit Cereal Bars, Chocolate & Fudge 5 pack
2 x Aldi Harvest Morn Benefit Cereal Bars, Chocolate & Fudge 5 pack
2 x Aldi Harvest Morn Benefit Cereal Bars, Summer Fruits 5 pack
2 x Aldi Harvest Morn Benefit Cereal Bars, Summer Fruits 5 pack
2 x Aldi Harvest Morn Wheat Bisks
2 x Alpen Light Cereal Bars Apple & Sultana
2 x Alpen Light Cereal Bars Banoffee
2 x Alpen Light Cereal Bars Cherry Bakewell
2 x Alpen Light Cereal Bars Chocolate & Fudge
2 x Alpen Light Cereal Bars Double Chocolate
2 x Alpen Light Cereal Bars Double Chocolate
2 x Alpen Light Cereal Bars Jaffa Cake
2 x Alpen Light Cereal Bars Salted Caramel
2 x Asda Chocolate Wheat Bisks
2 x Asda Smart Price Wheat Bisks 24 pack
2 x Asda Wheat Bisks
2 x Grain Classic Wheat Biscuits 16 pack
2 x Lidl Crownfield Bixies Whole Wheat Biscuits 36 pack
2 x Morrisons Savers Wheat Biscuits Cereal
2 x Morrisons Wheat Biscuits Cereal
2 x Nestlé Shredded Wheat 2 Weetabix
2 x Sainsburys Basics Wholewheat Biscuits
2 x Sainsburys Wholewheat Biscuits Cereal
2 x SuperValu Wheat Biscuits 24/48 pack
2 x Tesco Everyday Value Wheat Biscuits Cereal
2 x Tesco Healthy Living Apple & Strawberry Cereal Bars 5 pack
2 x Tesco Healthy Living Chocolate & Caramel Cereal Bars 5 pack
2 x Tesco Wheat Biscuits Cereal
2 x Waitrose Essential Wholewheat Biscuits Cereal
2 x Weetabix Additions, Red Berries
35g Eat NaturalBreakfast with Benefits, Nuts & Seeds with Honey
35g Sainsburys Multigrain Porridge Oats
35g Tesco Flakes & Clusters Cereal
40g Aldi Everyday Essentials Porridge Oats, dried
40g Aldi Harvest Morn Instant Hot Oats Cereal, dried
40g Aldi Harvest Morn Malted Wheaties Cereal 625g pack
40g Aldi Harvest Morn Scottish Porridge Oats, dried 1kg pack
40g Aldi Kavanaghs Porridge Oats, dried 1.5kg pack
40g Alpen Blueberry, Cherry & Almond Muesli, No Added Sugar
40g Alpen Muesli, No Added Sugar
40g Alpen Strawberry, Cranberry & Raspberry Muesli, No Added Sugar
40g Asda Chosen by You Malted Wheaties Cereal
40g Asda Chosen by You Simply Scottish Porridge Oats, Original, dried
40g Asda Free From Porridge Oats, dried
40g Asda Oatbran & Wheatbran Porridge Oats, dried
40g Asda Smart Price Porridge Oats, dried
40g Asda Wholegrain Scottish Porridge Oats, dried
40g Dorset Cereals Bircher Muesli Mix, Almond & Honey
40g Dorset Cereals Simply Nutty Muesli
40g Jordans Chunky Traditional Porridge Oats, dried
40g Kellogg's All-Bran Golden Crunch
40g Lidl Crownfield Fruitn Fibre Cereal
40g Lidl Oatilicious Porridge Oats, dried
40g Lidl Oatilicious Scottish Porridge Oats, dried
40g Morrisons Porridge Oats, dried
40g Morrisons Puffed Wheat Cereal
40g Morrisons Wholegrain Porridge Oats, dried
40g Natures Store Free From Multi-Grain High Fibre Flakes
40g Nestlé Bitesize Shredded Wheat
40g Nestlé Honey Nut Shredded Wheat
40g Nestlé Oat Cheerios, less than 5% sugar
40g Nestlé Shreddies Original
40g porridge oats (unflavoured)
40g Post Grape Nuts
40g puffed wheat
40g Quaker Oat Crisp Cereal
40g Rude Health Daily Oats Porridge, dried
40g Rude Health The Oatmeal Porridge, dried
40g Sainsburys Puffed Wheat Cereal
40g Sainsburys Wholegrain Malties Cereal
40g Sharpham Park Crunchy Spelt Bran Flakes
40g Spar Porridge Oats, dried
40g Stoats Multigrain Porridge
40g Suma Porridge Oats, dried
40g Tesco Everyday Value Porridge Oats, dried
40g Tesco Finest Scottish Porridge Oats, dried
40g Tesco Free From Pure Porridge Oats, dried
40g Tesco Fruit & Fibre Cereal
40g Tesco Malt Wheats Cereal
40g Tesco Organic Porridge Oats, dried
40g Tesco Porridge Oats with Grains & Seeds
40g Tesco Porridge Oats with Oatbran & Wheatbran
40g Tesco Scottish Porridge Oats, dried
40g Tesco Super Smooth Instant Porridge, dried
40g The Good Grain Co. Puffed Wheat
40g Waitrose Essential Malted Wheats Cereal
40g Waitrose Essential Porridge Oats, dried
40g Weetabix Crispy Minis, Banana / Chocolate Chip / Fruit & Nut
40g White's ActivOat Porridge, High in Fibre
45g Aldi Harvest Morn Bran Flakes
45g Aldi Harvest Morn Wheat Shreds Bitesize Cereal
45g Asda Bran Flakes
45g Asda Smart Price Bran Flakes
45g bran flakes
45g Co-op Bran Flakes
45g Dorset Cereals Simply Delicious Muesli
45g Flahavans Multiseed Porridge, dried
45g Fruit-filled wheat biscuits blueberry
45g Fruit-filled wheat biscuits raisin
45g fruit-filled wheat biscuits, blueberry / raisin
45g Jordans Natural Muesli No Added Sugar
45g Juvela Fibre Flakes
45g Kelloggs All-Bran Bran Flakes
45g Kelloggs All-Bran Bran Flakes with Oats, 30% Less Sugar
45g Kelloggs All-Bran High Fibre Muesli, Cranberry & Sultanas
45g Kelloggs All-Bran High Fibre Muesli, Fruit & Nut
45g Lidl Crownfield Bran Flakes
45g Morrisons Bran Flakes
45g oat bran
45g Sainsburys Wholegrain Bran Flakes
45g SuperValu Bran Flakes
45g Waitrose Essential Wholegrain Bran Flakes
45g Weetabix Bran Flakes
45g Weetabix Crunchy Bran
45g Weetabix Crunchy Bran
50g Asda Chosen by You High Bran Cereal
50g Asda Chosen by You High Bran Cereal
50g Co-op High Fibre Bran Cereal
50g G G Scandinavian Scandinavian High Fibre Sprinkles
50g Kellogg's All-Bran Original
50g Lidl Crownfield Swiss Style Classic Muesli
50g Morrisons High Fibre Cereal
50g Sainsburys High Fibre Bran Cereal
50g Tesco High Fibre Bran Cereal
---
Cooked Fruit
(Weight is for the fruit cooked)
225g baked apple and 1 level tbsp mincemeat
375g apples, cooking
250g apples, eating/dessert 450g fresh apricots
300g blackberries
250g blackcurrants
350g damsons
275g fresh figs
350g gooseberries
350g greengages
300g peaches
350g pears
400g plums
150g prunes
250g raspberries
350g redcurrants
500g rhubarb
275g whitecurrants
---
Crispbread/Crackers
2 Ryvita Fruit Crunch, all varieties
3 Finn Crisp Original Rye Round Crispbreads
3 Ryvita Deli Crispbreads Multigrain / Pumpkin Seeds & Oats / Sesame / Sunflower Seeds & Oats / Sweet Onion
4 Ryvita Deli Crispbreads Cracked Black Pepper / Hint of Chilli / Mediterranean Herbs
5 Real Foods Corn Thins Original / Sesame
6 Finn Crisp Original Rye / Multigrain Thin Crispbreads
2 Ryvita Dark Rye / Original 4 Ryvita Dark Rye / Original
---
Dried Fruit
40g Goji Berries
40g Morrisons Pitted Dates, dried
40g Urban Fruit Dried Fruit, Cheeky Cherry
40g Urban Fruit Dried Fruit, Magnificent Mango
40g Urban Fruit Dried Fruit, Perfect Pineapple
50g Apple
50g Asda Good & Balanced Dried Apricots, dried
50g Pears
50g Sainsburys Apricots, dried
50g Waitrose Love Life Apple Slices, dried
55g Morrisons Wholefoods Soft Figs, dried
60g apricots 50g figs
60g Morrisons Savers Prunes, Ready to Eat, dried
65g Aldi The Pantry Califorian Soft Prunes, dried 500g bag
65g Asda Good & Balanced Soft Pitted Prunes, dried
65g prunes
80g Asda Good & Balanced Stoned Prunes, dried
80g Sainsburys Prunes, dried
80g Tesco Pitted Prunes, Ready to Eat, dried
---
Tinned Fruit
(Weight Includes Juice)
125g Breakfast Apricots
125g Prunes
300g Apple Slices
350g Pears