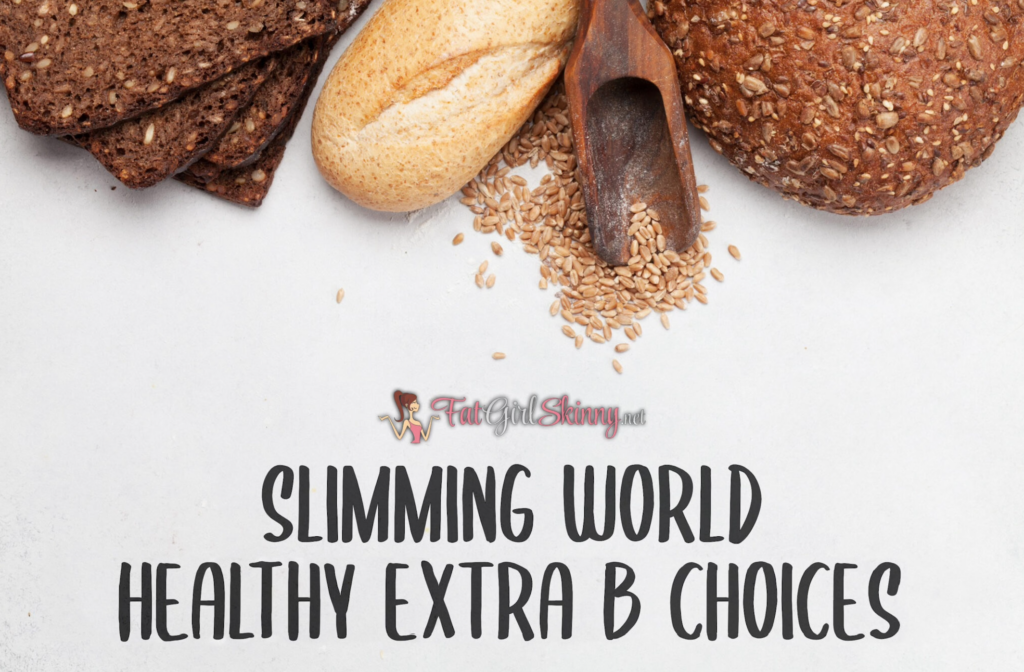 So you have finally taken the plunge and joined Slimming World! It will probably be one of the best decisions you have ever made. But the first group session can be very daunting… You are hearing all sorts of new terminology and everyone else in the group seems to "get it". Never fear… you will soon get the hang of it.
One of the first things you will hear about is your Healthy Extra B Portion.. on this page you will find my unofficial opinion and information about Hex-B.
Healthy B foods provide you with the necessary fibre you need to succeed on the plan. To find out portion information and what you should be eating you must join www.slimmingworld.co.uk.
However I am regularly contacted by followers asking the same question.. "do I really have to eat Healthy Extra B?" I agree it can be difficult.. especially if you are fan of cereal or bread. But it is a necessary part of a healthy diet and I would highly recommend squeezing it in.
Many of us associate fibre with digestive health and bowel function. But eating foods high in fibre can do so much more than keep you regular. It can lower your risk for heart disease, stroke, and diabetes, improve the health of your skin, and help you lose weight. It may even help prevent colon cancer.
When Should I Eat My Healthy Extra B?
This is a question I am asked regularly. In all honesty there is no answer to this. It is completely up to you! As long as you stick to the required portion per day you can devour at any time.
Top tips for enjoying your Healthy Extra B
Enjoy a portion of cereal for breakfast
2 Slices of toast for breakfast
Save the bread and use it for a sandwich at lunchtime
Whizz up breadcrumbs to add to a recipe in your evening meal
Enjoy some nuts as an evening snack
Smother cracker breads with cottage cheese for a cheeky snack
Have a tasty cereal bar with a cup of tea in front of the TV
---
Can I mix and match my Healthy Extra B?
Yes you can, for example Slimming World recommend
1 Weetabix and 1 Hifi bar. So have a Weetabix topped with a whole banana sliced in the morning.. and enjoy a Hifi bar in the evening with a cup of tea.
---
How many Healthy Extra B should I be eating?
On the Slimming World website they state you may enjoy ONE Healthy Extra B portions per day.
Some examples of these options are:
Rye bread (60g)
Bread rolls wholemeal ((60g)
Pita bread wholemeal ((60g)
Wholemeal bread large loaf (1 thick slice)
Wholemeal bread small loaf (60g)
Seeded wholemeal bread any loaf (1 slice)
Bran flakes (45g)
Muesli without added sugar (40g)
Oat bran (45g)
Porridge oats dried (40g)
Fruit-filled wheat biscuits raisin (45g)
Wheat Biscuits (2)
Malt wheat cereal (40g)
High-fiber wheat bran cereal (50g)
Puffed wheat plain (40g)
Brown/multiseed bread gluten free (60g)
Gluten-free brown/multiseed bread rolls (60g)
Gluten-free high-fiber white bread (60g)
Gluten-free high-fiber white bread rolls (1)
Gluten-free, high-fiber white bread rolls (60g)
---
I can't find anything I like on the list, where else could I get my portion of fibre from?
No one can force you to eat anything and I do often see people asking what else they can eat. There is actually plenty of fibre in many Syn free foods. If you don't enjoy any of the foods from the Healthy extra B list try adding more of these to your diet.
Pears
Strawberries
Apples
Banana
Carrot
Lentils
Kidney beans
Baked beans
Chickpeas