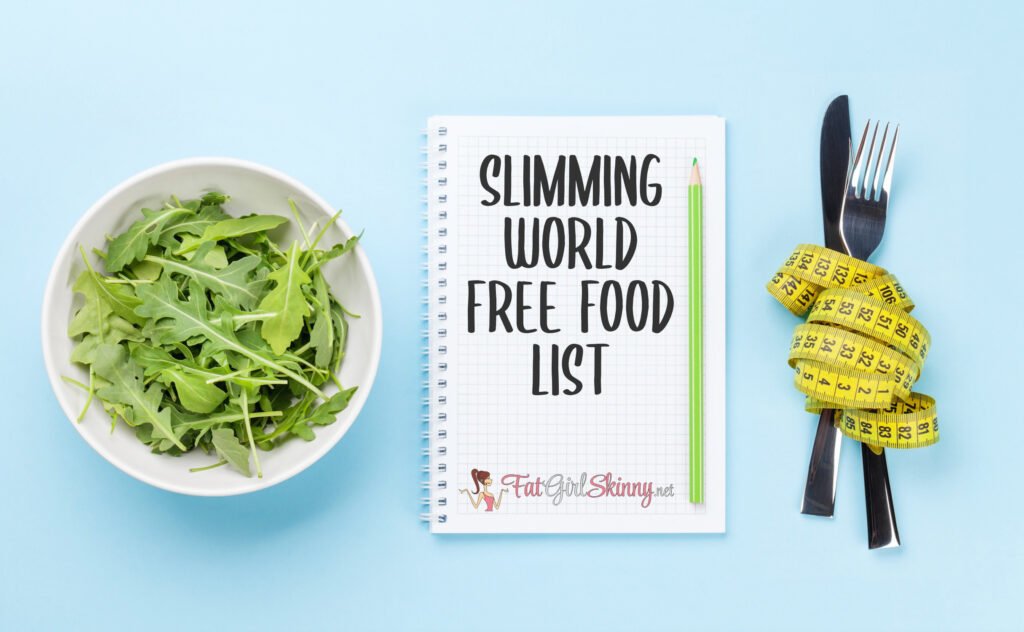 What Are Free Foods?
Free foods are an essential part of the Slimming World plan. They should always make up the main bulk of your weekly plan. Free foods mean they do not hold a Syn value and we can eat unlimited amounts until we are full.
Most of your meals should be made up using Free foods first. Healthy filling free plates of food are what will help you to lose weight.
The rules to follow regarding Free Foods:
Eat unlimited amounts until full at any time.
No need to weigh or measure.
An example of a healthy evening meal using free foods
1 x Chicken Breast
4 Large New Potatoes
Half the plate full of fresh vegetables
This meal would be classed as "Syn Free", however if you decided to add a sauce such as gravy you must check the Syn's for this.
Why is there not a printable version of this list? 
Because Slimming World changes so often, I like to keep everyone updated of any new products. Please check back regularly to ensure you are following the plan 100%.
LIST UPDATED: 1st January 2022
---
DAIRY

 
Dairy is an excellent source of calcium and perfect to create and add to meals. Try mixing Quark into cooked pasta or making a delicious mushroom omelette for a healthy filling lunch.
Eggs

Fat free natural fromage frais

Fat free natural yogurt 

Fat free Greek style yogurt

Fat free natural Greek yogurt

Fat free natural Skyr

Fat free natural cottage cheese

Plain Quark


Dairy free soya yogurt with added calcium (plain and unsweetened)
DRINKS
Free also includes drinks and it is really important to stay hydrated. Just remember to stick to low calorie drinks and if you add sugar to your hot drinks you must Syn this. 
Coffee, black, all varieties

Cordial/squash, no added sugar, all varieties

Low calorie/sugar free carbonated drinks, all varieties

Slimline Mixers

Mineral water, still/sparkling, plain

Tap water

Tea, black/green, all varieties

Tea, herbal infusions, all varieties
Alcohol is pretty high in Syns. Check out my Alcohol Syn guide here.
FRUIT
Almost all fruit is Free and it is a perfect addition to any meal especially breakfast. Top your cereal with berries to keep you fuller for longer.

-Pureed, mashed, blended, smoothie fruit must always be Synned. 
Some cooked or tinned fruit may class as a Healthy Extra B, click here to find out more.
Remember some fruits are also classed as a Speed Food. Click here to find out more.
Apples

Apricots

Bananas

Blackcurrants

Blackberries

Blueberries

Carambola (Star Fruit)

Cherries

Clementines

Cranberries

Custard Apples

Damsons

Dragon Fruit

Figs

Gooseberries

Grapefruit

Grapes

Greengages

Guava

Kiwi Fruit

Kiwi Berries

Kumquats

Lemons (juice, zest)

Limes (juice, zest)

Loganberries

Lychees

Mandarins

Mango

Mangosteen

Melon

Nectarines

Oranges

Papaya

Passion Fruit

Peaches

Pears

Physalis (Cape Gooseberries)

Pineapple

Plums

Pomegranates

Pomelo

Rambutan

Raspberries

Redcurrants

Rhubarb (raw)

Satsumas

Sharon Fruit

Strawberries

Tangerines

Ugli Fruit
MEAT/POULTRY
Stick to very lean or trimmed cuts of meat to keep them free. Even bacon medallions may require some extra trimming. Always cook without additional fats and oils. Always remove skin from poultry and drain any mince after cooking. 
Only mince with 5% fat or less is classed as free. Most Sausages and burgers contain a Syn value too.
Bacon (back/very lean)

Beef

Beef mince, lean, 5% fat or less

Chicken (Skinless)

Duck

Gammon

Goat

Grouse

Guniea Fowl

Ham

Hare

Heart

Kidney

Lamb

Liver

Oxtail

Partridge

Pheasant

Pigeon

Pork

Pork mince, lean, 5% fat or less

Quail

Rabbit

Turkey

Turkey mince, lean, 5% fat or less

Veal

Venison
PLANT BASED PROTEINS
Quorn fillets, mince & pieces (unflavoured)

Seitan fillets, steaks & pieces (plain and unsmoked)


Textured vegetable protein/soya protein, pieces and mince (unflavoured)

Tofu, naturally smoked & plain
RICE/PASTA/GRAINS
These are only free if used as intended. If any products are ground to use as coating or flour they contain Syn values.
Microwave rice/noodle pouches will contain a Syn value.
Buckwheat

Bulgar wheat

Couscous (standard and wholewheat)

Dried and Fresh Pasta, all colours

Dried  and Fresh pasta, wholewheat/wholemeal

Dried noodles, white/plain (unflavoured)
Dried noodles, wholewheat/soda/buckwheat

Pearl Barley

Quinoa

Rice, White

Rice, Brown/wholegrain/wild


Spelt 
SEAFOOD
Fish Products:
Caviar

Cod Roe

Herring Roe

Seafood or Crab Sticks
Oily Fish:
Carp

Herrings

Kippers

Mackerel (Unsmoked) fresh/canned in brine/tomato sauce

Pilchards, canned in brine/tomato sauce

Rollmop Herring

Salmon, fresh/canned/smoked

Sardines, canned in brine/tomato sauce

Sardines, Fresh

Sprats

Trout, Fresh or Smoked
Shellfish:
Abalone

Clams

Cockles

Crab, Canned in brine or Fresh

Crayfish

Cuttlefish

Lobster

Mussels

Octopus

Oysters

Prawns

Scallops

Shrimps

Squid

Whelks

Winkles
White Fish:
Bream

Cod, Plain or Smoked

Coley

Dab

Dover Sole

Flounder

Haddock, Plain or Smoked

Hake

Halibut

Hoki

John Dory

Lemon Sole

Monkfish

Mullet

Plaice

Pollack

Red Snapper

River Cobbler

Sea Bass

Tilapia

Tuna, canned in brine or spring water

Tuna, Fresh

Turbot

Whiting
BEANS/PEAS/LENTILS
Aduki Beans

Baked Beans in tomato sauce, Canned

Black Eye Beans

Black Turtle Beans

Borlotti Beans

Broad Beans

Butter Beans

Cannellini Beans

Chickpeas

Flageolet beans

Haricot beans

Lentils, green/brown

Lentils, red

Mung Beans

Peas, canned/fresh/frozen

Peas, Marrowfat

Peas, Mushy

Peas, Petit Pois

Peas, Processed

Pinto Beans

Red Kidney Beans

Soya Beans (edamame beans)

Split Peas
STOCKS/DRESSINGS/CONDIMENTS/SAUCES
Agar Agar

Gelatine
Bovril
Marmite
Sugar free mint sauce
Nam pla
Tabasco
Vecon
Vegemite
Worcestershire Sauce

Fat free dressing, French/Italian/vinaigrette

Herbs & Spices, Dry

Low Calorie Cooking Spray (Frylight etc)

Mustard Powder

Oyster Sauce

Ready to use stock, all varieties

Salt & Pepper

Soy Sauce

Stock cubes & bouillon powder, all varieties

Stock pots/melts/gels, all varieties

Sweetener, drops & tablets

Tomato puree (no added oil)

Vinegar, all varieties
VEGETABLES
Fresh, frozen, canned or pickled… most vegetables are free.
Alfalfa sprouts

Amaranth leaves

Artichokes

Asparagus

Aubergine

Baby sweetcorn

Bamboo shoots

Bean sprouts

Beetroot

Bitter gourd (kerala)

Broccoli

Brussels sprouts

Butternut squash

Cabbage

Capers

Carrots

Cassava

Cauliflower

Celeriac

Celery

Chard

Chicory

Chillies

Chinese leaf

Courgettes

Cucumber

Endive

Fennel

Green beans

Garlic

Gherkins

Herbs

Kale

Leeks

Lettuce

Mangetout

Marrow

Mixed Salad Leafs

Mushrooms

Okra

Onion

Pak choi

Parsnips

Peppers

Plantain

Potatoes

Pumpkin

Purple sprouting broccoli

Radicchio

Radishes

Rocket

Runner beans

Samphire

Shallots

Spinach

Spring greens

Spring onions

Sugar snap peas

Swede

Sweet potatoes

Sweetcorn, On the cob

Sweetcorn, Kernels

Tomatoes

Turnip

Vine leaves

Watercress

Water chestnuts

Yams
ICELAND FOOD RANGE
Last but not least.. Iceland now stock an extensive range of Slimming World branded free foods. Check out their range here.