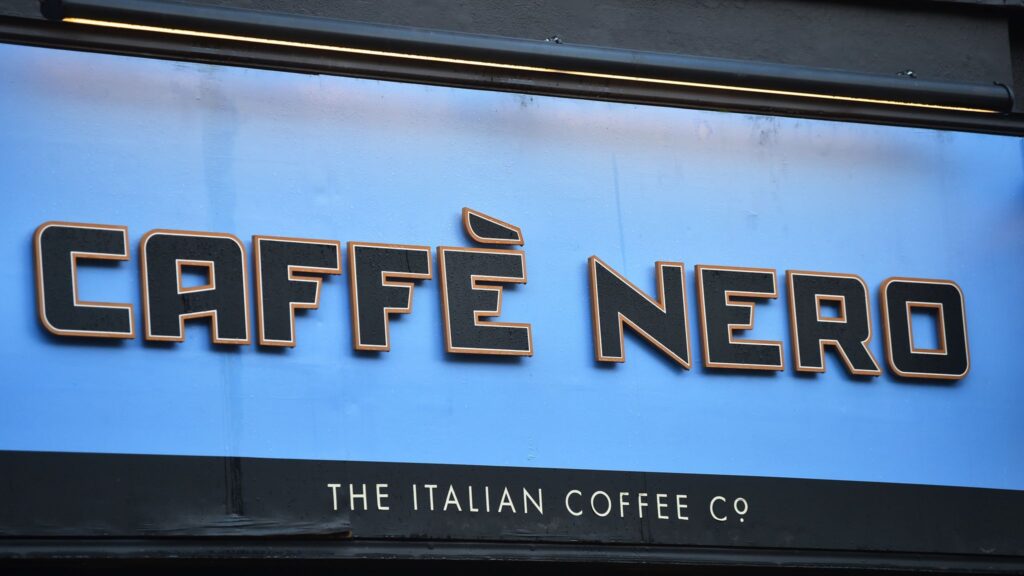 Below you will find a list of Slimming World Syns for Caffé Nero products.
Caffé Nero has some great options for a social gathering whilst staying on the Slimming World plan.
List Updated: 1st November 2021
Please note: If the item you are looking for is not listed here please use the online Syn calculator to estimate the product. If I don't have a product listed this means I do not have the value.
FREE OPTIONS:
Caffé Nero Iced Black Tea with Peach – Free
Caffé Nero Iced Green Tea with Mango – Free
Caffé Nero Fruit Salad Pot – Free
Caffé Nero Spinach & Egg Pot – Free
Caffé Nero Black Tea: Free
Caffé Nero Black Coffee: Free
Caffé Nero Bottled Water – Free
---
COFFEE:
Caffé Nero Cappuccino with Coconut Milk (1 grande) – 4.5
Caffé Nero Cappuccino with Coconut Milk (1 regular) – 2.5
Caffé Nero Cappuccino with Oat Milk (1 grande) – 5.5
Caffé Nero Cappuccino with Oat Milk (1 regular) – 3
Caffé Nero Cappuccino with Semi Skimmed Milk (1 grande) – 5.5
Caffé Nero Cappuccino with Semi Skimmed Milk (1 regular) – 3
Caffé Nero Cappuccino with Skimmed Milk (1 grande) – 4
Caffé Nero Cappuccino with Soya Milk (1 grande) – 5
Caffé Nero Caramelatte with Coconut Milk (each) – 19
Caffé Nero Caramelatte with Oat Milk (each) – 21
Caffé Nero Caramelatte with Semi Skimmed Milk (each) – 21
Caffé Nero Caramelatte with Skimmed Milk (each) – 19.5
Caffé Nero Caramelatte with Soya Milk (each) – 20.5
Caffé Nero Chai Latte with Coconut Milk (each) – 9.5
Caffé Nero Chai Latte with Oat Milk (each) – 11.5
Caffé Nero Chai Latte with Semi Skimmed Milk (each) – 11.5
Caffé Nero Chai Latte with Soya Milk (each) – 10.5
Caffé Nero Espresso & Caramel Frappe Latte with Semi Skimmed Milk (each) – 25.5
Caffé Nero Espresso Con Panna (each) – 3
Caffé Nero Flat White, made with Whole Milk (each) – 5
Caffé Nero Frappe Latte with Semi Skimmed Milk (each) – 11.5
Caffé Nero Latte with Coconut Milk (1 grande) – 5
Caffé Nero Latte with Coconut Milk (1 regular) – 3
Caffé Nero Latte with Oat Milk (1 grande) – 6.5
Caffé Nero Latte with Oat Milk (1 regular) – 4
Caffé Nero Latte with Semi Skimmed Milk (1 grande) – 7
Caffé Nero Latte with Semi Skimmed Milk (1 regular) – 4
Caffé Nero Latte with Skimmed Milk (1 grande) – 5
Caffé Nero Latte with Soya Milk (1 grande) – 6
Caffé Nero Latte with Soya Milk (1 regular) – 3.5
Caffé Nero Mocha Frappe Latte with Semi Skimmed Milk (each) – 13
Caffé Nero Mocha with Coconut Milk (1 regular) – 5.5
Caffé Nero Mocha with Oat Milk (1 regular) – 6.5
Caffé Nero Mocha with Semi Skimmed Milk & Whipped Cream (1 regular) – 15
Caffé Nero Mocha with Skimmed Milk & Whipped Cream (1 regular) – 14.5
Caffé Nero Mocha with Soya Milk (1 regular) – 6
Caffé Nero White Chocolate Mocha with Coconut Milk (each) – 18.5
Caffé Nero White Chocolate Mocha with Oat Milk (each) – 20.5
Caffé Nero White Chocolate Mocha with Semi Skimmed Milk (each) – 20
Caffé Nero White Chocolate Mocha with Skimmed Milk (each) – 18.5
Caffé Nero White Chocolate Mocha with Soya Milk (each) – 19
---
DRINK TOPPERS/EXTRAS:
Caffé Nero Drink Toppers, Marshmallows (per serving) – 1
Caffé Nero Drink Toppers, Whipped Cream (per serving) – 8.5
Caffé Nero Vanilla Syrup (per shot) – 5
Caffé Nero Vanilla Syrup (per shot), Sugar Free – 0.5
---
COLD DRINKS:
Caffé Nero Crushed Raspberry Lemonade (each) – 4.5
Caffé Nero Fruit Booster, Alphonso Mango & Passionfruit (each) – 10.5
Caffé Nero Fruit Booster, Raspberry & Peach (each) – 11.5
Caffé Nero Garden Mint Lemonade (each) – 6.5
Caffé Nero Sicilian Lemonade (each) – 4
Caffé Nero Strawberry Frappe Milkshake with Semi Skimmed Milk (each) – 11
Caffé Nero Strawberry Frappe Milkshake with Soya Milk (each) – 10.5
Caffé Nero Triple Belgian Chocolate Frappe Creme with Semi Skimmed Milk (each) – 22
Caffé Nero Vanilla Frappe Milkshake with Semi Skimmed Milk (each) – 12.5
Caffé Nero Vanilla Frappe Milkshake with Soya Milk (each) – 11.5
---
HOT CHOCOLATE:
Caffé Nero Hot Chocolate with Coconut Milk (1 regular) – 9
Caffé Nero Hot Chocolate with Oat Milk (each) – 10.5
Caffé Nero Hot Chocolate with Semi Skimmed Milk & Whipped Cream (1 regular) – 20
Caffé Nero Hot Chocolate with Skimmed Milk & Whipped Cream (1 regular) – 18.5
Caffé Nero Hot Chocolate with Soya Milk (1 regular) – 12
---
ICED DRINKS:
Caffé Nero Iced Black Tea with Peach – Free
Caffé Nero Iced Coconut Latte with Coconut Milk (each) – 7
Caffé Nero Iced Coconut Latte with Semi Skimmed Milk (each) – 8.5
Caffé Nero Iced Green Tea with Mango – Free
Caffé Nero Iced Latte with Semi Skimmed Milk (each) – 7.5
---
FOOD:
Caffé Nero Almond Croissant (each) – 17
Caffé Nero Animal Bites (per biscuit) – 1
Caffé Nero Apple & Berry Bircher Muesli (per serving) – 10
Caffé Nero Apple & Blackcurrant Crumble Bar (60g bar) – 12
Caffé Nero Apricot Croissant (each) – 13
Caffé Nero Banana & Walnut Loaf Cake (per serving) – 11.5
Caffé Nero Belgian Chocolate Brownie (each) – 16.5
Caffé Nero Belgian Chocolate Fudge Cake (per serving) – 21
Caffé Nero Belgian Chocolate Muffin (each) – 24.5
Caffé Nero Berry Compote with Yogurt & Granola (per serving) – 10.5
Caffé Nero Black Cherry Filled Muffin (each) – 20
Caffé Nero Blackcurrant & Earl Grey Cake (per serving) – 25
Caffé Nero Blueberry Filled Muffin (each) – 19.5
Caffé Nero Brie & Balsamic Onion Chutney Panini (each) – 22.5
Caffé Nero British Chicken & Bacon Tostati Melt (each) – 20.5
Caffé Nero Butchers Sausage Ciabatta Roll (per pack) – 24
Caffé Nero Butter Croissant (each) – 10.5
Caffé Nero Cappuccino Cake (per serving) – 22.5
Caffé Nero Caramel Shortbread (each) – 19
Caffé Nero Caramel Waffles twin pack (each) – 8.5
Caffé Nero Carrot Cake (per serving) – 26.5
Caffé Nero Chargrilled Chicken & Pesto Flatbread (each) – 22
Caffé Nero Chargrilled Chicken Salad Sandwich (per pack) – 19
Caffé Nero Chargrilled Chicken, Quinoa & Bean Salad (per pack) – 7.5
Caffé Nero Chargrilled Veg & Mozzarella Panini (each) – 22
Caffé Nero Cheese Twist Pastry (each) – 16.5
Caffé Nero Chocolate & Vanilla Marble Loaf Cake (per serving) – 11.5
Caffé Nero Chocolate Coated Coffee Beans (25g pack) – 6.5
Caffé Nero Chocolate Twist (each) – 16
Caffé Nero Chorizo & Sweet Chilli Pepper Tostati (each) – 21
Caffé Nero Ciabatta Bread Roll (each), excluding butter – 9
Caffé Nero Classic Bacon, Lettuce & Tomato Sandwich (per pack) – 21.5
Caffé Nero Clotted Cream (for scone) (40g pot) – 11.5
Caffé Nero Crudite & Red Pepper Houmous (per serving) – 3.5
Caffé Nero Falafel & Houmous Flatbread (each) – 21
Caffé Nero Free Range Egg Sandwich (per pack) – 21.5
Caffé Nero Fruit Salad Pot – Free
Caffé Nero Fruit Scone, excluding butter, jam & cream (each) – 14.5
Caffé Nero Giant Chocolate Coin (each) – 5.5
Caffé Nero Gino Gingerbread Man (each) – 14.5
Caffé Nero Ham & Egg Gluten Free Roll (each) – 13.5
Caffé Nero Ham & Mature Cheddar Croissant (each) – 17
Caffé Nero Ham & Mozzarella Panini (each) – 19
Caffé Nero Ham Hock & Cheddar Tostati Melt (each) – 21
Caffé Nero Honey Yogurt (per serving) – 9.5
Caffé Nero Lemon Drizzle Loaf Cake (per serving) – 14
Caffé Nero Maple Pecan Pastry (each) – 18
Caffé Nero Meatball & Mozzarella Panini (each) – 29
Caffé Nero Mini Classic Panettone (each) – 18.5
Caffé Nero Mozzarella & Roasted Tomato Tostati Melt (each) – 21
Caffé Nero Mozzarella & Tomato Panini (each) – 24.5
Caffé Nero Mushroom & Mascarpone Risotto (per serving) – 9.5
Caffé Nero Mushroom & Mascarpone Tostati Melt (each) – 19.5
Caffé Nero Oat & Raisin Cookie (each) – 15
Caffé Nero Oat Bar (60g bar) – 13
Caffé Nero Orzo Pasta & Mediterranean Veg (per serving) – 4.5
Caffé Nero Pain au Chocolat (each) – 14
Caffé Nero Pain au Raisin (each) – 16.5
Caffé Nero Pole & Line Tuna Melt Panini (each) – 25
Caffé Nero Porridge Topper, Honey (per mini jar) – 5
Caffé Nero Porridge Topper, Raspberry/Strawberry Conserve (per mini jar) – 3.5
Caffé Nero Porridge with Semi Skimmed Milk (per serving) – 11.5
Caffé Nero Porridge with Skimmed Milk (per serving) – 10.5
Caffé Nero Porridge with Soya Milk (per serving) – 11.5
Caffé Nero Raspberry & Almond Filled Muffin (each) – 22.5
Caffé Nero Raspberry & Pistachio Slice (each) – 15
Caffé Nero Raspberry & White Chocolate Frappe Creme with Semi Skimmed Milk (each) – 24
Caffé Nero Rich Fruit Teacake (each) – 14
Caffé Nero Salted Caramel & Apple Filled Muffin (each) – 21.5
Caffé Nero Salted Caramel & Pistachio Frappe Creme with Semi Skimmed Milk (each) – 24.5
Caffé Nero Salted Caramel Cheesecake (per serving) – 15
Caffé Nero Sausage, Egg & Bacon Ciabatta Roll (per pack) – 18
Caffé Nero Scrambled Egg with Portobello Mushroom & Spinach Breakfast Pot (133g pot) – 1
Caffé Nero Shortbread twin pack (each) – 6.5
Caffé Nero Sicilian Lemon Curd Filled Muffin (each) – 21.5
Caffé Nero Sicilian Lemon Meringue Cake (per serving) – 25
Caffé Nero Smoked Bacon Ciabatta Roll (per pack) – 18
Caffé Nero Smoked Ham & Mature Cheddar Tostati (each) – 10.5
Caffé Nero Smoked Salmon & Soft Cheese Sandwich (per pack) – 14.5
Caffé Nero Spiced Veg & Mango Chutney Flatbread (each) – 13.5
Caffé Nero Spinach & Egg Pot – Free
Caffé Nero Stem Ginger Biscuits twin pack (each) – 6.5
Caffé Nero Triple Chocolate Cookie (each) – 17
*Please note I have not taken these Syn Values from an official source. Check the official Slimming World website or consult with your leader to check the correct Syn value*