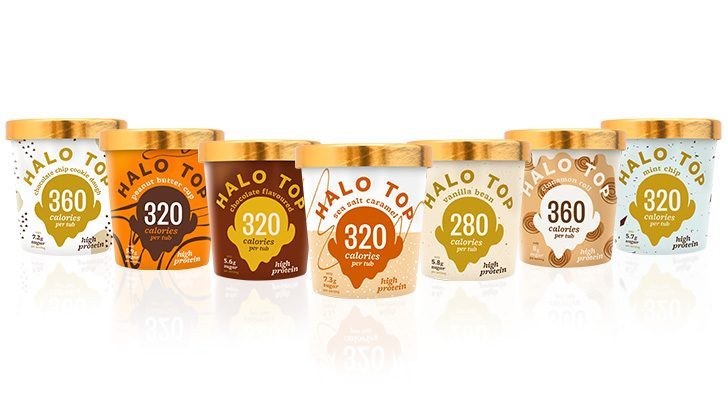 Halo Top.. guilt free ice cream with a flavour to suit almost everyone. The best bit is you can pretty much eat the entire tub and still be within your Syn allowance for the day… a Slimming World followers dream.
I was lucky enough to review some flavours last year.. please feel free to check out my review here. I am a huge fan.. I often have a scoop or two on top of a 1/2 Syn ice cream cone as a treat. Mr Fatgirlskinny loves it too and often it's the only thing to keep him on plan.
The UK now stocks Halo top in Asda, Tesco, Iceland, Morrisons and Sainburys. At £5 a tub it can be a little pricey but I like to stock up when they are on offer.
There are some great flavours available in the UK now.. but when we visited Florida last year I was pleased to see even more flavours.. I hope they are eventually introduced here (oh and they are cheaper too).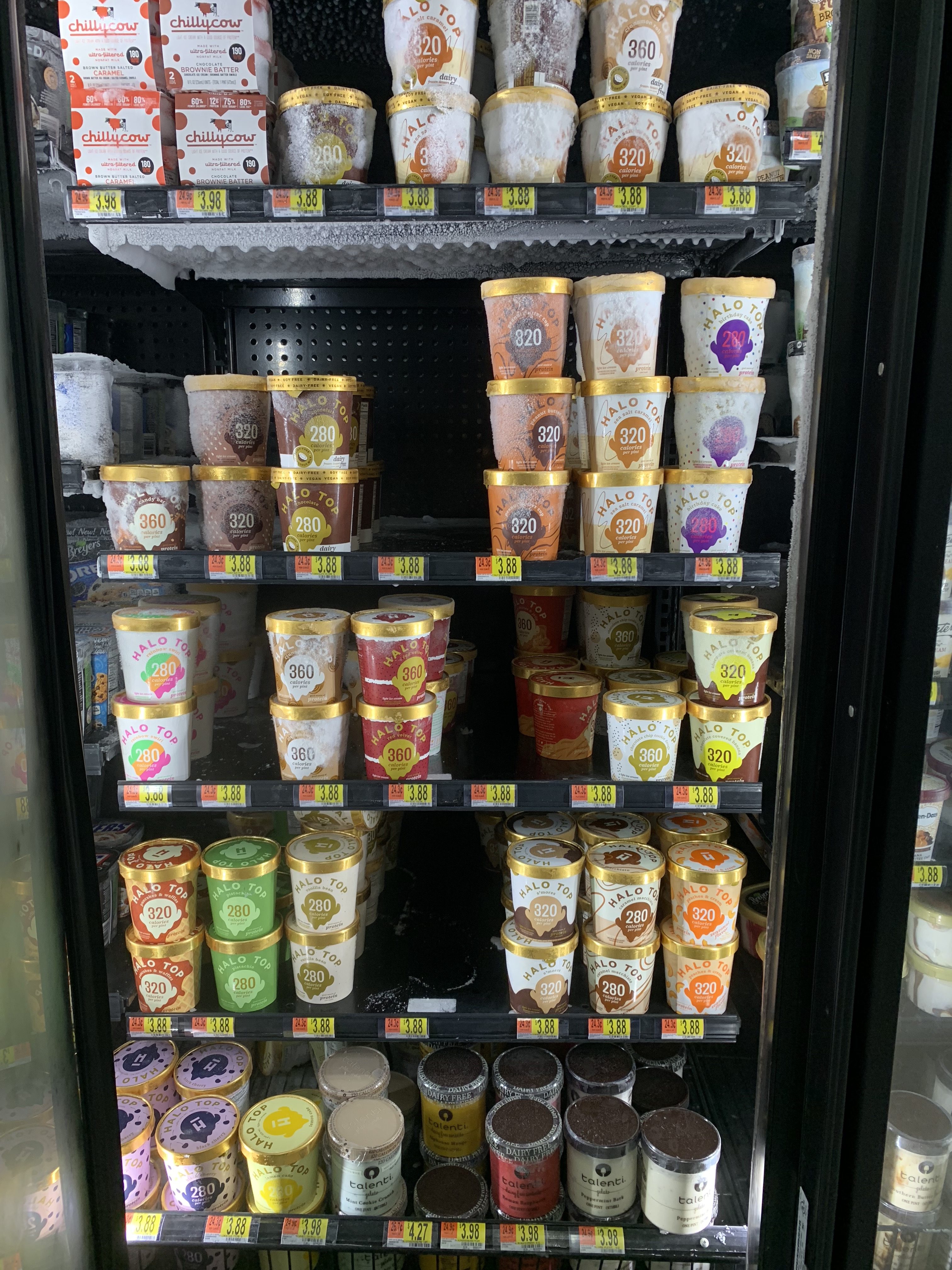 List Updated January 2019
Halo Top Birthday Cake Ice Cream 473ml tub, 118ml Serving – 3.5 Syns
Halo Top Birthday Cake Ice Cream 473ml tub, per 100ml – 3 Syns
Halo Top Candy Bar Ice Cream 473ml tub, 118ml Serving – 4.5 Syns
Halo Top Candy Bar Ice Cream 473ml tub, per 100ml – 4 Syns
Halo Top Chocolate Chip Cookie Dough Ice Cream 473ml tub, 118ml Serving – 4.5 Syns
Halo Top Chocolate Chip Cookie Dough Ice Cream 473ml tub, per 100ml – 4 Syns
Halo Top Chocolate Dairy Free Ice Cream 473ml tub, 118ml Serving – 3.5 Syns
Halo Top Chocolate Dairy Free Ice Cream 473ml tub, per 100ml – 3 Syns
Halo Top Chocolate Ice Cream 473ml tub, 118ml Serving – 4 Syns
Halo Top Chocolate Ice Cream 473ml tub, per 100ml – 3.5 Syns
Halo Top Cinnamon Roll Ice Cream 473ml tub, 1/2 a tub – 9 Syns
Halo Top Cinnamon Roll Ice Cream 473ml tub, 118ml Serving – 4.5 Syns
Halo Top Cinnamon Roll Ice Cream 473ml tub, per 100ml – 4 Syns
Halo Top Cookies & Cream Ice Cream 473ml tub, 118ml Serving – 4 Syns
Halo Top Cookies & Cream Ice Cream 473ml tub, per 100ml – 3.5 Syns
Halo Top Mint Chip Ice Cream 473ml tub, 118ml Serving – 4 Syns
Halo Top Mint Chip Ice Cream 473ml tub, per 100ml – 3.5 Syns
Halo Top Oatmeal Cookie Ice Cream 473ml tub, 118ml Serving – 3.5 Syns
Halo Top Oatmeal Cookie Ice Cream 473ml tub, per 100ml – 3 Syns
Halo Top Peanut Butter Cup Dairy Free Ice Cream 473ml tub, 118ml Serving – 4 Syns
Halo Top Peanut Butter Cup Dairy Free Ice Cream 473ml tub, per 100ml – 3.5 Syns
Halo Top Peanut Butter Cup Ice Cream 473ml tub, 118ml Serving – 4 Syns
Halo Top Peanut Butter Cup Ice Cream 473ml tub, per 100ml – 3.5 Syns
Halo Top Red Velvet Ice Cream 473ml tub, 118ml Serving – 4.5 Syns
Halo Top Red Velvet Ice Cream 473ml tub, per 100ml – 4 Syns
Halo Top Sea Salt Dairy Free Ice Cream 473ml tub, 118ml Serving – 4 Syns
Halo Top Sea Salt Dairy Free Ice Cream 473ml tub, per 100ml – 3.5 Syns
Halo Top Sea Salted Caramel Ice Cream 473ml tub, 118ml Serving – 4 Syns
Halo Top Sea Salted Caramel Ice Cream 473ml tub, per 100ml – 3.5 Syns
Halo Top Toasted Coconut Dairy Free Ice Cream 473ml tub, 118ml Serving – 4 Syns
Halo Top Toasted Coconut Dairy Free Ice Cream 473ml tub, per 100ml – 3.5 Syns
Halo Top Vanilla Bean Ice Cream 473ml tub, 118ml Serving – 3.5 Syns
Halo Top Vanilla Bean Ice Cream 473ml tub, per 100ml – 3 Syns
---