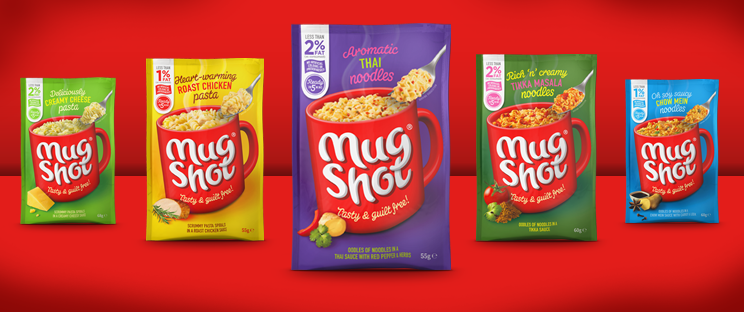 Mugshots make an excellent Snack or Meal. But just remember that they aren't calorie free even if they are classed as Low Syn. Most of them contain around 200 Calories each so I wouldn't suggest eating more than one a day as a snack.
As of December 2017, Mugshots are no longer Syn Free… there are devestated Slimming World members all over the country but I personally believe it was a good move by Slimming World. Some people were eating 3 or 4 of these a day as snacks and then asking why they weren't losing any weight… 4 of them would be 800 extra calories a day just in snacks..
List last updated January 2018.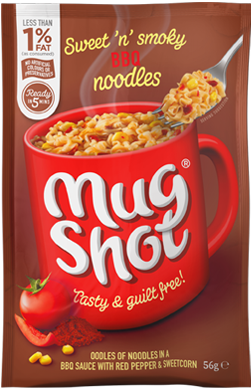 MUGSHOT NOODLES
Mug Shot Sweet n Smoky BBQ Noodles, dried (56g sachet) – 1 Syn Per Packet
Mug Shot Chicken & Sweetcorn Noodles, dried (54g sachet) – 1 Syn Per Packet
Mug Shot Chow Mein Noodles, dried (45g sachet) – 1 Syn Per Packet
Mug Shot Peri-Peri Noodles, dried (56g sachet) – 1 Syn Per Packet
Mug Shot Rogan Josh Noodles, dried (60g sachet) – 1 Syn Per Packet
Mug Shot Sweet n Sour Noodles, dried (67g sachet) – 1 Syn Per Packet
Mug Shot Teriyaki Noodles, dried (60g sachet) – 1 Syn Per Packet
Mug Shot Thai Style Noodles, dried (55g sachet) – 2 Syns Per Packet
Mug Shot Tikka Style Noodles, dried – 2 Syns Per Packet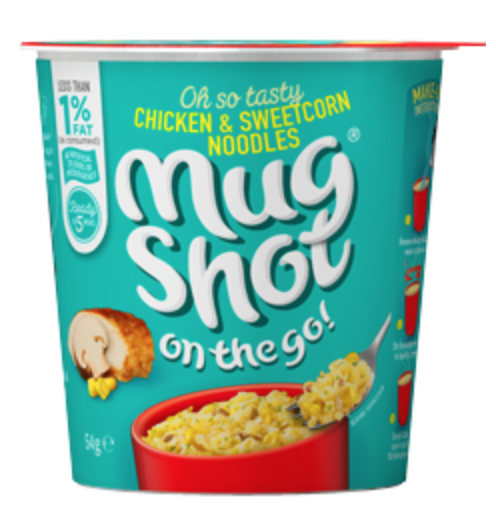 MUGSHOT ON THE GO POTS
Mug Shot On The Go! Chicken & Sweetcorn Noodles, dried (54g pot) – 1 Syn Per Pot
Mug Shot On The Go! Creamy Cheese Pasta (68g pot) – 2.5 Syns Per Pot
Mug Shot On The Go! Sweet n Sour Noodles, dried (67g pot) – 1.5 Syns Per Pot
Mug Shot On The Go! Tomato & Herb Pasta, dried (64g pot) – 2 Syns Per Pot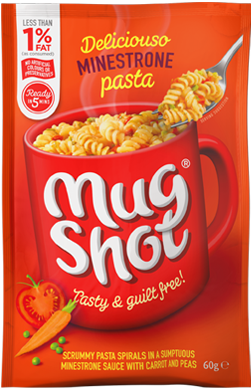 MUGSHOT PASTA
Mug Shot Creamy Cheese Pasta, dried (68g sachet) – 3 Syns Per Packet
Mug Shot Macaroni Cheese Pasta, dried (68g sachet) – 3.5 Syns Per Packet
Mug Shot Mediterranean Style Pasta, dried (60g sachet) – 1.5 Syns Per Packet
Mug Shot Minestrone Pasta, dried (60g sachet) – 1 Syn Per Packet
Mug Shot Roast Chicken Pasta, dried (55g sachet) – 2.5 Syns Per Packet
Mug Shot Spicy Tomato Pasta, dried (60g sachet) – 1.5 Syns Per Packet
Mug Shot Tomato & Herb Pasta, dried (64g sachet) – 2 Syns Per Packet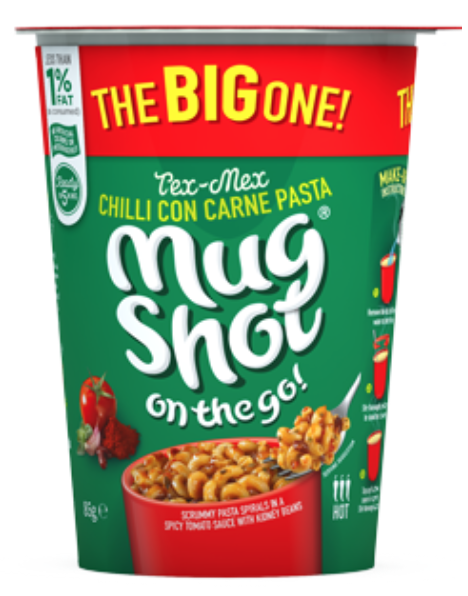 MUGSHOT THE BIG ONES
Mug Shot On The Go! The Big One! Bolognese Pasta, dried (85g pot) – 2 Syns Per Pot
Mug Shot On The Go! The Big One! Cajun Pasta, dried (85g pot) – 2.5 Syns Per Pot
Mug Shot On The Go! The Big One! Cheese & Ham Pasta, dried (85g pot) – 4.5 Syns Per Pot
Mug Shot On The Go! The Big One! Chilli Con Carne Pasta, dried (85g pot) – 1.5 Syns Per Pot
Mug Shot On The Go! The Big One! Chow Mein Noodles, dried (85g pot) – 1.5 Syns Per Pot
Mug Shot On The Go! The Big One! Madras Noodles, dried (85g pot) – 1.5 Syns Per Pot
---
*Please note I have not taken these Syn Values from an official source. I have worked these Syns out based on my own theory of 20 cals = 1 Syn. Please always check the official Slimming World website or consult with your leader to check the correct Syn value*