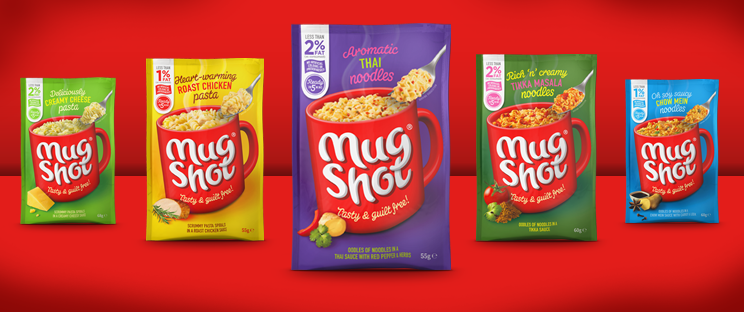 Below is a list of Syn values for Mugshot products. They are extremely Slimming World friendly and make the perfect Low Syn snack.
Most of them contain around 200 Calories each so I wouldn't suggest eating more than one a day as a snack.
As of December 2017, Mugshots are no longer Syn Free… there were devastated Slimming World members all over the country but I personally believe it was a good move by Slimming World. Some people were eating 3 or 4 of these a day as snacks and then asking why they weren't losing any weight… 4 of them would be 800 extra calories a day just in snacks..
List Updated: 1st January 2020
---
Mug Shot Pasta
Mug Shot Beef Bolognese Pasta (68g pot) – 1.5 Syns
Mug Shot Cajun Pasta, dried (60g sachet) – 2 Syns
Mug Shot Cheese & Broccoli Pasta (68g pot) – 2.5 Syns
Mug Shot Chicken Casserole Pasta (60g sachet) – 1.5 Syns
Mug Shot Creamy Cheese Pasta (68g pot) – 3 Syns
Mug Shot Creamy Cheese Pasta, dried (68g sachet) – 3 Syns
Mug Shot Irish Stew Pasta, dried (60g sachet) – 2 Syns
Mug Shot Macaroni Cheese Pasta, dried (68g sachet) – 3.5 Syns
Mug Shot Mediterranean Style Pasta, dried (60g sachet) – 1.5 Syns
Mug Shot Minestrone Pasta, dried (60g sachet) – 1 Syn
Mug Shot Roast Chicken Pasta, dried (55g sachet) – 2.5 Syns
Mug Shot Roast Chicken Pasta, dried (68g pot) – 3 Syns
Mug Shot Snack Stop Cajun Pasta, dried (55g sachet) – 2 Syns
Mug Shot Snack Stop Cheese Pasta, dried (60g sachet) – 3.5 Syns
Mug Shot Snack Stop Chicken & Mushroom Pasta (60g sachet) – 2.5 Syns
Mug Shot Snack Stop Christmas Dinner Pasta, dried (55g pack) – 1.5 Syns
Mug Shot Snack Stop On the Go! XXL Bolgnese, dried (78g pot) – 2 Syns
Mug Shot Snack Stop Roast Chicken Pasta, dried (53g sachet) – 2 Syns
Mug Shot Snack Stop Tomato Pasta, dried (64g sachet) – 2 Syns
Mug Shot Spiced Butternut Squash Pasta, dried (60g sachet) – 2.5 Syns
Mug Shot Spicy Tomato Pasta, dried (60g sachet) – 1.5 Syns
Mug Shot The Big One! Bolognese Pasta, dried (85g pot) – 2.5 Syns
Mug Shot The Big One! Cajun Pasta, dried (85g pot) – 2.5 Syns
Mug Shot The Big One! Cheese & Ham Pasta, dried (85g pot) – 4.5 Syns
Mug Shot The Big One! Chilli Con Carne Pasta, dried (85g pot) – 1.5 Syns
Mug Shot The Big One! Jamaican Jerk Chicken Pasta, dried (85g pot) – 2 Syns
Mug Shot The Mighty Chicken & Spinach Balti Pasta (110g pot) – 2.5 Syns
Mug Shot The Mighty Big Time Bolognese Pasta (110g pot) – 3 Syns
Mug Shot The Mighty Salt & Pepper Chilli Beef Pasta (110g pot) – 2.5 Syns
Mug Shot The Mighty Soulful Cajun Pasta (110g pot) – 3.5 Syns
Mug Shot Tomato & Herb Pasta, dried (64g pot) – 2 Syns
Mug Shot Tomato & Herb Pasta, dried (64g sachet) – 2 Syns
Mug Shot Tomato, Red Pepper & Herb Pasta, dried (68g pot) – 2 Syns
Mug Shot Veg Pot Pasta, Aromatic Indian, dried (65g pot) – 1.5 Syns
Mug Shot Veg Pot Pasta, Saucy Mediterranean, dried (65g pot) – 2.5 Syns
Mug Shot Veg Pot Pasta, Spicy Mexican, dried (65g pot) – 1.5 Syns
Mug Shot Veg Pot Pasta, Tantalising Thai, dried (65g pot) – 2.5 Syns
---
Mug Shot Noodles
Mug Shot Chicken & Sweetcorn Noodles, dried (54g pot) – 1 Syn
Mug Shot Chicken & Sweetcorn Noodles, dried (54g sachet) – 1 Syn
Mug Shot Chicken Tikka Masala Noodles (56g pot) – 2 Syns
Mug Shot Chow Mein Noodles, dried (45g sachet) – 1 Syn
Mug Shot Peri-Peri Noodles, dried (56g sachet) – 1 Syn
Mug Shot Pulled Pork Noodles (56g pot) – 1 Syn
Mug Shot Rogan Josh Noodles, dried (60g sachet) – 1 Syn
Mug Shot Sizzling Firecracker Chicken Noodles, dried (60g sachet) – 1.5 Syns
Mug Shot Snack Stop BBQ Flavour Noodles, dried (50g sachet) – 1 Syn
Mug Shot Snack Stop Chicken Flavour Noodles, dried (46g sachet) – 1 Syn
Mug Shot Snack Stop Chilli Flavour Noodles, dried (50g sachet) – 1 Syn
Mug Shot Snack Stop On Go! XXL Balti Noodles, dried (78g pot) – 1.5 Syns
Mug Shot Snack Stop On Go! XXL Chow Mein Noodles, dried(78g pot) – 1 Syn
Mug Shot Snack Stop Sweet & Sour Noodles, dried (60g sachet) – 1.5 Syns
Mug Shot Sweet 'n' Smoky BBQ Noodles, dried (56g sachet) – 1 Syn
Mug Shot Sweet 'n' Sour Noodles, dried (67g pot) – 1.5 Syns
Mug Shot Sweet 'n' Sour Noodles, dried (67g sachet) – 1 Syn
Mug Shot Sweet Chilli Noodles (60g sachet) – 1 Syn
Mug Shot Teriyaki Noodles, dried (60g sachet) – 1 Syn
Mug Shot Texan Sticky Rib Noodles, dried (60g sachet) – 1 Syn
Mug Shot Thai Style Noodles, dried (55g sachet) – 2 Syns
Mug Shot The Big One! Chow Mein Noodles, dried (85g pot) – 1.5 Syns
Mug Shot The Big One! Madras Noodles, dried (85g pot) – 1.5 Syns
Mug Shot The Mighty Flamin Chicken Noodles (110g pot) – 2 Syns
Mug Shot The Mighty Spicy Madras Noodles (110g pot) – 2 Syns
---
Mug Shot Rice
Mug Shot Chorizo & Olive Rice (60g pot) – 1.5 Syns
Mug Shot Jalfrezi Rice, dried (60g pot) – 1 Syn
Mug Shot Korma Rice (60g serving) – 1.5 Syns
Mug Shot Mexican Rice (60g pot) – 1.5 Syns
---
Mug Shot Soup
Mug Shot Cup Soup Broccoli & Stilton (24g sachet) – 4.5 Syns
Mug Shot Cup Soup Hot & Sour Tomato (20g sachet) – 3 Syns
Mug Shot Cup Soup Roast Chicken (25g sachet) – 4.5 Syns
Mug Shot Cup Soup Vegetable Chowder (25g sachet) – 4.5 Syns
Mug Shot Cup Soup Wild Mushroom (25g sachet) – 5 Syns
---
Mug Shot High Protein
Mug Shot High Protein Chicken Tikka Noodles (68g pot) – 3.5 Syns
Mug Shot High Protein Mac Cheese Pasta (68g pot) – 5.5 Syns
Mug Shot High Protein Roast Chicken Pasta (68g pot) – 4 Syns
Mug Shot High Protein Rogan Josh Noodles (68g pot) – 2.5 Syns