A comforting and simple cottage pie recipe, syn free, full of healthy speed foods and perfect for that warming mid week family meal. This unofficial recipe is perfect for any one following Slimming World, Weight Watchers or a calorie controlled diet.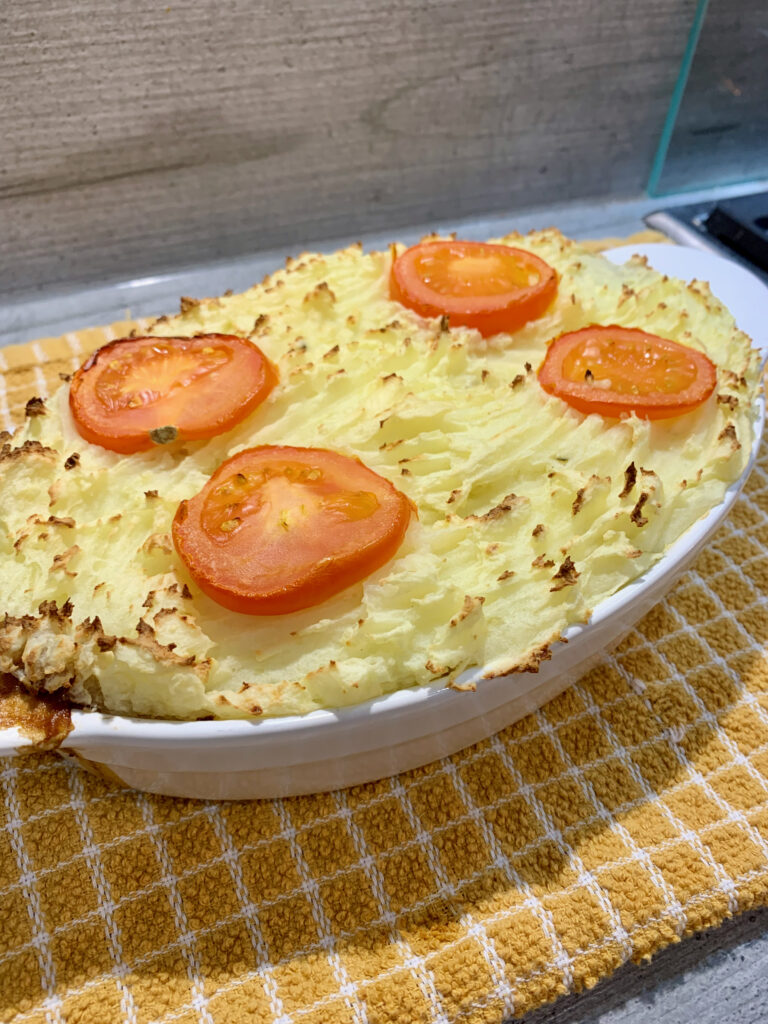 It's cold, it's dark and there is snow on the ground! You know what that means? It's comfort food time Syn Free* Slimming World style!
One of my favourite meals as a child was cottage pie.. in fact anything with beef mince in it was. My grandmother would make the most amazing cottage pie and the smell still reminds me of her today.

WHY IS THIS THE BEST COTTAGE PIE RECIPE?
Full of speed foods
Tasty and very filling
Perfect winter warmer
Easy to make
A cheap family favourite 
Syn Free
Only 350 Calories per serving
IS THIS RECIPE SLIMMING WORLD FRIENDLY?
Oh yes, this recipe could not be anymore Slimming World friendly! It is full of free foods and speedy vegetables too. Healthy, filling and no need to weigh or measure your portions. Eat until full!
HOW TO STORE AND REHEAT THIS DISH:
After cooling you can store this recipe in an airtight container in the fridge for up to 4 days.
Reheating in the microwave:  Cook covered for 2 and a half minutes. Uncover and cook for a further 1 minute. Check it is piping hot before serving. 
After cooling you can store this recipe in an airtight contained in the freezer for up to 1 month. Please full defrost before reheating. 

WINTER IS THE TIME FOR COMFORT FOOD..
FOR GOOD FOOD AND WARMTH.
Cottage Pie
Slimming World Syns: Zero*Weight Watchers Points: Coming SoonCalories: 350 Per Serving
Ingredients
500g

Lean 5% Fat Beef Mince

1kg

Floury Potatoes

[Peeled and Diced]

2

Beef Stock Cube

80g

Frozen Peas

80g

Frozen Sliced Carrots

[Or Fresh, par boiled]

1

Red Pepper

[De seeded and finely diced]

1

Onion

[Peeled and Finely diced]

¼ tsp

Basil

1

Garlic Clove

[Crushed]

½ tsp

Marmite

1 tbsp

Tomato Puree

2 tbsp

Fat Free Greek Style Yoghurt

(Or a splash of milk)

Salt

Tomato Slices

[Optional garnish]
Instructions
Pre heat oven to 200c/180c Fan/Gas Mark 6.

Wash diced potatoes, add to a pan of boiling water with a large pinch of salt and simmer until soft.

Make up beef stock using 300ml boiling water and 2 stock cubes.

In a large pan, over a medium heat add boiling stock, peas, carrot, onion and red pepper. Allow to simmer covered for 5 – 6 minutes.

Add Garlic, Basil, Tomato Puree and Marmite. Allow to simmer uncovered for a further 2 – 3 minutes.

Add beef mince and continue to simmer uncovered for 10 minutes, stirring often. Keep simmering until most of the liquid has reduced and the mixture is a thick gravy like consitancy.

Line the bottom of a large oven proof dish with your mince mixture and set aside.

Drain potatoes, add yoghurt and a season with a good pinch of salt. Mash potatoes until creamy and fluffy. Add extra yoghurt if required. [Don't be worried if its a bit lumpy, you do not want the potatoes to be too runny]

Cover the mince mixture with potato and fluff with a fork. Garnish with tomato slices if required.

Place into the oven for 20 – 25 minutes or until crispy and golden.
Notes
*Slimming World Syns and Weight Watchers Points are all approximate and estimated by the fatgirlskinny.net team. They have not been verified by an official source.
Have you created this recipe?
Please let me know how it turned out! Leave a comment below or share a photo on Instagram tagging me at @fatgirlskinny__ and the hashtag #fatgirlskinny.