Vegan Jackfruit Curry | Slimming World Friendly Recipe
This vegan jackfruit curry is entirely plant based, but don't let that put you off. The jackfruit gives it a delicious 'meaty' texture which we can't get enough of. This recipe uses a rogan josh style sauce, which means that it is tomato based, rich and mild. This recipe is perfect for anyone who is following the Slimming World plan, Weight Watchers or a calorie deficit.
This creamy jackfruit curry is a delightful dish that delivers texture and flavour without using heavy cream or Synned ingredients. Combining meaty jackfruit pieces with aromatic spices and tomato it makes a top vegan recipe which seems to impress the whole family. My kiddos who are super fussy even gave it a go and one was really impressed by it.
So what is jackfruit?
Jackfruit is an ancient fruit grown on trees in tropical climates. It's native to south and southeast Asia where it is served regularly. While it's relatively new on the scene in North America, jackfruit has been used for hundreds of years as both food and medicine. It's believed to have antimicrobial and antifungal properties, as well as being rich in antioxidants.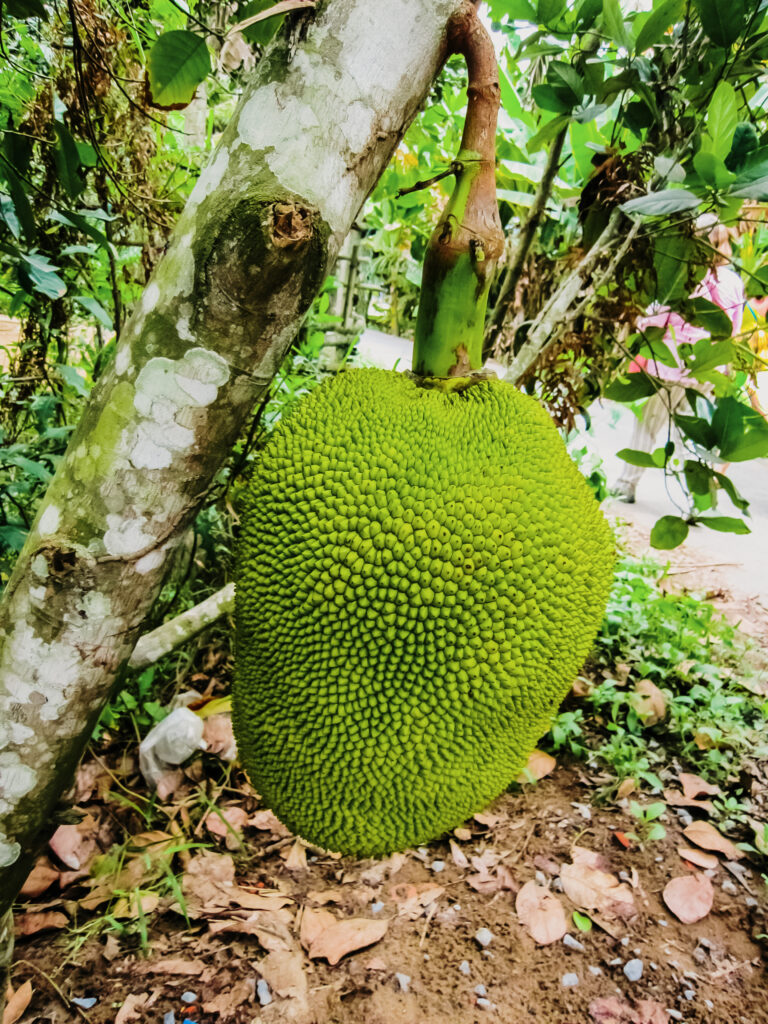 Jackfruit has thick, bumpy skin and is filled with plump, stringy pods. When ripe, these pods have a sweet banana-like quality. However, when used for savory dishes, the fruit is typically underripe and a bit more firm, giving it a meatier texture.
---
Why you'll love this recipe….
So rich and full of flavour
Perfect for vegans
Syn Free when following the Slimming World plan
Batch cook friendly
Low in calories
The whole family will love it
Tasty meaty texture
Cheap to throw together
Store cupboard ingredients
So delicious and spicy
Batch Cook – Storage Information
Fridge: Store leftovers in the fridge in an airtight container for up to 4 days.
Reheat: Reheat in the microwave or on the hob.
Freezer: Allow to cool before placing in a suitable containers. Keep for up to 6 months. Thaw before reheating.
What if I am not keen on jackfruit?
That's fine, it's not for everyone. To keep this recipe vegan friendly.. try swapping the jackfruit for 400g mushrooms or 400g sweet potato.
Have you created this recipe?
Please let me know how it turned out! Leave a comment below or share a photo on Instagram tagging me at @fatgirlskinny__ and the hashtag #fatgirlskinny.