A delicious creamy tomato pasta recipe which is quick and easy to make. Full of speed foods and perfect for that mid week healthy meal. This unofficial recipe is perfect for any one following Slimming World, Weight Watchers or a calorie controlled diet.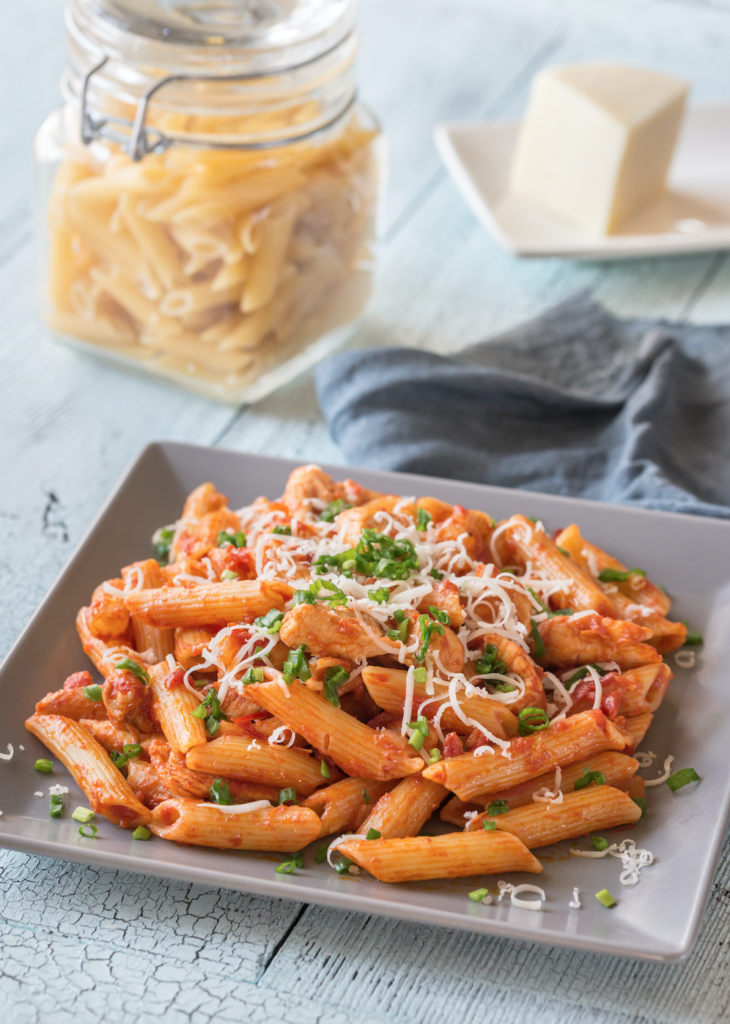 Craving a Syn free easy pasta recipe that the whole family will love? This is one of the best chicken pasta recipes you'll ever try! Full of flavour and so quick to make. I call this recipe my "chuck in all of the leftovers pasta". Any leftover speedy vegetables you have around the kitchen could be thrown into this dish.
WHY IS THIS THE BEST CHICKEN & BACON PASTA RECIPE?
It is completely Syn free*
Full of speed foods
Tasty and very filling
Quick and easy to make
Use all of your leftovers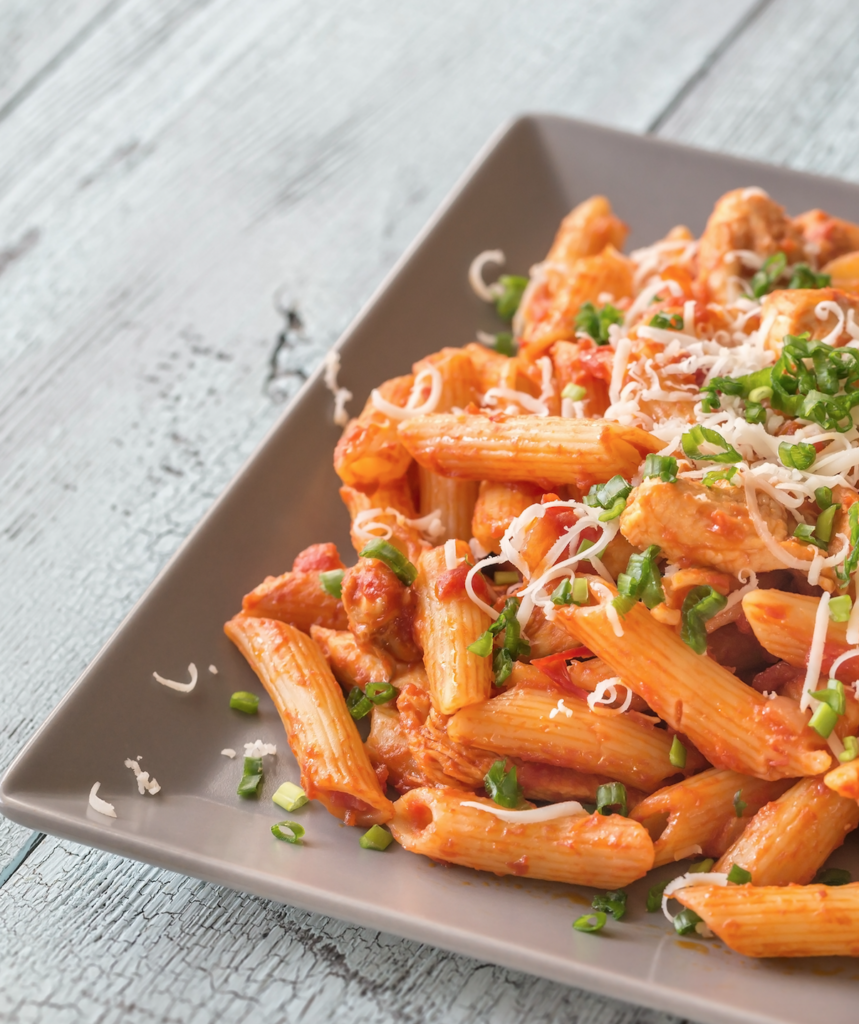 DO YOU RINSE PASTA?
If you are using gluten free style pasta I would recommend rinsing with cold water after cooking to prevent it from building up a goo.
If you are using regular dried pasta I would recommend that you do not rinse it with cold water. Rinsing pasta with cold water removes the starch which helps absorb the taste and sauce.
IS THIS RECIPE SLIMMING WORLD FRIENDLY?
Oh yes, this recipe could not be anymore Slimming World friendly! It is full of free foods and speedy vegetables too. Healthy, filling and no need to weigh or measure your portions. Eat until full!
HOW TO STORE AND REHEAT THIS DISH:
After cooling you can store this recipe in an airtight container in the fridge for up to 4 days.
Reheating on the stove: On a low/medium heat add the pasta to a pan and stir constantly until reheated all the way through.
Reheating in the microwave: Cook for 1 and a half minutes, stir, and cook for a further minute. Check it is piping hot before serving.
After cooling you can store this recipe in an airtight contained in the freezer for up to 1 month. Please full defrost before reheating.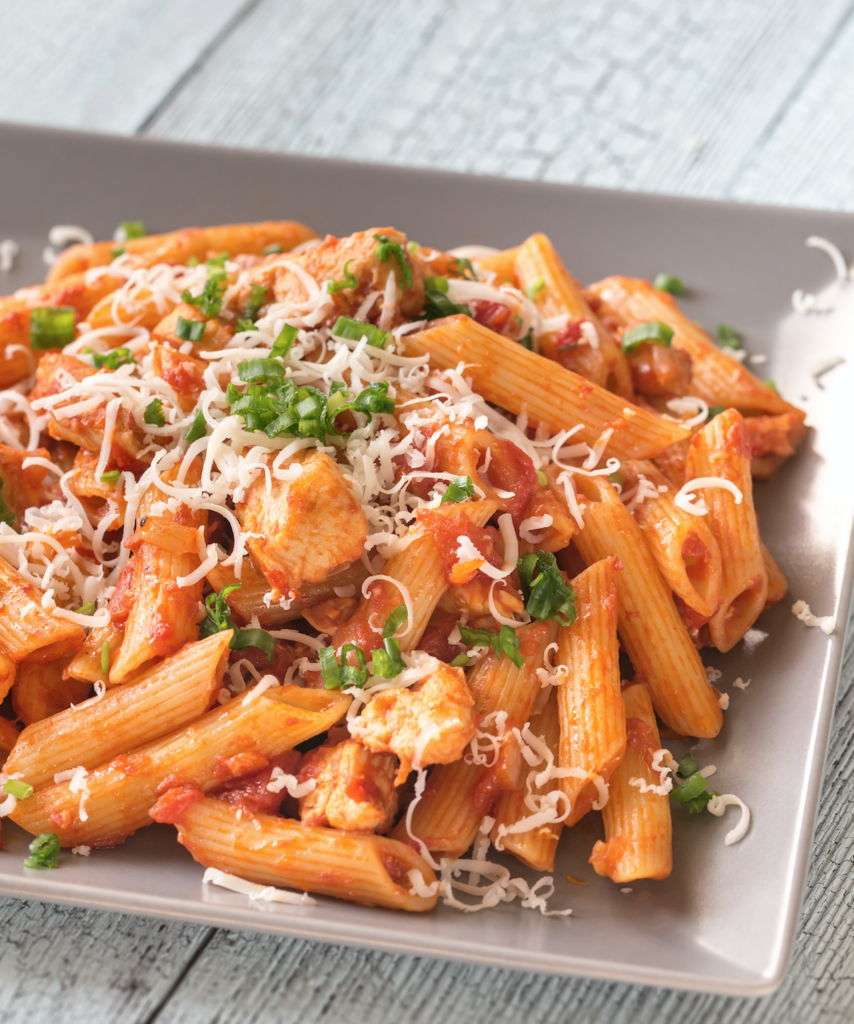 ---
LIFE IS A COMBINATION OF MAGIC
AND PASTA…..
Chicken And Bacon Pasta
Slimming World Syns: ZERO*Weight Watchers Points: Coming SoonCalories: 359 Per Portion
Servings
3
People/Portions
Ingredients
250g

Skinless Boneless Chicken Breast

(diced)

4

Bacon Medallions

(roughly chopped)

200g

Dried Pasta

1

Onion

(diced)

1

Red Pepper

(de seeded and diced)

4

Large Mushrooms

(finely chopped)

2

Garlic Cloves

(peeled and grated)

½ tsp

Dried Basil

Chicken Stock Cube

400g

Chopped Tomatoes

250g

Passata

Pinch Salt & Pepper

Frylight
Instructions
Add water to a pan and bring to boil. Add the pasta and allow to simmer until cooked.

In a seperate pan spritz with a little Frylight, bring to a medium heat and then add garlic, onion, red pepper, mushroom, crumbled chicken stock cube and 100ml boiling water. Allow to simmer until most of the water as absorbed and the vegetables are softened.

Add basil, salt and pepper, chicken and bacon to the pan. Stir fry until the chicken and bacon are cooked.

Add chopped tomatoes and allow to simmer, stiring often until all of the liquid has boiled away.

Add the passata, making sure all of the mixture is coated. Allow to simmer on a low heat for a few minutes ensure everything is piping hot.
Notes
*Slimming World Syns and Weight Watchers Points are all approximate and estimated by the fatgirlskinny.net team. They have not been verified by an official source.
Have you created this recipe?
Please let me know how it turned out! Leave a comment below or share a photo on Instagram tagging me at @fatgirlskinny__ and the hashtag #fatgirlskinny.