A True Non Scale Victory | Overcoming The Roller Coaster Fear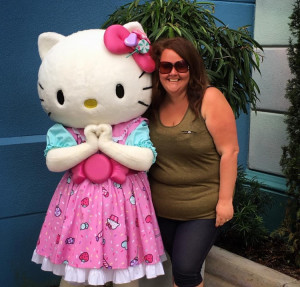 I have been meaning to write this post since we returned from our "big trip" back at the end of November.. but I have been so busy with Christmas, another holiday and work! But finally I am putting fingers to keyboard!
Many of you will know that hubby and I took a month long trip on 21st October.. It was a long time to be away but it really was amazing.
A rough break down.. we flew to Barcelona where we spent two days exploring the city. We have been there before on a cruise stop but not spent more than a few hours there before. It was nice but VERY busy. Not my ideal place to holiday.. I probably wouldn't be too fussed if I didn't visit again.
On 23rd October we boarded the Biggest ship in the world (currently Jan 2017), Royal Caribbean's "Harmony of the Seas". Anyone who knows us well will realise we are addicted to cruising 🙂 But this ship really was another world.. when we pulled up at the port it just looked like a building rather than a ship! The interior was like a city on water. We spent 13 nights on the ship, doing just two ports Mallorca and Malaga before hitting the seas for 10 days transatlantic. We were worried we were going to be bored but with all inclusive food and a drinks package who on earth could be bored 😉 The weather was beautiful and we spent most of our days sunbathing and chilling out.
The ships staff keep you entertained with many shows and activities. We even got to see Grease the musical on board!
For any Slimming World follower who is considering going on a cruise but scared of a HUGE weight gain.. You really could stay on plan if you really wanted to (or partly anyway haha). The amount of lean meat, fresh fruit and vegetables available is amazing!
After 13 nights on the ship we arrived in Fort lauderdale where we met hubbys best mate who flew out as he didn't fancy the cruise too. We spent 2 weeks visiting Key West, Miami and Orlando, Florida.
So where did my non scale victory come from?…?
When I was a child and teen I ADORED theme parks, fast rides etc! I can sadly say I had not been to a theme park since I was probably around 14! Over the years the more weight I put on the more I wouldn't even consider going on a ride for the fear of not fitting on them! Well I can happily say I did pretty much every ride in Universal Studios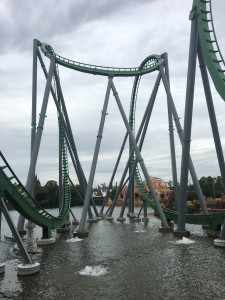 including 2 huge Roller coasters! Not only did I fit on them just fine.. I loved them 🙂 The great thing about Universal Studios and most of Orlando is that there are loads of "test seats" outside of the rides for us "larger" guests to try! When I tried that first test seat and it fitted I could have literally jumped for joy!! I am so glad I lost weight for this holiday because it made all of the difference 🙂 Hopefully we will be back soon to ride some more 🙂
I found I didn't actually gain that much weight on holiday.. probably because we did so much walking around the parks.. 15 miles some days. It's after the holiday when I didn't bother to go back on plan where I gained 🙁 So here I am 15lb heavier again! Grrrrr….but it's my own fault! I will get it off again with some willpower and determination 🙂
Anyone who is planning a Florida trip soon I can HIGHLY recommend Floridatix for your Disney World and other theme park tickets. They saved us so much money. Have fun if you are planning it 🙂 We are returning in 2018 I can't wait!
Anyway take care for now
Kirsty x