These vegetarian Slimming World friendly spicy stuffed peppers are not only a great way to get in plenty of veggies (speed food) but they are quick, easy and absolutely delicious.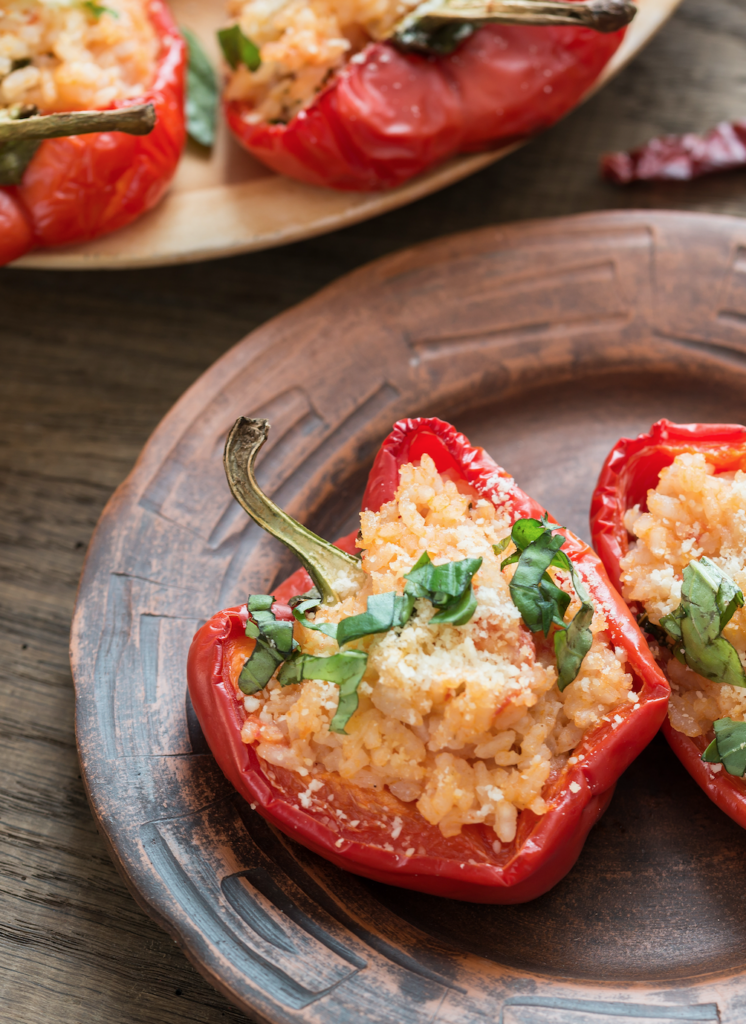 I think stuffed peppers get a bad rep as boring and uninspiring. When I mentioned creating them to Mr Fatgirlskinny he did his "face" which he always does when I mention a predomintantly vegetable based dish! But this recipe is a great way of hitting 3 goals for the day. Including some filling carbs, including a great portion of speed food and getting in one of your Healthy Extra A allowances. Oh I forgot to mention.. they are vegetarian too!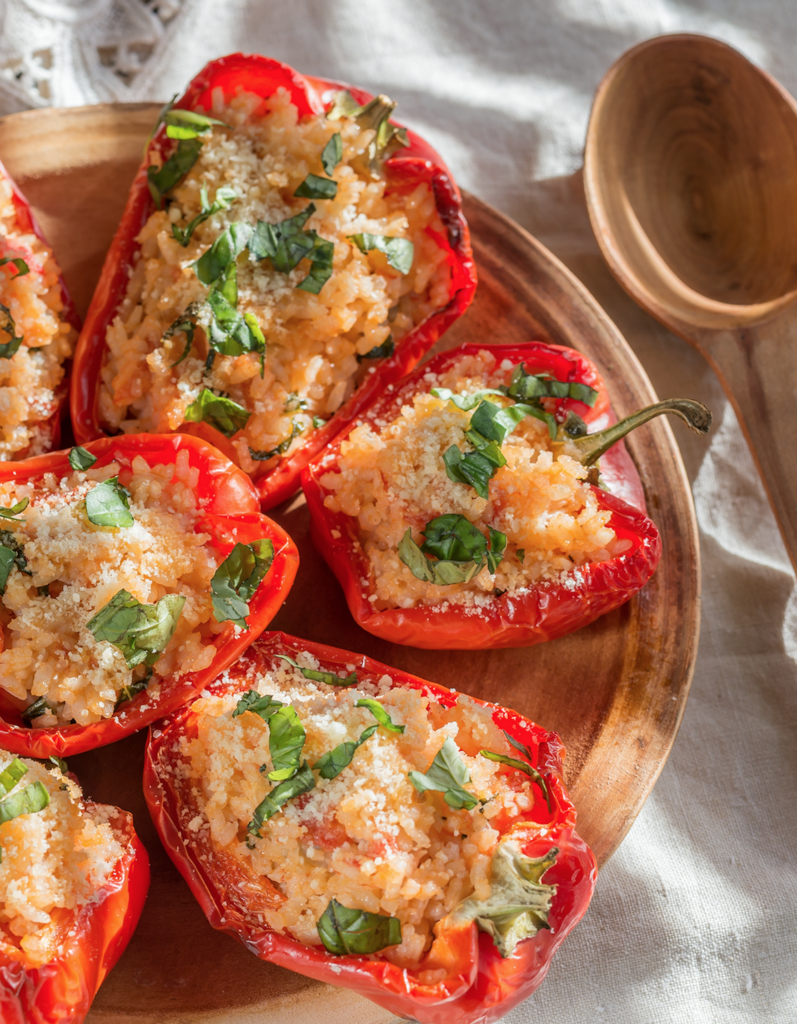 If you are new to bell peppers and unsure of which colour to use let me try and offer some advice. All peppers start out as Green (which Mr Fatgirlskinny hates) but they change colour as they mature. If a pepper is not picked it can turn yellow, orange or red depending on the type of pepper. Basically the longer the pepper stays on the vine the sweeter it becomes. For a naturally sweet taste I would pick Orange or Red when creating your stuffed peppers.. but some people do prefer the more bitter taste of a Green.
WHY ARE THESE THE BEST STUFFED PEPPERS?
Delicious
Easy to make
Filling
Perfect for the whole family
Syn Free
Full of speed vegetables
Uses 1 Healthy Extra A portion
Healthy
Vegetarian
Tasty
ARE THESE PEPPERS SUITABLE FOR REHEATING OR FREEZING?
I would recommend eating these on the day of creating. If you try to freeze the pepper it will become very watery when reheating.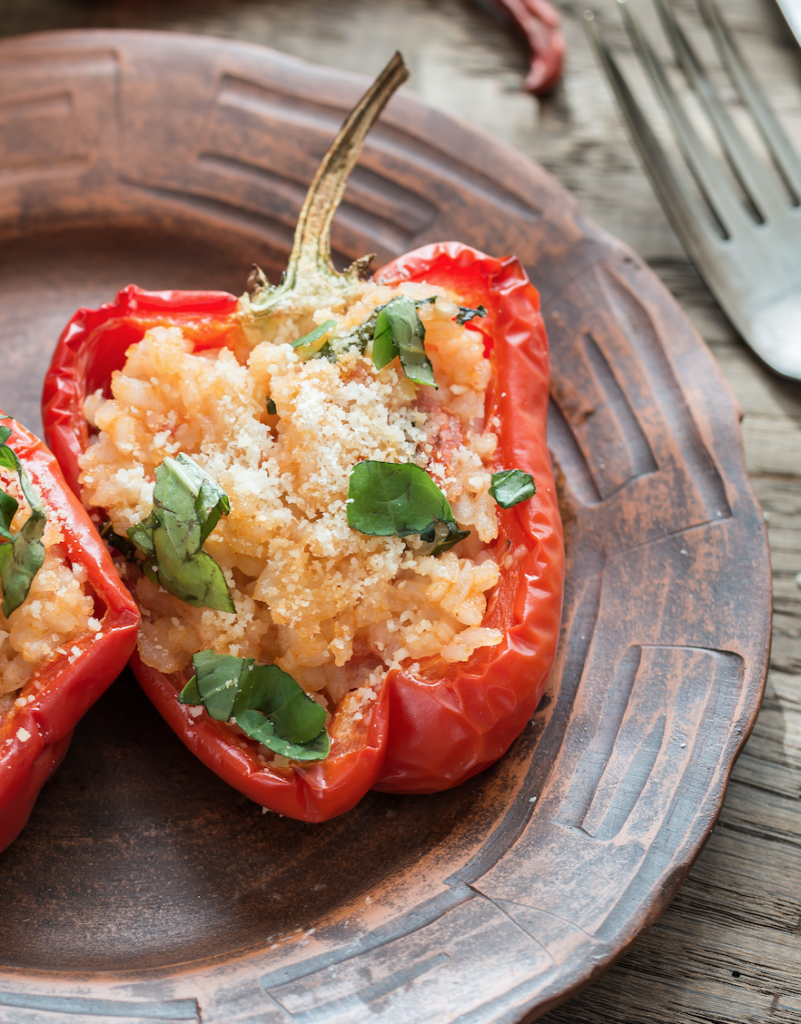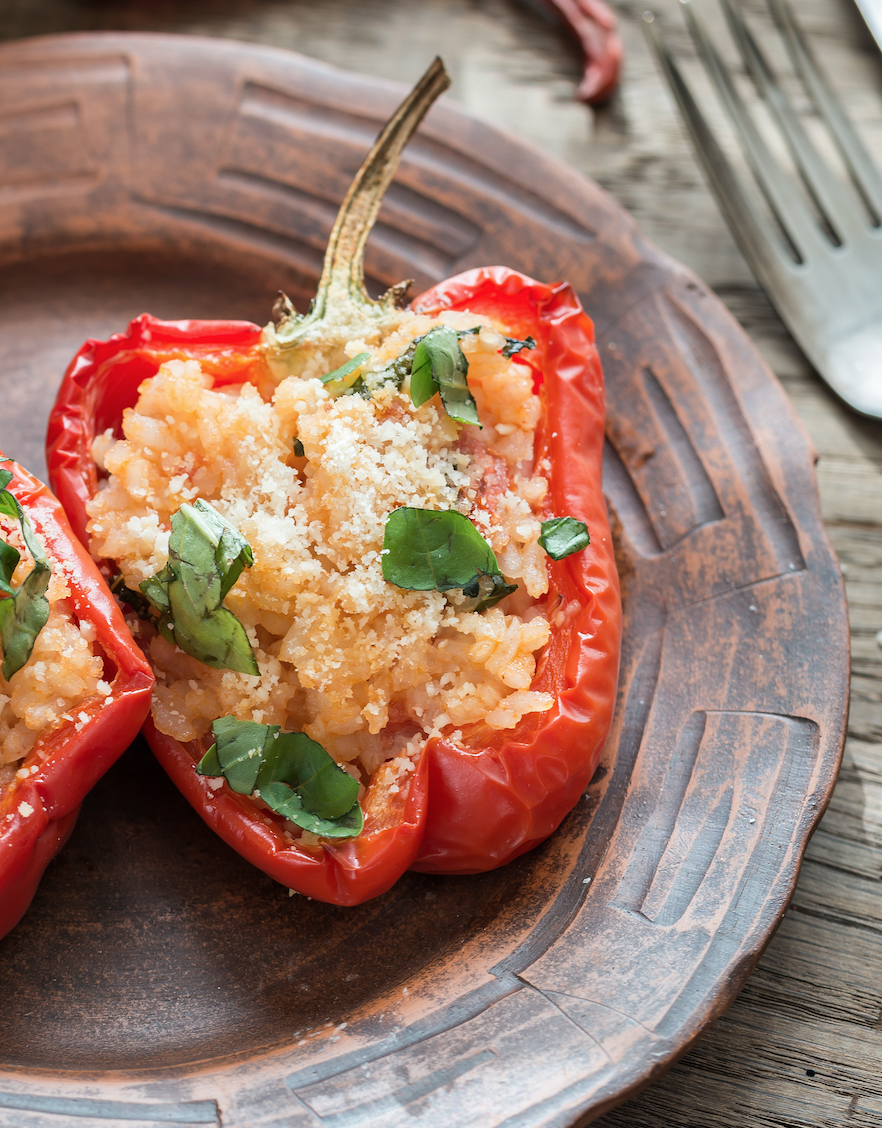 Have you created this recipe?

If so I would love to hear from you. Please feel free to let me know how it went in the comments below and even better if you have photos
please tag me on social media.  

You can follow me on:

Facebook | Instagram | Pinterest | Twitter
Stuffed Peppers
Slimming World Syns: Zero (Using Healthy Extra A)Weight Watchers Points: Coming SoonCalories: 375 Per Serving
Ingredients
2

Large Bell Peppers

100g

Long Grain Rice

(Dried Weight)

½

Small Onion

(Diced)

200ml

Boiling Vegetable Stock

1 tbsp

Tomato Puree

½ tsp

Chilli Powder

½ tsp

Smoked Paprika

1

Garlic Clove

60g

Cheddar Cheese

(Finely Grated)

Frylight
Instructions
Preheat oven 220c/200c Fan/Gas Mark 7

Slice both peppers in half lengthways leaving the stalk intact and de seed.

Spritz a pan with a little Frylight to prevent sticking. Place the peppers on the tray sliced side down. Roast for 15 minutes.

Meanwhile.. spritz a pan with Frylight and sauté the onion and garlic for a few minutes.

Add the boiling stock, rice, tomato puree, chilli powder and smoked paprika. Cover with a lid and cook for 10 – 15 minutes or until the rice is cooked and has absorbed all of the liquid. Add more water if necessary.

Remove the peppers from the oven, turn them over and spoon the rice mixture into them.

Cover with 80% of the grated cheese and return the peppers to the oven for 5 minutes or until the tops are crispy and golden.

Remove and sprinkle with remainder of the cheese and serve.