20 BEST SLIMMING FRIENDLY ADVENT CALENDARS 2020
Welcome to the ultimate guide to Slimming friendly advent calendars of 2020. Scrap the chocolate and cut down on those Syns on the run up to the festive period.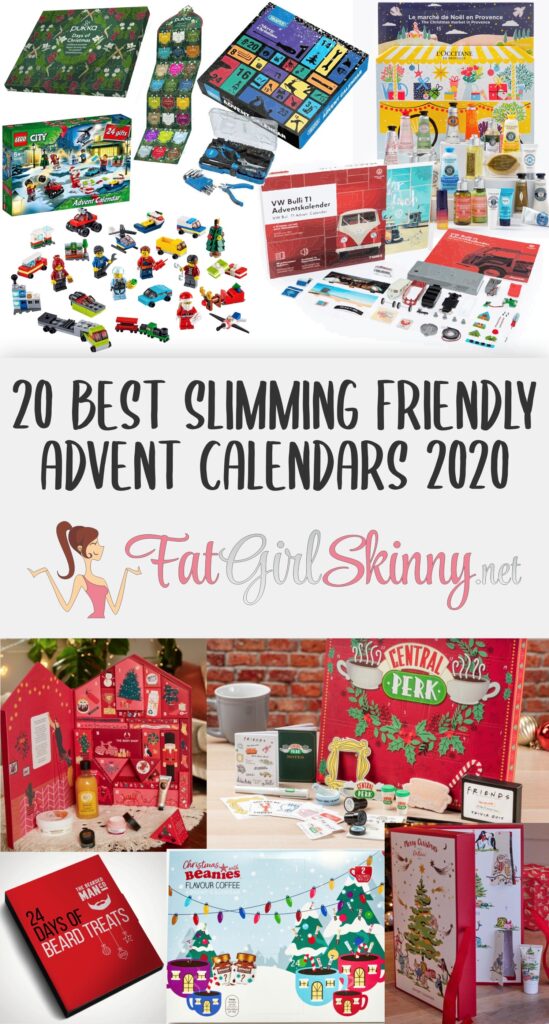 Excited for Christmas? Well after a pretty rubbish year we certainly need something to look forward to… I have noticed Christmas decorations popping up all over the place. I think people will really be making the most of the Festive cheer this year and after a particularly arduous year, and why not?
Today I want to bring to you a huge range of healthy alternatives when it comes to advent calendars. A healthy advent calendar, can there really be such a thing? Oh yes 100%. Sadly you won't be finding any 99p bargains here.. these advent calendars are slightly higher in price than your average supermarket deal. But I have done my best to offer a range of prices from £10 upwards. These alternative advent calendars are becoming increasingly popular and even poor Mrfatgirlskinny has been forced to fork out this year!
However, if you are happy to use your Syn's on Chocolate treats, please do! Christmas is all about indulging and I am all for using those little Syns of goodness on something we love. But if you fancy saving the Syns for elsewhere and trying something new please check out my guide to the "20 Best Slimming Friendly Advent Calendars".
1. Pukka Herbs Tea Advent Calendar
Inspired by Pukka's beautiful tea selection box designs, this non-chocolate advent calendar is the perfect festive decoration or tea gift for the tea lovers in your family. Featuring 24 different delicious organic herbal teas to revive you this festive season.
Pukka Herbs Tea Advent Calendar 2020, £9, available at AMAZON
2. The Body Shop Make It Real Together Advent Calendar 2020
The countdown is on! Celebrate the start of Christmas with our Make It Real Together Advent Calendar. It's packed with surprises to uplift, pamper and rejuvenate, even on the big 2-5. This is just one of the three beauty advent calendars that The Body Shop has to offer this year, They wanted everyone to have a fighting chance as they sold one every 30 seconds last year.
The Body Shop Make It Real Together Advent Calendar 2020, £70, available at thebodyshop.com
3. L'Occitane Beauty Advent Calendar 2020
What better way to count down to Christmas than with L'Occitane's Advent Calendar! Take a journey through a Provençal Christmas market. Hidden behind every door are 24 magical treats for yourself or your loved ones from L'Occitane fragrance, skincare, body care and hair care.
L'Occitane Beauty Advent Calendar 2020, £53, available at Marksandspencer.com
4. Friend Advent Calendar 2020
Packed full of stationery, games and mini memorabilia. Could this advent calendar BE any better?
Friends Advent Calendar 2020, £24.99, available at firebox.com
5. Lego City Advent Calendar 2020
The LEGO City Advent Calendar 2020 contains 24 mini festive builds inspired by other popular LEGO City sets, and a snowy city playmat. Includes a Christmas tree, Santa's sleigh, and 6 LEGO City Adventures TV. Lego isn't just for kid's this is definitely one for adults too!
Lego City Advent Calendar 2020, £19.99, Available at AMAZON
6. VW Camper Van Advent Calendar 2020
Build your own classic camper van in 24 days with our fully licenced VW camper van advent calendar, complete with authentic engine noise.
Each day of advent build your 1:43 scale model of the 1963 VW Bulli camper van by opening the dated box and completing the instructions for the day. The box can then be returned to the calendar the other way up to eventually create a single image of the camper van. The finished camper sits on its own display plinth and has a replica engine noise at the press of a button. A large format companion book guides you through the history of the VW Bulli, as well as the assembly of the calendar content.
VW Camper Van Advent Calendar, £65, Available at Notonthehighstreet.com
7. Christmas Playlist Advent Calendar 2020
Spotify playlist personalised advent calendar. Each door reveals a new Christmas track culminating in an awesome Christmas playlist for Christmas Day. Ideal Music Lover Gift. Open a door each day and hold your phone or tablet up to the calendar to hear the Christmas hit for that day. Each track plays straight away using your Spotfy app (Premium account holders) and after that track, the album that the track is taken from continues to play. The perfect gift for every Music Lover or to help ease those Bah Hambugs into the festive spirit throughout December!
Christmas Playlist Advent Calendar, £10, Available at notonthehighstreet.com
8. Bearded Man Beard Oil Advent Calendar 2020
Are you ready for your face to get fur-stive? Do you want less bristle under the mistletoe and a beard that's as smooth as a sleigh ride? No one wants a clean-shaven Santa, so beards are as much a part of Christmas as decorated trees, overeating, and family tension. That's why this beard oil advent calendar is designed to keep your beard as soft as Santa's threat to fill naughty kids' stockings with coal. Each and every day of December (well, up to the 24th) you'll get a brand new, 100% natural, scented beard oil. The bottles contain 2 ml each, so will last you longer than just one day, meaning you'll still have them sitting on your sh-elf well after Christmas!
Bearded Man Beard Oil Advent Calendar, £25, Available at menkind.co.uk
8. Draper Christmas Advent Calendar 2020
Have you or your loved ones got into DIY this year? Many of us have had the extra time at home to tackle a bit of DIY this year. New for 2020, Draper brings you the ultimate Christmas countdown with a brand new advent calendar, featuring specially selected tools hidden behind its doors. Open each door to build your very own tool kit in time for the big day.
This limited edition calendar is the perfect pre-Christmas gift for the tool lover in your life. It's the sort of set that could be handy for anyone around the house, garage or even at work – it's sure to come in useful for all those little unexpected jobs in everyday life. The calendar includes a measuring tape, adjustable wrench, a selection of pliers, hexagon keys and a ¼" hex magnetic screwdriver with 31 different insert bits – all contained in a sturdy case to keep everything safe and organised.
Draper Advent Calendar, £34.99, Available at Robertdyas.co.uk
9. Beanies Coffee Advent Calendar 2020
Start your Christmas countdown with beanies and 24 windows that are hiding a Merry mix of little treats, only 2 calories per cup!
Beanies Coffee Advent Calendar, £19.99, Available at AMAZON
10. The Cath Kidston Advent Calendar 2020
Scented with rich, festive notes of pine needles, cedar wood, red berries and candied sugar, our Festive Animals Advent Calendar is 24 days of surprise and delight. Behind beautifully printed doors, find enriched hand creams, hand balms and body lotions to lip balms, cleansing body scrubs, scented soaps, bath fizzers & salts. All certified vegan and cruelty-free, wrapped in a cheery, printed paper box.
The Cath Kidston Advent Calendar, £33.45, Available at AMAZON
11. Mindfulness Advent Calendar 2020
Do something different this year! Rather than eating a little piece of chocolate every day for advent. How about giving your mind and soul a little treat?! Mindfulness has been proven to relieve stress, lower blood pressure, reduce anxiety, and promote happiness. Do one of these tasks a day and gain the benefits of mindfulness whilst getting into the festive mood!
Mindfulness Advent Calendar, £12.95, Available at AMAZON
12. Nivea Ski Lodge Advent Calendar 2020
Nivea skincare: Treat yourself or someone special to 24 skincare gifts thanks to Nivea. Each day brings a different product to boost your skincare routine

Nivea Ski Lodge Advent Calendar, £29.99, Available at AMAZON
13. Harry Potter POP! Advent Calendar 2020
Let's face it, the festive season isn't without a healthy dose of magic. But, if you want to make that a Dumbledose of magic, you need this Harry Potter Pocket Pop! Advent Calendar! This limited edition Funko Harry Potter calendar brings the magic of the Yule Ball to life, giving you 24 Harry Potter Pocket Pops! They're all based on famous characters from the Harry Potter series and will leave you as enchanted as a Stupefy charm. Alohamora a door each day to reveal a new Pop!
Harry Potter POP! Advent Calendar, £49, Available at menkind.co.uk
14. Soap & Glory 24 Days To Roam Advent Calendar 2020
This Christmas is going to be a global scentsation! Globe trot your way around our fabulous fragrances with scent-sational treats galore behind every door. A glorious gift for her this Christmas.
Soap & Glory Advent Calendar, £42, Available at boots.com
15. Yankee Candle Advent Calendar 2020
The ideal gift for your family or friends that love candles, this Yankee Candle advent calendar will help to fill their run up to christmas with seasonal scents and festive fragrances. Inspired by the everyday pleasures of home, this advent calendar combines contemporary style with fun and festive fragrances. This expertly tailored range of scents, has been carefully chosen to suit everyday living, adding warmth and comfort to your home. Give your home that seasonal festive feel with this advent calendar and its christmas inspired Yankee candles.
Yankee Candle Advent Calendar, £14.99. Available at robertdyas.co.uk
16. Seeds Advent Calendar 2020
Grow your own vegetables, fruits and herbs. It contains 24 varieties each packed in a small paper bag. Selected, popular seeds as a lovely plant starter kit for your home. Wonderful as gardening gifts, advent calendar women and for men!
Seeds Advent Calendar, £16.95, Available at AMAZON
17. Bomb Cosmetics Advent Calendar 2020
24 days of bomb love on the countdown to Christmas with our official bomb advent calendar. all the flavour minus the calories! You can now have 24 whole days of Bomb love with our Bomb Advent Calendar, filled to the brim with a mix of our favourite Bath Blasters and Soaps to get you in a fizzy festive mood ready for when Santa Clause comes to town.
Bomb Cosmetics Advent Calendar, £13, Available at AMAZON
18. Revolution Beauty Advent Calendar 2020
Includes an assortment of exclusive makeup, tools and accessories, including eyeshadows, lip glosses and makeup brushes
Revolution Beauty Advent Calendar, £40, Available at Asos.com
19. RC Helicopter In 24 Days Advent Calendar
How would you like to make your own RC helicopter in 24 easy steps and then fly it like a pro! Start building on December 1st and by Christmas Eve, you've your very own radio controlled helicopter ready to fly on Christmas day, batteries included! Fun for the whole family, the RC Helicopter includes 2 canopy and rotor options, one with a Christmas-themed colour scheme and an alternate green colour scheme for use after the festivities! Including interference-free 2.4GHz radio control, multiple RC Helicopters can fly together for even more fun!
RC Helicopter in 24 Days Advent Calendar, £32.49, Available at AMAZON
20. Paperchase Stationery Advent Calendar 2020
Drumroll, please… If you're more inclined to pens and paper than chocolate then you've come to the right place. The missing piece in our Christmassy hearts has arrived. The Paperchase Stationery advent calendar!
Paperchase Stationery Advent Calendar, £28, Available at Paperchase.com
Please note that some of the info in this article contains affiliate links. This means we may be compensated if you were to purchase a product through our recommendation.
** All prices are correct when this article went live.