Air Fryer Pasta Chips/Crisps | Slimming World Friendly Recipe
These Low Syn unofficial Slimming World friendly pasta crisps (or chips for my American followers) are absolutely delicious and full of flavour. They make the perfect quick and easy snack even the kids will love them too! Perfect for anyone following a calorie controlled diet, Slimming World or Weight Watchers.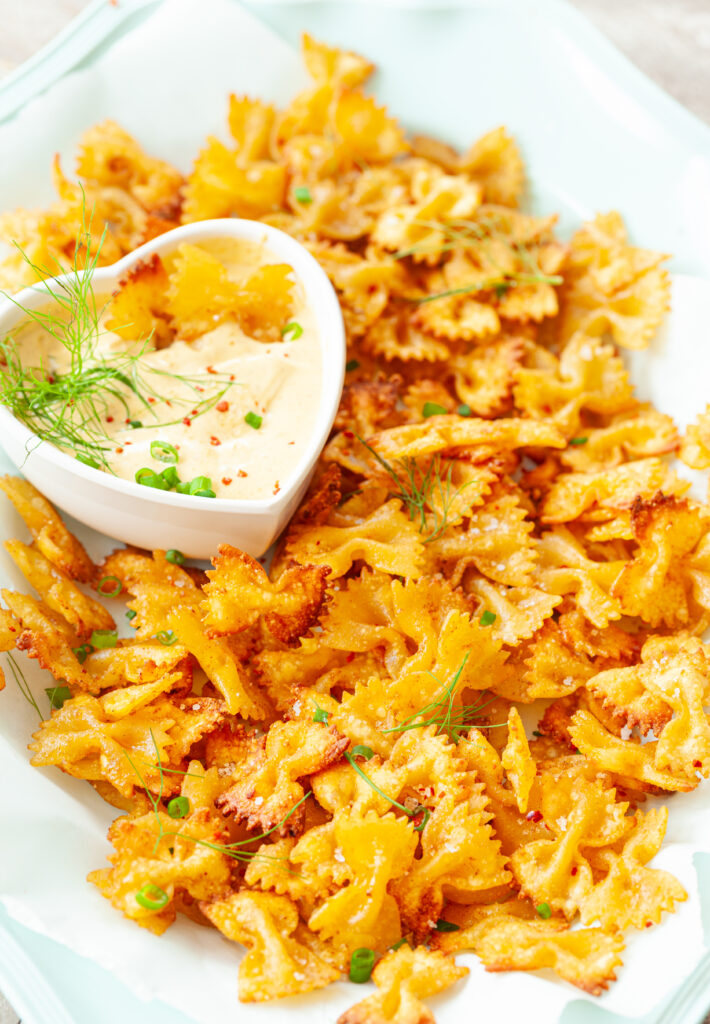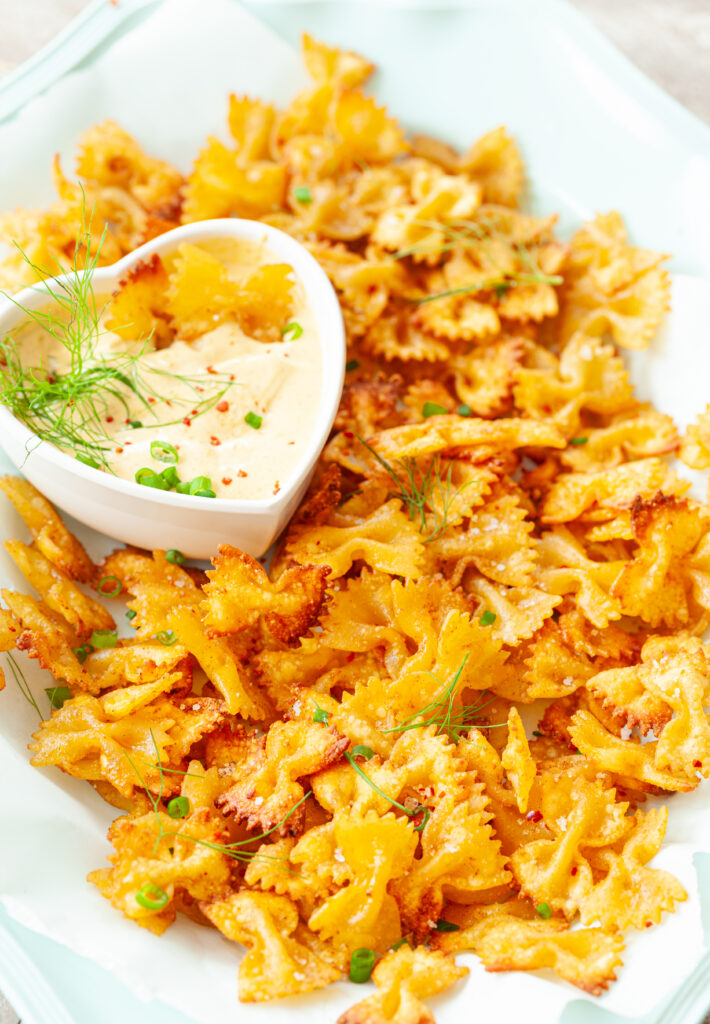 Air fryer pasta crisps are one of my current favourite snacks. I love to make these just for snacking, but also they are great served with lunch. If you are looking for new and exciting recipes for your Air fryer I can highly recommend giving these a go.
Pasta crisps are relatively easy to make in the air fryer and you only have to do a little bit of work ahead of time. But after that, the air fryer makes quick work of this delicious recipe.
The first time I tried pasta crisps (chips) was in USA when we were eating in a bar. They brought them to the table as a snack alongside beers.. I was a bit surprised at first but very quickly hooked on them! They served them with a creamy cheesy, spinach dip. I wish I had asked for the recipe there and then because I have never been able to replicate the flavours 100%.
If you are a Tik Tok fan like me you will have seen these pasta crisps floating around at one time or another so they may not be new to you! I would recommend giving my recipe a go though because the flavours are simply divine!
Why are these the best healthy pasta crisps/chips?
Delicious
Crispy
Healthy
Low in calories
Low in Syns
Slimming World friendly
Easy to make
Air Fryer friendly
Minimal mess
Perfect for lunch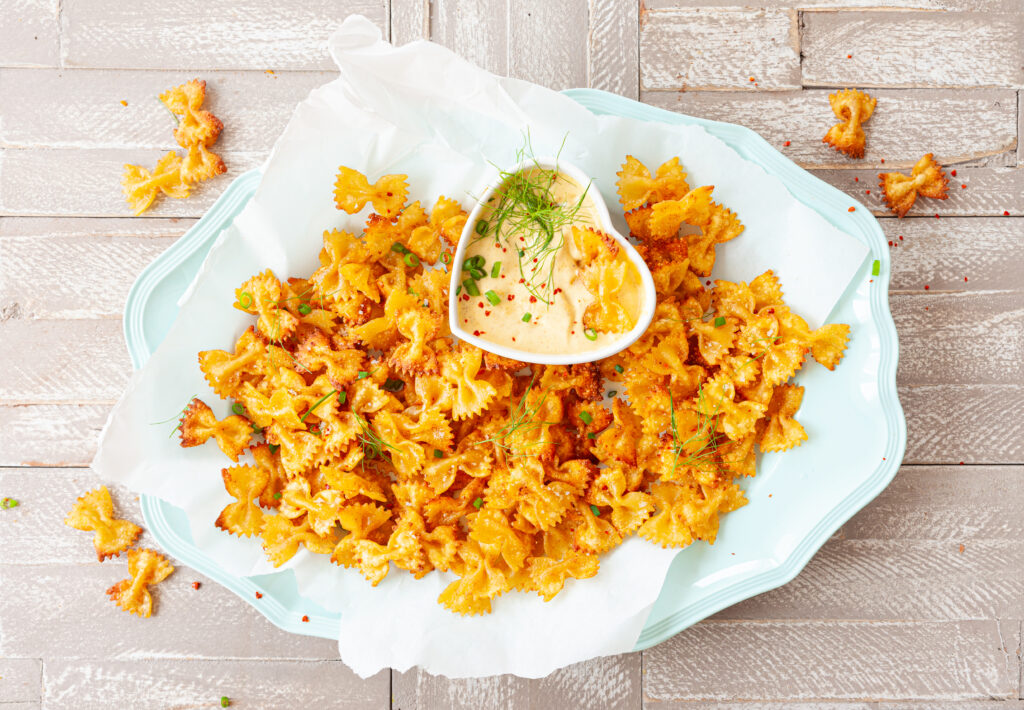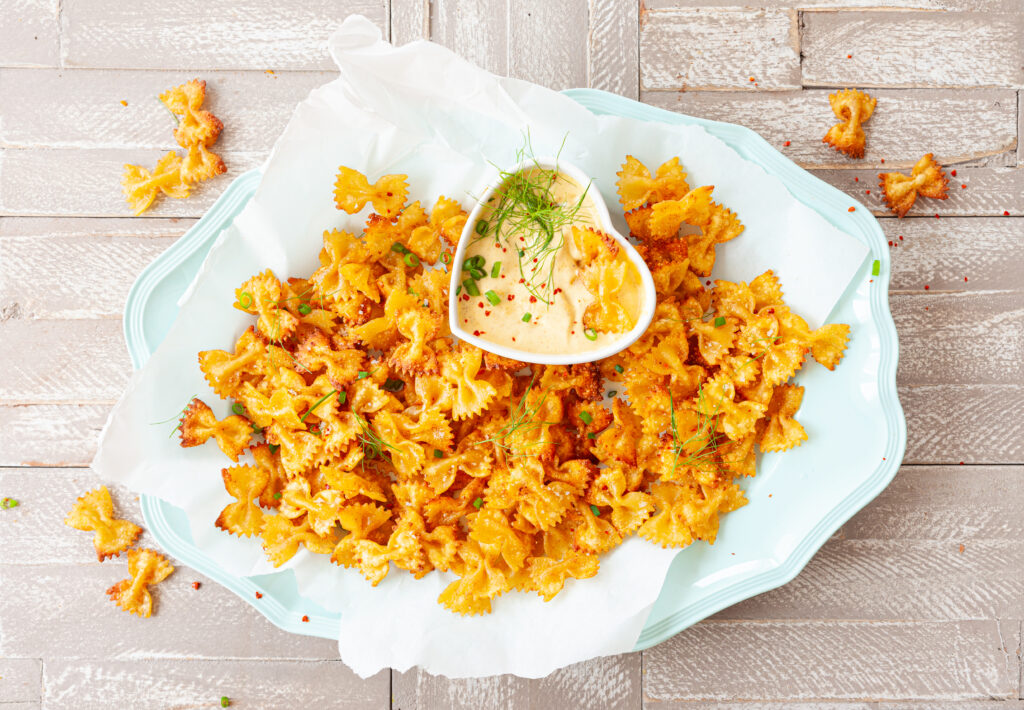 Why is it best to use an air fryer for these pasta crisps/chips?
The air fryer is brilliant for this recipe because it uses a heating element and a fan that circulates the hot air around the pasta whilst they are cooking. Also using an air fryer means you don't need as much oil so it keeps the recipe low in Syns and calories.
Is this recipe Slimming World friendly?
Yes it Is very low in Syns. Why is it not Syn free I hear you say? Because the pasta is not being used as it's original density.. If you ate cooked pasta you would eat a lot less and it would keep you fuller for longer. These crisps are easy to over indulge on so they must be Synned. This is called a "tweak". Don't worry I have worked out the Syns for you.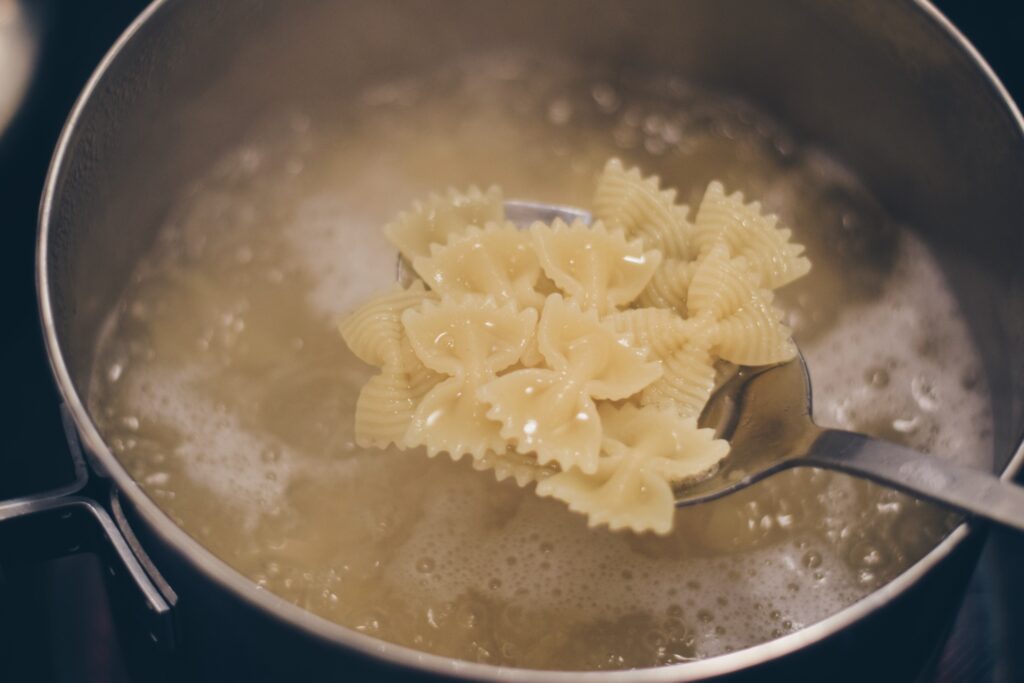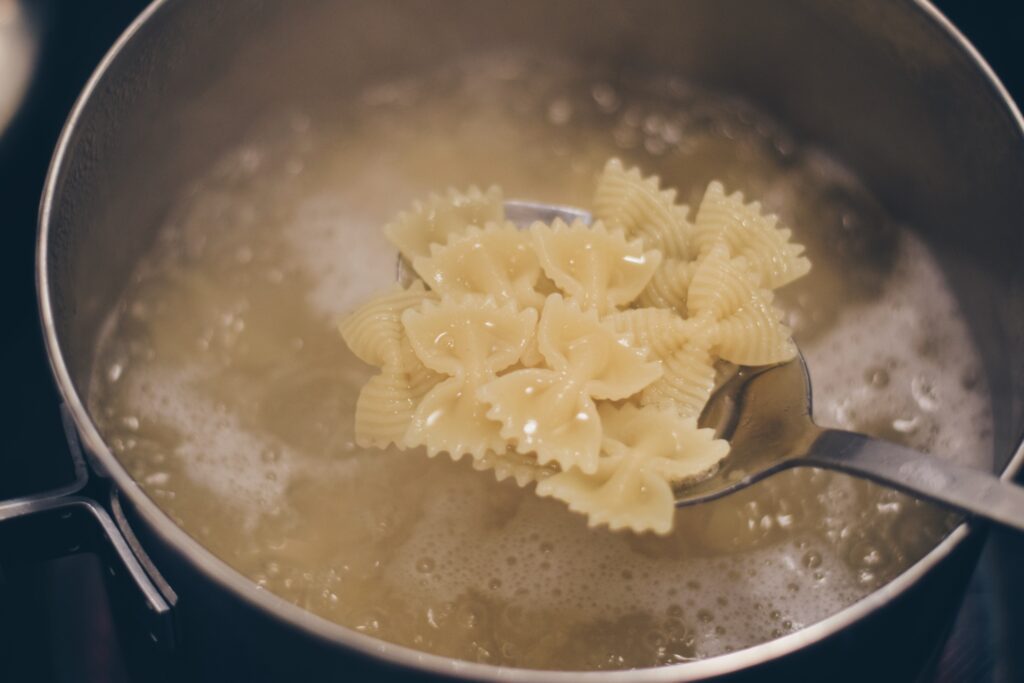 What pasta should I use?
You can actually use any dried pasta shapes but I do prefer to use Bowtie pasta (Farfalle) as I find it becomes far more crispier when cooking.
How do I store pasta crisps/chips?
Store leftover pasta crisps in an airtight container in the refrigerator. To reheat, air fry the pasta chips for 1-2 minutes. NOTE: Air fryer pasta chips are best eaten just after cooking.
Healthy Pasta Crisps/Chips
Slimming World Syns:  2.5 Per Serving* (Allowing for pasta tweak and oil)Weight Watchers: Coming SoonCalories: 160 Per Serving
Ingredients
340g

Dried Pasta

2

tbsp

Olive Oil

1

tsp

Ground Black Pepper

1

tsp

Garlic Powder

1/2

tsp

Mustard Powder

1/2

tsp

Basil

1/2

tsp

Paprika

Pinch

Salt
Instructions
Cook the pasta as per instructions until al dente.

Preheat the air fryer to 200c. Prepare the air fryer basket with nonstick cooking spray such as Fry Light.

Carefully drain pasta and then place it into a medium sized bowl.

Cover the pasta with olive oil, and stir to completely cover the pasta.

Stir in all of the seasoning.

Add the pasta chips in a single layer into the air fryer basket.

Air Fry for 5 minutes and then carefully flip them with a spatula. Air fry for an additional 2-3 minutes and then transfer to a baking sheet lined with kitchen roll.

Continue to cook the pasta chips in batches until they are golden brown and completely cooked.
Notes
*Slimming World Syns and Weight Watchers Points are all approximate and estimated by the 

fatgirlskinny.net

team. They have not been verified by an official source.
Have you created this recipe?
Please let me know how it turned out! Leave a comment below or share a photo on Instagram tagging me at @fatgirlskinny__ and the hashtag #fatgirlskinny.