Syn Free Chicken And Bacon Cheesy Tomato Pasta | Slimming World Recipe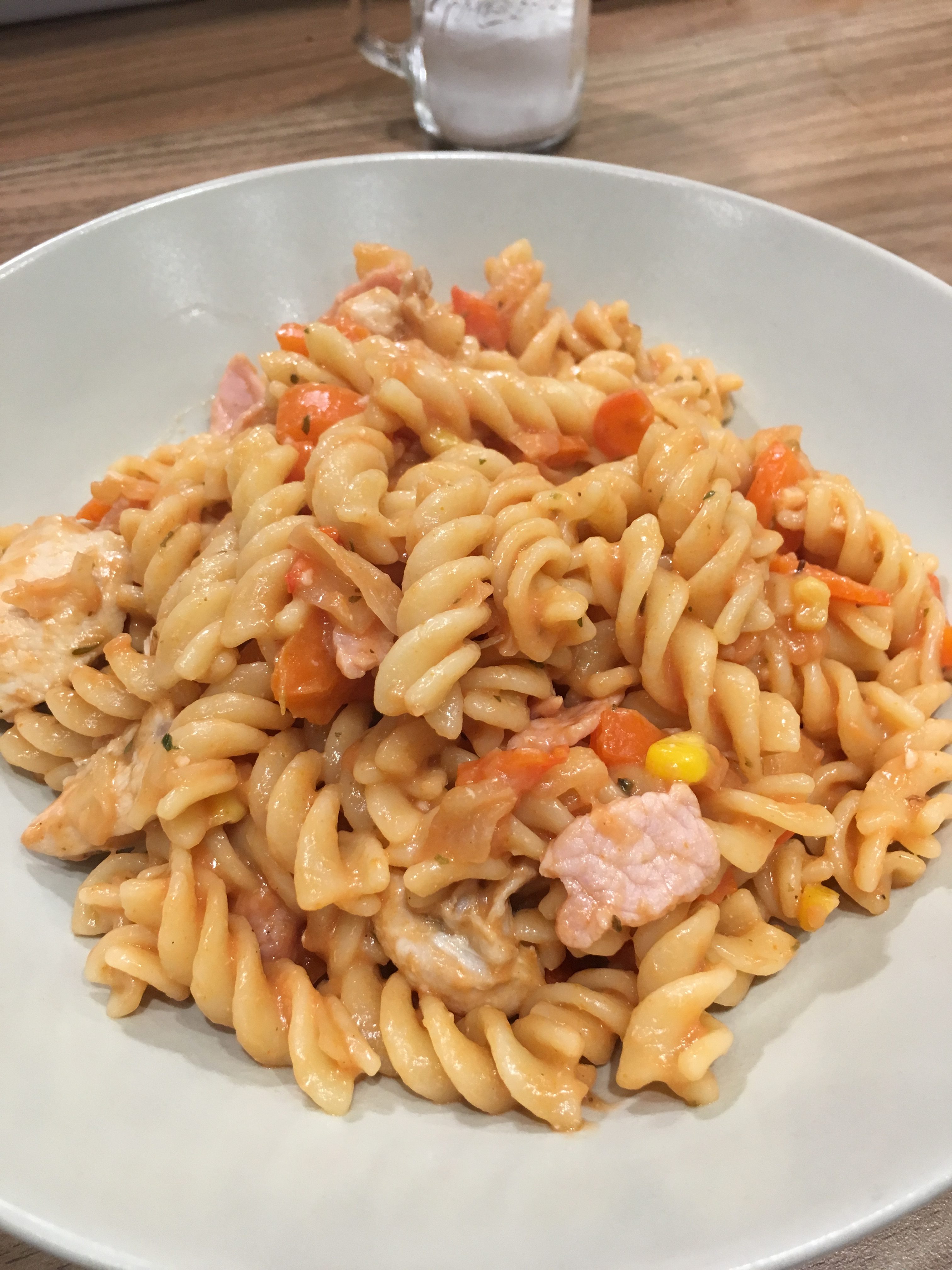 I put together this fantastic pasta tonight mainly from what I had lingering in the kitchen and it was delicious 🙂 It will serve 2 people or feel free to freeze the second portion. As long as you use the Dairylea from your Healthy Extra allowance this is totally syn free.
Ingredients:
(Serves 2… or freeze your second portion): 
250g dried Pasta
1 Large Chicken breast
3 Rashers of bacon with all fat removed
1 Red pepper
1 Onion
4 Tbsp of frozen sweetcorn (or tinned)
2 Dairylea light triangles (Use your healthy extra A or 3 syns)
250g Passata
2 Tsp Garlic granules (or 2 cloves garlic)
1/2 Tsp Dried mixed herbs
1 Chicken stock cube
Salt and pepper
Frylight
Method:
Bring water to boil in a pan and add the pasta.
Chop pepper and onion and add to a frying pan with a little Frylight. Cook until softened.
Meanwhile slice your chicken breast into diced pieces and remove all fat from bacon and cut into small strips.
Add sweetcorn, chicken and bacon to the frying pan and cook on a medium heat stirring regularly. If you find the mixture to be sticking or too dry add a spoonful of water from the pasta pan.
Add garlic, crushed stock cube, herbs, salt and pepper and cook for a further minute or two ensuring the chicken and bacon are cooked.
Reduce heat and add the Dairylea triangles and stir until melted and fully covering the mixture. Add half of your passata and stir.
Drain the pasta and add to the frying pan. Mix the pasta in ensuring it is fully covered and then decide if you think it needs a little more passata. We like our pasta quite dry but if you would prefer this to be more saucy just add more.
Cook for a couple of minutes on a low heat ensuring it is fully warmed through.
Enjoy 🙂
---
Have you created this recipe? Don't forget to tag me in your photos on Instagram 🙂 @fatgirlskinny_sw