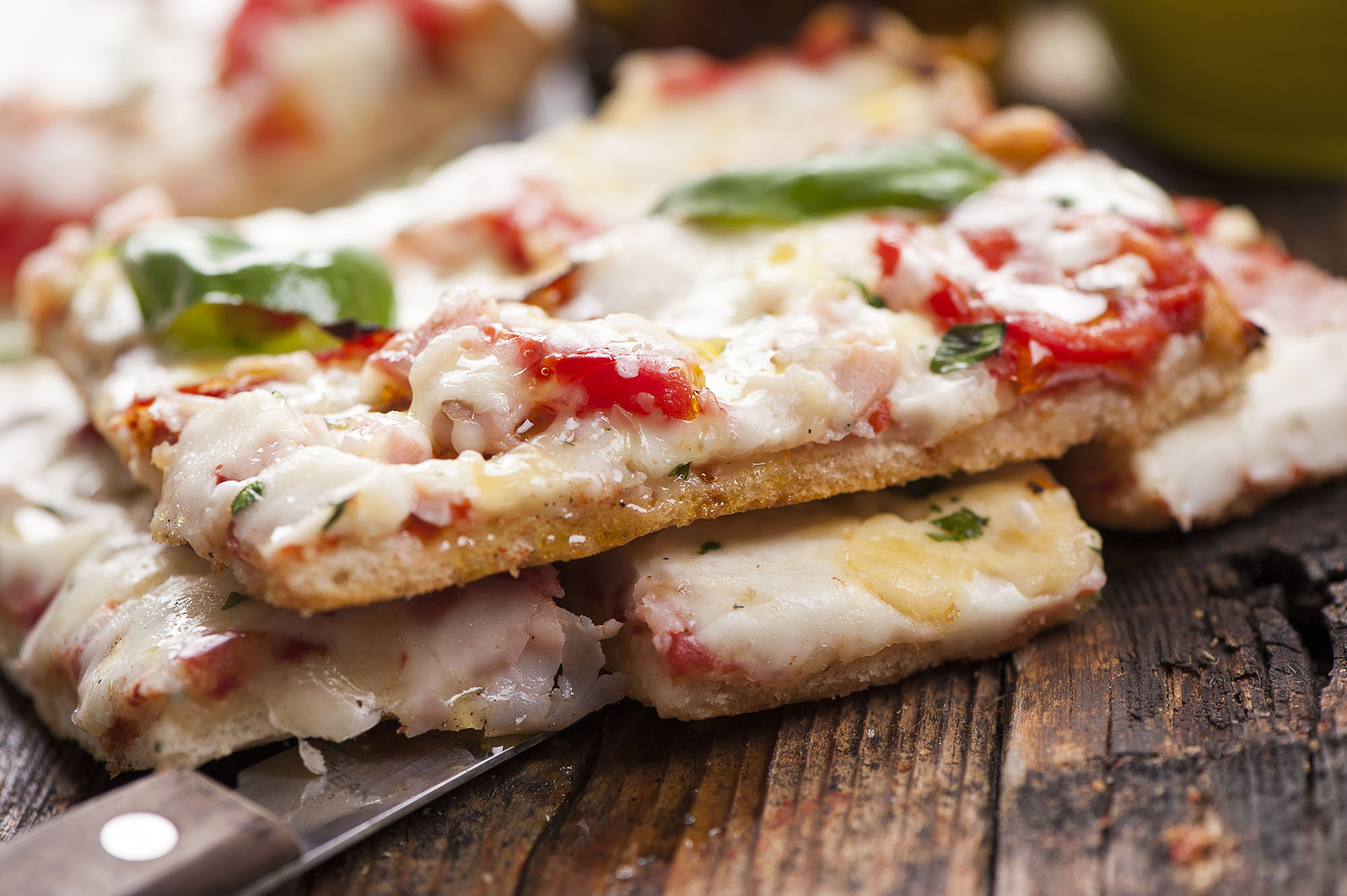 If you LOVE pizza as much as I do.. you will be pleased to know that there is a syn free alternative and it's pretty delicious 🙂 Using your Healthy Extra A and your Healthy Extra B you can have a yummy SYN FREE pizza!
Go for the traditional syn free tomato sauce or try my syn free BBQ sauce alternative.
Ingredients:
(for 1 pizza)
60g Wholemeal bread mix (from your Healthy extra B allowance)
Warm water (check instructions of bread mix)
50g Half fat mozzarella (from your Healthy extra A allowance)
Syn free toppings
Frylight
For tomato sauce:

1 Tin chopped tomatoes
2 Tbsp tomato puree
1/2 Tsp dried mixed herbs
1/2 Tsp onion granules
1/2 Tsp garlic powder (or 1 garlic clove)
1/4 tsp salt
For alternative BBQ sauce:

250g Passata 
2 Tbsp Worcestershire sauce
1 Tbsp Balsamic vinegar
1 Cloves of garlic (or 1 tsp garlic powder or flakes)
1/2 Tsp Mustard powder
3 Tbsp Sweetener 
1/4 Tsp Paprika
Salt and pepper seasoning
Some great syn free topping suggestions:

– Lean ham & fresh pineapple
– Chicken & Mushroom
– Chicken, Beef & Cherry tomatoes
– Spinach & Mushroom
– Lean ham & Mushroom
– Beef, Jalapenos, Red onion and Red pepper
– Mushroom, Mixed peppers, Red onion and Cherry tomatoes
– Slimming syn free sausage, Beef, Mushrooms, Mixed peppers and Red onion
– Syn free BBQ sauce, Chicken, Bacon and Onion
– Tuna, Sweetcorn and Red onions
Method:
See tomato sauce method here.
Make up 60g of your bread mix as per the instructions or make up the whole packet.. divide into 60g sections and freeze the ones you aren't using this time (in cling film).
Roll out your base onto a floured surface.. you can make this as thin or thick as you fancy. Depending on whether you like a crispy thin base or more of a deep pan.
Spray a little Frylight onto a standard baking tray or I highly recommend using a vented pizza tray. Place your base onto the tray and spray a little Frylight onto the top before baking for around 8 minutes at 170c.
Remove from the oven and using two spatulas flip the base without breaking it.
Cover your base with your delicious pizza sauce, shred the mozzarella and place in various places over the base (you do not need to cover the whole base in cheese as it will melt)
Add your chosen toppings (bare in mind if you are using uncooked meats you may need to cook these in advance)
Place in the oven for around 8-10 minutes depending on how crispy you like your pizza.
Serve on one of these awesome pizza boards.
Enjoy your delicious Syn free pizza! Please share this recipe with your friends.
---
Have you created this recipe? Don't forget to tag me in your photos on Instagram 🙂 @fatgirlskinny_sw