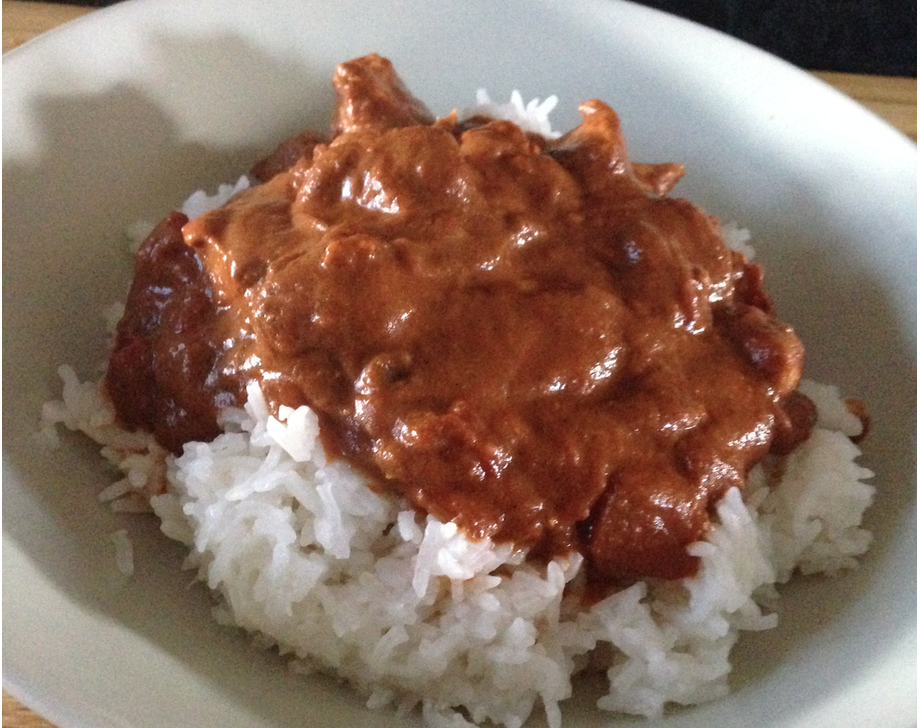 I tried the Chicken Tikka recipe on the Slimming world website and honestly it just tasted like a mouthful of grit.. It just didn't have enough liquid in it. Finally Mr Fatgirlskinny and I have perfected our delicious syn free chicken tikka.. hopefully you will enjoy too.
I haven't made this for a very long time… I really need to get this back into our weekly menu!
SERVINGS:
2-3


SYNS:

ZERO
---
INGREDIENTS
300g skinless chicken (diced with any fat removed)
1 tin of chopped tomatoes
1 onion finely chopped
10 TBSP Fat free natural yoghurt
3 and 1/2 TBSP of Tikka curry powder
1 Tsp Ginger
1 Tsp Paprika
1/2 Tsp Basil
1 Tsp Cumin
2 Cloves of garlic or 1 tsp of garlic powder
Salt and pepper
Frylight
White or Brown rice to serve…
---
METHOD
I always use a NUTRIBULLET to mix my curry paste but you could mix this together in a bowl.. I always prepare my paste to marinate the chicken at least 2 hours before but it is much better if you can leave overnight.
Spices required for marinade

Used diced skinless chicken breast.

Leave chicken to marinade in the fridge

Add 6 TBSP of natural fat free yoghurt, tikka spice, ginger, paprika, cumin, basil, garlic, salt and pepper into a bowl or blender, Mix until a paste is formed.
Add uncooked chicken and allow to marinate for as least 2 hours.Heat pan and coat well with frylight as the yogurt can cause it to stick.
Heat the chicken until cooked through and add onion.
Add the tin of chopped tomatoes and allow to simmer for 10 minutes.
This is where you need to decide if the curry needs extra creaminess or liquid.. if so add the remaining yogurt to taste.. this is entirely up to you
Allow to simmer for a further 5 minutes and then serve with rice or syn free chips..
I have heard a few people mention that they find it hard to buy tikka spice from the supermarket.. we get ours from Tesco no problems here
I really hope you enjoy as much as we do.. Any comments welcomed.
Recipe Created by Fatgirlskinny. Please do not use or recreate this recipe without prior permission.
---