Do The Unthinkable Meal Plan Review | How I Lost 10lb In 2 Weeks

Many of you may have heard of the well known Slimming World friendly meat hampers from MuscleFood. They are a great company who provide high protein and low fat meats, meals and snacks. They contacted me a few weeks ago to ask if Mr Fatgirlskinny and I fancied trialling their Do The Unthinkable meal plan. At first I was a reluctant because as you all know Slimming World is and always has been my go to weight loss plan. But I was told by the company that this could be used along side Slimming World. So because I am a daring kinda girl and I love to give you all as many options as possible to shed those pounds, I thought why not!! (and all I had to do was show Mr Fatgirlskinny he could have pancakes for breakfast and he was sold on the idea)
It looks like a lot of food for 5 days doesn't it? It really is! In reality we were never hungry and at times I struggled to eat everything. There were some days I skipped the odd snack and that isn't an issue.. no one is forcing you to eat anything.
So how does it work?
Every single meal is sent to you.. You don't have to worry about anything at all.
Breakfast
Mid morning snack
Lunch
Mid afternoon snack
Evening meal
Evening snack
Yes really you can eat all of that and still lose weight! You can even add a certain portion of fresh fruit, vegetables, rice and yogurt per week if you find that you need it. The only thing I added most days was a handful of Spinach (because I just love the stuff).
Do The Unthinkable offer 3 options to try
5 DAYS – Weekend Off
6 DAYS – 1 Day Off
7 DAYS – No Day Off
When starting your order with Do The Unthinkable you will be asked a few health questions i.e height, weight etc. After this you will be asked which plan you wish to follow. We trialled the 5 Days – Weekend Off option and for the remaining 2 days of the week we followed Slimming World. This worked best for me because in the week I liked the convenience of all my meals being planned for me. I have a lot more time to cook at the weekend so being back on Slimming World Saturday and Sunday meant I could enjoy cooking from scratch again and also having a few sneaky Syns too.
After filling out your profile you will be asked to pick your meals for the week. This can take some time because there is so much to choose from. I found it quite exciting to look through all of the products. I also enjoyed the fact it encouraged me to try a few some meals I wouldn't usually choose or hadn't tried before.
How Does The Food Arrive?
Everything is extremely well packaged. All of the fresh and frozen foods are placed in a airtight plastic bag with frozen ice blocks to keep everything cold and fresh.
In the package you will also receive your fitness DVD, rules of the plan and a brilliant recipe book to suggest high protein meals you can cook on your days off of the plan.
Your order can be tracked from start to finish including SMS updates for when your products will arrive.
The only thing I will say is place your order to arrive on a day you will definitely be indoors. You absolutely do not want this order to go back to the depot.. these products will not last another day out of the fridge/freezer. Also order to arrive the day before you start your plan because some of the fresh products have a short date and will not last much past a week. (But most can be frozen)
What Is The Food Like?
All of the meals and snacks are high protein, low carb options. The food is full of flavour, easy to prepare and very tasty.
There was not a single product I could say I absolutely did not like. There was one I was not keen on.. that was the scrambled eggs. But apart from that everything was delicious and so convenient.
Breakfast offers a number of convenient options such as maple syrup or blueberry pancakes, protein porridge oats which can be mixed with boiling water and easy protein bars. The thing I like about breakfast is they would be perfect for someone who likes to have their meal at work or "on the go". Our favourites were the pancakes.. we purchased some zero calorie maple syrup for a topping too. You can also top with fresh fruit from your weekly allowance.
Lunch and Dinner offer various options from easy microwave meals to meal kits which can be prepared with minimal effort.
I enjoyed the microwave rice pots for lunch because they were quick, easy and filling. They only take 4 minutes In the microwave and there is no mess. These are perfect to take to work (as long as you have access to a microwave).
My favourite microwave option was the beef lasagne with roasted Italian vegetables below. It was delicious and ready in 4 minutes. The lasagne was so filling that I even struggled to eat the whole thing. In the second week of my plan I picked 3 of these 🙂
The meal kits that can be picked for lunch or evening meal are a great way to feel like you are still cooking from scratch if you have the time. They were actually quite good fun too. You will receive all of the ingredients you need to create your meal and everything was fresh. I think the only thing we needed was some Oil (or we substituted with Frylight). Our favourite was the Piri Piri chicken with wedges.
The snacks vary from chocolate covered protein bars, to nuts, roasted peas and crisps. There were a few things I probably wouldn't choose to have again but some of the protein bars were delicious. Our favourite was the Barebells Cookies and Cream which tastes just like a Milky Way (or better).
There was even a few things I discovered I liked which I never thought I would have enjoyed. Mr Fatgirlskinny fell in love with these fridge raider products which include roasted nuts, peas and small chunks of cheese. Something he probably wouldn't have purchased previously.
I do need to add that the plan recommends a high intake of water.. Whilst we did drink some water, we both continued to drink a lot of sugar free fizzy soft drinks and squash throughout the plan. I did not find this affected my weight loss at all.
Do You Need To Be A Fitness Fanatic?
I would say this plan is best for people who do enjoy some exercise.. I am not saying you need to slog it down the gym for 4 hours a day but for someone who does ZERO exercise at all the weight loss will probably not be as high.
The plan comes with a DVD including an exercise plan which I admit I only tried once and it wasn't really for me. I prefer to walk, cycle or visit the gym. I only exercise for around an hour 3 times a week and I lost 10lb in the 2 weeks I followed the plan.
A high protein diet helps to build muscle which in turn helps to burn extra calories. But don't let it scare you off if you don't enjoy exercising. I found the food gave me a lot more energy which encouraged me to try and get a bit fitter.
What Are The Costs?
The plan starts from £60 depending on the option you choose.. whilst this can sound expensive this does include EVERYTHING you need to eat.. You do not need to buy any extra food unless you want to add some fruit and vegetables.
This cost is for very high quality food products. A lot of diet plans are of a similar cost and you would be sent a lot of dried up old sachets which pretend to be food. Every ingredient is fresh and the snacks are all branded. I cannot complain about the quality at all.
I also believe when we are left to choose our own meals and go shopping we end up cheating or being tempted by things we shouldn't be eating. This box of food will arrive and you do not need to see a shop at all..
My Overall Opinion
A lot of my friends order from various meal plan companies to try and lose weight. They spend a fortune on disgusting microwave meals and generally last a few weeks before they are shovelling food in their gobs again! So of course I am always recommending Slimming World because let's face it.. IT JUST WORKS! So I never thought I would ever say this plan worked for me.. but it did! Because the food was so delicious it was left feeling satisfied and not like I was being deprived of things I like.
I was not hungry once.. I did not feel like cheating at all. I knew what I was allowed to eat and I stuck to it. The high protein foods and snacks kept me full for longer and often I felt like I eating a snack when I didn't even really want or need it.
In the past I have tried diets where you mix a sachet with some water and it is called food.. there is no way I would ever stick to this long term. But I know I can stick to this no problem at all.
So much so in fact that I have decided to try and stick with the plan for a bit longer and see how things go. I will continue to follow Slimming World on my days off but because I am increasing my fitness at the moment I find this high protein diet will work for me for now. (Don't worry there will still be lots of SW recipes coming your way.. you just might see a few high protein ones too)
Mr Fatgirlskinny is also in love with the plan and intends to stick with it too. He has really enjoyed trying lots of new products and loves having a set plan to stick with as he finds it stops him from overeating.
My weight loss in 2 weeks was: 10lb
Mrfatgirlskinnys weight loss in 2 weeks was: 8lb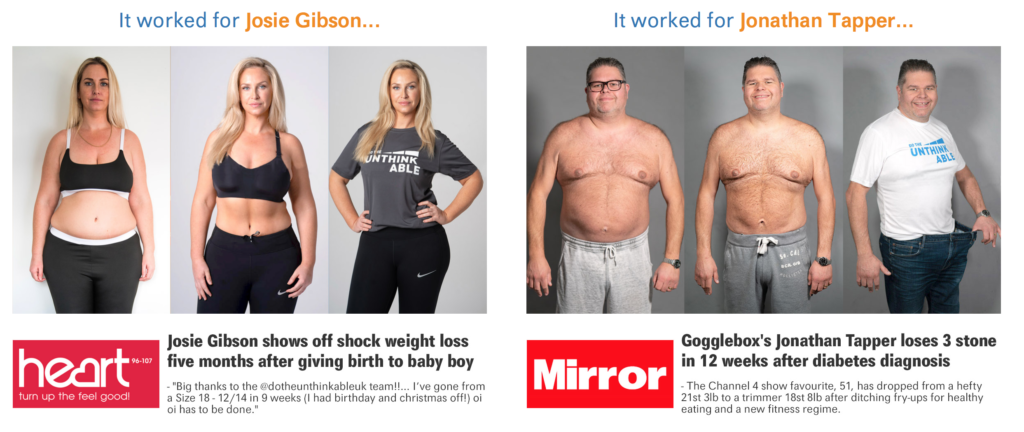 I wish anyone luck trying the plan and I look forward to seeing comments in the future. Please feel free to drop any questions my way I am always happy to help.
The lovely guys over at MuscleFood have offered my followers a £5 discount off of their first order. So please remember to click through the link here to order and use the code FATGIRLSKINNY5 to receive your discount.
Please note I have not been paid for this review. I was sent free products to trial but all words are my own. If you use my link I will receive a small compensation when you place an order. All funds received help to keep the site running fast and for free. So please remember to order through my link 🙂 Thank you.