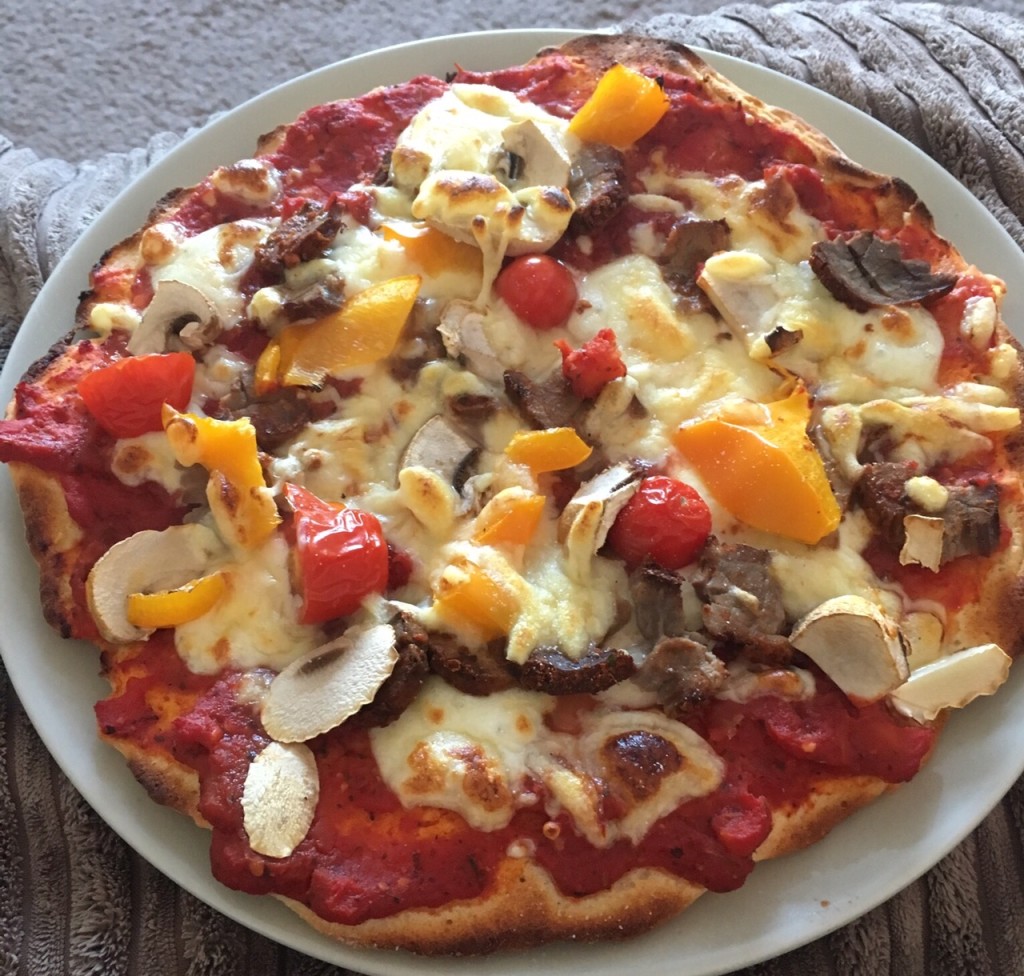 I am in no way saying this is syn free.. it's 100% not.. but it's absolutely delicious and a great way of making a healthier pizza fakeaway… Also great fun to make with all of the family.
I have worked out that this would be
14 Slimming world syns OR 376 calories for one cheese pizza (choose syn free toppings and count calories on your chosen toppings)
Ingredients
(Makes 1 pizza.. just double/triple etc for more pizzas)
For the base:
– 75g Self raising flour (225 calories / 13.5 syns)
– 1 teaspoon of baking powder (5 calories / 0.5 syns)
– Pinch of salt
– 100g of fat free natural yoghurt (52 calories / Syn free)
For the topping: (If having a plain cheese pizza.. )
– 200g of chopped tomatoes (50 calories / syn free)
– 2 tsp sweetener (4 calories / syn free)
– Pinch of mixed herbs, black pepper and garlic powder.
– 50g Half fat mozzarella (85 calories / syn free if using your healthy extra A)
Try to choose syn free toppings such as:
Pepper, mushrooms, onion, chicken, beef, pork, pineapple, ham, spinach, sweetcorn.. the list is endless 🙂
I can highly recommend these steak fajita bits from tesco here
Method
:
– Add your chopped tomatoes, mixed herbs, garlic, black pepper and sweetener into a sauce pan.. bring to boil and then allow to simmer to reduce down and thicken.
– Meanwhile prepare your base. Preheat the oven to 220c and pre heat your baking tray. I can highly recommend one of these awesome pizza trays..
– Add your flour, baking powder and salt to a bowl, mix together and then make a well in the middle. Add your yoghurt and then mix together with a fork to form a dough.
– Sprinkle some flour on to your work surface and on to your hands (this mixture really is sticky). Kneed the dough until you have a perfectly smooth ball.
– Remove your hot tray from the oven and spray with fry light or lightly grease.. place your dough ball onto the tray and mold into a pizza like shape..
– Place in the base in the oven for around 5 minutes or until you can see it is starting to go slightly golden.. remove from the oven and flip the base over.. now its time to add your toppings…
– Spread your tomato sauce over the base evenly.. then shred your mozzarella and place in pieces dotted over the base.. Lightly season with black pepper and salt..(If you are going for a cheese pizza skip to the next step)
Add your other toppings.. such as cooked chicken, peppers.. whatever you fancy.. (do not use raw meat it will not have time to cook)
– Place your pizza back in the oven for around 6 – 8 minutes or until you can see it is cooked.. we sometimes grill for the last minute or two to crisp it up a little 🙂
There you have your perfect delicious healthier pizza! Enjoy 🙂