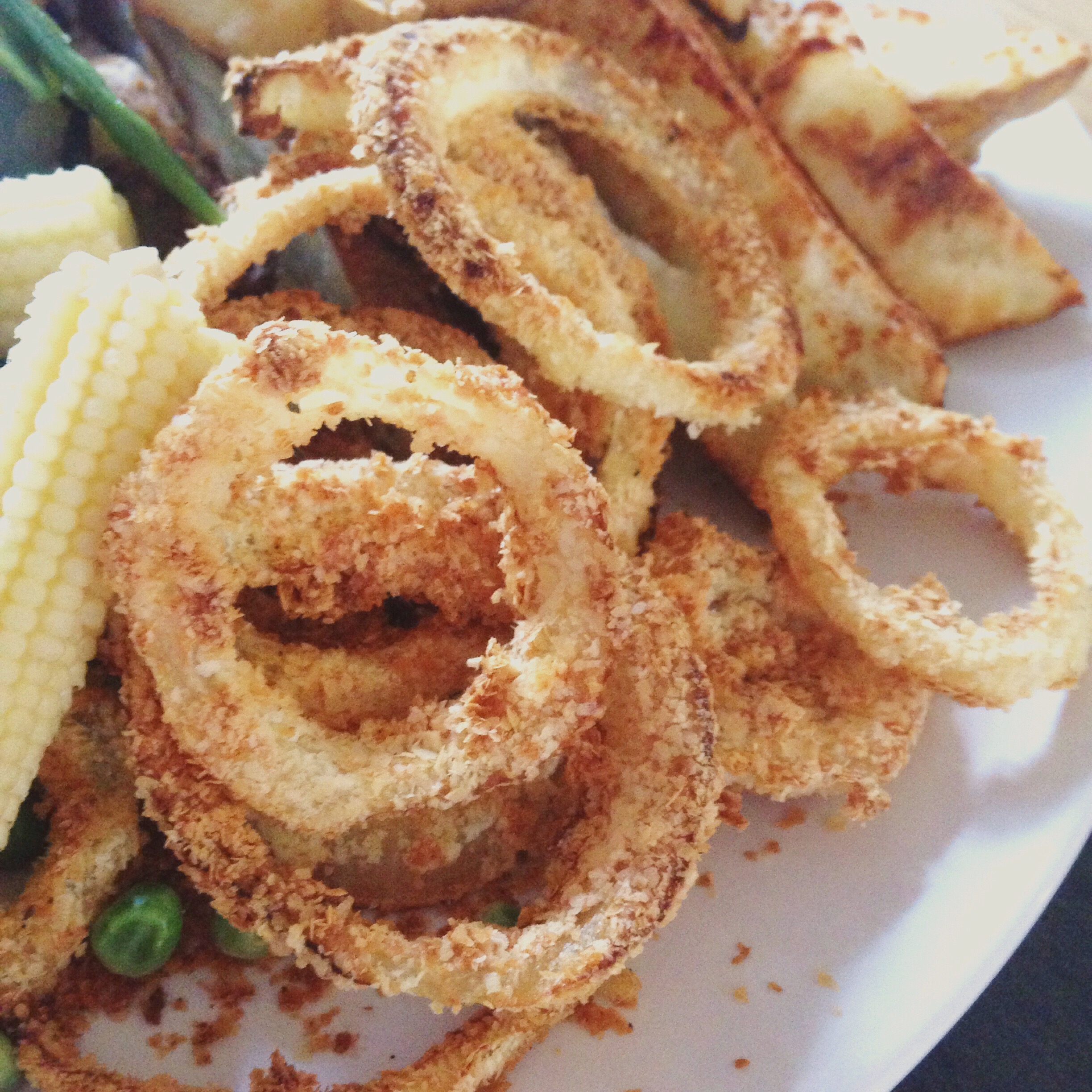 I looove onion rings and so does my husband. We were both craving them so we came up with a pretty good syn free alternative.  Perfect with a nice bit of steak and slimming world chips and all completely SYN FREE!!
These can be quite tricky and fiddly to get right but stick with it and they will turn out amazingly.
Servings:

2 – 3


Syns:

ZERO
---
Ingredients:
1 or 2 onions depending on how many rings you want.
30g approx of Smash powder**
A pinch of basil, salt, and pepper
1/4 tsp of paprika
1 egg beaten
---
Method:
Slice the onion to create hoops.
Heat a frying pan and coat with a little fry light. Fry the onions until slightly soft.
Add the basil, salt, pepper, paprika and beaten egg to a bowl and mix.
Add the dried smash to a separate bowl.
Coat each onion ring in the egg mixture and then dip into the smash coating it well.
Place onto a baking tray. I would suggest spritzing with frylight or using greaseproof paper.
Bake in the oven on 190c for around 20 – 25 minutes or until golden.
**The use of the smash as syn free seems debatable all over the slimming world community 🙂 I personally consider the small amount of 30g smash as syn free. But some consultants class this as a tweak. Please check with your consultant if you are unsure**
Recipe Created by Fatgirlskinny. Please do not use or recreate this recipe without prior permission.
---
Have you created this meal? Please tag me in your photos on Instagram and you might get featured on my blog. Visit me on Instagram… @Fatgirlskinny__
---
Do you need some support? Are you lacking in inspiration? Join our Facebook page to make new Slimming World friends.