Syn Free Chicken Jalfrezi | Slimming World Recipe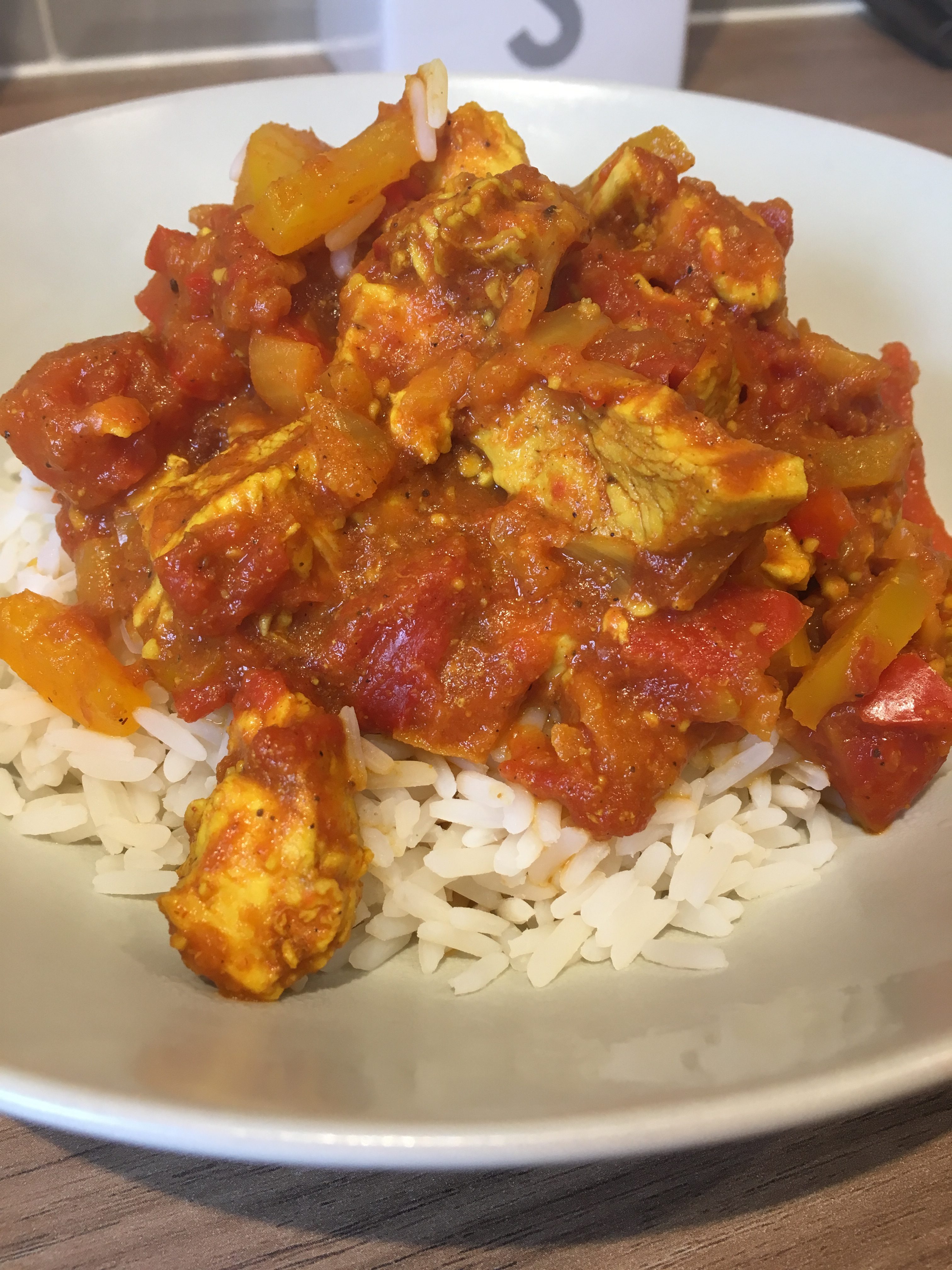 I love a good curry and last night I created this beautiful Chicken Jalfrezi.. I was shocked at how similar it actually tasted compared to our local takeaway offerings 🙂 It is probably a medium heat.. if you fancy a little spicier just add extra chilli or remove chilli for something a little more mild.
I think sometimes the scary thing about creating new recipes is purchasing all of the spices.. it can get expensive… but try to remember once you have these you can use them to create new and exotic recipes. Use my search bar (top right) to search any spice or ingredient and it will show you all of the recipes that contain that spice.
Servings:

2 – 3


Syns:

0 Syns
---
Ingredients: 
2 Large Chicken Breasts
Frylight
1 Large Onion
2 Cloves Of Garlic (Or 2 Tsp Crushed Garlic)
1 Tsp Chilli Powder
3 Tsp Ground Turmeric
Pinch Of Salt
400g Chopped Tomatoes
1 Tsp Ground Ginger
3 Tsp Ground Cumin
3 Tsp Ground Coriander
2 Tbsp Lemon Juice
1 Tsp Garam Masala
Pinch Of Black Pepper
1 Red Pepper
1 Yellow Pepper
1 Chicken Stock Cube
300ml Of Boiling Water
---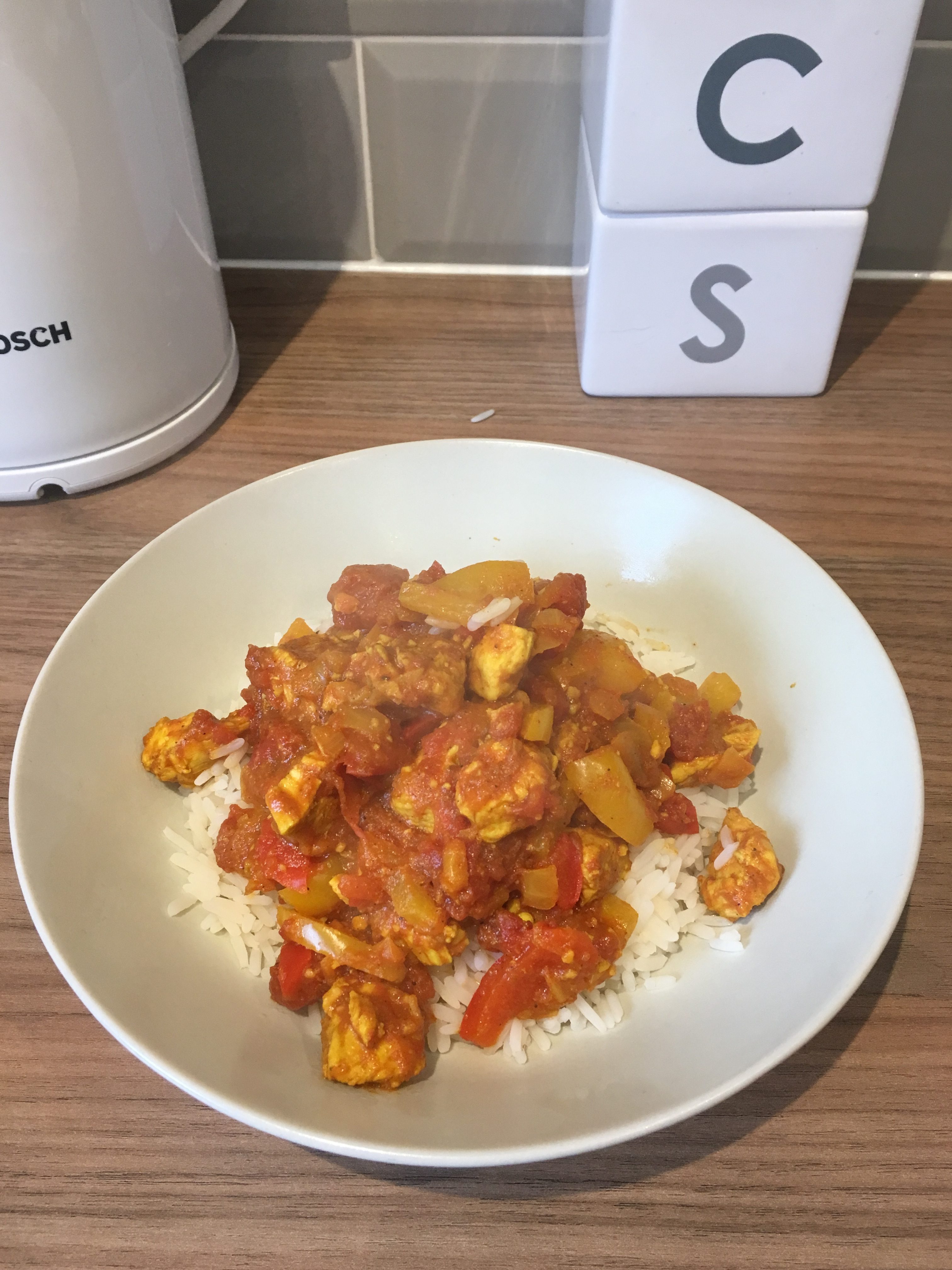 Method:
Spritz a pan with Frylight and heat to a medium temperature.
Dice onion and de seed and slice the peppers into fine pieces.
Add onions and peppers and cook for 2-3 minutes.
Add garlic, ginger, lemon juice and chicken. Cook for 3-4 minutes.
Add chilli powder, turmeric, salt, pepper, cumin, coriander and garam masala. Mix together throughly ensuring the chicken is coated in all of the spices.
Make stock with the chicken stock cube and 300ml boiling water.
Add stock and chopped tomatoes to the pan.
Cover with a lid and allow to simmer on a medium heat, stirring occasionally for 15 minutes.
Remove the lid and allow to simmer on a medium heat, stirring occasionally for 10 minutes allowing the sauce to reduce and thicken.
Serve over basmati rice or vegetables.
---
Have you created this meal? Please tag me in your photos on Instagram and you might get featured on my blog. Visit me on Instagram… @Fatgirlskinny__
---
Do you need some support? Are you lacking in inspiration? Join our Facebook page to make new Slimming World friends.
---
When I cook I always substitute oil with Frylight 1 Cal Spray. This spray is Syn free and it's a HUGE healthy alternative to oil. I find the cheapest place to purchase this from is Home Bargains as its always on offer at around £1.45. But often it's on offer in Iceland and other Supermarkets.