Syn Free Jerk Chicken Curry | Slimming World Recipe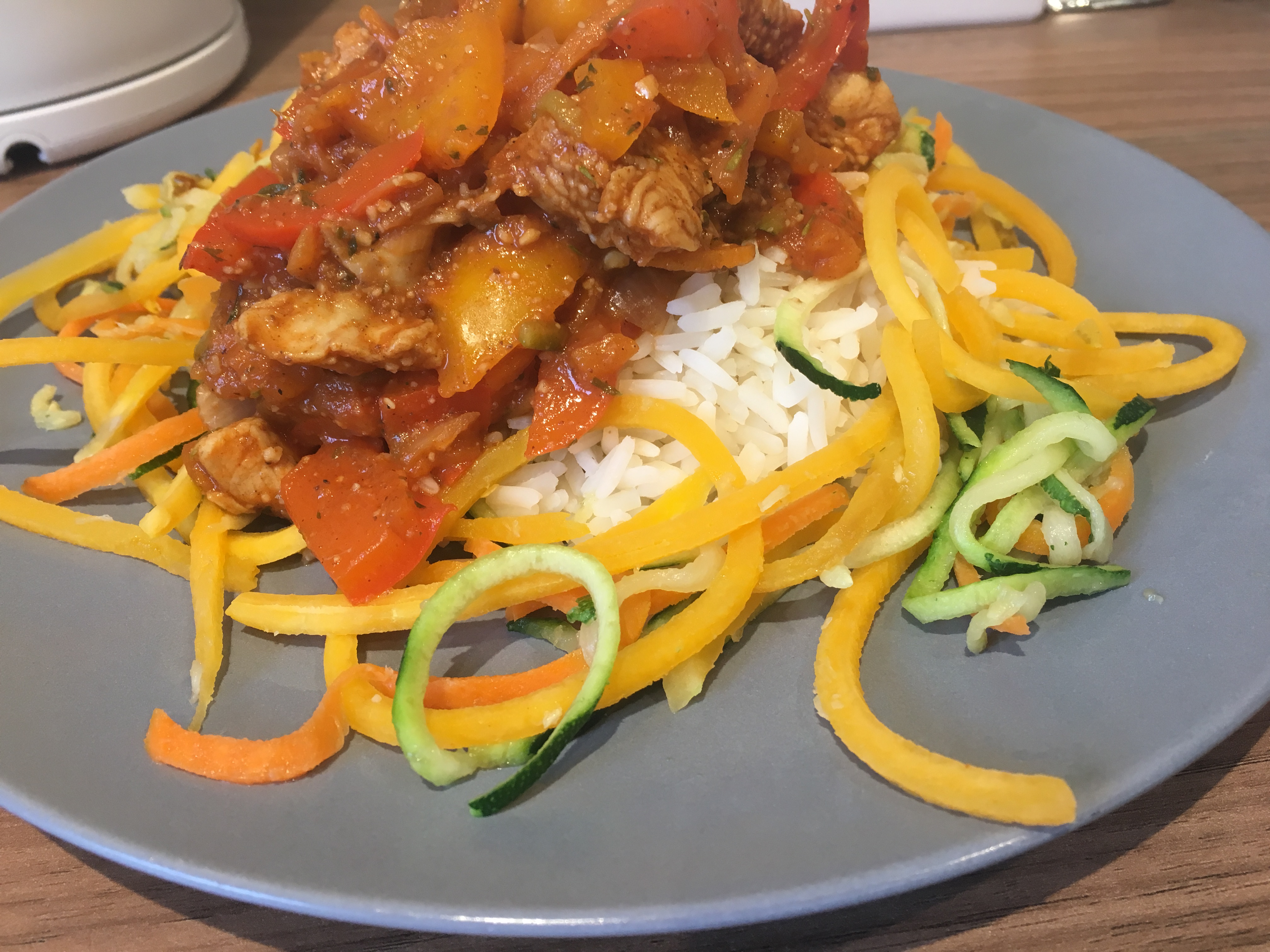 This was spicy spicy hot hot.. so next time I will be cutting down on the Chilli!! So if you aren't keen on massively hot curries try reducing the chilli powder to half.
I served with basmati rice and vegetable spaghetti which I am now slightly addicted to. But it would also work well mixed with pasta.
Servings:

2 – 3


Syns: 0 Syns

---
Ingredients:
2 Large Chicken Breasts Diced
Frylight
1 Red Pepper
1 Yellow Pepper
1 Medium Onion
2 Tsp Minced Garlic Powder (or 2 cloves of garlic)
1 Chicken Stock Cube
Pinch Of Salt
Pinch Of Black Pepper
1 and 1/2 Tsp Hot Chilli Powder (For a medium heat curry reduce to 1 Tsp)
1 and 1/2 Tsp Smoked Paprika
1 Tsp Dried Thyme
1/2 Tsp Dried Parsley
1/4 Tsp Ground Nutmeg
1/4 Tsp Ground Cinnamon
1/2 Tsp Onion Granules
200g Passata
Rice to serve
Vegetable Spaghetti to serve if required
---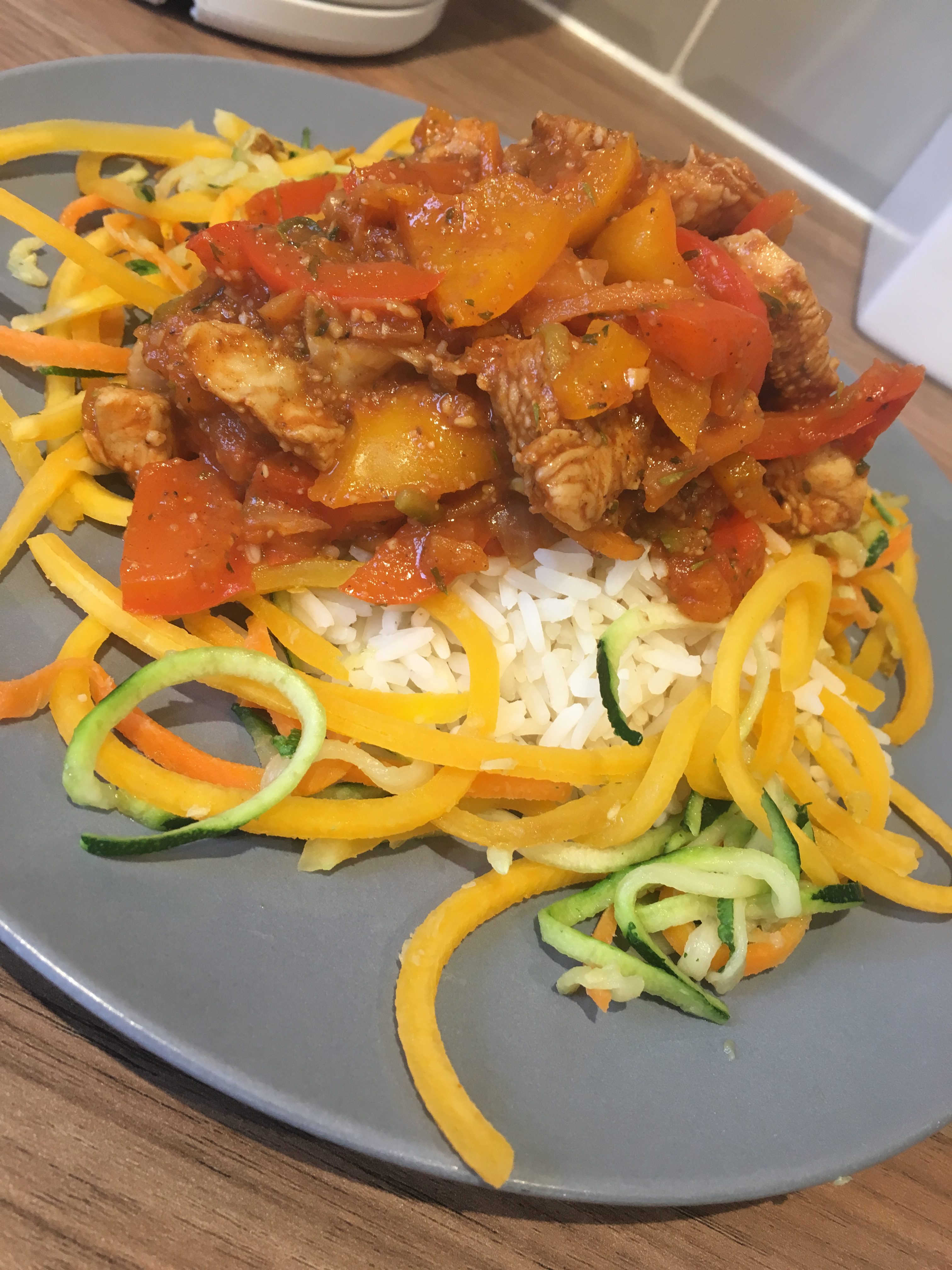 Method:
Dice the Onion and Peppers.
Heat a little Frylight in a non-stick pan on a medium heat.
Add Onion, Peppers, Garlic, Crushed Stock Cube and a 4 – 5 TBSP of hot water and cover with a lid. Stir occasionally and cook until the peppers and onion are softened. (4 – 5 minutes)
Meanwhile dice your chicken and place into a mixing bowl. Add Salt, Pepper, Chilli Powder, Smoked Paprika, Thyme, Parsley, Nutmeg, Cinnamon, Onion Powder and 2 TBSP of Passata. Cover the chicken in all of the spice mixture.
Add chicken and any mixture to the pan ensuring everything is mixed together. Add the remaining Passata and mix together thoroughly.
On a medium heat cover with a lid for 10 minutes, stirring occasionally.
Remove the lid and simmer until the sauce has been reduced to a thick consistency.
Serve over white rice and/or vegetable spaghetti.
The vegetable spaghetti can be sautéed in a pan with a little fry light, salt and pepper for around 5 minutes.
Recipe Created by Fatgirlskinny. Please do not use or recreate this recipe without prior permission.
---
Have you created this meal? Please tag me in your photos on Instagram and you might get featured on my blog. Visit me on Instagram… @Fatgirlskinny__
---
Do you need some support? Are you lacking in inspiration? Join our Facebook page to make new Slimming World friends.
---
When I cook I always substitute oil with Frylight 1 Cal Spray. This spray is Syn free and it's a HUGE healthy alternative to oil. I find the cheapest place to purchase this from is Home Bargains as its always on offer at around £1.45. But often it's on offer in Iceland and other Supermarkets.