Creamy Chicken And Bacon Supreme | Slimming World Recipe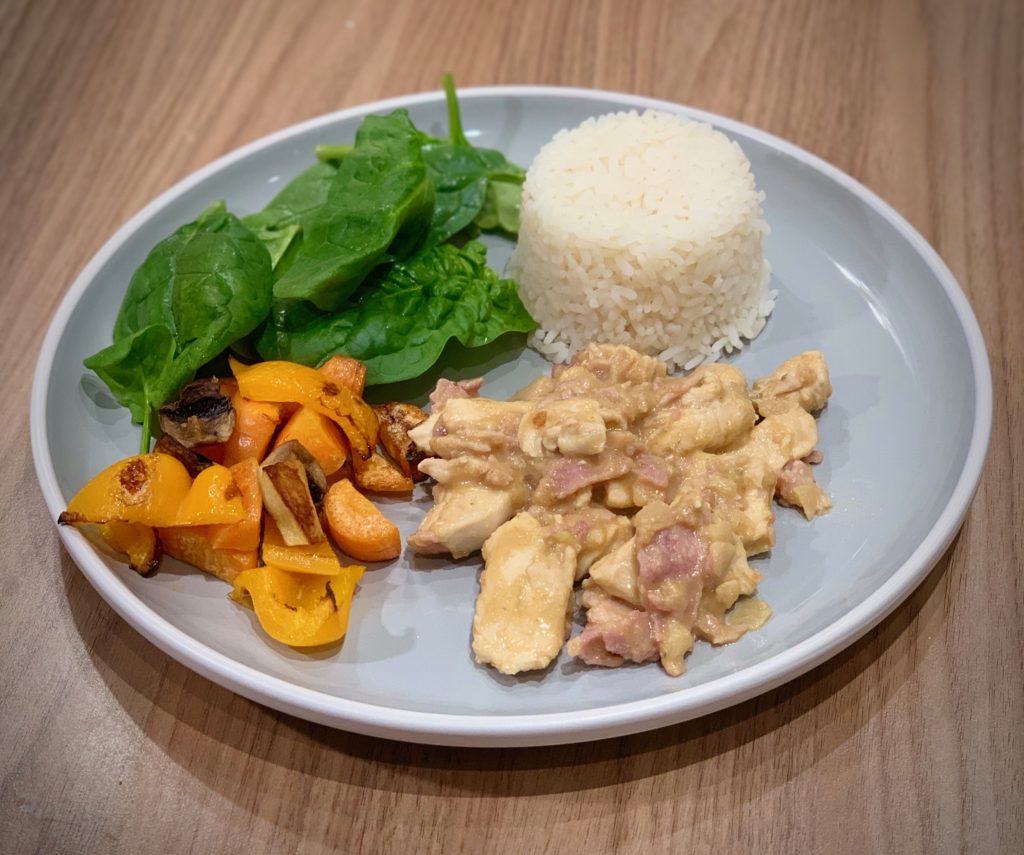 Delicious chicken and bacon in a creamy sauce. 
Many years ago (20 to be precise) when I first left home my mother bought me a cookbook so that I didn't starve to death! This was highly unlikely since I lived within walking distance of every takeaway I could desire, but maybe she had high hopes that I would resist. Chicken supreme followed by homemade profiteroles were the first things I cooked from this book and both recipes have continued to be my specialites. However the original recipe is made with full fat double cream so that of course is a NO NO here on Slimming World. But never fear my lovelies I am here with a beautiful alternative replacing the cream with Quark.
I know a lot of my followers find Quark an odd product to work with. It isn't the most beautiful looking food I have to admit. But it is perfect for creating some delicious sauces which I am going to show you below. 
This recipe could also easily be made vegetarian by swapping the chicken for Quorn pieces. I believe the dish would still work well even with this swap.
SERVINGS:
2
SYNS:

ZERO
---
INGREDIENTS
2 Large Chicken Breasts, Sliced into large chunks
4 Bacon Medallions, Sliced into large sections
1/2 Onion, Finely diced
2 Garlic Cloves, Crushed (or 1 Tsp Crushed Garlic)
1 Chicken Stock Cube
1 and 1/2 Tsp Mustard Powder
120ml Boiling Water
120g Plain Quark
1/4 Tsp Dried Parsley
Salt & Pepper
Frylight
If you would like to add a kick to this recipe try adding 1 Tablespoon of White Cooking Wine for Half a Syn.
---
METHOD
Spritz a little Frylight into a pan and add the chicken. Fry until cooked.
Add Bacon, Onion and Garlic. Fry on a medium heat until cooked.
Meanwhile make chicken stock with crumbled stock cube and 120ml boiling water in a jug. Add Quark, Parsley, Mustard Powder and a pinch of Salt & Pepper. Use a whisk to beat hard until you have a thick sauce. (Here is where you would add the wine if you require)
Add the sauce to chicken and bacon, mix well and allow to simmer for 10 minutes or until sauce has thickened and reduced. You cannot leave the sauce you need to keep it moving constantly otherwise you may find it will stick. 
Serve with white rice and roasted vegetables. 
---
Don't forget to tag me on Instagram if you create any of my recipes 🙂