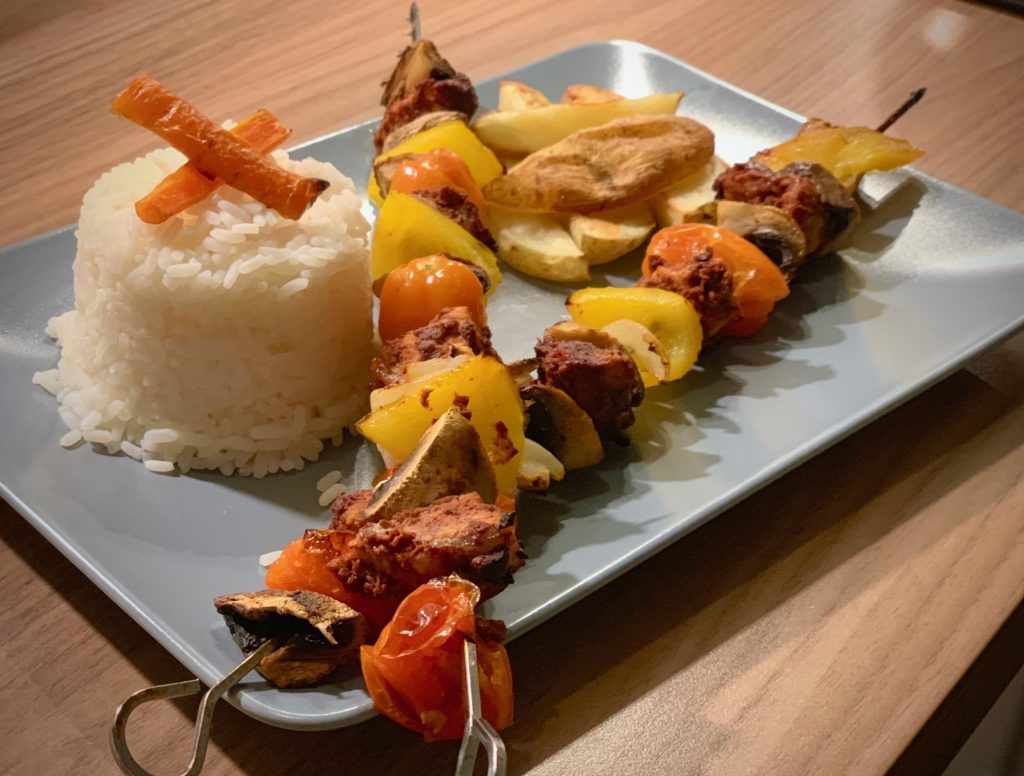 Delicious Syn free Piri Piri Pork Kebabs.
If you have already made my Piri Piri Nando's Chicken recipe this will be very easy for you as it follows the same Marinade method. I wasn't sure about coating the pork in at first but it was absolutely delicious and so easy to make.
Feel free to create the marinade the day before and leave the pork in the fridge coated in it over night. Also of course this would work with Chicken or Turkey pieces too. I don't eat pork often so I thought it would make a change.
Don't forget you can substitute the vegetables for whatever you prefer.. others that would work well is courgette, carrot, red onion, leeks etc..
SERVINGS: 2 – 3
SYNS: ZERO
---
INGREDIENTS
2 Pork Loin Steaks (with all fat removed), Diced
1 Yellow Pepper (Or whatever colour you fancy)
1/2 A Large Onion, Sliced in large chunks
4 Large Mushrooms, Sliced into quarters
10 Cherry Tomatoes
1 TBSP Tomato Puree
2 TBSP Balsamic Vinegar
1 TBSP Lemon Juice
1 TBSP Paprika
1/4 TSP Smoked Paprika
1/2 TSP Oregano
1/4 TSP Crushed Ginger Powder
1/2 TSP Hot Chilli Powder
1/2 TSP Crushed Garlic
Frylight
Kebab Skewers (Metal are much better)
---
METHOD
Preheat oven to 180c/Gas Mark 3/Fan 170c
Spray a baking tray with a little firelight to prevent the kebabs from sticking.
Add Tomato Puree, Balsamic Vinegar, Lemon Juice, Paprika, Smoked Paprika, Oregano, Ginger, Chilli Powder and Garlic to a bowl. Mix together to form a paste.
Add pork to the bowl and ensure it is completely covered in the marinade. You are welcome to use this straight away or leave to marinate for a few hours or even over night.
Add alternative pieces of pork, pepper, mushroom, tomato and onion to your kebab skewers until you have used all of your ingredients. 
Place on a baking tray and spritz with Frylight. 
Place into the oven for 15 – 20 minutes turning once during cooking. Please be careful if using metal skewers as they will be very hot. Always handle with an oven glove. 
Serve with rice and Slimming World chips.
---