Roasted Brussel Sprout Soup | Slimming World Friendly Soup
This unofficial Slimming World friendly Roasted Brussel Sprout Soup is healthy, delicious and full of flavour. It is so quick and easy to make too.. do your kids hate sprouts? Mine do but they love this soup! Little weirdos… Give it a try!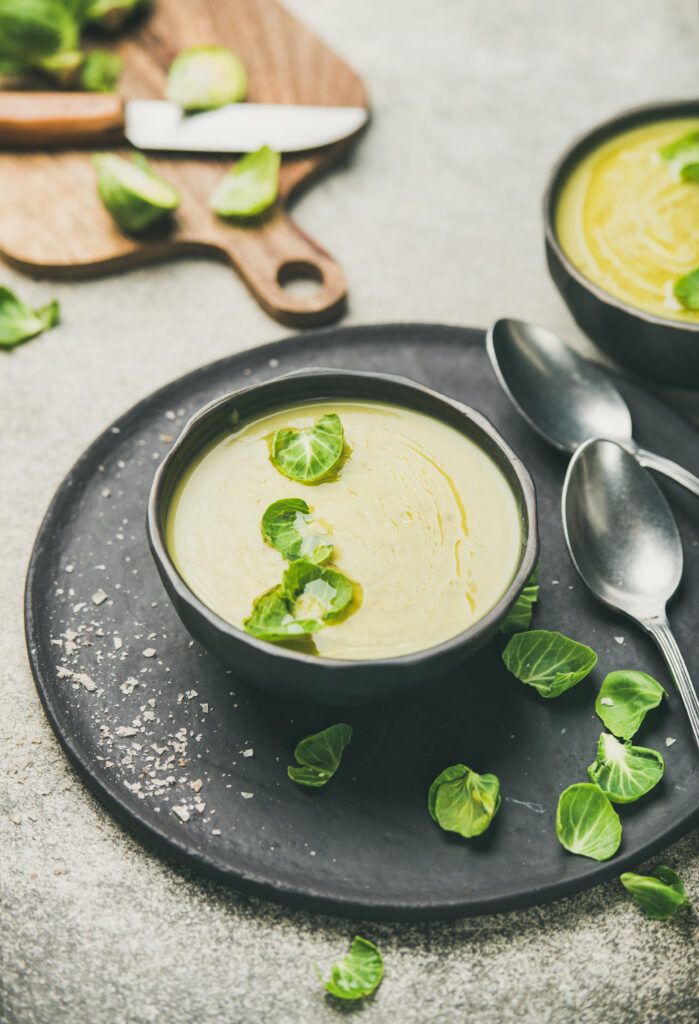 This soup is like Christmas in a bowl.. other than the fact it's actually February! I love sprouts, I am literally the only one who eats them whole in this house! Mr Fatgirlskinny literally hates them and the kids are not far behind! When I served this little beauty up I didn't tell them what it was (they are kinda used to that).. But it worked, it got them to try and it and they all agreed it was delicious. I gave myself a high five by the way… because that's just what I do! Honestly though, when you have 1 kiddo who asks for raw pepper, carrot etc from the fridge as a snack and another who will only snack on biscuits or chocolate you have to take your wins where you can! 
Anyway enough waffling on, give this soup a try I promise you won't be disappointed!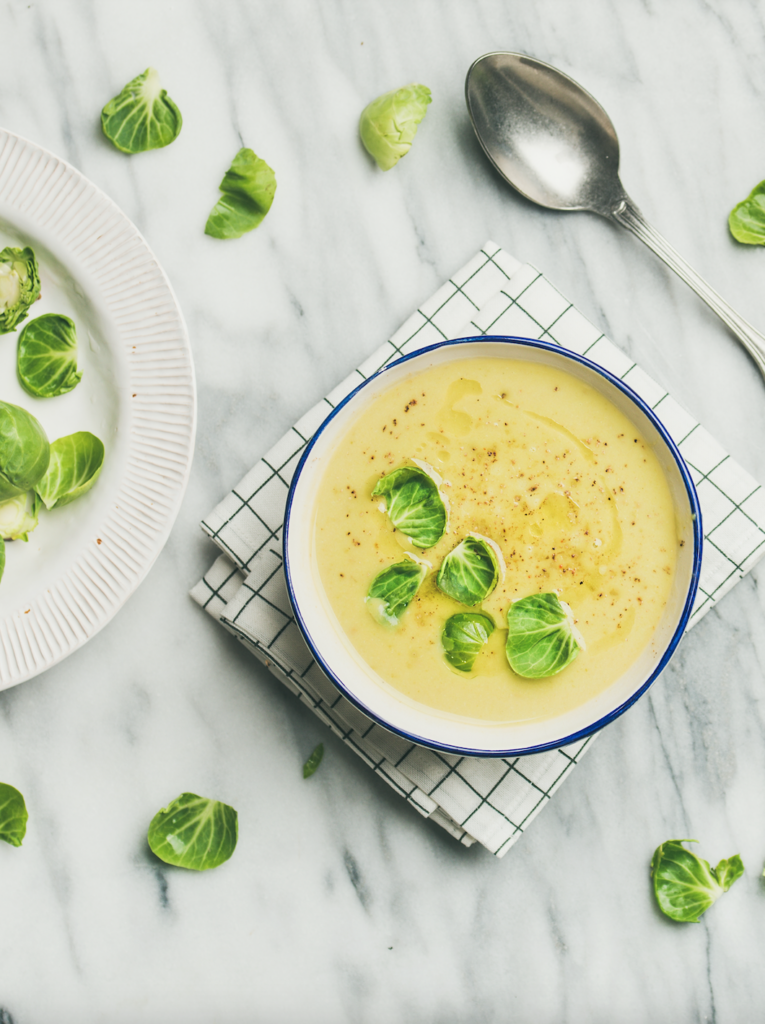 So let's talk about this soup…. it's creamy, thick, rich, and super comforting
WHY IS THIS THE BEST UNOFFICIAL SLIMMING WORLD ROASTED BRUSSEL SPROUT SOUP?
Full of flavour
Delicious
Filling
Low in fat
Low in calories
Syn Free*
Some kids will eat it…
Family friendly
So colourful
Suitable for batch cooking
Freezable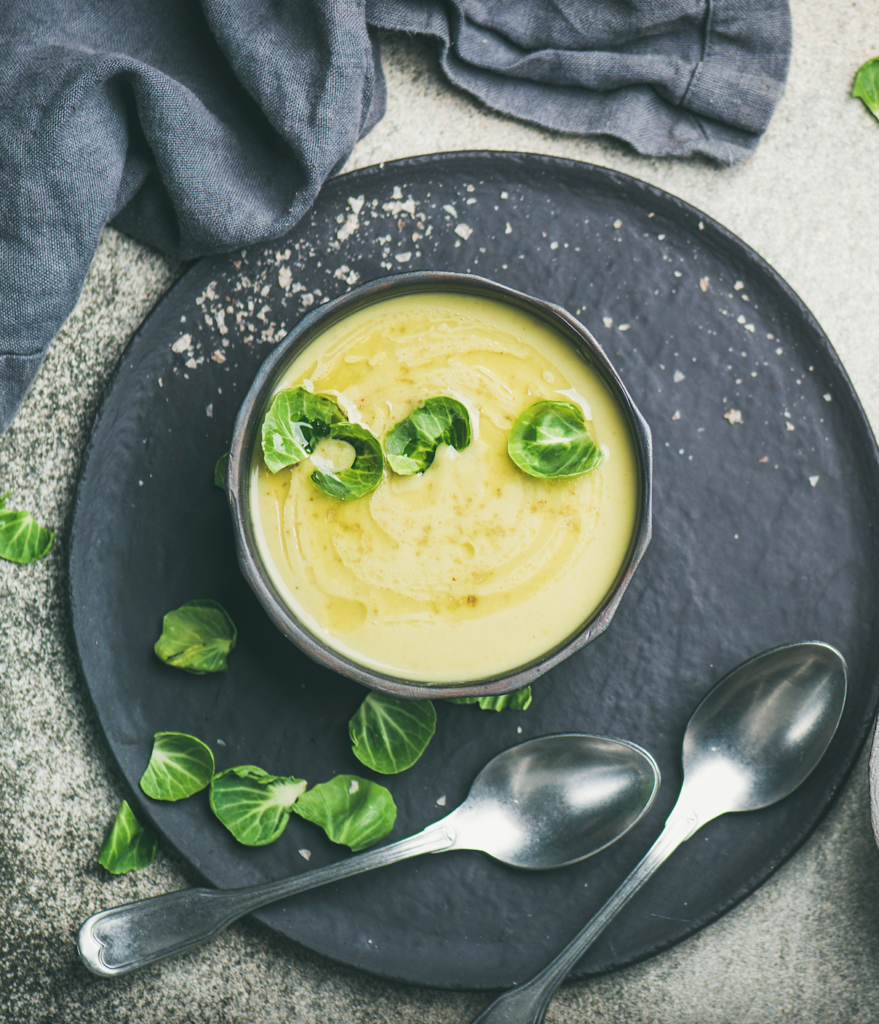 CAN I MAKE THIS SOUP AHEAD OF TIME?
Absolutely you can.. in fact I recommend it because it tastes better the next day.
It will keep in the fridge for 3- 5 days in an airtight container. You can also freeze the soup for up to 3 months, thaw overnight in the fridge before reheating.
IS THIS SOUP SLIMMING WORLD FRIENDLY?
It sure is.. estimated by Fatgirlskinny this soup is Syn Free when using the cheese as one of your Healthy Extra A portions.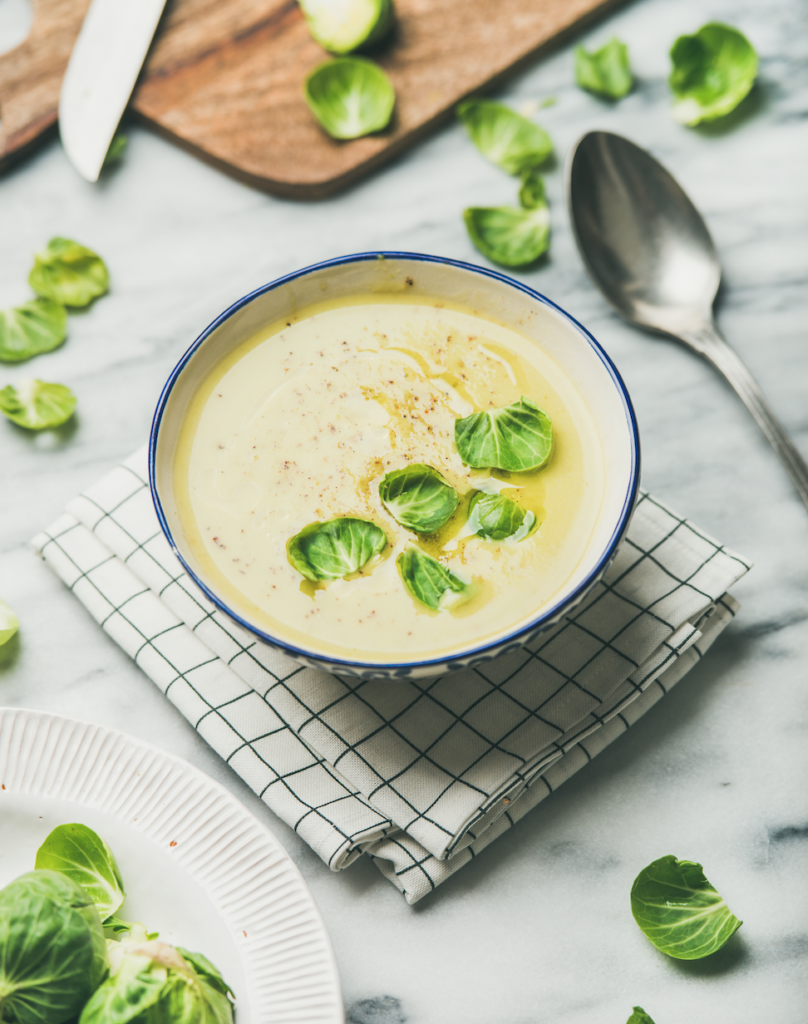 Roasted Brussel Sprout Soup
Slimming World Syns: Zero* (Using Healthy Extra A)Weight Watchers: Coming SoonCalories: Coming Soon
Ingredients
400g

Sprouts

[Peeled, Prepared, Halved]

1

Onion

[Diced]

1

Garlic Clove

[Crushed]

200g

Potato

[Peeled, Cubed]

150g

Cauliflower Florets

[Fresh, or frozen thawed]

900ml

Boiling Water

3

Vegetable Stock Cubes

¼ tsp

Mustard Powder

Pinch

Ground Black Pepper

120g

Cheddar Cheese

[Grated]

1 tbsp

Fat Free Greek Style Yoghurt

[Room temperature]

Frylight or low calorie cooking spray
Instructions
Preheat oven to 200c/180c/Gas 6.

Placed prepared sprouts onto a baking tray, spray generously with Frylight and place into the oven for 15 – 20 minutes. Until they look golden brown.

Make Vegetable stock using 3 stock cubes and 900ml boiling water.

Meanwhile in a large pan (or sautè feature on soup maker) cook the onions and garlic until golden and softened.

Remove the sprouts from the oven when done, and add literally all ingredients (excluding cheese and yoghurt) to a large saucepan or soup maker.

Simmer (covered) for 25 – 30 minutes in a pan.

Or

Set soup maker to smooth.

If using a pan: Use a food blender or hand blender to blend until smooth. Then stir in the yoghurt and cheese before serving.

If using a soup maker: Stir in the cheese straight away. Allow to cook for a few minutes before stirring in the yoghurt and serving.
Notes
*Slimming World Syns and Weight Watchers Points are all approximate and estimated by the 

fatgirlskinny.net

team. They have not been verified by an official source.
Have you created this recipe?
Please let me know how it turned out! Leave a comment below or share a photo on Instagram tagging me at @fatgirlskinny__ and the hashtag #fatgirlskinny.