This delicious Slimming World friendly cauliflower and chickpea curry is full of speed foods and ready in under an hour. It can be batch cooked if you need a quick and easy dinner for later in the week.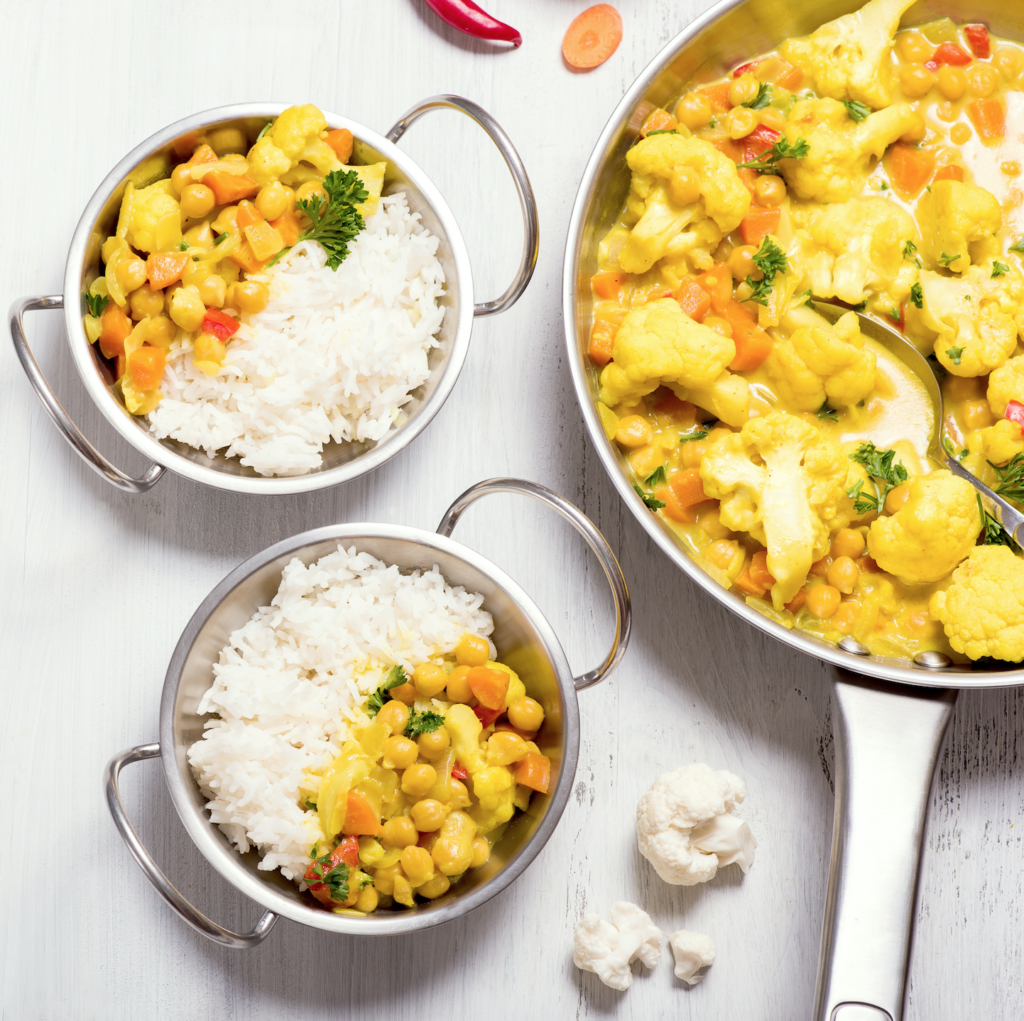 This speedy curry is full of warming spices with a spicy kick of heat, you can adjust the heat if you wish by adding more or less chilli. If you are serving this to the kiddos then I would recommend using half the chilli. Usually we would be creating this recipe with full fat or coconut cream… but being that it is mega Slimming World friendly we are substituting with Muller light Coconut yoghurt. This still helps to retain the creaminess and give it a sweet coconut kick.
This curry is ready in under an hour and is the perfect batch cook dish. I would say there is easily enough here to divide into 4 servings. Which means you can either eat the same day with the whole family or keep 3 further portions for a cheeky lunch or quick easy dinner. In fact I think it tastes even better the next day, so making it a day ahead can actually be a good idea.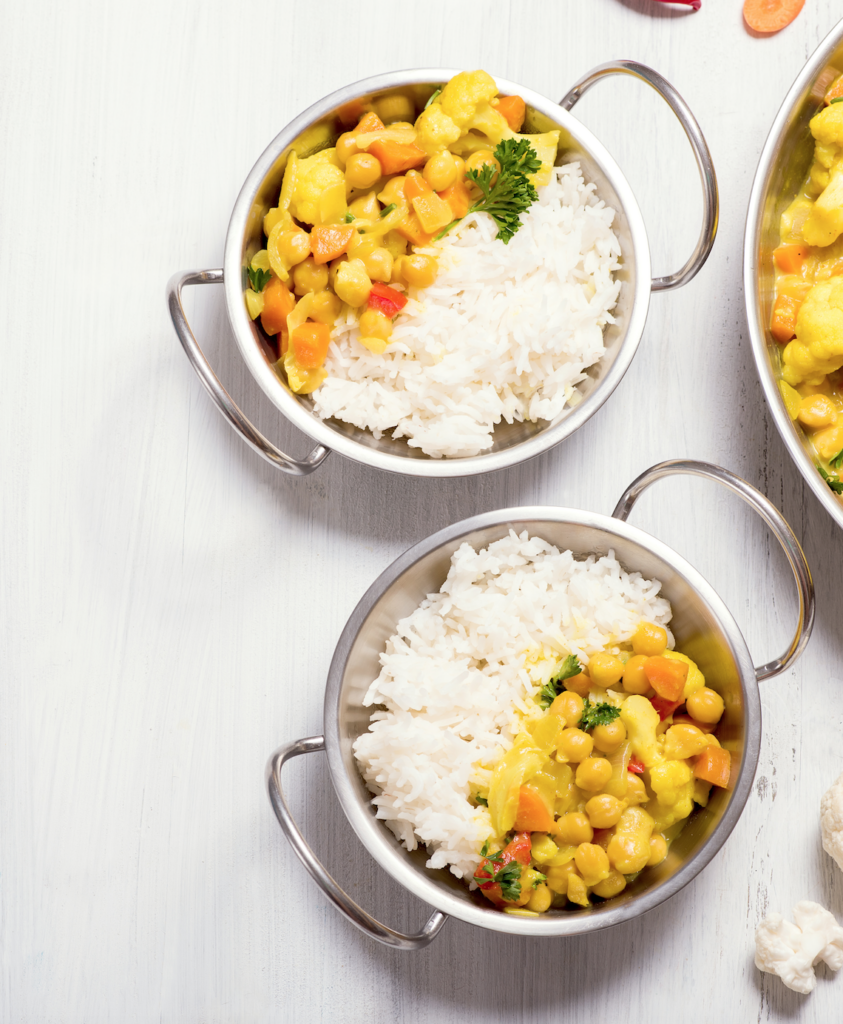 WHAT MAKES THIS THE BEST CAULIFLOWER & CHICKPEA CURRY?
It's creamy, tasty and full of warming flavours
Only 1/2 a Syn per serving
Full of speedy vegetables
High in fibre
Chickpeas – good fats, protein and heart healthy
Cauliflower – high in vitamin C
Ready in under 1 hour
Family friendly
Perfect for batch cooking
CAN I FREEZE THIS CURRY?
Absolutley!!! Leave the curry to cool before placing in an airtight container. It can be stored in the freezer for up to one month. Remember to defrost before reheating.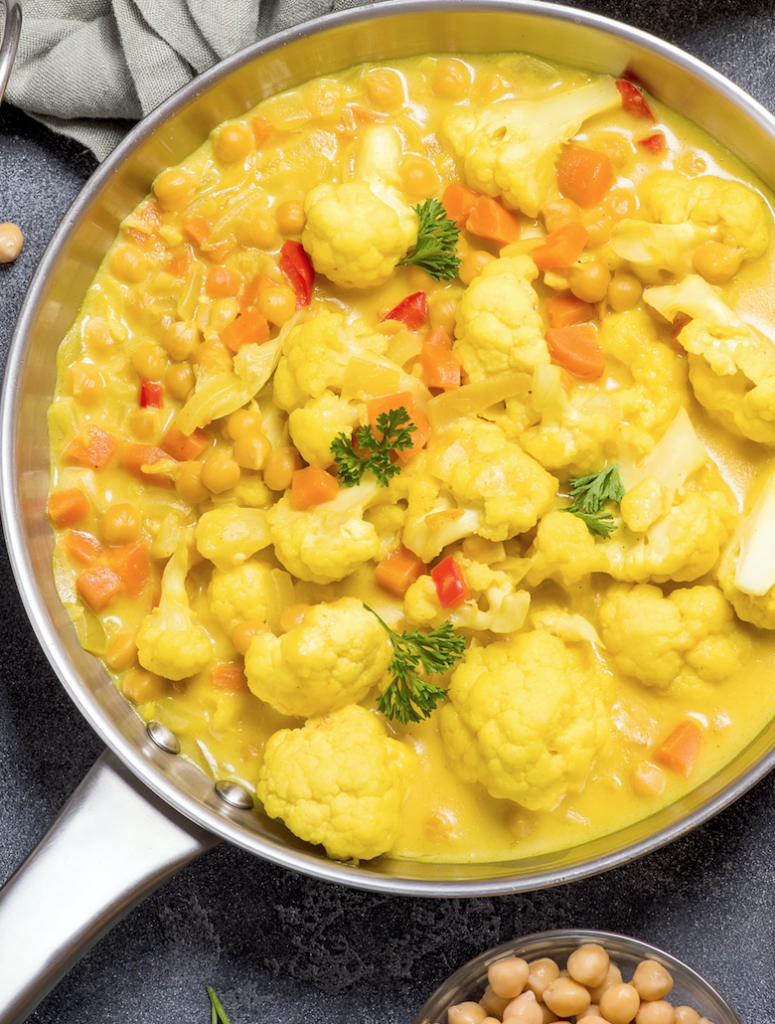 IF YOU ARE LOOKING FOR SIDE DISHES TO ACCOMPANY THIS RECIPE…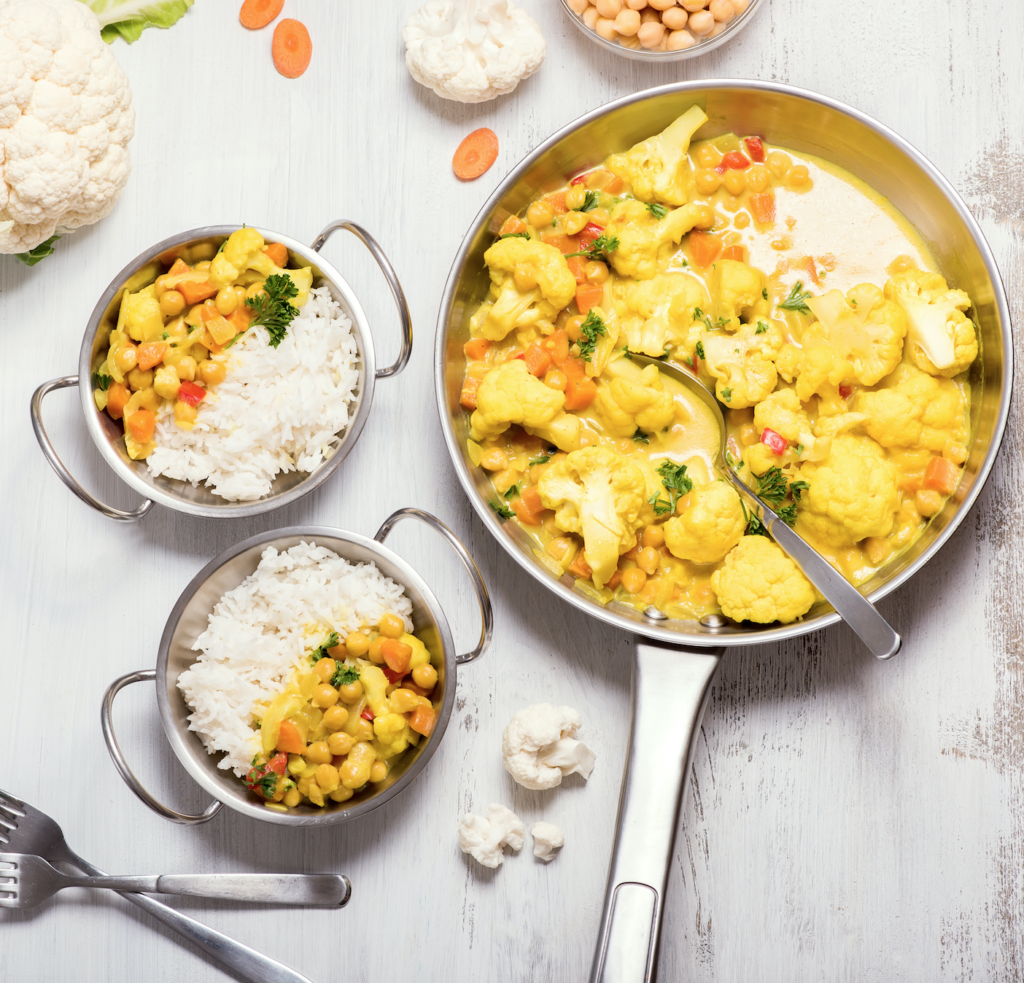 Cauliflower and Chickpea Curry
Slimming World Syns: 1/2 a Syn Per ServingWeight Watchers: Coming SoonCalories: 226 Per Serving
Ingredients
1

Medium Onion

(Finely Diced)

1

Medium Head Of Cauliflower (Approx. 450g)

(Remove Leaves and Stalk)

1 Small

Carrot

(Finely Sliced)

1

Red Bell Pepper

(Roughly Chopped)

3

Garlic Cloves

(Crushed)

1

Small Red Chilli

(Deseeded and finely sliced)

½ tsp

Ground Ginger

2 tsp

Ground Cumin

½ tsp

Ground Coriander

1 tsp

Ground Turmeric

2 tsp

Garam Masala

Pinch

Salt

400g

Tinned Chickpeas

(Drained and Washed)

400g

Chopped Tomatoes

480g

Muller Light Fat Free Greek Style Yogurt, 0% Added Sugar Coconut & Vanilla

(4 Pots)

Frylight
Instructions
Using a pan with a tight fitted lid, spritz with Frylight and cook onion over a medium heat for 5 – 6 minutes.

Add 3 Tablespoons of water, garlic, chilli and ginger. Cover with the lid and cook for 2 minutes.

Add the rest of the spices, salt and chopped tomatoes. Add 50ml of water, cover with the lid and simmer for 2 minutes.

Add chopped cauliflower, pepper and chickpeas. Cover with the lid and cook for 15 minutes or until the cauliflower has softened. Add more water if necessary.

Reduce the heat, remove the lid and stir in the yoghurt. Simmer gently over a low heat for a further 5 – 10 minutes stirring constantly until the sauce has thickened. Check seasoning before serving. Feel free to add extra salt if needed.
Have you created this recipe?

If so I would love to hear from you. Please feel free to let me know how it went in the comments below and even better if you have photos
please tag me on social media.  

You can follow me on:

Facebook | Instagram | Pinterest | Twitter