FIT BAKES MY REVIEW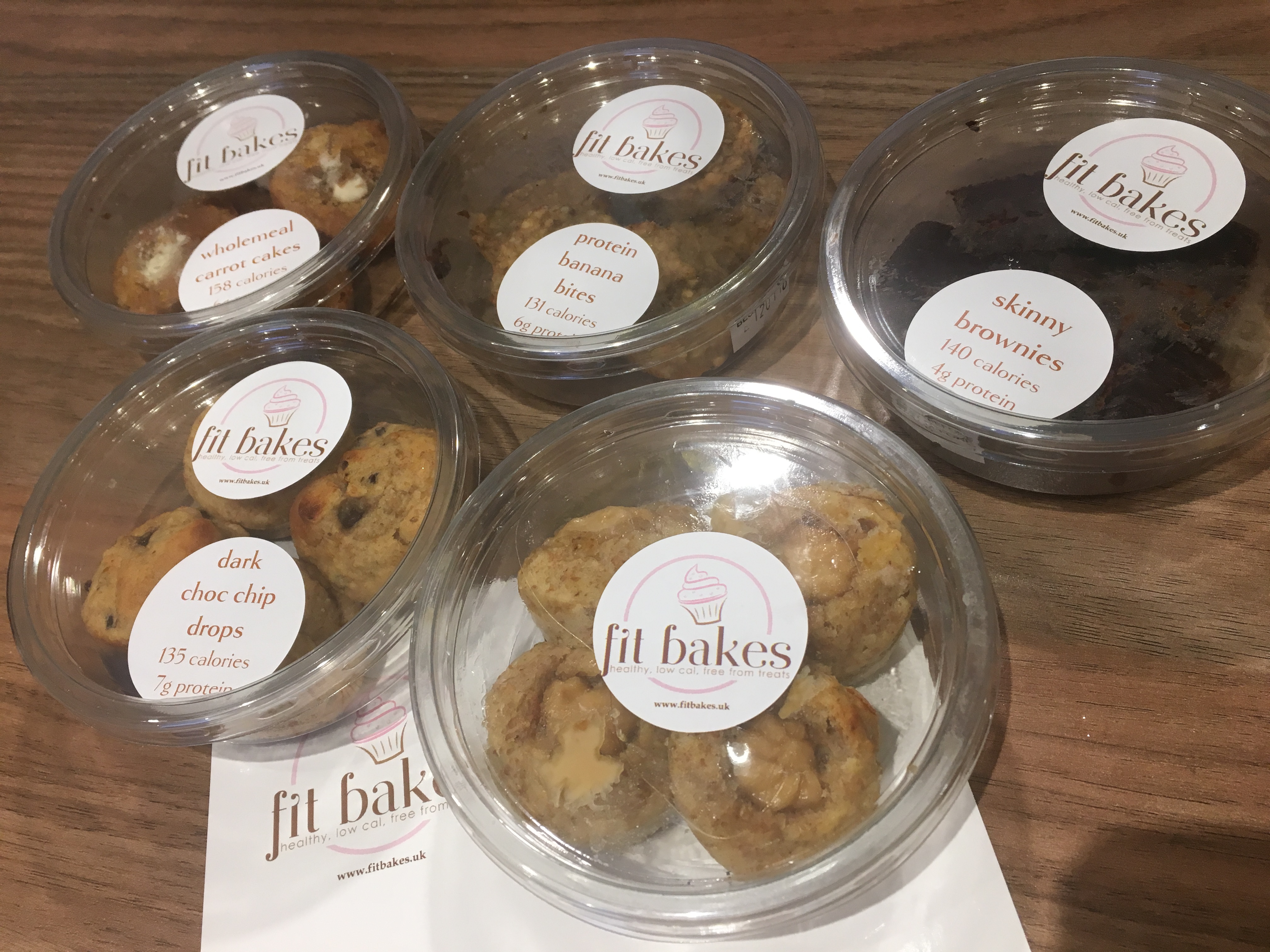 I was recently offered the opportunity to trial some of the yummy treat pots from Fit Bakes UK. I was slightly sceptical after seeing some of the products that these treats are baked with (i.e Sweet Potato brownies.. hmmm interesting combination)
A Little Bit About Fit Bakes
Taken From Fit Bakes Website.
Manoela Rauen-Prestes, Ella, was born and raised in Rio de Janeiro, Brazil.
Ella lived as an expat in America, Italy and has been in the UK for a few years now. She has been a passionate baker and cook for her whole life, and as a good Brazilian, quite involved with fitness and health. She brought to the UK her fit, healthy treats.
Our UK bakery was born in the heart of the Costwolds. Our flavours are a mix of Cotswolds UK fresh ingredients, Italian hand making techniques, and Brazilian fit recipes. It's a small world, and we combined the best of what we know, hope you enjoy it!
Arrival Of The Package
The treats arrived in a box with a label stating "refrigerate on arrival". Once I opened the package I realised that one of the lids of the pots had fallen off but luckily the treats still seemed in good condition. I think maybe the pots need a small seal because they do probably get bashed around a fair bit in the post.
The packing and labelling are very neat and cute with plenty of nutritional values to help you along your way.
I was pleased to see that the treats had a long use by date of around 10 days and also they are suitable for freezing.
The Taste
1. Wholemeal Carrot Cakes – 8 Syns Per Tub (158 Calories)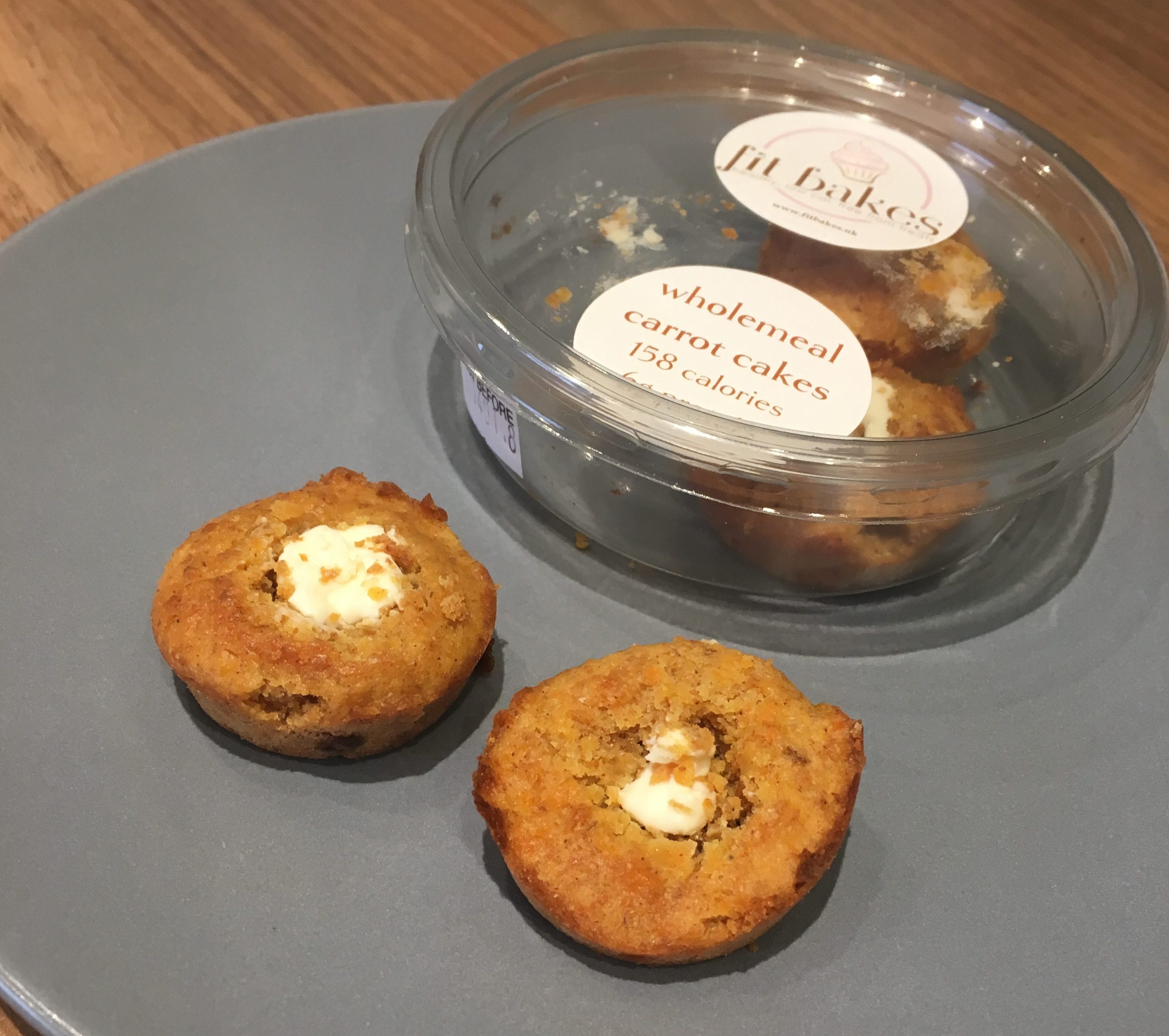 Sugar FREE, NO Preservatives, NO Colouring.
Ingredients: carrots, wholemeal flour, fat free yogurt, rapeseed oil, baking powder, baking soda, agave nectar, vanilla extract, erythritol, soft cheese, quark, cinnamon, egg whites.
Typical values (per 70g pack): 158 calories, 30g Carbohydrates (8g Sugars), 2g Fibre, 5g Protein, 5g Fat.
These were actually my favourite product of them all. I am a big fan of carrot cake and they didn't disappoint. The cake was very moist and the buttercream was just sweet enough to give you that "naughty" taste.
On average a standard carrot cake of that amount would be around 235 Calories so at only 158 Calories for the whole pot its a massive saving. My only issue is that 8 Syns for a whole pot is an excessive use of my Syns.. so I would suggest breaking that up and having 1 or 2 a day with cup of tea to give you that sweet fix.
9/10
---
2. Protein Banana Bites – 6.5 Syns Per Tub (131 Calories)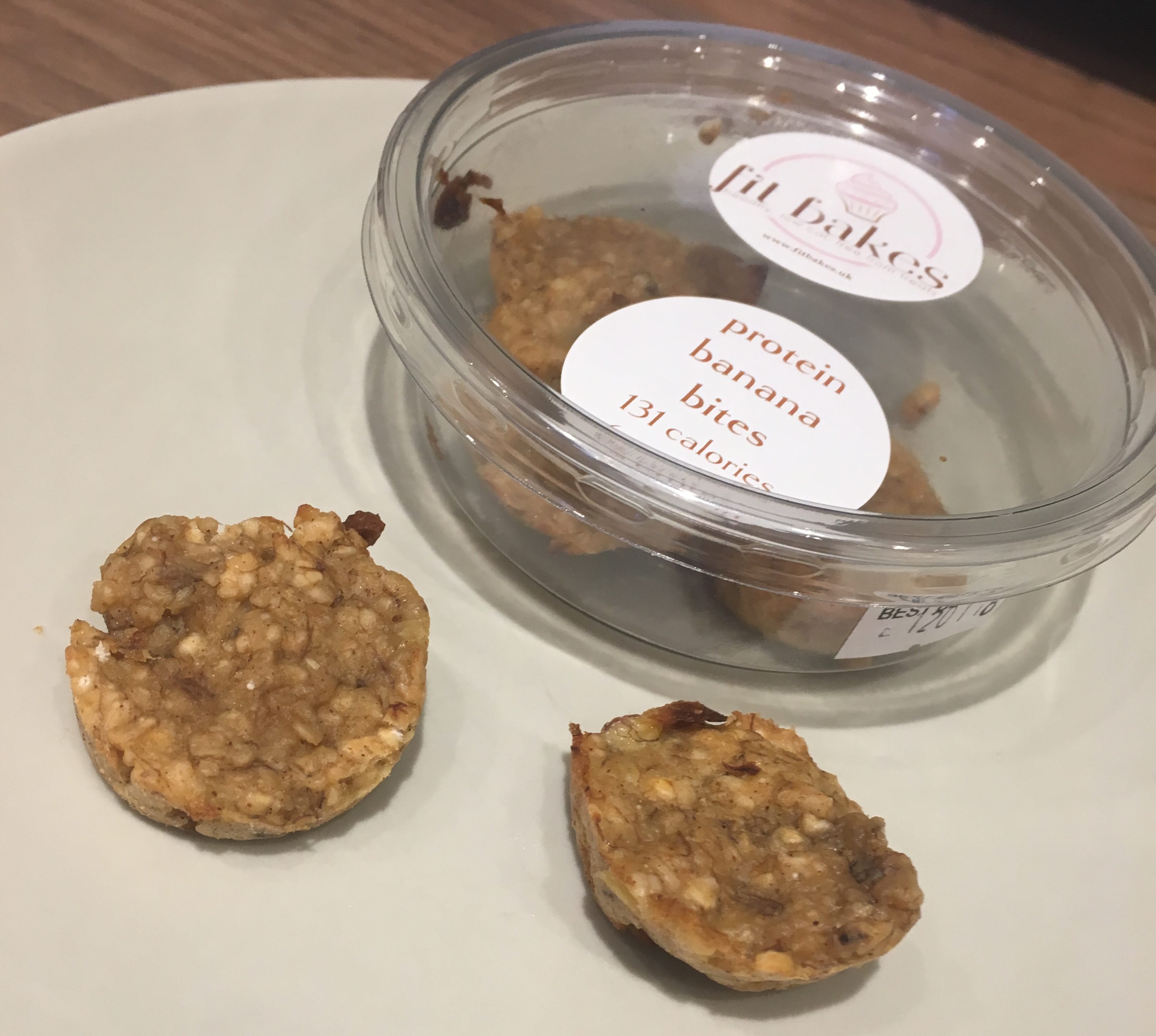 These were very delicious and had a very strong banana taste but I wasn't massively keen on the texture of them. My husband however was very keen on these and ended up devouring the lot. I like the fact that they are only 6.5 Syns per tub so they feel a lot more acceptable as a treat.
7/10
---
3. Skinny Brownies – 7.5 Syns Per Tub (140 Calories)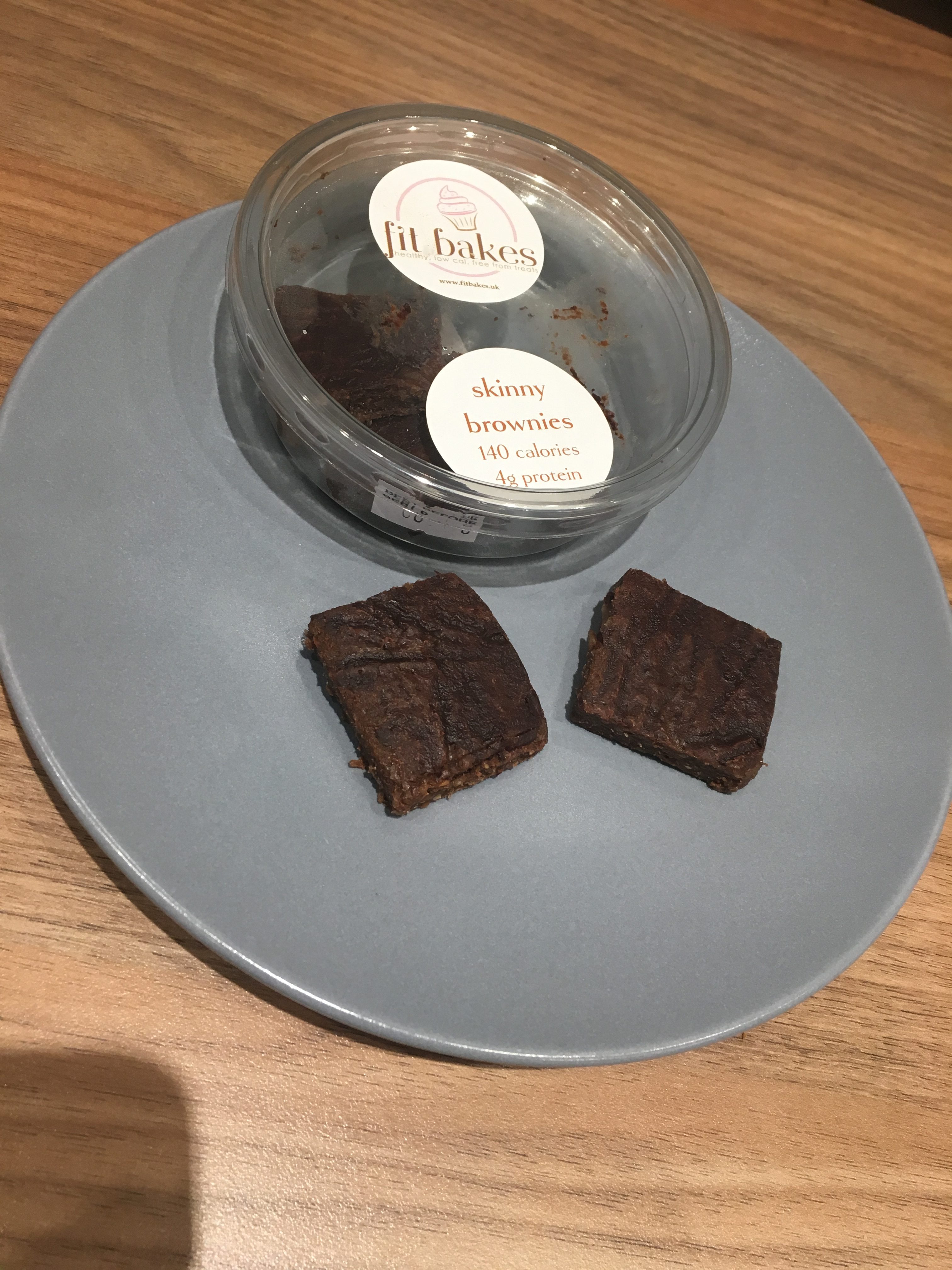 They are VEGAN, and LACTOSE FREE, source of fibre, refined Sugar FREE, NO Preservatives, NO Colouring.
Ingredients: sweet potatoes, medjool dates, coconut oil, maple syrup, almonds, oats, organic cacao, erythritol.
​Typical values (per 65g pack): 147 calories, 34g Carbohydrates (7g Sugars), 4g Fibres, 4g Protein, 5g Fat.
What do you get when you make a brownie from Sweet Potato? Unfortunately a potato that tastes of Chocolate. I was quite disappointed as I thought they were going to be fantastic but I didn't enjoy them. The consistency and texture was just of a piece of cooked potato. But this could just be me.. I highly recommend purchasing their selection pack so that you can try everything out. It may not. be for me but it wouldn't be an interesting world if we all liked the same things.
3/10
---
4. Dark Choc Chip Drops – 6.5 Syns Per Tub (135 Calories)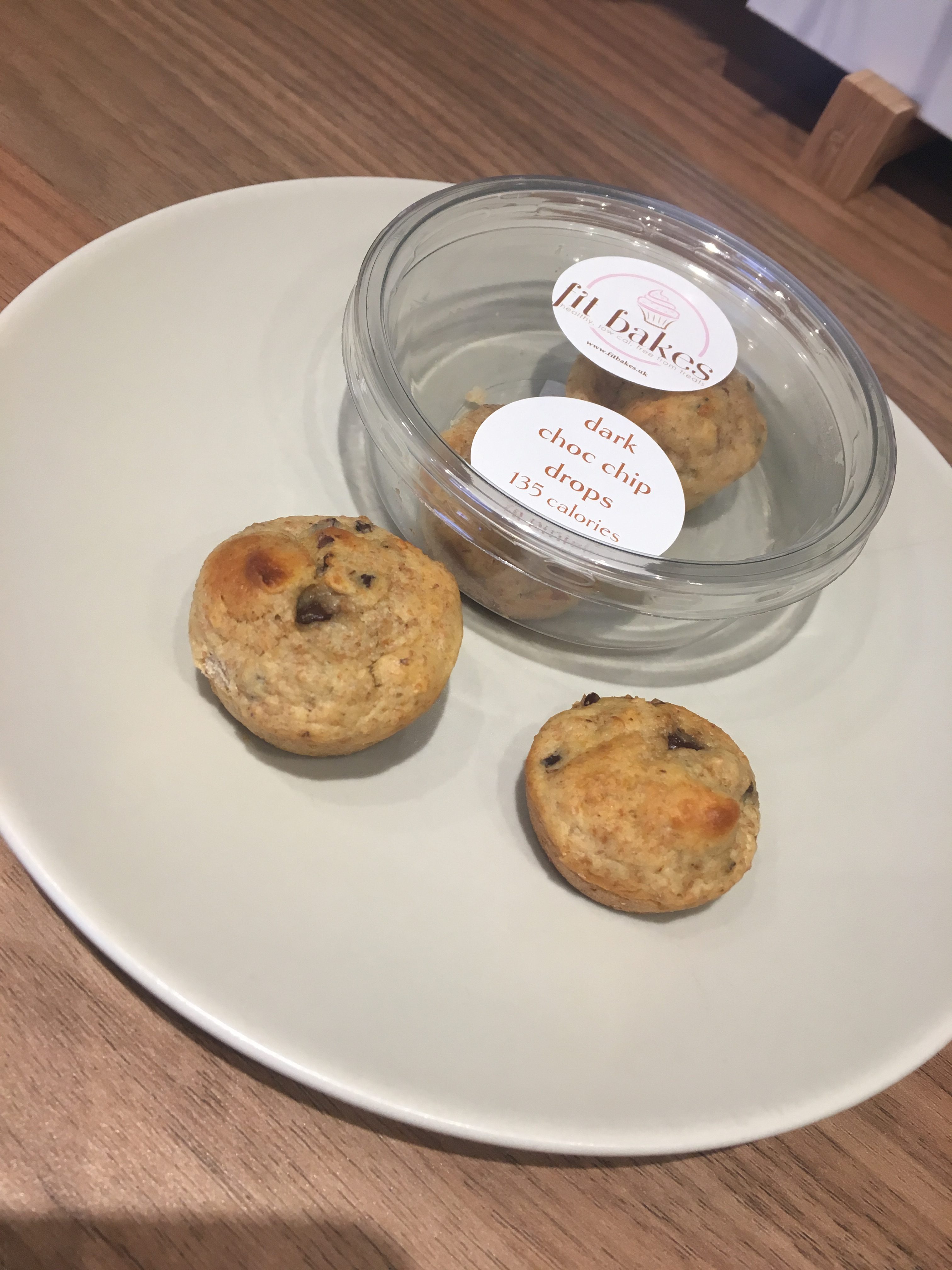 These were very tasty and the cake was very moist which was surprising because they did look a bit drier than the rest of the options. They had just enough sweetness to taste naughty and the lower Syn value per pot makes it more reasonable to eat a whole tub within the Syn allowance.
7/10
---
5. Peanut Butter Protein Cakes – 9 Syns Per Tub (179 Calories)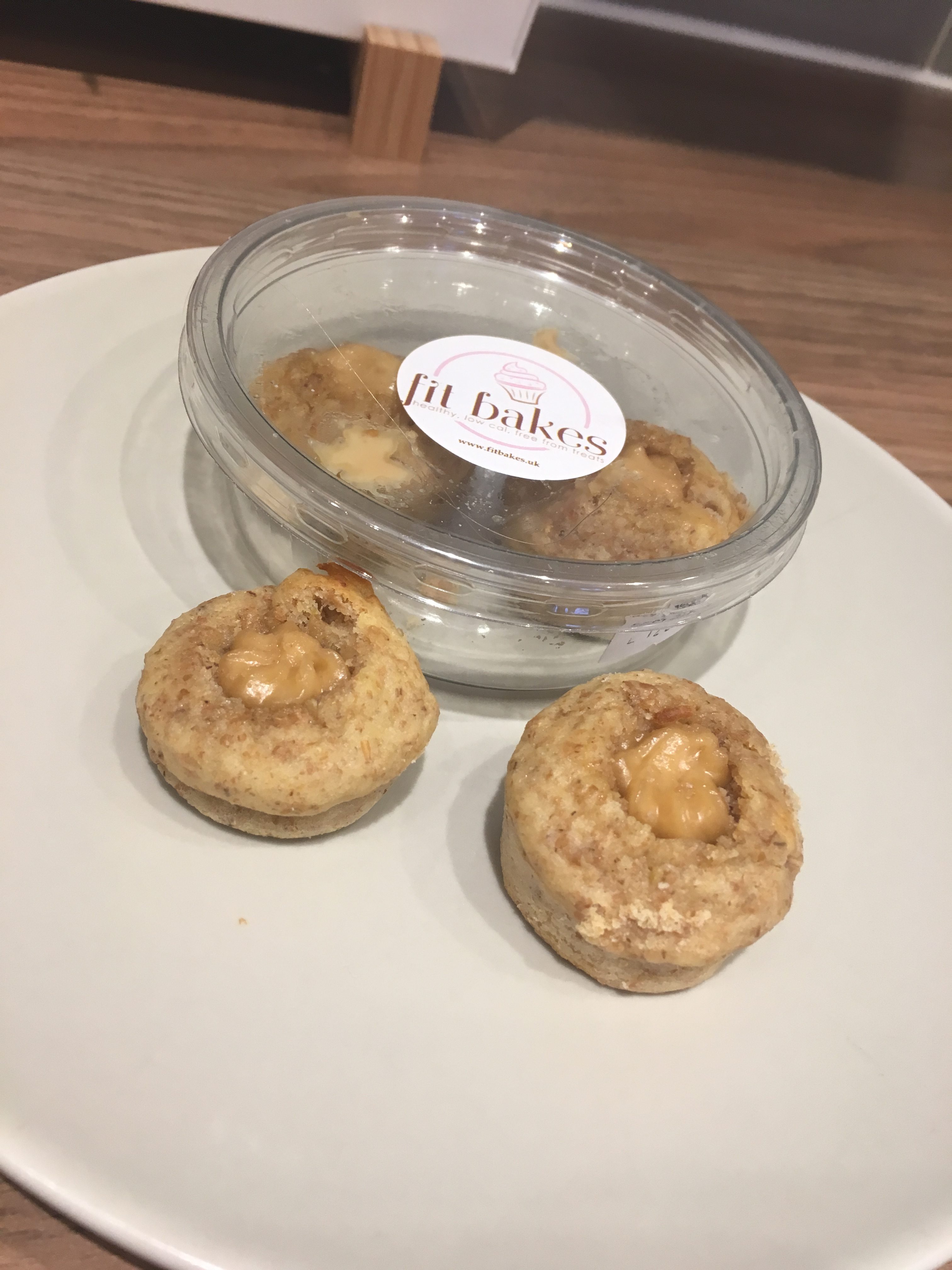 Typical values (per 80g pack): 179 calories, 15g Carbohydrates (from which 1.4g Sugars), 10g Protein, 8.1g Fat.
I am a huge fan of anything peanut butter and sweet.. (i.e Reeces Cups etc) so I was really excited about these. But they weren't to my taste at all. They literally tasted like I had eaten a spoonful of Peanut Butter.. there was nothing sweet about them. I was quite disappointed and with the very high Syn Value I wouldn't be trying them again.
4/10
---
Cost
The pot's are around £2.99 each and their larger selection packs start at £25.99. Spend £24 to receive free delivery.
If you sign up to their newsletter you will receive a 5% discount code to use on your first order.
To purchase visit FitBakes here.
---
Please note: I have not been compensated for this review but I was sent a free sample pack to trial. All words and review are my own and I have not been influenced in anyway. All Syn values were provided by the company and were correct at time of review (7th Jan 2018).