SUPER CHEESY KICKIN CHILI PASTA | HEALTHY SLIMMING RECIPE
For the ultimate kick try this delicious Cheesy Kickin Chili pasta. This is quick and easy to put together and will feed a family of 4 easily. This unofficial recipe is perfect for any one following Slimming World, Weight Watchers or a calorie controlled diet.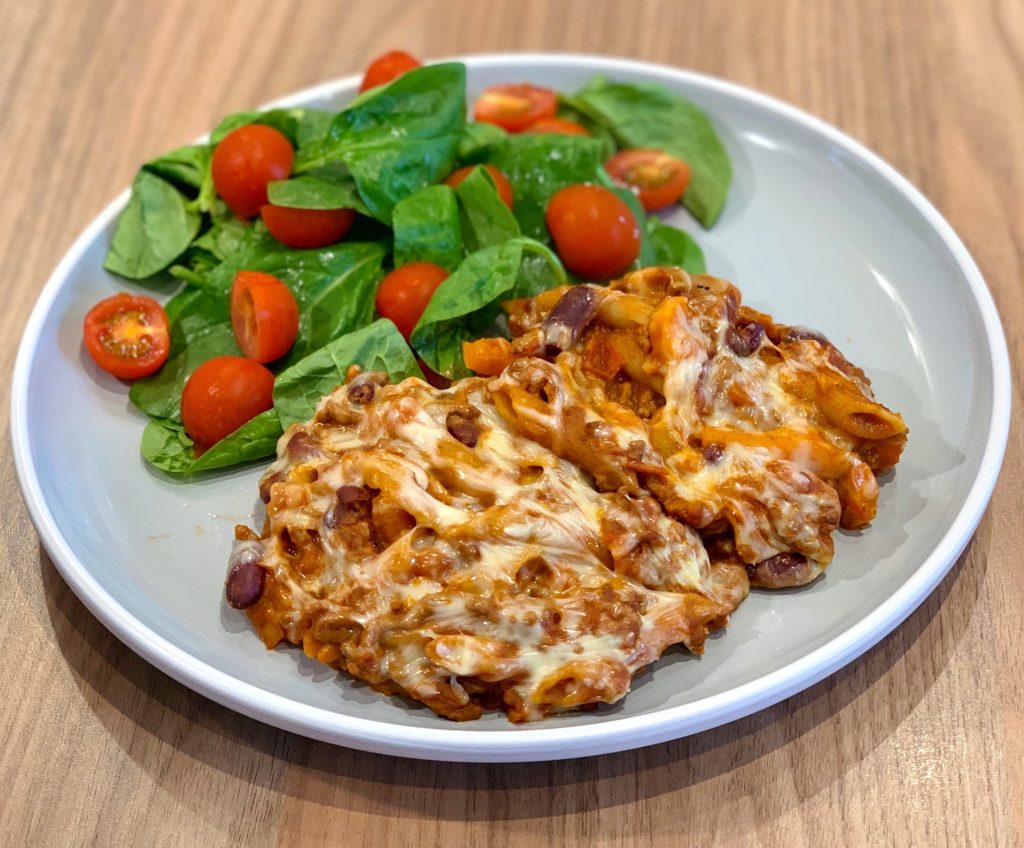 When I was younger I was scared to death of spicy food.. I didn't understand it at all. After all why would you want your mouth to be on fire? But as I get older I tend to opt for spicier foods.. it really is true that your east buds change as you age.
Anyhoo I was in a batch cooking mood this weekend.. my freezer is now full of 4 portions of this delicious recipe. It is super easy peasy and only uses one pan! Minimal mess and ultimate taste what more do we want from a recipe? 
IS THIS RECIPE SUITABLE FOR FREEZING?
Absolutely… just remember to defrost thoroughly before reheating in the microwave for 4 – 5 minutes if you do decide to batch cook and freeze.
This dish has quite a kick… if you aren't into spice try reducing the chilli powder by half. Also remember this is only Syn free if you are using the cheese as your Healthy Extra allowance.
You need a good large pan with a lid to create this recipe. It will be hard to melt the cheese without a lid. If you don't have a pan with lid you could place into the oven for 5 minutes to melt the cheese instead.
WHY IS THIS THE BEST KICKIN CHILI PASTA?
Syn Free*
Low in fat and calories
Perfect for batch cooking
Suitable for the freezer
Feeds a family of 4
Easy to make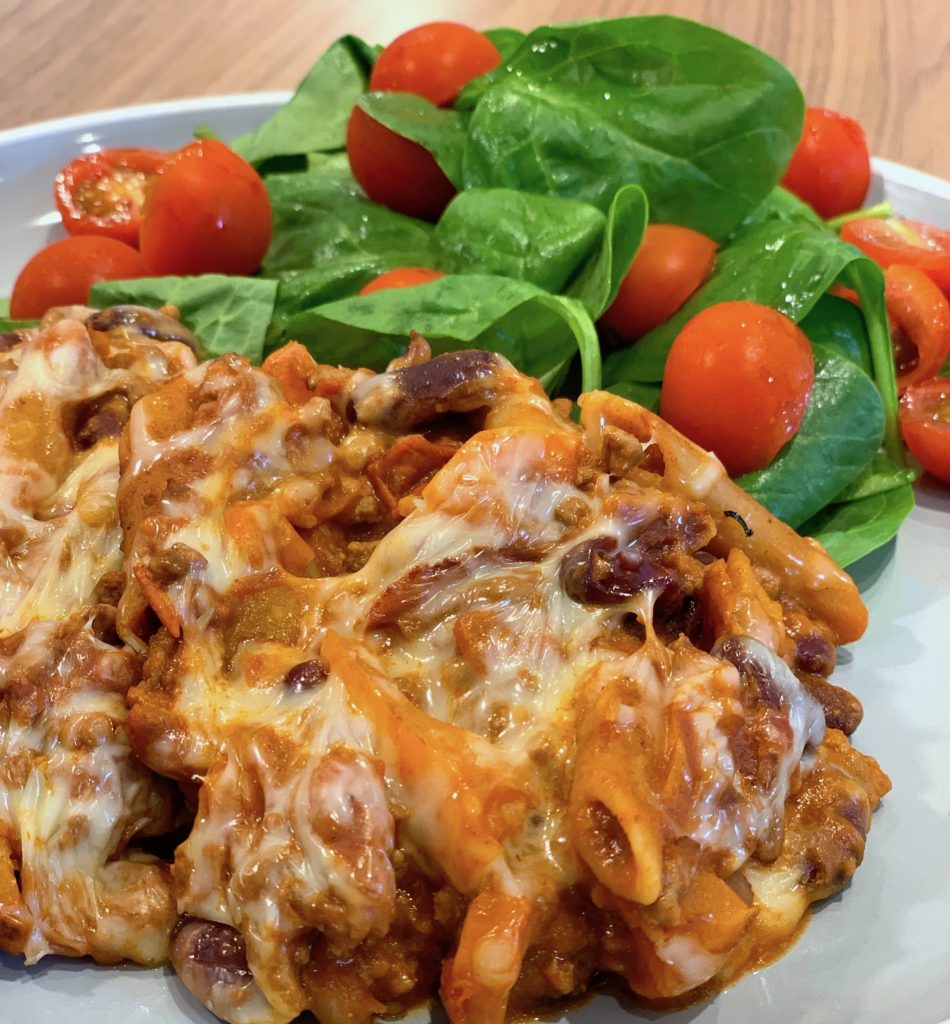 Super Cheesy Kickin Chili Pasta
Slimming World Syns: ZERO (Using Healthy Extra A)*Calories: 541 Per ServingWeight Watchers: Coming Soon
Ingredients
500g

Lean Beef Mince

150g

Pasta

(Dried)

1

Large Red Pepper

(Deseeded, Diced)

1

Medium Onion

(Peeled, Diced)

400g

Kidney Beans

(Drained)

400g

Chopped Tomatoes

(Drained)

250g

Passata

160g

Reduced Fat Cheddar

(Grated)

200ml

Boiling Beef Stock

1 tbsp

Hot Chilli Powder

1 tsp

Cumin

1 tbsp

Paprika

½ tsp

Smoked Paprika

½ tsp

Garlic Granules

Pinch

Salt

Frylight
Instructions
Cook Pasta as per instructions.

Meanwhile, Spritz a pan with a little Frylight and bring to a high heat. Add mince, onion and pepper. Heat through until all of the mince has browned. 

Add kidney beans, chopped tomatoes, passata and boiling stock then stir in Salt, Chilli powder, Cumin, Paprika, Smoked Paprika and Garlic. Stir well, cover with the lid and allow to simmer for 5 minutes on a medium heat.

Drain the pasta and add to the mixture. Allow to simmer for a further 5 – 7 minutes without the lid on a medium heat stirring often until all of the liquid has reduced. Simmer for longer if necessary. 

Stir in half of the grated cheese.. and then reduce the heat. 

Top the mixture with the rest of the cheese and re cover with the lid. Allow the cheese to melt and then serve.
Notes
*Slimming World Syns and Weight Watchers Points are all approximate and estimated by the fatgirlskinny.net team. They have not been verified by an official source.
Have you created this recipe?
Please let me know how it turned out! Leave a comment below or share a photo on Instagram tagging me at @fatgirlskinny__ and the hashtag #fatgirlskinny.