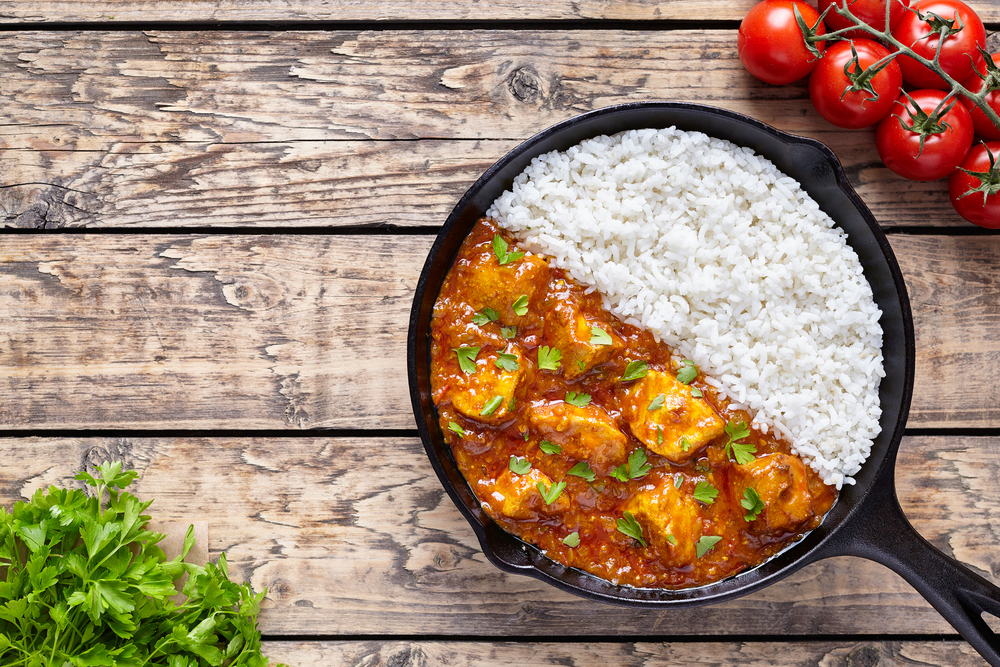 Attempted this beautiful Syn free Butter chicken recipe last night and it was absolutely delicious! We put together a little fakeaway with some Slimming World chips too! Yum!
Serves:

2- 3 People


Syn:

SYN FREE
---
Ingredients:
300g Boneless Skinless Chicken Thigh (or breasts)
For The Marinade: 
Juice From 1 Lemon
1 Tsp Ground Cumin
1 Tsp Paprika
1 Tsp Hot Chilli Powder
120g Fat Free Natural Yogurt
For The Curry:
Frylight
1 Medium Onion Finely Chopped
2 Garlic Cloves Crushed (or 2 Tsp Garlic Powder)
1 Green Chilli (De-seeded and Finely Chopped)
1 Tsp Ground Ginger Powder
1/2 Tsp Garam Masala
1 Tsp Fenugreek
3 Tbsp Tomato Puree
150ml Chicken Stock using 1 Stock Cube
---
Method:
For The Marinade: 
I suggest marinading the Chicken for 48 hours but this can work for a few hours or overnight. But the longer you can allow the chicken to marinade the better.
Dice the chicken into bite sized pieces.
In a medium mixing bowl, mix together all of the marinade ingredients.
Toss in your chicken, cover and store in the fridge.
For The Curry:
Place a non stick pan over medium heat and spritz with Frylight.
Add Onion, Green Chilli, Garlic and Ginger. Cook until softened.
Add the rest of the spices and Tomato Puree and simmer for 5 minutes.
Add the chicken, marinade and stock. Simmer on a medium heat for 15 – 20 minutes, ensuring the chicken is cooked through and the sauce has thickened.
Serve over rice.
---

Have you created this meal? Please tag me in your photos on Instagram and you might get featured on my blog. Visit me on Instagram… @Fatgirlskinny__
---
Do you need some support? Are you lacking in inspiration? Join our Facebook page to make new Slimming World friends.