Creamy Peppercorn Sauce | Slimming World Friendly Recipe
Indulge Wisely: Creamy Peppercorn Sauce – A Slimming World Delight
Treat yourself to the rich, velvety goodness of our "Creamy Peppercorn Sauce," a culinary masterpiece that's been lovingly crafted to align perfectly with your Slimming World journey. It's time to experience the luscious flavors and comforting decadence of a classic sauce, all while staying on track with your health and wellness goals.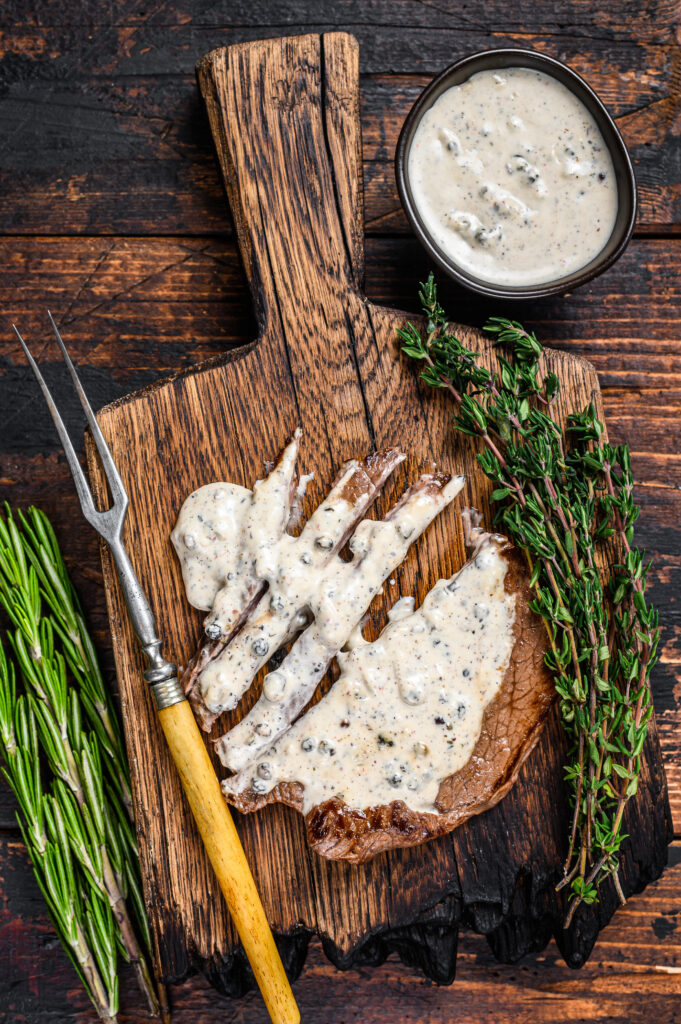 Our Slimming World-friendly recipe reimagines the traditional peppercorn sauce with a mindful twist. We've carefully selected ingredients and honed the preparation to ensure you can savor every creamy, peppery bite without any worry.
Whether you're a dedicated follower of Slimming World or simply looking for a figure-friendly way to elevate your meals, our "Creamy Peppercorn Sauce" is here to tantalise your taste buds. Join us as we delve into this culinary delight that proves you can enjoy the finer things in life without compromising on your wellness journey. Let's embark on this flavourful adventure together and put a bang back into that steak!

Why you'll love this recipe….
So creamy
Tasty enough to impress the whole family
Really easy to make
Syn Free
Slimming World friendly
Perfect on top of steak or chicken
---
Serving Suggestions for creamy peppercorn sauce
Here are 10 serving suggestions for your Slimming World-friendly Creamy Peppercorn Sauce:
Steakhouse Classic: Pour the creamy peppercorn sauce generously over a perfectly grilled steak for a classic steakhouse experience that's both indulgent and Slimming World-friendly.

Grilled Chicken Breast: Serve the sauce over a juicy grilled chicken breast to add a burst of flavor without adding extra Syns.

Pork Medallions: Elevate lean pork medallions with a drizzle of creamy peppercorn sauce, creating a delightful balance of flavours.

Salmon Supreme: This sauce pairs wonderfully with a baked or grilled salmon fillet, adding a luxurious touch to your seafood dinner.

Vegetable Medley: Toss lightly steamed or roasted vegetables like asparagus, broccoli, and carrots in the sauce for a creamy and savory side dish.

Pasta Perfection: Mix the creamy peppercorn sauce with cooked whole-grain pasta and your choice of vegetables for a satisfying pasta dish.

Stuffed Bell Peppers: Use the sauce as a stuffing for bell peppers filled with lean ground meat or a plant-based alternative, then bake until tender.

Mashed Cauliflower: Top a bowl of creamy mashed cauliflower with the peppercorn sauce for a low-carb, comforting side dish.

Baked Potatoes: Drizzle the sauce over baked potatoes, along with some chives and a sprinkle of low-fat cheese, for a delightful twist on a classic.

Grilled Portobello Mushrooms: Brush large portobello mushrooms with olive oil, grill them, and then generously pour the sauce over the top for a hearty, meaty alternative.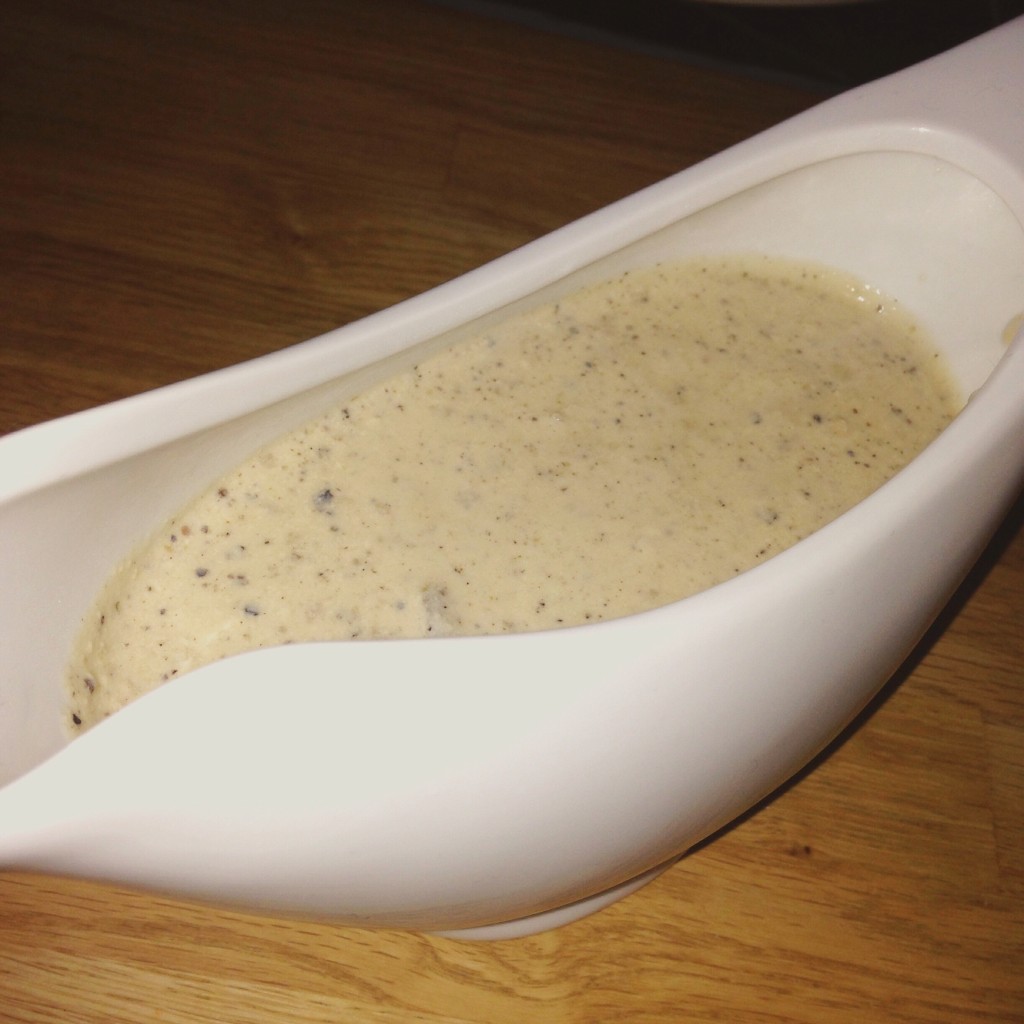 Batch Cook – Storage Information
Fridge: To store,  leave the sauce to completely cool down before placing in an airtight container. Store it in a fridge for up to 3 days. 
Reheat: Perfect for reheating in the microwave or over the hob. 
Freezer: Not suitable for freezing.
---
Is this recipe Slimming World friendly?
This recipe is Syn free when following the Slimming World plan. All of the ingredients are classed as Syn free so it means you can enjoy as much sauce as you want without feeling guilty.
DON'T MISS A SINGLE RECIPE! SIGN UP TO FREE EMAILS BELOW.
Creamy Peppercorn Sauce
This Slimming World friendly Peppercorn Sauce is creamy, delicious, Syn free and so easy to make. It is perfect to serve with steak, chicken or pork. No one will know you have served them a healthy sauce.
Nutritional Information
Slimming World Syns: Zero
Weight Watchers Points: Coming Soon
Calories: 82 Per Serving
Ingredients
½

Small Onion

(Finely Diced)

2

Garlic Cloves

(Crushed)

300ml

Boiling Water

2

Chicken Stock Cubes

½ tsp

Black Peppercorns

(Crushed, ground)

1 tbsp

Worcestershire Sauce

200g

Fat Free Fromage Frais

(Room Temperature)
Instructions
Make chicken stock using 300ml boiling water and 2 stock cubes.

Add stock, onion and garlic to a pan, cover with a lid and simmer for a few minutes.

Add crushed peppercorns and Worcestershire sauce. Allow to simmer for 20 minutes stirring often until the sauce has thickened.

Over a very low heat, add the Fromage Frais, stirring well. Pour into a jug ready to serve.
Have you created this recipe?
Please let me know how it turned out! Leave a comment below or share a photo on Instagram tagging me at @fatgirlskinny__ and the hashtag #fatgirlskinny.