Toad in the hole the meal of kings.. and with this Slimming World friendly recipe you can stay on plan whilst still pleasing the whole family too.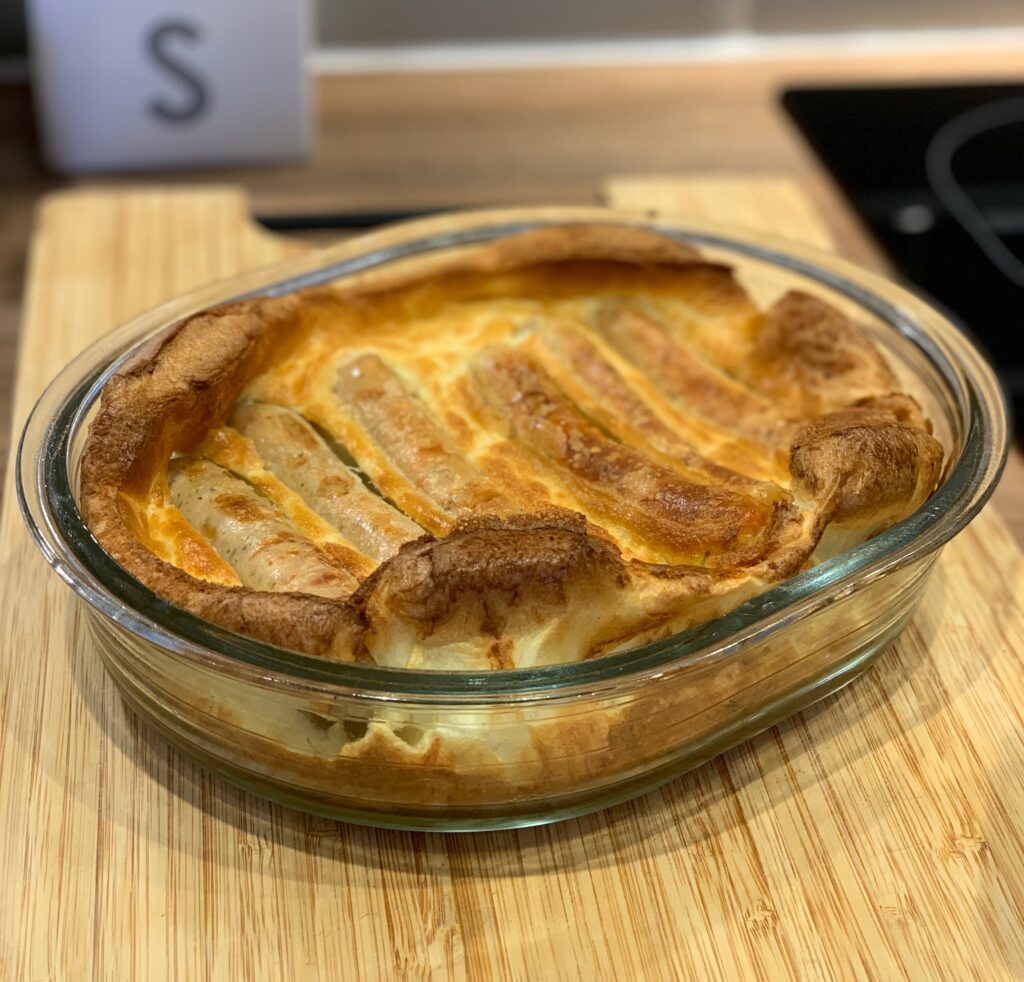 The weather is rapidly going down hill up here in Scotland, it almost felt like winter today. So I fancied some stodgy winter comfort food! Can you imagine discussing your "diet" with friends and family and showing them these delicious sausages nestling in some batter? They would never believe it was healthy right? But we know different….
This recipe is super easy to make but I would suggest using an electric whisk if you have one. The batter will rise better the more air you can get into it. Also you will need a sieve for the flour.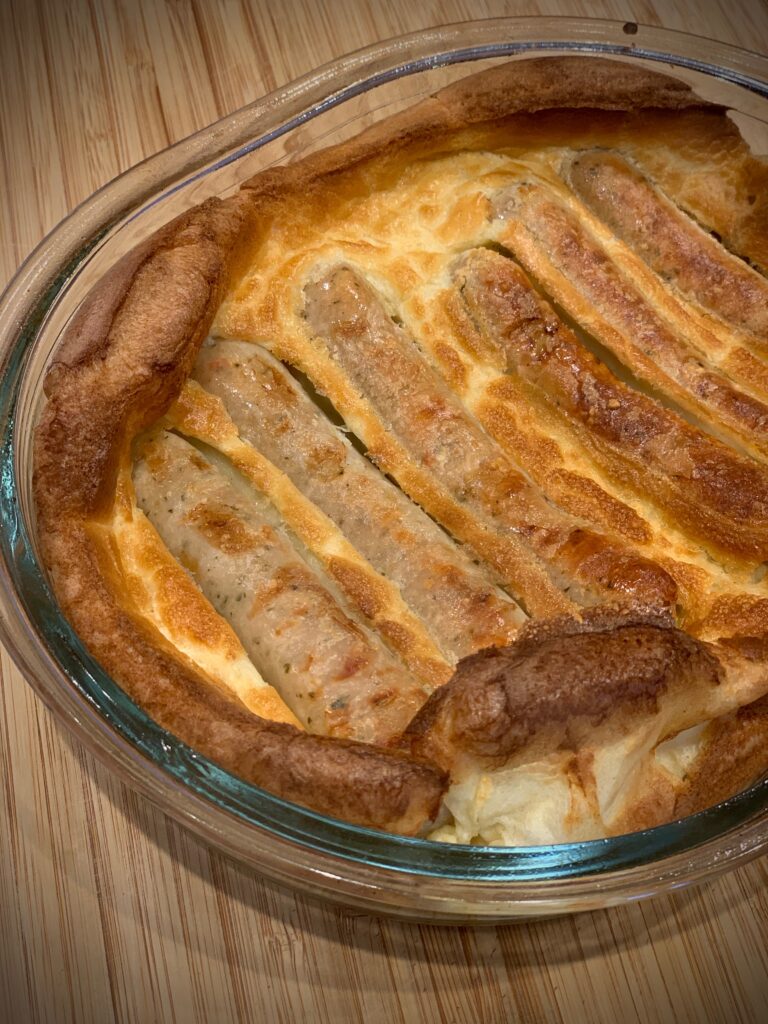 Save part of your healthy extra for this recipe to make this whole dish only 4.5 Syns per serving. Also please only use a glass dish or metal tin. We need this to get as hot as possible before adding the batter. I also highly recommend making the batter at least 1 hour prior to use.
I am using the Slimming World Syn Free Frozen sausages available from Iceland. But you are welcome to use any sausages you fancy as long as you remember to Syn accordingly. 
Looking to complete your Sunday roast?
Try Our LOW SYN Yorkshire puddings HERE.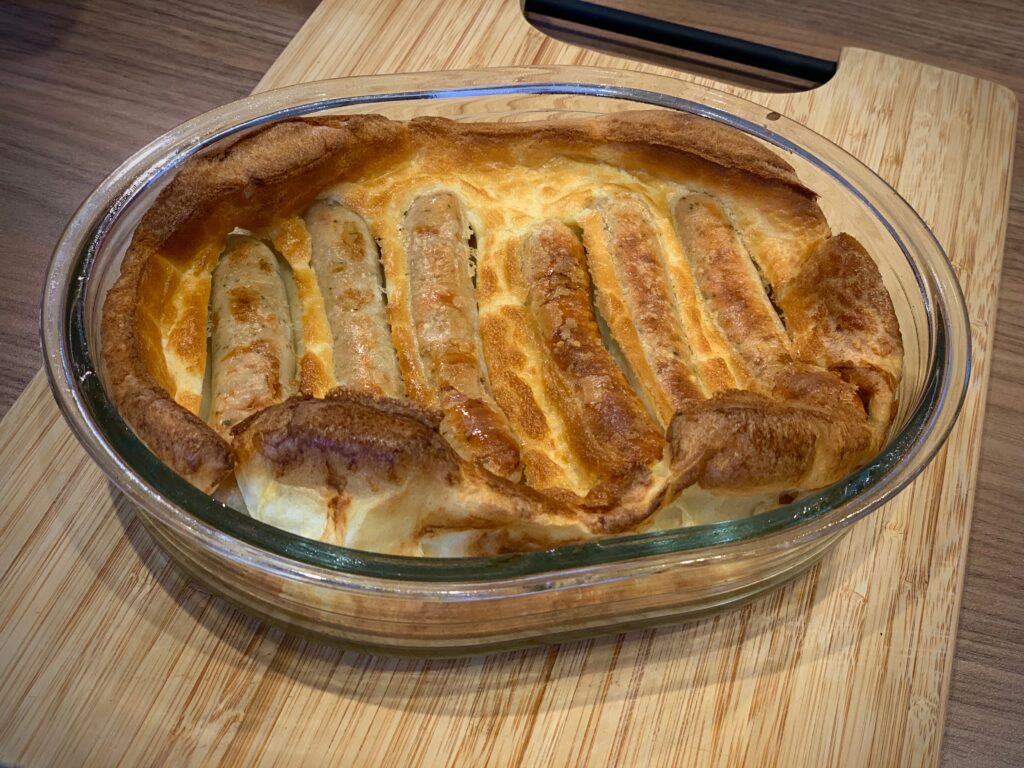 Toad In The Hole
Slimming World Syns: 4.5 Per ServingWeight Watchers: Coming SoonCalories: Coming Soon
Ingredients
6

Slimming World Frozen Sausages

60

g

Plain Flour

2

Eggs

100

ml

Whole Milk

Pinch

Salt

Frylight or Low Calorie Cooking Spray
Instructions
Sieve flour into a bowl and make a well in the middle of the flour.

Crack eggs into it the well and then pour the milk in along with a pinch of salt.

Use your electric whisk if you have one or go crazy with a standard whisk to beat the mixture until it resembles double cream with a frothy texture.

Set aside in the fridge until needed.

Pre heat the oven to 220c/200c Fan/Gas Mark 7 for at least 15 minutes before use. 

Spray frylight into your baking pan/dish and pop the sausages in. Place into the oven for 10 minutes to pre cook. 

Remove the pan/dish from the oven quickly so to not lose any heat.

Spray a good amount of Frylight into the pan/dish and pour the batter over the sausages. 

Place into the oven for 25 minutes approx. DO NOT open the oven during this time. 

Remove and serve with delicious vegetables and a dollop of mash potato.