Ultimate Skinny Trifle | Slimming World Friendly Recipe
This ultimate tangy Skinny trifle will hit all the right buttons for any of you with a sweet tooth. This dessert would make a brilliant impact at a family dinner or a healthy alternative at a kids party… go on impress all of your family and friends! Wait until you tell them it is Slimming friendly!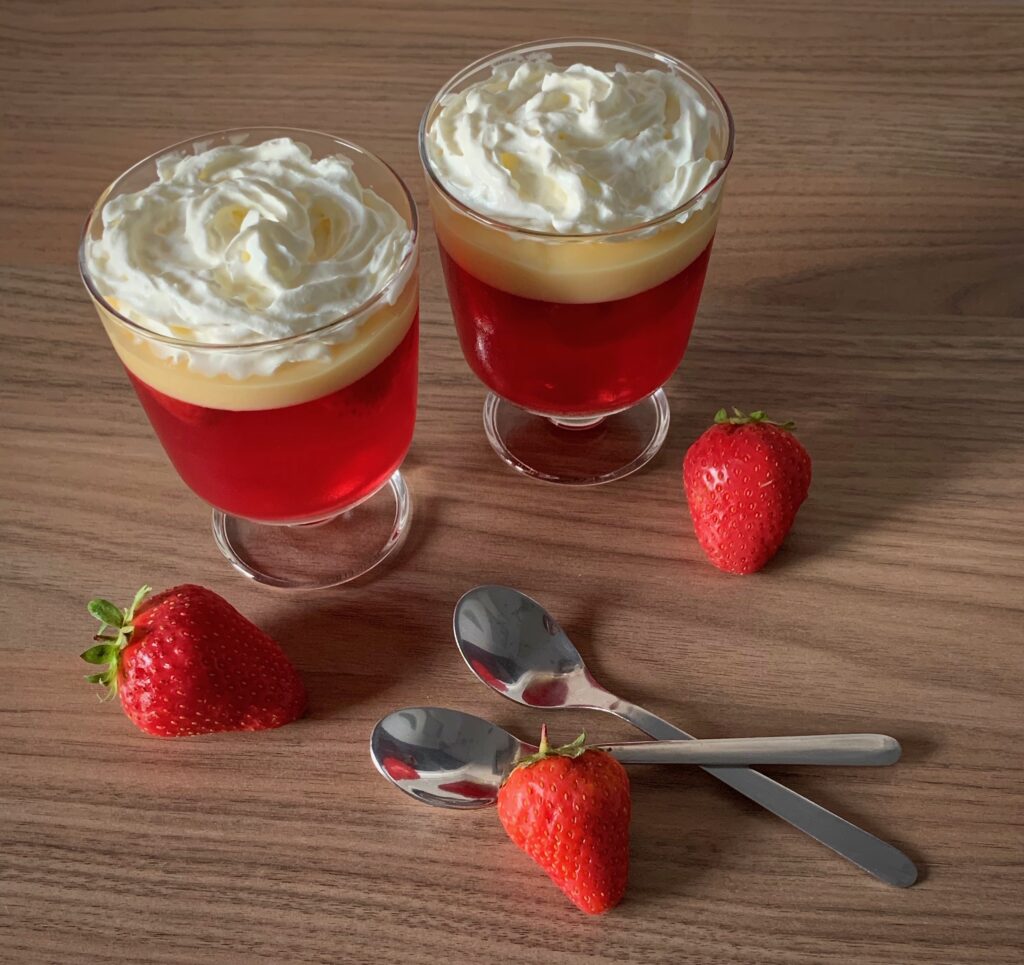 I have been craving a proper trifle for ages BUT keeping it low in calories and Slimming friendly is not an easy task. I decided I either had to give up the custard or the sponge.. so I went for replacing the sponge with loads of speedy strawberries. (How good am I?) I was actually very surprised at how in syns the squirty cream is too..
Do you call it Squirty Cream? I spent ages trying to find this on Tesco online shop.. as they have called it Spray cream? What is that all about? lol!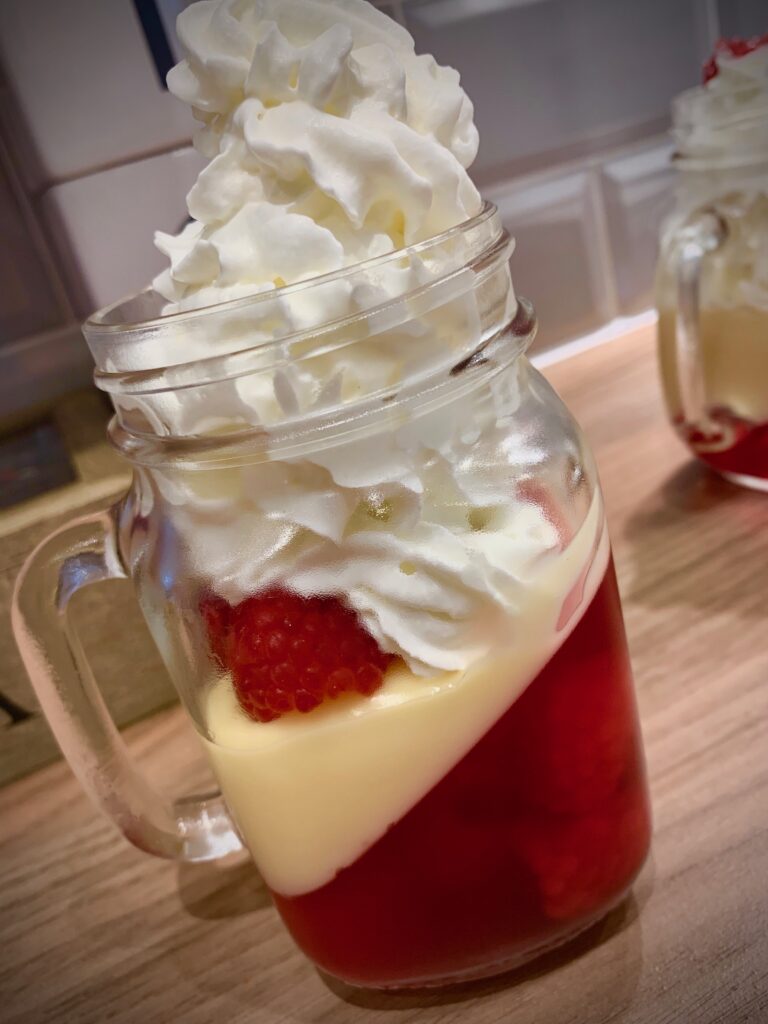 Okay I know the first thing you want to know! How do I get my jelly at a sloping angle? I have no idea why I needed to do it like this but I like things to look pretty or different.
Basically make your jelly up as normal and then place your trifle glasses or whatever you use into a cup at an angle (see below). This will set the jelly at whatever angle you leave it at. Clever huh?
The second thing I know you are interested to find out… which squirty (spray) cream am I using and how many Syns is it? I use the Tesco lighter squirty cream which is worth 1.5 Syns for every 12.5g serving. I do however believe that Aldi, Lidl, Sainsburys and Asda do sell very similar products 🙂
I have made the trifle with raspberries and raspberry jelly but this can easily be substituted with strawberries. You are welcome to use frozen fruit and remember the jelly needs at least 2 hours to set with the fruit included so prep before hand.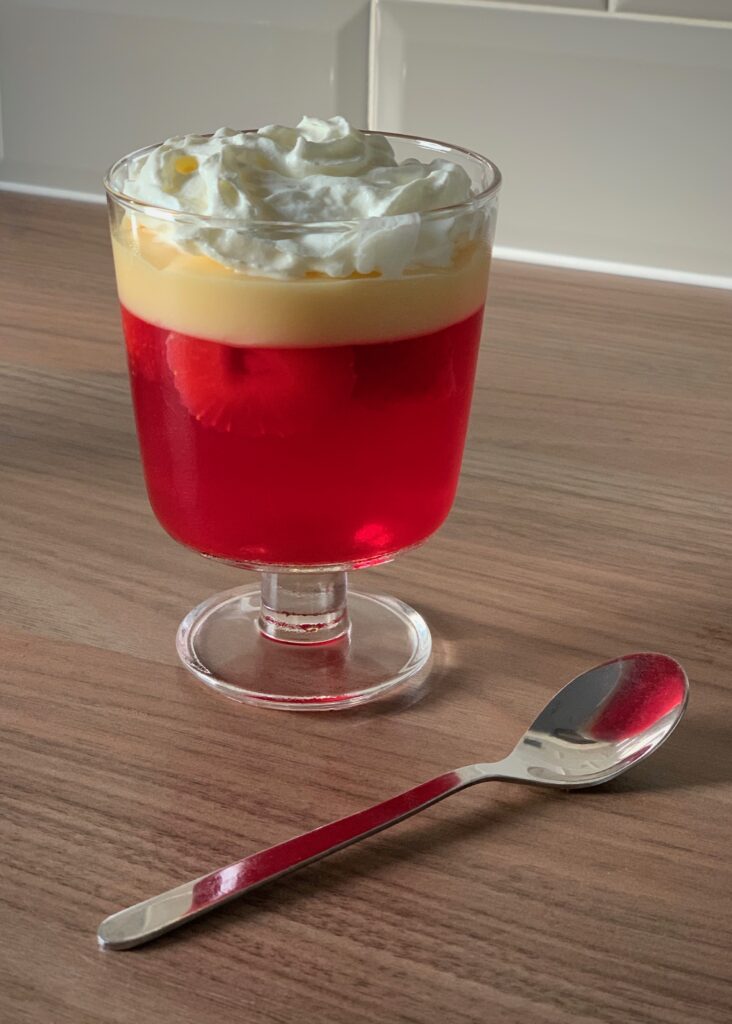 Ultimate Skinny Trifle
Slimming World Syns: 6.5*Weight Watchers: Coming SoonCalories: 133
Ingredients
1/2

Sachet Hartleys Sugar Free Raspberry Jelly 23g

60g

Ambrosia Light Devon Custard

Handful Of Raspberries

25g

Tesco Light Spray Cream
Instructions
Make up the jelly as per the instructions. Place fruit in bottom of the trifle dish/jar and pour over half of the jelly.

Place into the fridge for at least 2 hours. If you are using frozen fruit allow 3 hours. 

Once the jelly is set add the custard on top.

Cover with more delicious raspberries. 

Place into the fridge for 20 – 30 minutes. 

Before eating pop the jar on the scales and spray the cream to 25g. Devour straight away. 
Notes
*Slimming World Syns and Weight Watchers Points are all approximate and estimated by the fatgirlskinny.net team. They have not been verified by an official source.
Have you created this recipe?
Please let me know how it turned out! Leave a comment below or share a photo on Instagram tagging me at @fatgirlskinny__ and the hashtag #fatgirlskinny.