Syn Free Spicy Beef Kebabs | Slimming World Recipe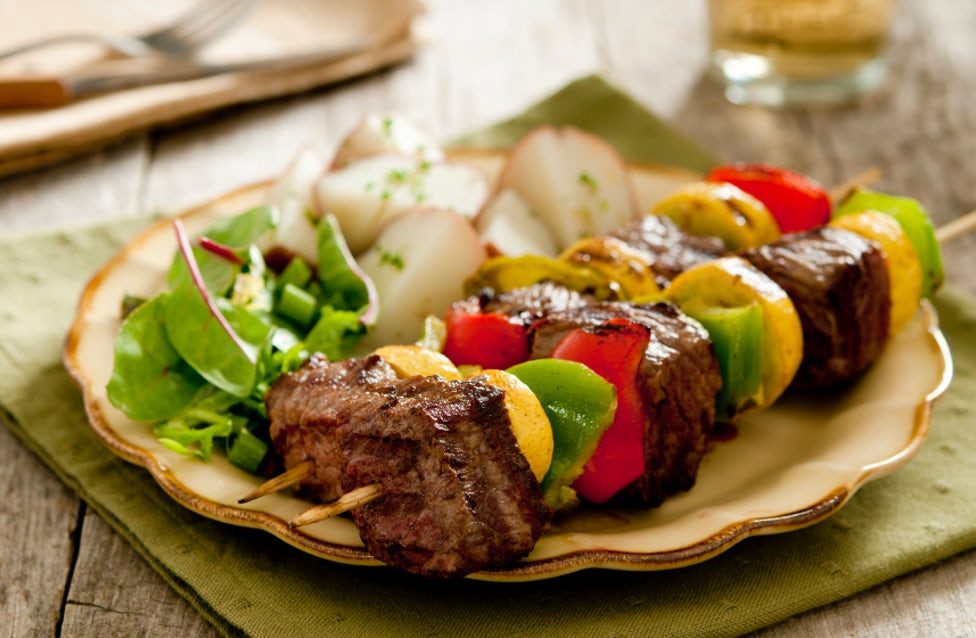 These beef kebabs are a big hit in our house because they can be accompanied but so many things.. rice, speed salad, syn free chips or just pop them on the BBQ on a nice hot summers day. (Yeah okay thats a joke in this country sometimes lol)
We have used pepper and Courgettes along with the beef.. but you could use other things such as mushrooms, onion, tomatoes….
Serves: 2-3 People
Syns:  Syn Free
Ingredients
400g Diced Beef
2 TBSP Tesco Ras El Hanout Seasoning
2 Garlic Cloves (Or 2 tsp Crushed Garlic)
Salt & Pepper
2 Peppers (Your choice of colours)
1 Small Courgette
FryLight
Metal Kebab Skewers
Method
Add Spice, Garlic, Salt & Pepper to a small bowl and add 5 Tbsp of cold water. Mix to form a paste. Add a little more water if you find to be too dry.
Add the beef to the paste, mix ensuring the beef is covered in the paste.
Deseed and cut the peppers into thick chunks of a similar width to the beef.
Slice the courgette into similar sized chunks.
Thread the beef, pepper and courgette onto the skewers and then lightly spray with Frylight.
Place under the grill or onto a BBQ for 10-15 minutes turning often.