Which Vegetables Can Be Spiralized | Slimming World Syn Free Ideas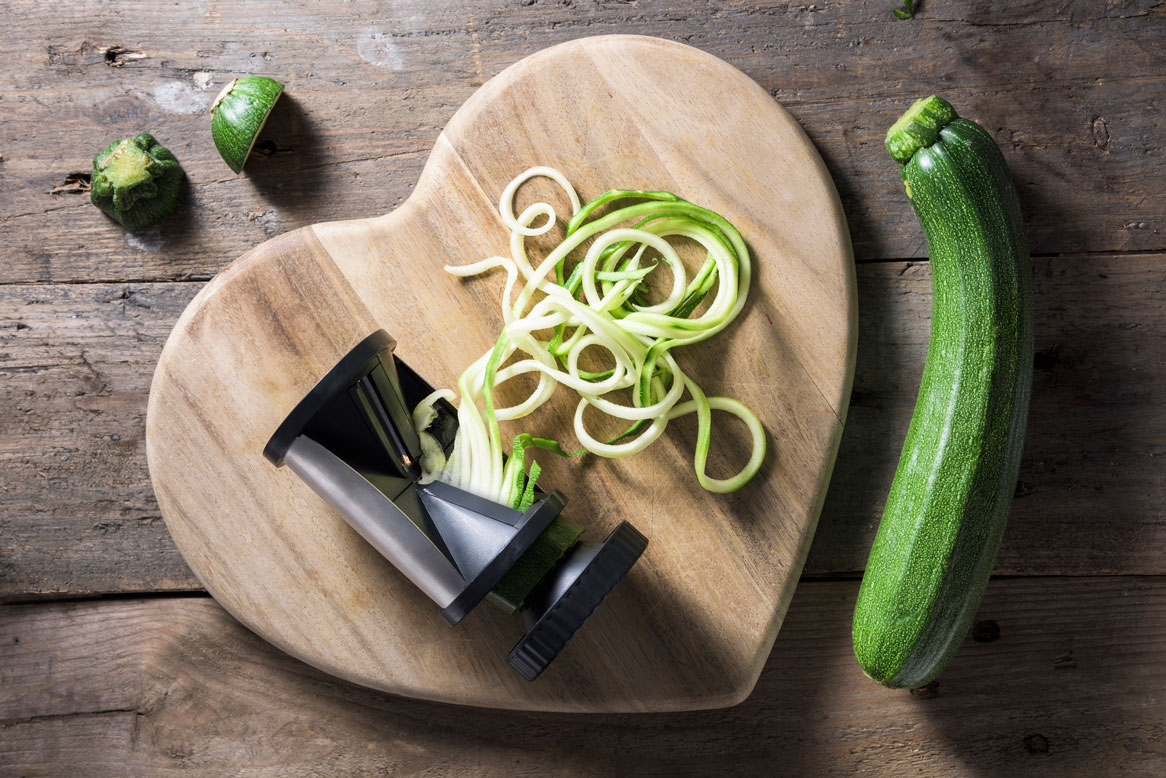 If you are looking to cut back on the carbs and calories whilst packing in a LOT of Slimming World Speed foods then this could be the gadget for you. The Spiralizer seemed to rocket to popularity overnight and I absolutely love mine.
There is around 300 Calories and 65g of Carbohydrate in 100g of cooked pasta compared to around 20 Calories and 1.8g of Carbohydrate in 100g of Courgette. I think the benefits of "Courgetti" speak for themselves.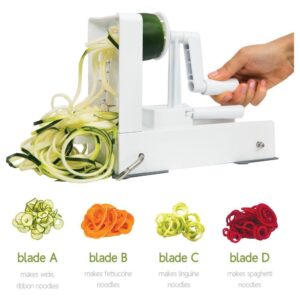 When it comes to choosing the best Spiralizer for your needs I would highly suggest spending a little more on a good Spiralizing gadget. I have this fantastic product from Amazon. I did have a cheaper product to start with but I found it couldn't cope with the strain and was also very hard to wash up.
So what Fruit and Vegetables can you Spiralize?
Apple
Beetroot
Bell Pepper
Broccoli
Butternut Squash
Carrot
Celeriac
Courgette (Zucchini)
Cucumber
Onion
Parsnip
Pear
Plantain
Radish
Swede
Sweet Potato
Taro Root
Turnip
White Potato
---
You are looking for a fruit or vegetable that is fairly solid and not too squishy.. Something that will not turn to mush when you start to spiralize.
I love these two recipe books, they are full of some amazing tips and recipes to use your new Spiralizer with. They have some amazing Slimming World friendly and Syn free recipes.
So now you have your Spiralized Fruit or Vegetables.. what do you do with it?
Most of the fruit and vegetables are fantastic raw in a salad. But if you want them to be a bit softer try them sauted in the pan with a little Frylight for around 5 minutes. Also things like Apple, pear and carrot are brilliant roasted in the oven for around 5 minutes on 190c.
Use Carrot and Courgette Spiralized as alternative to spaghetti with a delicious Syn free Bolognese served on top.
If all else fails.. Tesco offer some great Carrot and Courgette spaghetti if you do not want to make your own.