This delicious low syn Chinese fakeaway recipe will give a gentle spicy kick with just 1/2 a syn per serving.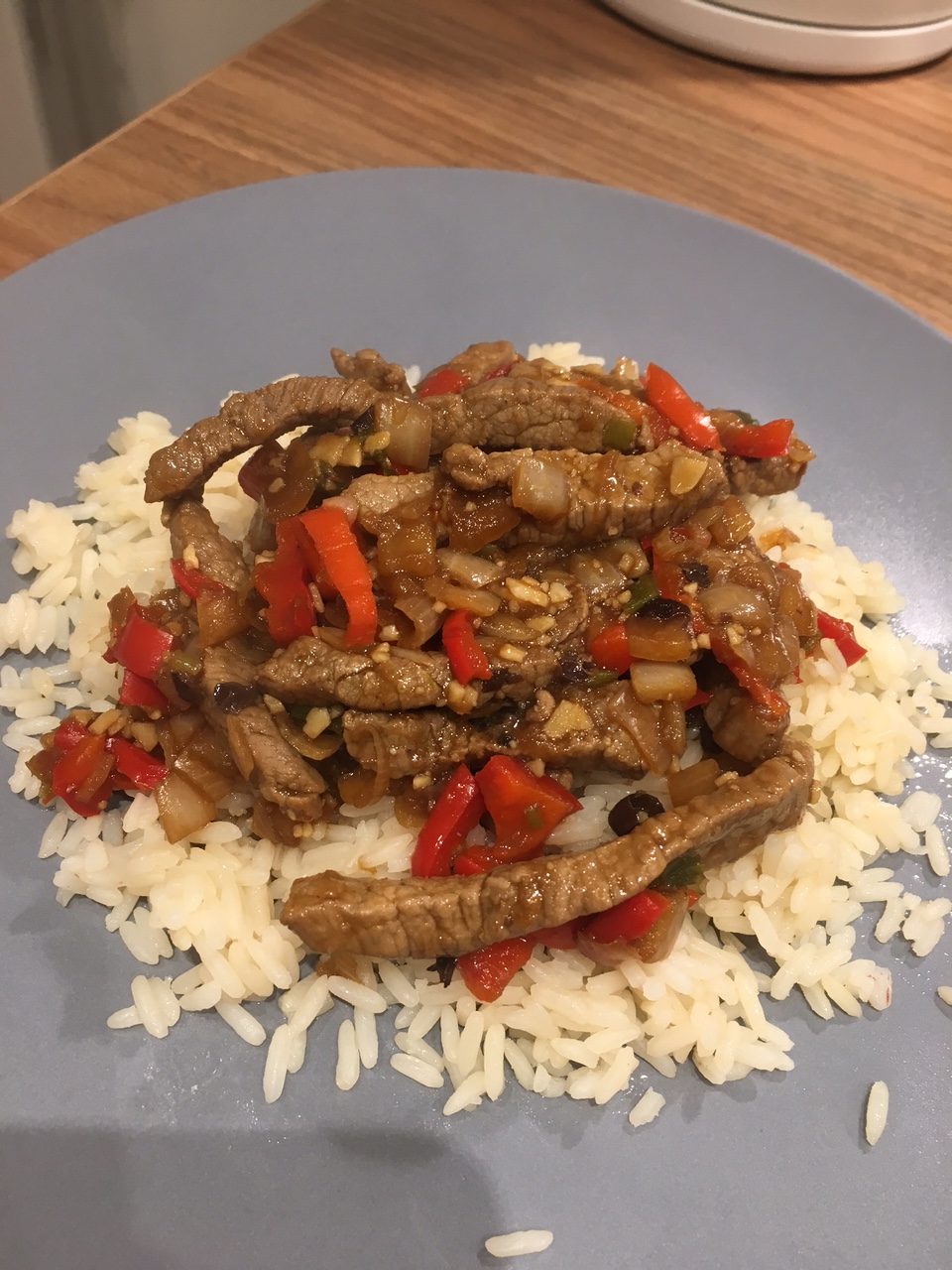 If you are anything like me.. you will LOVE Chinese food 😀 I certainly do. We tried this amazing recipe tonight and it was fantastic. A new favorite in our house that is for sure. The first time was a little spicy so i have adjusted the recipe slightly. (A little spicy may be underestimating a tad haha)
IS THIS RECIPE SUITABLE FOR BATCH COOKING?
Absolutely… allow to cool before placing into a suitable container. Store in the fridge for unto 3 days or in the freezer for 1 month. This recipe actually tastes better the next day 🙂 
SERVINGS:

2 – 3


SYNS:

1 SYN for full recipe
---
INGREDIENTS
For the marinade
– 1/2 tsp Sesame oil (1 syn)
– 1 tsp light soy sauce
– 1 tsp dark soy sauce
– 1/2 tsp black pepper
– Pinch of salt
For the sauce
– 1 Beef stock cube
– 150ml boiling water
– 1 tbsp oyster sauce
– 1 tbsp light soy sauce
– 1 tsp dark soy sauce
Other ingredients
– 375g beef stir fry strips (or you can use chicken, turkey or pork)
– 1 large onion (or frozen onion)
– 2 garlic cloves (or 2 tsp garlic powder/flakes)
– 1/2 tsp ground ginger
– 1 Red/Green/Yellow or Orange pepper
– 5 tbsp black beans (mashed)
– 2 red chilli peppers (use 1 for a less spicy recipe)
– 2 spring onions
– 2 tsp rice vinegar
– Fry light
---
METHOD
Marinade:
Try to marinade overnight if possible.. or for as long as you can.

Add all of the marinade ingredients to a mixing bowl.

Add the beef and cover all of the strips allowing the marinade to soak in.

Place the beef into a freezer bag or a covered bowl and keep in the fridge overnight or for as long as possible.
Sauce:
Once you are ready to create your meal first start with the sauce.

Add the boiling water and a stock cube into a jug to dissolve.

Add the rest of the sauce ingredients and mix. Set this to one side until later.
The rest:
Spray your pan with fry light and brown your beef.

Once browned remove from pan and put to one side

Chop the spring onion, onion, chillis and pepper and add to the pan with ginger and garlic.

Cook until softened.
Add the rice vinegar, Black beans and beef.
Add the stock sauce.

Cover with a lid and simmer on a low heat for around 5 minutes ensuring the beef is cooked.
Serve with rice or a speedy salad/vegetables 🙂 Enjoy, we certainly did!
---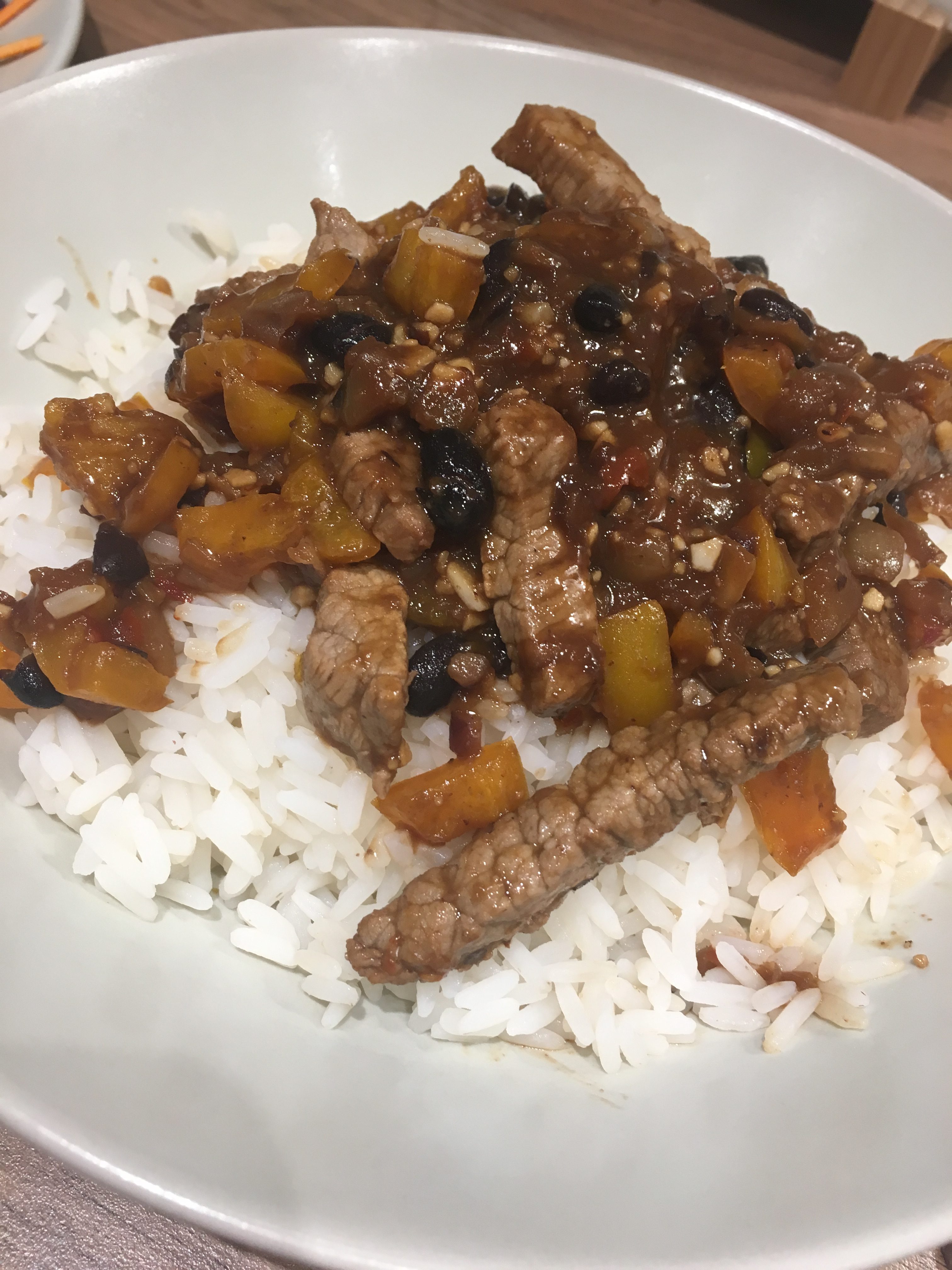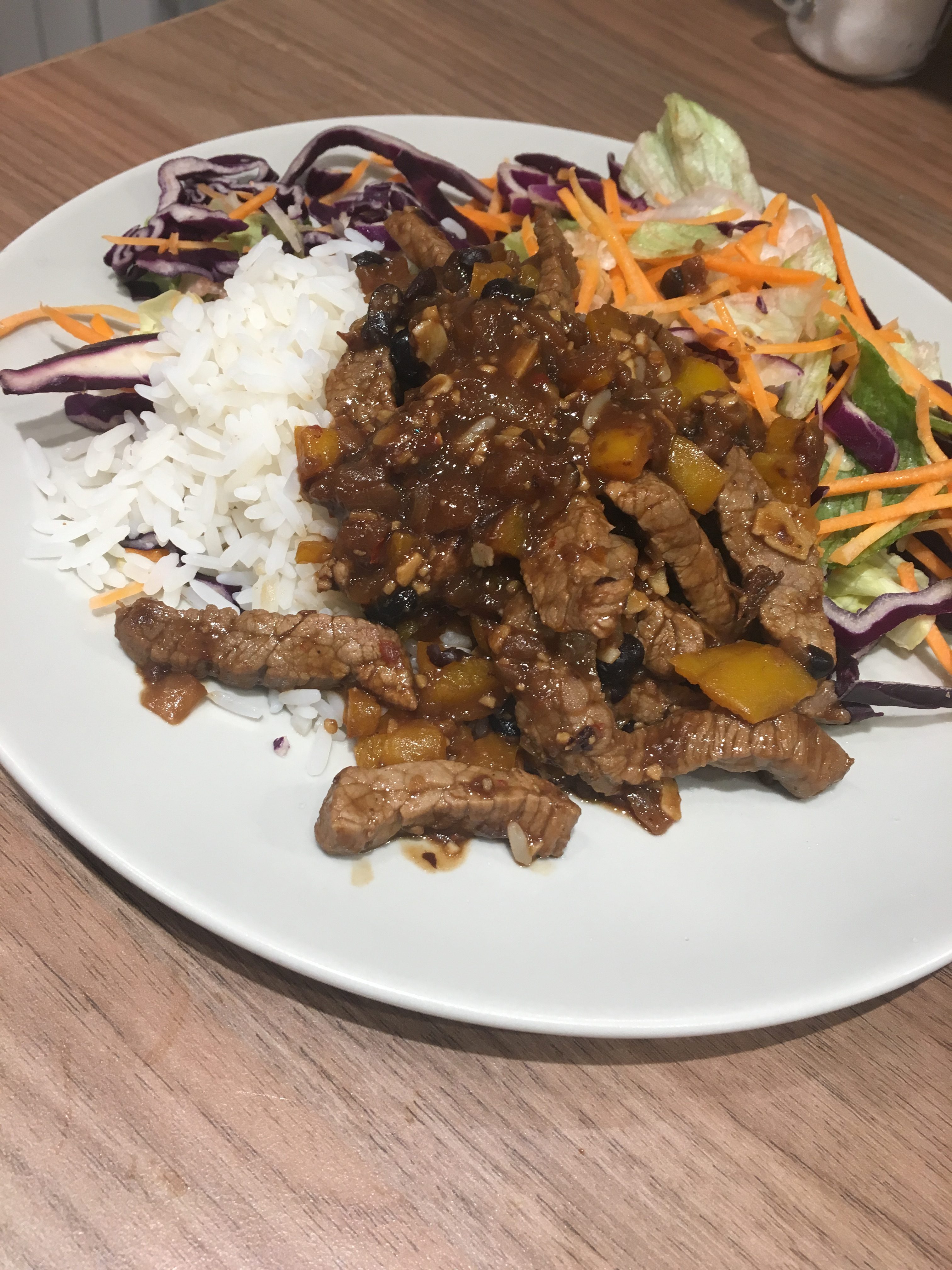 ---