Slimming World Progress Update | Yes I Am Still Here… :)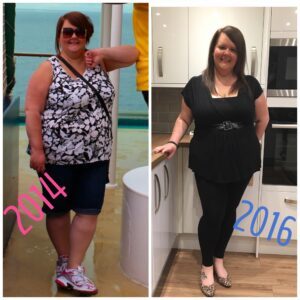 Hey all 🙂 I have had loads of messages recently asking how I am and how I am doing so I thought it was time for a progress update 🙂
Things here are going well.. To date I have lost 4 stone 5lb with Slimming World.. I have reached a fairly amazing milestone for me.. I am the lightest I have been since I was 18 years old and it really does feel amazing 🙂 I keep looking at myself in the mirror and prancing around telling Nik (hubby) how slim I look.. as if he hasn't already noticed 😀 I have a shape finally.. I can see a waist.. and finally see where my boobs stop and stomach starts 😀 I said that to my mum the other night and she wet herself laughing!
I am going to the gym pretty much daily.. and starting to go walking a lot (great time to start when winter is settling in up here in sunny Scotland). I do still struggle with the gym.. I am addicted to the results but not really addicted to the exercise. But I am slowly starting to find a routine I like and pushing myself each time.
My stress at the moment is that we are going away in just over 2 weeks to America and we are going to be away for a month! Let's face it.. there's going to be a gain and it's most likely going to be big! But I have always said.. I will win the race but it may just take me a little bit longer. I will gain, but I will lose again and I will NEVER go back to being that fat girl who was good at covering up the fact she hated it 🙂 Unfortunately there will always be a fat girl trapped inside me because I love to eat! But I just have to fight her 🙂
Anyway dudes, thank you so much for all of the lovely messages on here and facebook. I love reading how my recipes and progress spurs you on and I am here fighting the same as you.
Take care
Kirsty xxxxx