CHEESE AND SPINACH BALLS | HEALTHY SLIMMING RECIPES
Healthy Spinach and mozzarella oven baked balls, with a delicious crunchy breadcrumb coating. This unofficial recipe is perfect for any one following Slimming World, Weight Watchers or a calorie controlled diet.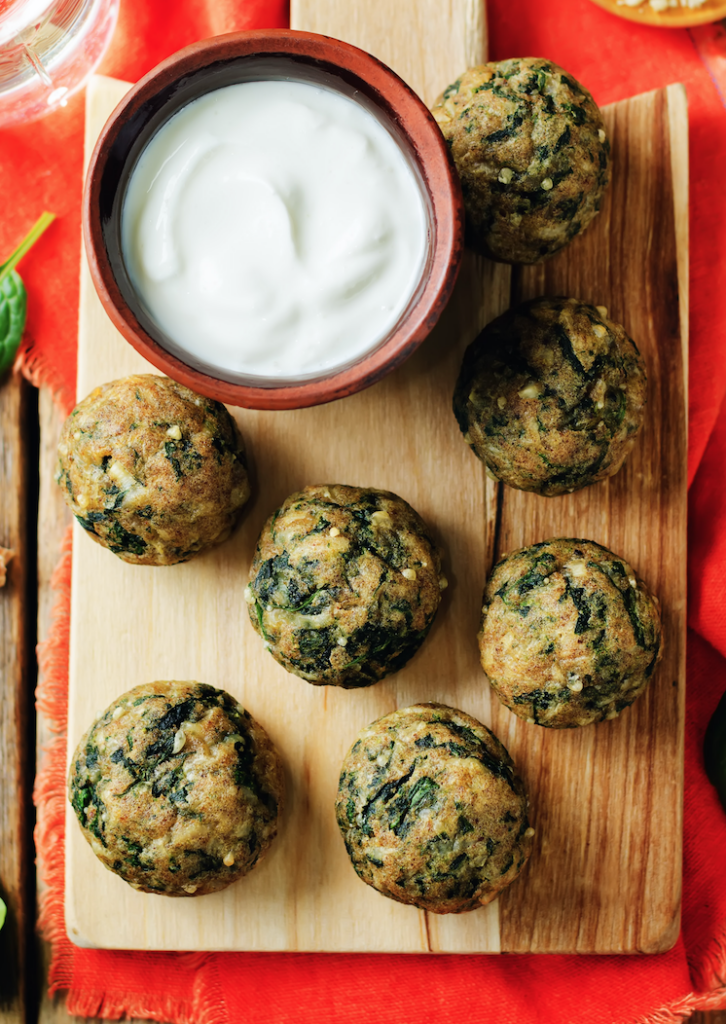 These cheese and spinach balls are incredibly delicious, easy to make, and ready in just over an hour. Made with two types of cheese, bread crumbs, and egg, they're great as a party appetiser or a healthy lunch box snack.
These cheese and spinach balls are for all the spinach haters out there. Even Mr Fatgirlskinny gave them a go and agreed they were rather tasty (reluctantly). Something happens to spinach when it's baked in the oven which seems to confuse the taste buds. I personally love the stuff, raw, baked, in pasta… give me spinach and I'm happy! But along with sprouts, Mrfatgirlskinny runs a mile. But not this time…. served with a delicious fat free greek yoghurt dip they make the perfect lunch time snack for everyone.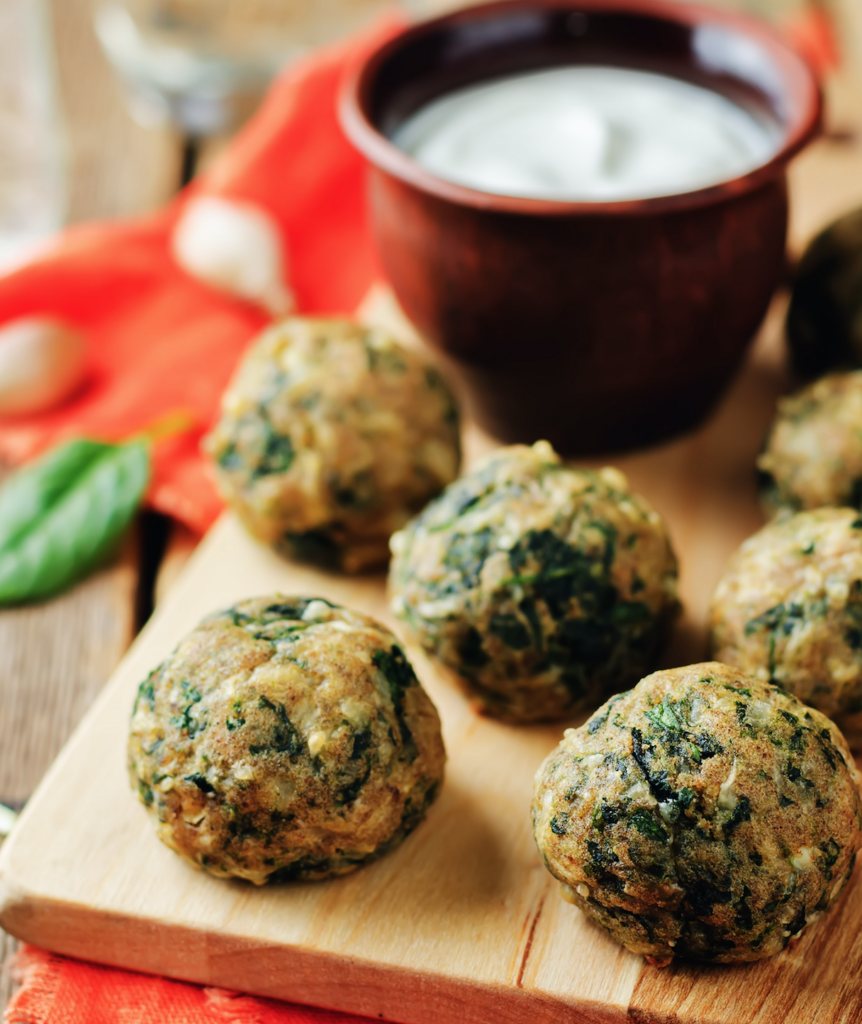 WHY ARE THEY THE BEST CHEESE AND SPINACH BALLS?
Low Syn*
Delicious
Quick and easy to make
Perfect hot or cold
Freezble
Low in fat
ARE THEY SUITABLE FOR FREEZING?
Lay the balls, uncooked, on a plate covered with grease proof paper
Leave half a thumb of space between each ball to prevent them from sticking together.
After one hour, transfer into an airtight container.
No need to de-frost before using. Simply place them on a baking tray for 20 – 30 minutes and serve.
I would not recommend freezing cooked versions of this recipe
They will also store in the fridge cooked for up to 4 days.
ARE THEY SLIMMING WORLD FRIENDLY?
Please remember that my recipes are unofficial so all estimates and calculations are not verified by Slimming World. They are absolutely friendly and very low in Syn. BUT here is where the slightly confusing part comes in….You can choose how you wish to Syn them. The mixture will allow for 8 balls.
Option one: 2.5 Syns Per ball
OR
Option two: 1 Syn Per Ball using healthy extra A. The full mixture is worth TWO Healthy Extra A allowances. So….
4 Balls = 4 Syns + 1 Healthy Extra A portion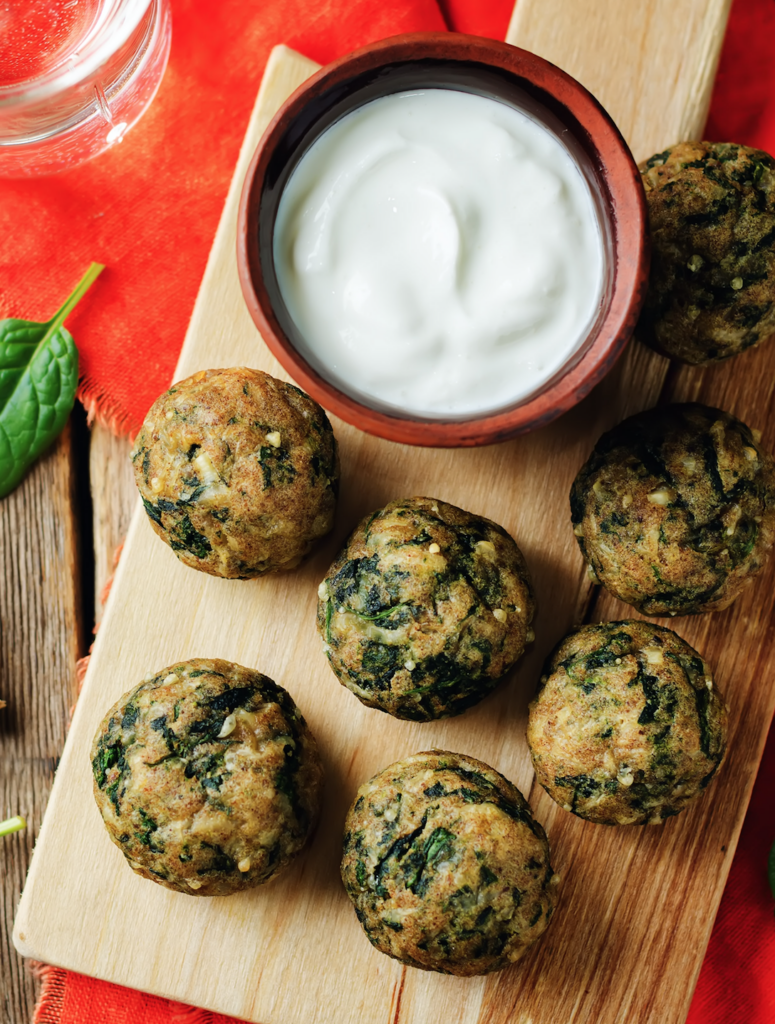 DON'T MISS A SINGLE RECIPE, SIGN UP TO MY EMAILS BELOW
Cheese and Spinach Balls
Slimming World Syns*:
Option 1: 2½ Syns Per Balls
OR
Option 2: 4 Balls = 4 Syns + 1 Healthy Extra A Portion
Weight Watchers: Coming Soon
Calories: 65 Per Ball
Ingredients
250g

Fresh or Frozen Spinach

30g

Parmesan

[Grated]

70g

Reduced Fat Mozzarella

[Diced]

50g

Panko Breadcrumbs

1

Egg

[Beaten]

1 tsp

Garlic Powder

Salt
Instructions
If using fresh spinach: Wash first and then blanch using boiling water or wilt in the microwave. Let it cool and place into a sieve or colander. Using a fork squeeze out as much moisture as you can. We are not looking for a wet spinach. Chop roughly.If using frozen spinach: Allow to defrost completley before placing into a sieve or colander and using a fork squeeze out as much moisture as you can. We are not looking for a wet spinach.

In a small dish or mug place 2 teaspoons of the weighed Parmesan and 2 teaspoons of the weighedpanko breadcrumbs with a pinch of salt. Place to one side.

In a bowl place spinach, parmesan, mozzarella, breadcrumbs, beaten egg, garlic powder and 1 teaspoon of salt. Mix well using a wooden spoon or electric hand blender.

Here comes the messy part. Scoop out the mixture bit by bit, roll into balls and then roll them into the panko/parmesan mixure you made earlier. This mixture will make 8 balls. Place each onto grease proof paper and pop in to the fridge for 30 minutes.

Preheat the oven to 180C/160c Fan/350F/Gas 4.

Place the chilled balls into the oven and bake for 20 – 30 minutes or until cooked through and the breadcrumbs are golden brown.

Serve immediately or allow to cool as a cold snack.
Notes
*Slimming World Syns and Weight Watchers Points are all approximate and estimated by the fatgirlskinny.net team. They have not been verified by an official source.
Have you created this recipe?
Please let me know how it turned out! Leave a comment below or share a photo on Instagram tagging me at @fatgirlskinny__ and the hashtag #fatgirlskinny.