One of the things I have always loved about Slimming World is being able to cook comfort food and eat it too!! It just so happens that two of my favourite meals are chilli and pasta.. so why not combine them together and make the ultimate chilli pasta bake?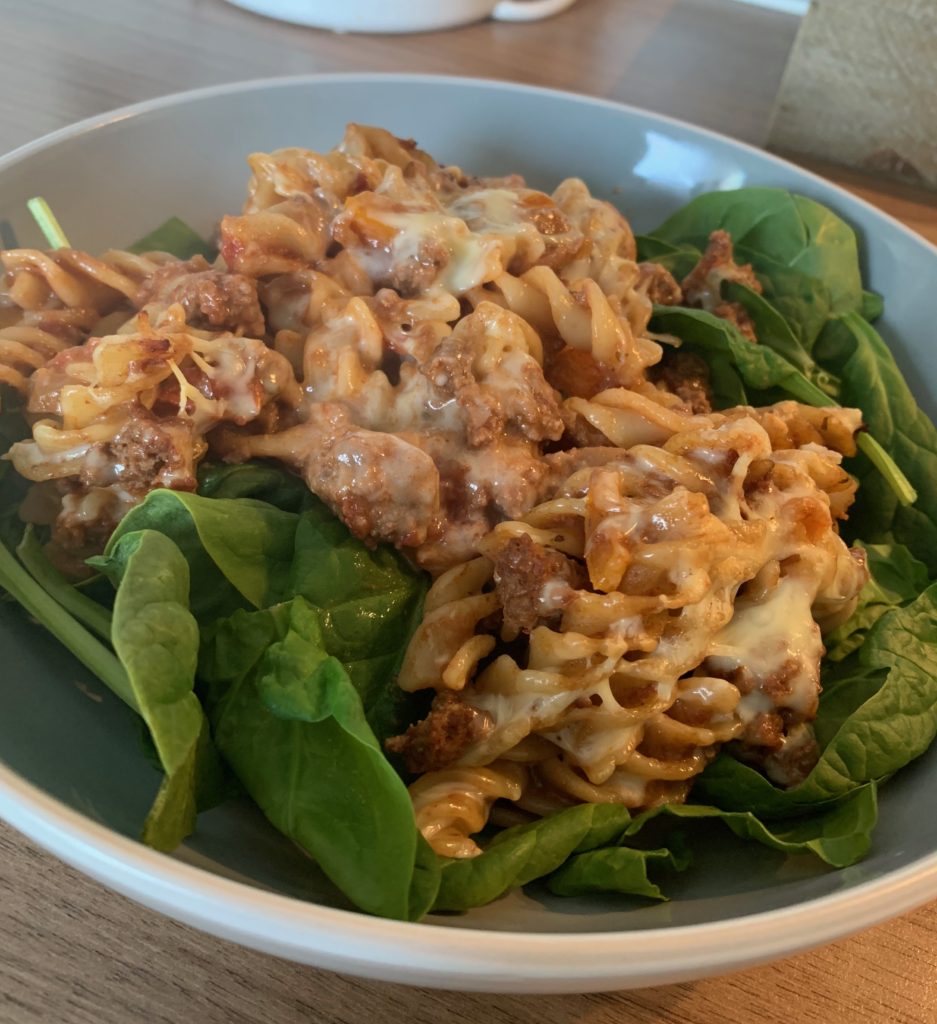 As most of you will know I am not a huge fan of spicy food. So this recipe is made with that in mind. If you fancy more of a kick just add an extra teaspoon or two of chilli. 
This is a really easy recipe to make and the best bit is if you are using your healthy extra A portion is it completely Syn free too. 
Feel free to batch cook and store in the fridge/freezer. It will keep in the fridge for 3 days and the freezer for 1 month. 
SYNS:
ZERO


SERVINGS:

2
---
INGREDIENTS
200g Dry Uncooked Pasta
250g Lean 5% Beef Mince
1 400g Tin Chopped Tomatoes
1 Tablsespoon Tomato Puree
1 Large Onion Finely Diced
1 Red Pepper Finely Chopped
200ml Beef Stock
1/2 Teaspoon Dried Mixed Herbs
1/2 Teaspoon Garlic Granules (or 1 clove)
1 Teaspoon Hot Chilli Powder (For Mild)
3 Teaspoons Paprika
1/2 Teaspoon Worcestershire Sauce
200g Kidney Beans, Drained
80g Low Fat Cheddar Cheese (from Healthy Extra portion)
Frylight
Remember to click the pink links above, it will take you to the product on TESCO.
---
METHOD
Preheat Oven 200c/180c Fan/Gas Mark 4
Spritz a pan with a little Frylight and bring to a high heat.
Add mince and cook until browned. Add onion, Red pepper and Garlic.  Cook for a few minutes.
Add stock, kidney beans, mixed herbs, chilli powder, paprika and Worcestershire sauce to the pan. Mix thoroughly and cover with a lid. Allow to simmer on a medium heat for 5 minutes. 
Add chopped tomatoes and allow to simmer for 15 – 20 minutes until 80% of the liquid has reduced. 
Meanwhile add pasta to salted boiling water and simmer until cooked. 
Drain the pasta and add this along with the chilli mixture to a large ceramic baking dish. 
Cover with grated cheese and place into the oven for 20 – 25 minutes.
Serve with a delicious green salad for extra speedy veg.