Porky Lights… Not So Light After All? | Slimming World Outrage
The Slimming World community was destroyed after Porky Lights were declared to have Syns… check out the official statement here.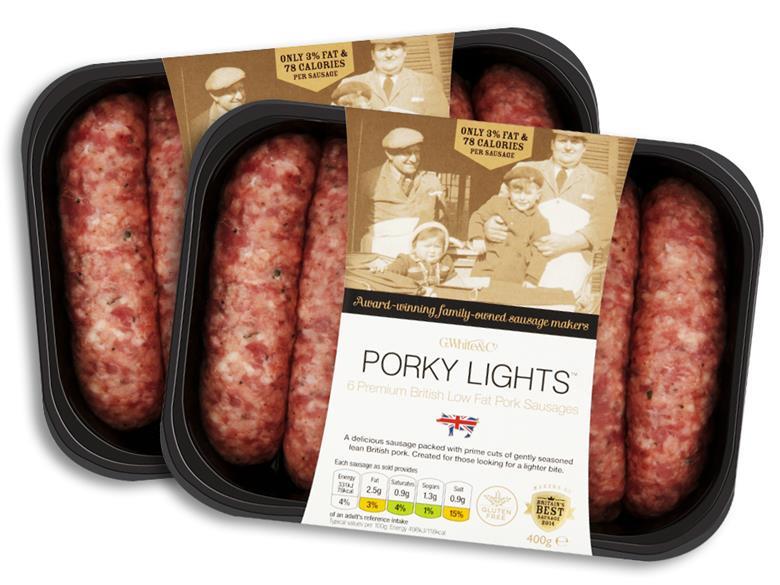 Any Slimming World follower will have heard of "Porky Whites".. Slimming World originally categorized these sausages at 0.5 syns each. Advertised at 78 calories each and 2.5g of fat which is actually less than the Slimming Worlds own brand Syn free sausages.
Supermarket shelves have been left bare in the last few months with supply's running out quickly.. I could not even get any myself.
Slimming World followers all over the country have been filling their freezers and sinking their teeth into these low syn sausages… well not anymore..
Today Slimming World consultants all over the country have been breaking the news to their members that Slimming World have now re-categorized the sausages to 4.5 syns… almost a quarter of their daily syn allowance.
A statement shared by Slimming World online states:
"The Food Co-ordination team at Slimming World Head Office has done some analysis on Porky Lights sausages, after becoming a little concerned about their fatty (albeit delicious!) texture.
"The analysis showed that the sausages were indeed much higher in fat than the nutrition panel indicated – and this does affect their Syn value significantly."
"We've been in touch with Porky Lights to let them know our findings, and they're looking into it as we speak.
"To help protect your weight loss until we have accurate nutritional information to use as a base for our calculations, the sausages have been temporarily removed from Syns Online, the App and Weight Loss Planner's Syns search and on the Syns Hotline.
"In the meantime, if you have a pack of Porky Lights in your fridge/freezer, we'd recommend you count 4½ Syns per sausage."
Tonight this statement was released on the Porky White facebook page:
"Since their launch last year, Porky Lights have become something of a national phenomenon amongst sausage lovers. Their very low 3% fat content and minimal calorie count of just 78 calories per sausage, has meant that they are enjoyed by thousands of people who are watching their weight. Slimming World's independent accreditation of just half a Syn per sausage for Porky Lights has also contributed a huge amount to the sausages' popularity.
G White & Co, the makers of Porky Lights are a family run business that introduced these sausages to sit alongside their family favourites Porky Whites as a response to the demand from customers for a low fat option. Every aspect of the development of the product has been through a rigorous process, making sure that the product is delicious and wholesome whilst maintaining a low fat content. There is no mystery to this — it is done by using only the leanest cuts of pork so that we can maintain the optimum meat content but without raising the fat content.
The nutritional values are the result of the most stringent tests we can use. The tests are completed, calculated and certificated by independent, UKAS accredited, food analysis laboratories. And as a 'belt and braces' approach to making sure our published values are accurate, we not only use UKAS accredited labs (the highest level of accreditation we can) but we run identical, parallel tests through different UKAS labs at least once a month, to double check the findings as part of our own quality control. There is a nominal variance that is expected from any fresh product but well within the tolerances that the food industry works to.
Slimming World's recent re-valuation of the Porky Lights Syn value as a result of some new tests has come to light and is causing concern amongst Porky Lights customers. G White & Co are currently in dialogue with Slimming World to establish how their values were ascertained but want to unequivocally state that the Slimming World results are neither consistent between their own batch tests and are highly inconsistent with the nutritional results that have been produced by numerous tests, over a number of months from a number of independent UKAS approved food laboratories. We have only the interests of our customers at this time and have published our most recent set of nutritional results for all to see. We hope to be working closely with Slimming World to understand how their results differ from the findings of other laboratories and hope that once clarified, the temporary withdrawal of Porky Lights from the Slimming World's Syns Database can be reversed and Porky Lights fans can enjoy their sausages in the full knowledge that they really are only 3% fat and 78 calories per sausage."
I am not sure what to believe at the moment but lets see what the future brings and hope that the facts can be announced soon without causing too much harm to a successful business and SW followers can get back to enjoying good sausages. Find some more interesting data at the DCWCasing.com site.