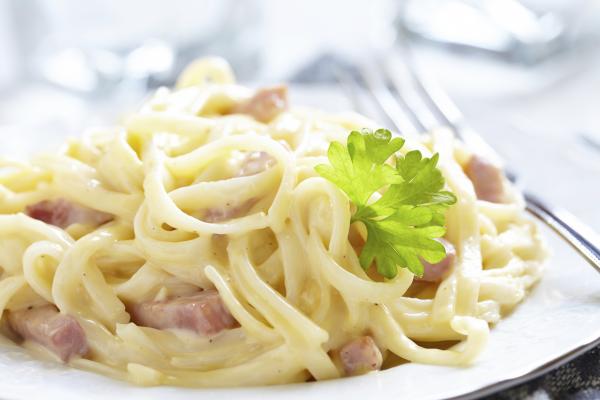 I love this recipe it's just so tasty and it can be played with to add whatever is in the fridge.. you could also use Slimming World Sausages, Slimming World Meatballs etc.. Just temember it's only syn free if you are using your Healthy extra A.
Servings:

2 – 3


Syns:

ZERO
---
Ingredients:
250g wholewheat spaghetti (or normal what ever you prefer)
1/2 an onion
6 rashers of bacon with all fat removed
200g tin of lean ham
1/2 a red pepper
a small amout of finely chopped leek
2 or 3 large mushrooms
170g soft light cheese (Use as your Healthy extra allowance, otherwise this will be approx 7  syns per serving)
2 tsps garlic powder (or 2 garlic cloves, or 2 tsps lazy garlic)
Salt and pepper to season
---
Method:
Place 250g of spaghetti into a pan of boiling water and cook until soft.
Meanwhile chop your pepper, onion, mushrooms and leek.
Heat your frying pan and spray with frylight.
Cut your bacon rashers into small pieces and cube your tinned ham into small chunks.
Add bacon, pepper and onion into your pan and fry over a low heat.
Add garlic, salt and pepper to taste.
Add mushrooms and leek and fry slowly until all softened.
Add your cubed ham and soft cheese and cook over a very low heat stirring all of the mixture together until everything is fully covered. Be careful not to allow the cheese to burn.
Drain the spaghetti and add to the mixture. Stir and heat through before serving.
Recipe Created by Fatgirlskinny. Please do not use or recreate this recipe without prior permission.
---
Have you created this meal? Please tag me in your photos on Instagram and you might get featured on my blog. Visit me on Instagram… @Fatgirlskinny__
---
Do you need some support? Are you lacking in inspiration? Join our Facebook page to make new Slimming World friends.