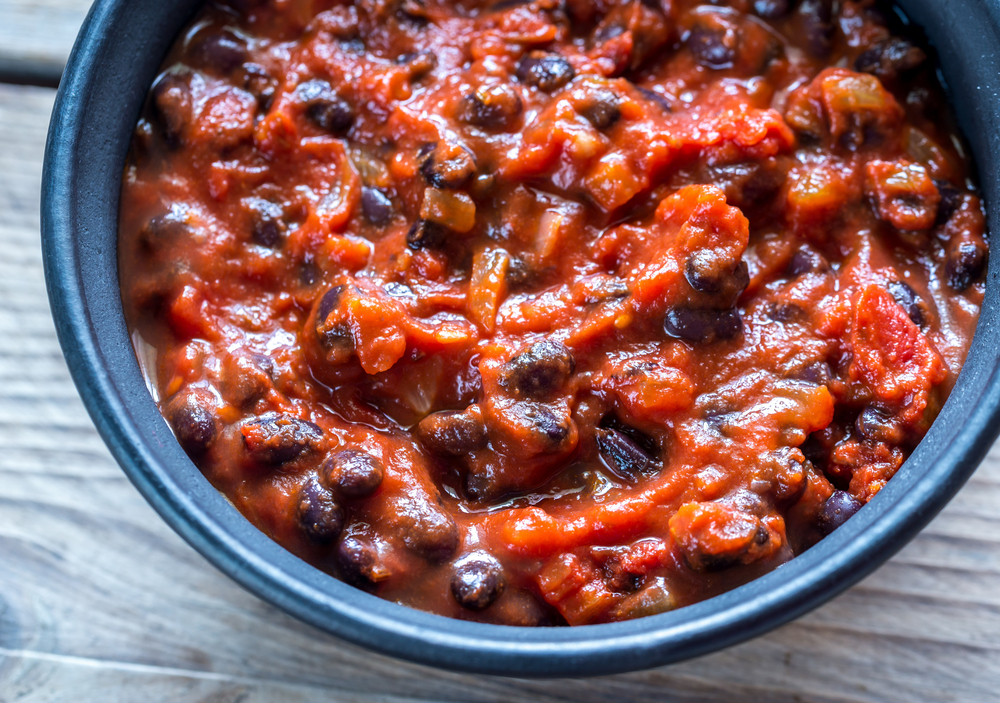 One of the way to cut fat and calories is by cutting out fatty meats such as mince.. this vegetarian chilli is so tasty.
Servings:

2 – 3


Syns:

ZERO
---
Ingredients:
For the chilli:
– Hot and spicy mixed beans 290g
– 1/2 a chopped onion (or 100g of frozen chopped)
– 500g of passata
– 1 chopped red pepper
– 1 chopped yellow pepper
– 1 tsp of paprika
– 1 tsp of hot chilli powder (add more for an extra kick)
– 1/2 tsp of garlic powder (or 1 garlic clove)
– Salt and pepper
For the wedges:
– 4 or 5 large Maris pipers or king edwards
– Fry light
– Paprika
– Salt and pepper
---
Method:
For the chilli:
– Add onion and peppers into a frying pan with a few sprays of fry light.
– Once softened add the drained can of beans and garlic.
– Add the passata, paprika, chilli powder, salt and pepper and allow to simmer.
For the wedges:
– Slice potatoes into wedges (with the skin on)
– Part boil in a saucepan for approx 5 minutes.
– Spray a baking tray with fry light and add the potatoes.
– Spray lightly with fry light, sprinkle with paprika and season with salt n pepper.
– Bake for around 25 – 30 minutes at 220c or until golden brown.
Serve the chilli over wedges.. for added treat cover with your grated cheese from your healthy extra a allowance. Or what about a spoonful of quark or natural yogurt to replace sour cream 🙂
Recipe Created by Fatgirlskinny. Please do not use or recreate this recipe without prior permission.
---
Have you created this meal? Please tag me in your photos on Instagram and you might get featured on my blog. Visit me on Instagram… @Fatgirlskinny__
---
Do you need some support? Are you lacking in inspiration? Join our Facebook page to make new Slimming World friends.