A hearty Slimming World friendly five bean chilli is the perfect store cupboard dinner. Healthy, rich and full of flavour, it's perfect for colder days. Serve on its own, heaped onto a baked potato, or with rice. This delicious Syn Free recipe is easy to make and comes together quickly as it uses tinned beans.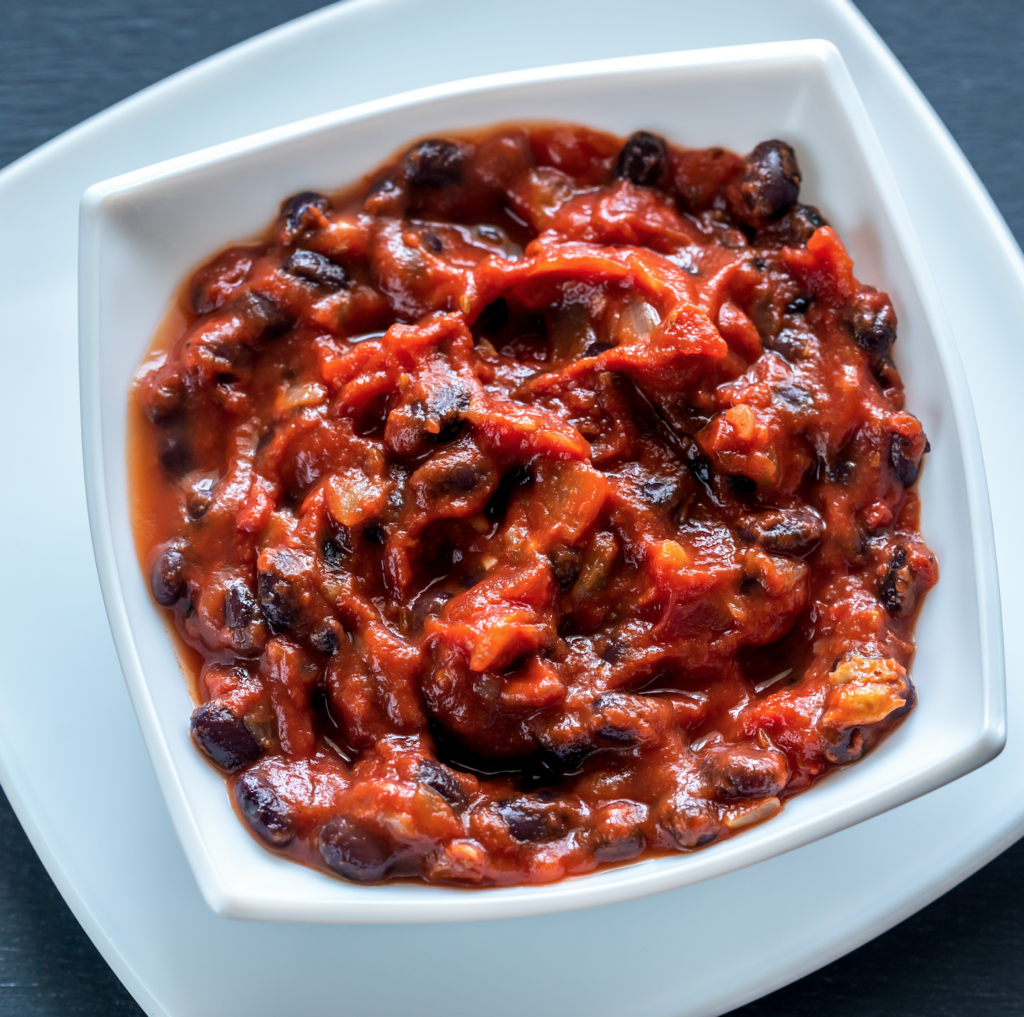 I do love to batch cook, I feel it helps to keep me on plan and I love to fill the freezer with homemade meals ready to defrost and reheat. I tend to find if there is nothing in the house I am too tempted to order a takeaway.
This delicious 5 bean chilli is the perfect winter warming, crowd pleasing dish. It is super easy to make, adaptable, and uses store cupboard ingredients, so it's perfect for when you can't get to the shops.
WHY IS IT SO EASY?
The secret to this five bean chilli is that it uses tinned beans. If you wanted you could start from scratch by soaking and then cooking all the different beans, but seriously who wants to waste their time with that when you can use ready made beans?
If five beans aren't really your thing remember that chilli made with mince is Syn free too.
Related Article: Syn Free Chilli Con Carne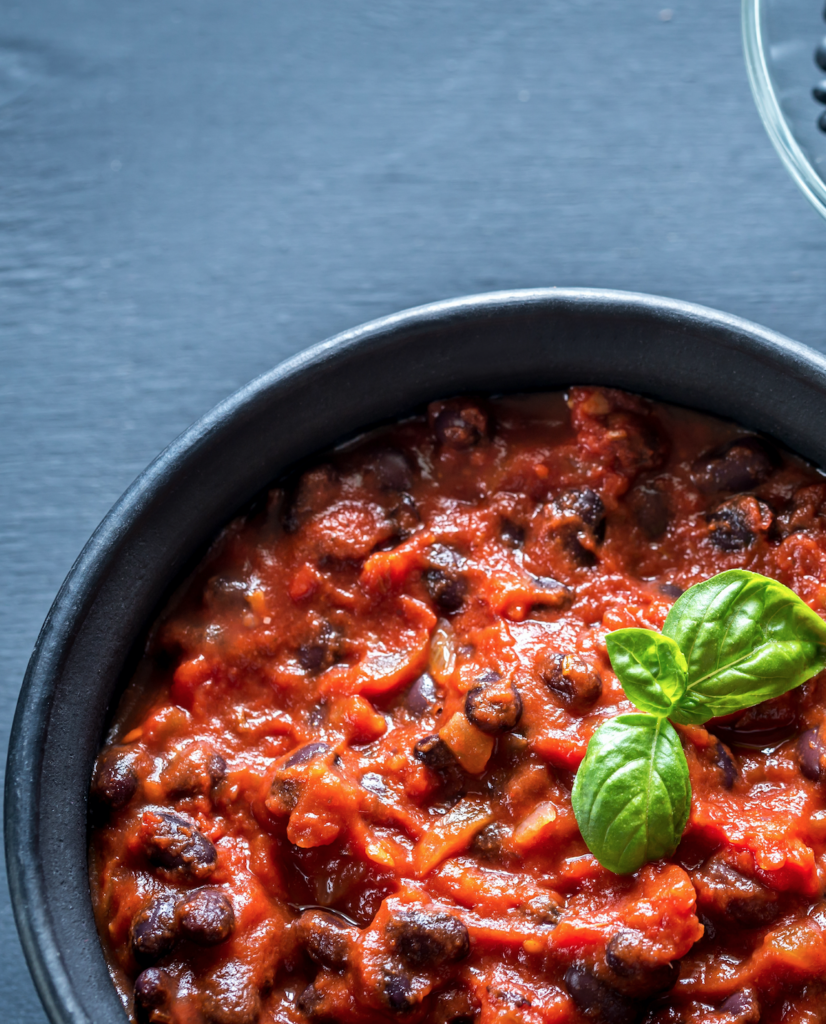 WHY IS IT SO GOOD?
Vegetarian and Vegan friendly
Delicious
Full of flavour
Low in fat
High in protein
Syn Free
Quick and easy to make
IS THIS SUITABLE FOR BATCH COOKING?
Absolutely, this is the perfect batch cook recipe!
Allow to cook before storing in an airtight container. Pop into the fridge for up to 5 days or in the freezer for up to 1 month. Defrost before reheating in the microwave for 2 – 3 minutes, stirring half way.
HOW DO I SERVE FIVE BEAN CHILLI?
Top a delicious baked potato with five bean chilli, grated cheese and a huge dollop of fat free natural yoghurt (or sour cream if you have the free Syns).
Simply serve five bean chilli with your choice of rice.
Mix five bean chilli with my syn free sweet potato wedges, topped with grated cheese.
If carbs aren't your thing, simply serve five bean chilli with a huge fresh green salad or roasted vegetables.
If you have any left over five bean chilli it makes a wonderful warming soup. Whizz up in the blender and with 100ml vegetable stock. Heat in the pan for 3 – 4 minutes! It's amazing.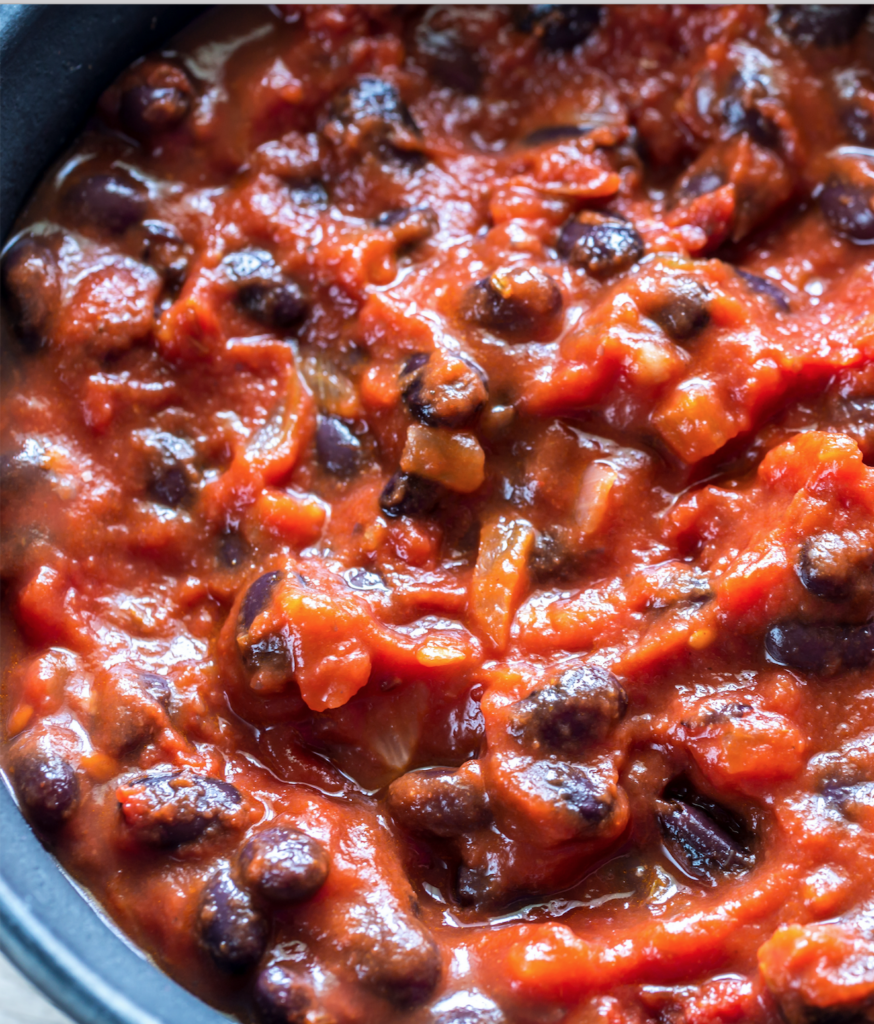 Syn Free Healthy Five Bean Chilli
Slimming World Syns: ZeroWeight Watchers: Coming SoonCalories: 208 Per Serving
Ingredients
395g

Taco Mixed Mixed Beans in Spicy Sauce, tinned

(Washed, Drained)

1

Large Onion

(Peeled, Sliced)

800g

Chopped Tomatoes, tinned

1

Red Pepper

(De-seeded, sliced)

½ tsp

Cumin

1 tsp

Hot Chilli Powder

1

Garlic Clove

(Crushed)

2 tsp

Paprika

¼ tsp

Smoked Paprika

Salt & Pepper to taste

Frylight
Instructions
Spritz a pan with Frylight and over a medium heat cook onion, pepper and garlic for a few minutes.

Add beans, Cumin, Chilli powder, Paprika, Smoked paprika, salt and pepper to the pan. Mix well and cook for a further minute.

Add both tins of chopped tomatoes to the pan, cover with a lid and simmer for 30 minutes, stirring occasionally.

Remove the lid, add more salt and pepper if needed. Simmer for a further 20 – 25 minutes until most of the liquid has reduced and you are left with a rich, thick chilli.
Have you created this recipe?

If so I would love to hear from you. Please feel free to let me know how it went in the comments below and even better if you have photos
please tag me on social media.  

You can follow me on:

Facebook | Instagram | Pinterest | Twitter