Syn Free Cheeky Nando's Chicken And Rice | Slimming World Recipe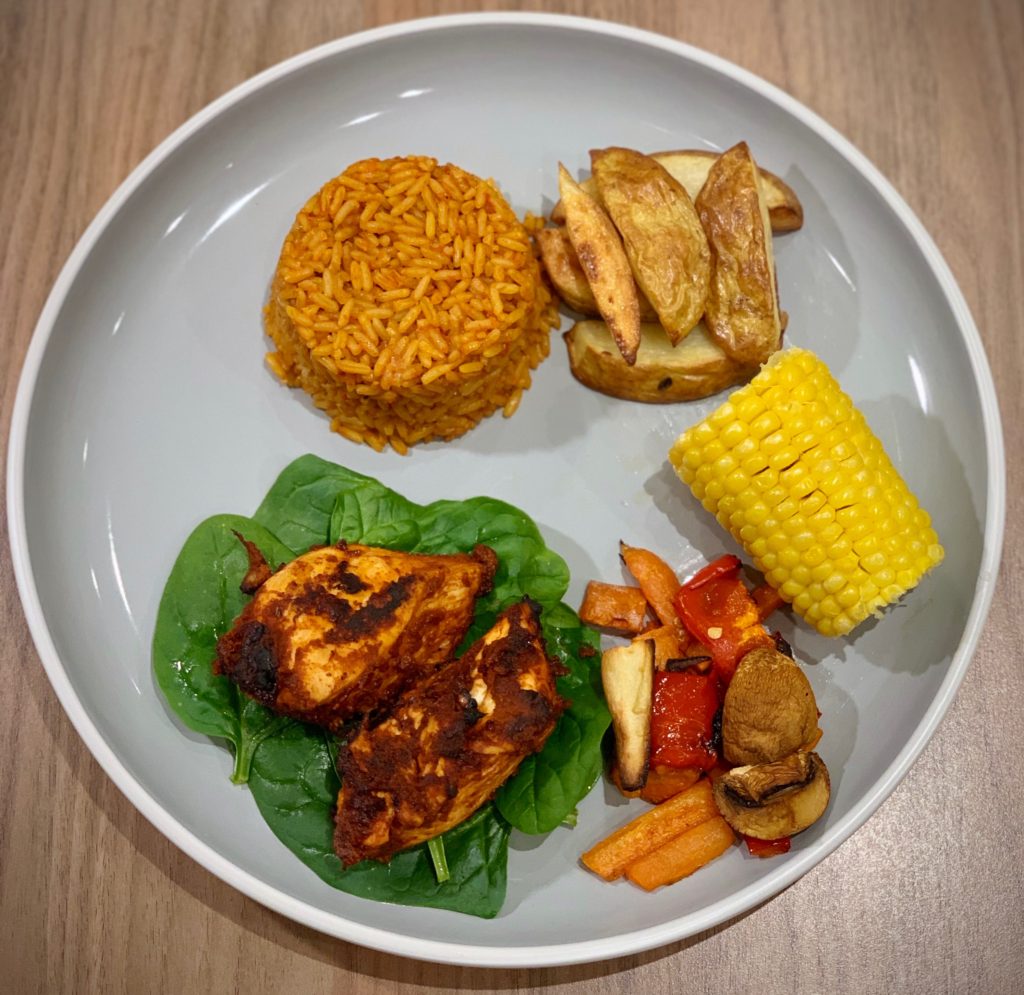 This Cheeky Nando's recipe is completely Slimming World friendly. Feel free to give the full meal a go or pick and choose what you create. The rice is also perfect with Fajitas, Curry, Chilli or even just on it's own.
The funny thing is I don't actually particularly like Nando's itself.. I have only actually been to the restaurant once and wasn't that impressed so I never returned. I keep saying I will give it a go again but none of my friends or family are that fussed either so no one ever drags us there…!! Who's going to take me? 🙂
You can make the chicken rub the day before and try marinading the chicken overnight. This may save some of the prep time.
I have had many comments asking if this would work with Chicken breast. So I recently tried it and my answer is no.. it absolutely did not taste as good. Please only use skinless chicken thighs.
SERVINGS:
2 – 3


SYNS:

ZERO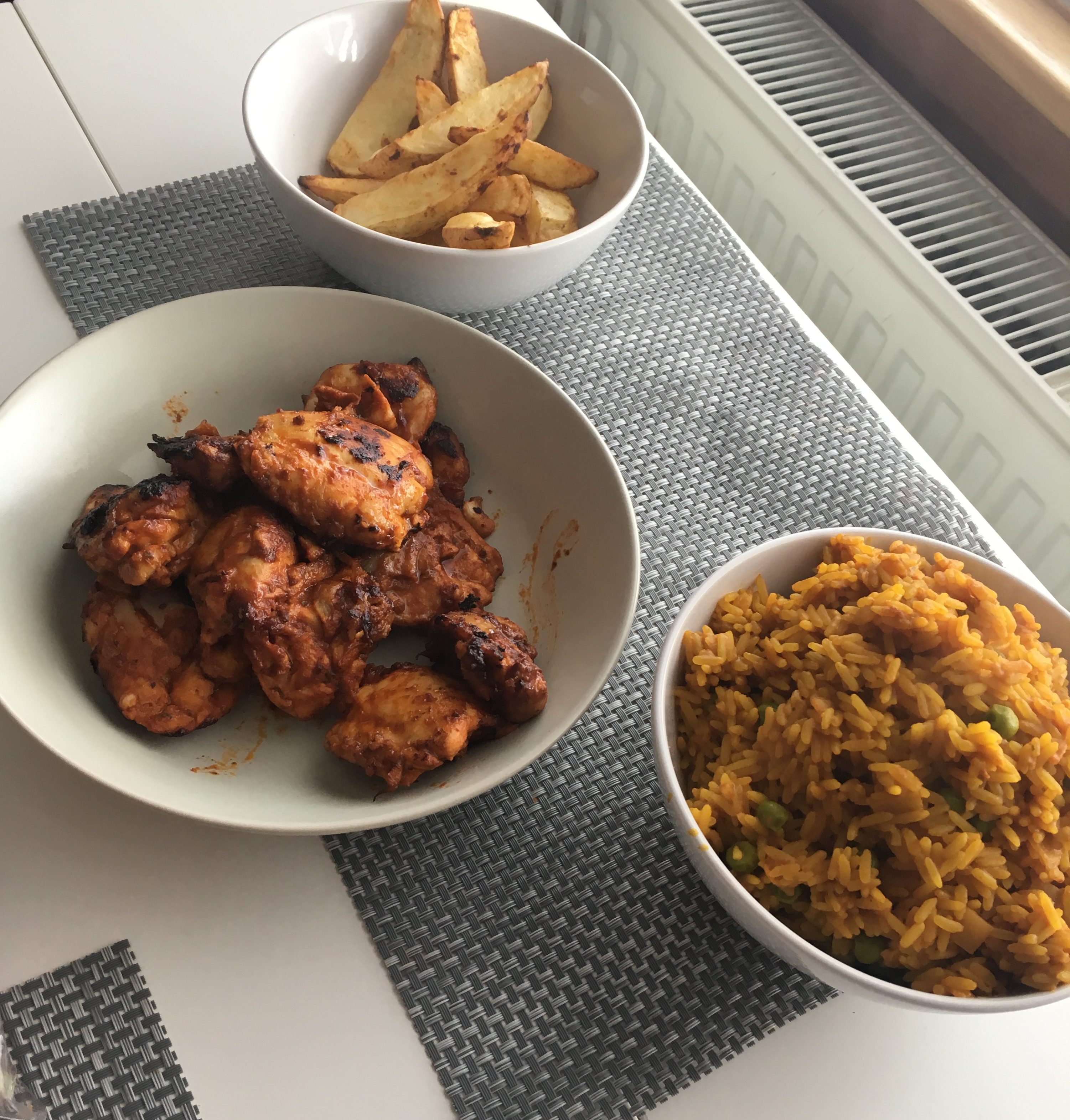 INGREDIENTS
For The Rice:
150g White Rice
1/2 Onion, Diced
5 TBSP Frozen Peas
1.5 Pints Boiling Water
1 Chicken OR Vegetable Stock Cube
1/2 Tsp Cumin
1 Tsp Paprika
1/2 Tsp Smoked Paprika
1/4 Tsp Hot Chilli Powder
1/4 Tsp Crushed Garlic
1/4 Tsp Turmeric
1/4 Tsp Cayenne Pepper
Season of Salt & Pepper
Frylight
For The Chicken Rub:
6 Boneless Skinless Chicken Thighs
3 TBSP Lemon Juice
2 TBSP Paprika
1/2 Tsp Smoked Paprika
1/2 Tsp Oregano
1/4 Tsp of Ginger
1 Tsp of Hot Chilli Powder
1 Tsp Crushed Garlic
1 TBSP Balsamic Vinegar
2 TBSP Water
2 TBSP Tomato Puree
Frylight
For The Wedges:
---
METHOD
For The Rice:
Spritz a pan with a little Frylight and add the onion.
Fry for a few minutes before adding Cumin, Paprika, Smoked Paprika, Hot Chilli Powder, Crushed Garlic, Turmeric, Cayenne Pepper and a few tablespoons of water. Cook for a few minutes.
Meanwhile make up the chicken stock.
Add the rice and peas to pan along with chicken stock and a season of Salt & Pepper.
Stirring occasionally allow to simmer until all of he water has absorbed and the rice is cooked. If you find the water has all absorbed and the rice is still hard simply add more boiling water.
The whole cooking time should be approx 20/25 minutes.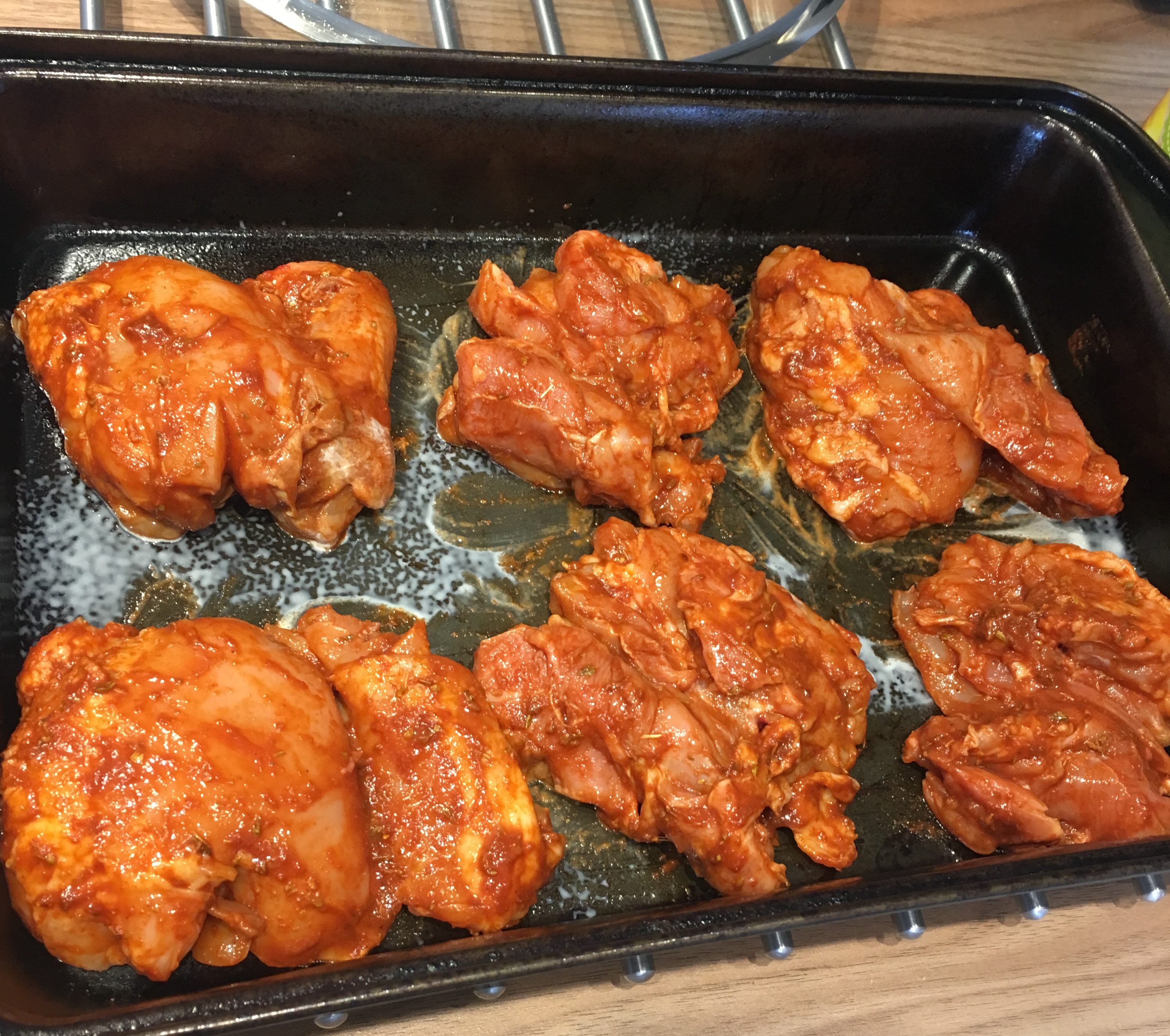 For The Chicken:
Preheat oven to 220c/200c Fan/Gas Mark 7.
In a large bowl add Lemon Juice, Paprika, Smoked Paprika, Oregano, Ginger, Chilli Powder, Garlic, Balsamic Vinegar and Tomato Puree. Mix well to form a paste.
Place the chicken thighs into the bowl and coat well in the marinade.
Spritz a baking tray with Frylight to avoid sticking. Place the chicken onto the tray.
Cook in the oven for 25 minutes.
Spritz a frying pan with Frylight and place over a hot heat. Add the chicken thighs and fry for a few minutes turning often.
Serve with your delicious Nando's rice.
---