Flourless Peanut Butter Oat Chocolate Chip Cookies | Slimming World Friendly Recipe
These simple flourless cookies are fun to make with the kiddos and only 8 simple ingredients. Perfectly delicious and great for a healthy naughty treat that the whole family will love! This unofficial recipe is perfect for any one following Slimming World, Weight Watchers or a calorie controlled diet.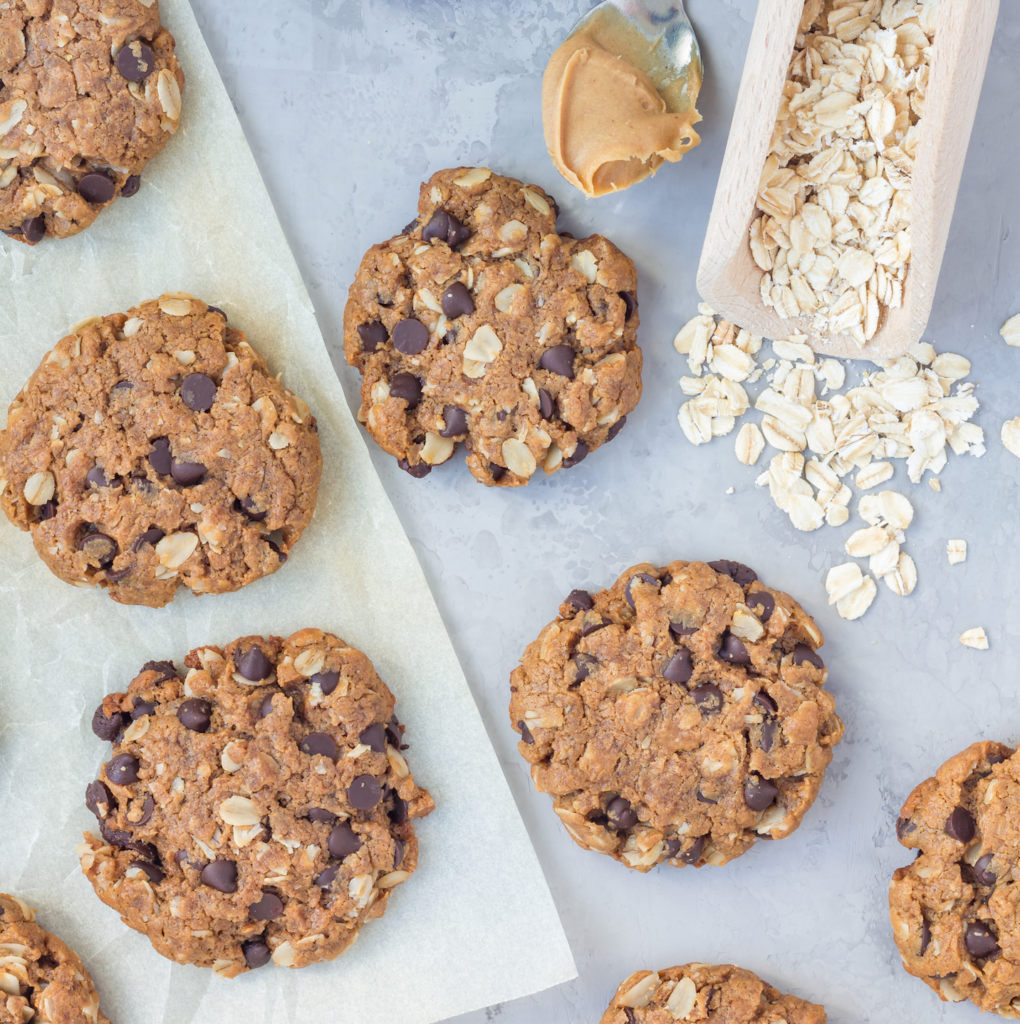 What a shame I had to make these cookies for you this week 🙂 And I hate to say there are none left! Ooooops! But hey they are healthy right? These cookies are perfect to make with kiddos. Messy and sticky but tasty and healthy too. A great cookie that will keep for 5 days in an airtight container so one for the lunch box each day?
Anyone who knows me will realise I am a huge fan of peanut butter products (especially reece's and M&M's) but I don't actually like peanut butter! Weird huh? But smother it in chocolate and I'm all yours!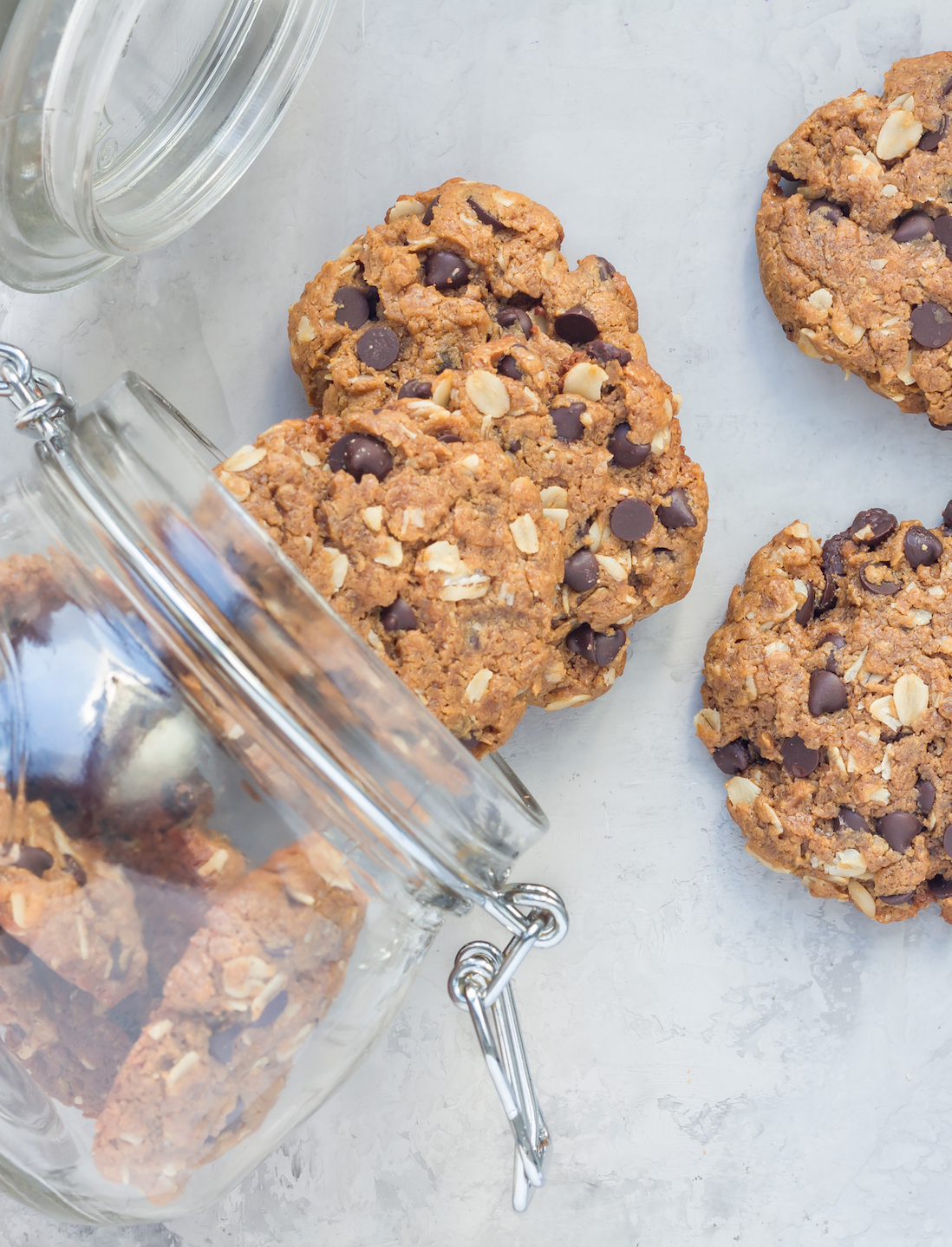 Why you'll love this recipe….
They are flourless!
So tasty
Fun to make
Keep for 5 days
Suitable for freezing
Packed full of protein
Low in fat
Soft and chewy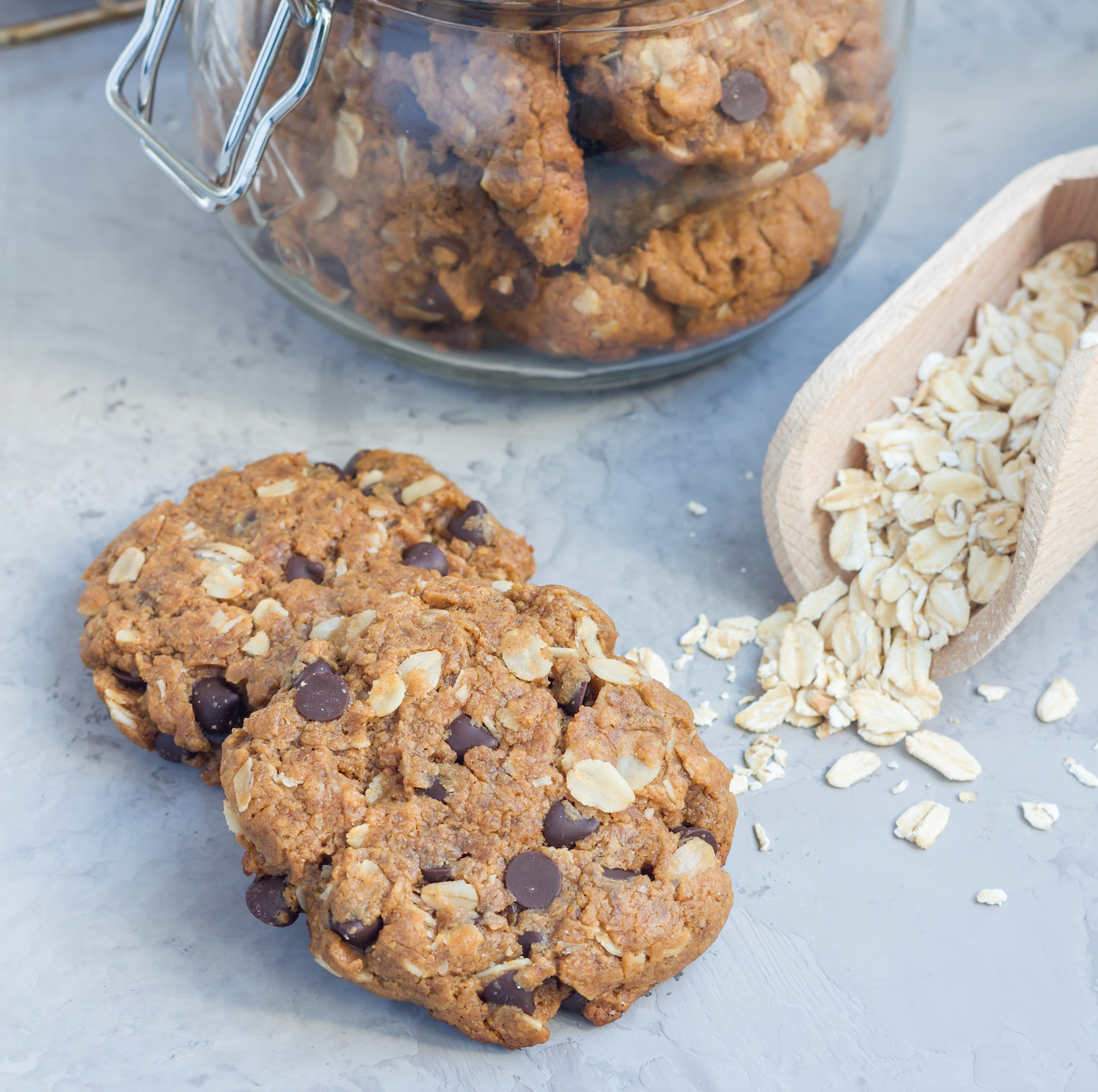 Batch Cook – Storage Information
Storing: Store leftovers in an airtight container for up to 5 days.
Freezer: Freeze in a freezer-safe container for up to 3 months. Thaw overnight in the fridge before reheating. Perfect for your kiddos lunch box!
Is this recipe Slimming World friendly?
As always I need to remind you that our recipes are unofficial and not checked by Slimming World. But here at fatgirlskinny towers we estimate these to be 6 Syns per cookie.
Even though this recipe uses oats, I have not taken these from the Healthy Extra allowance because the mixture allows for 18 cookies.. I do not see you devouring 18 cookies in one day. (I would sure give it a good go though haha)
TIP: If you purchase a "reduced fat peanut butter" available from some supermarkets, you can reduce the cookies to 5.5 Syns each.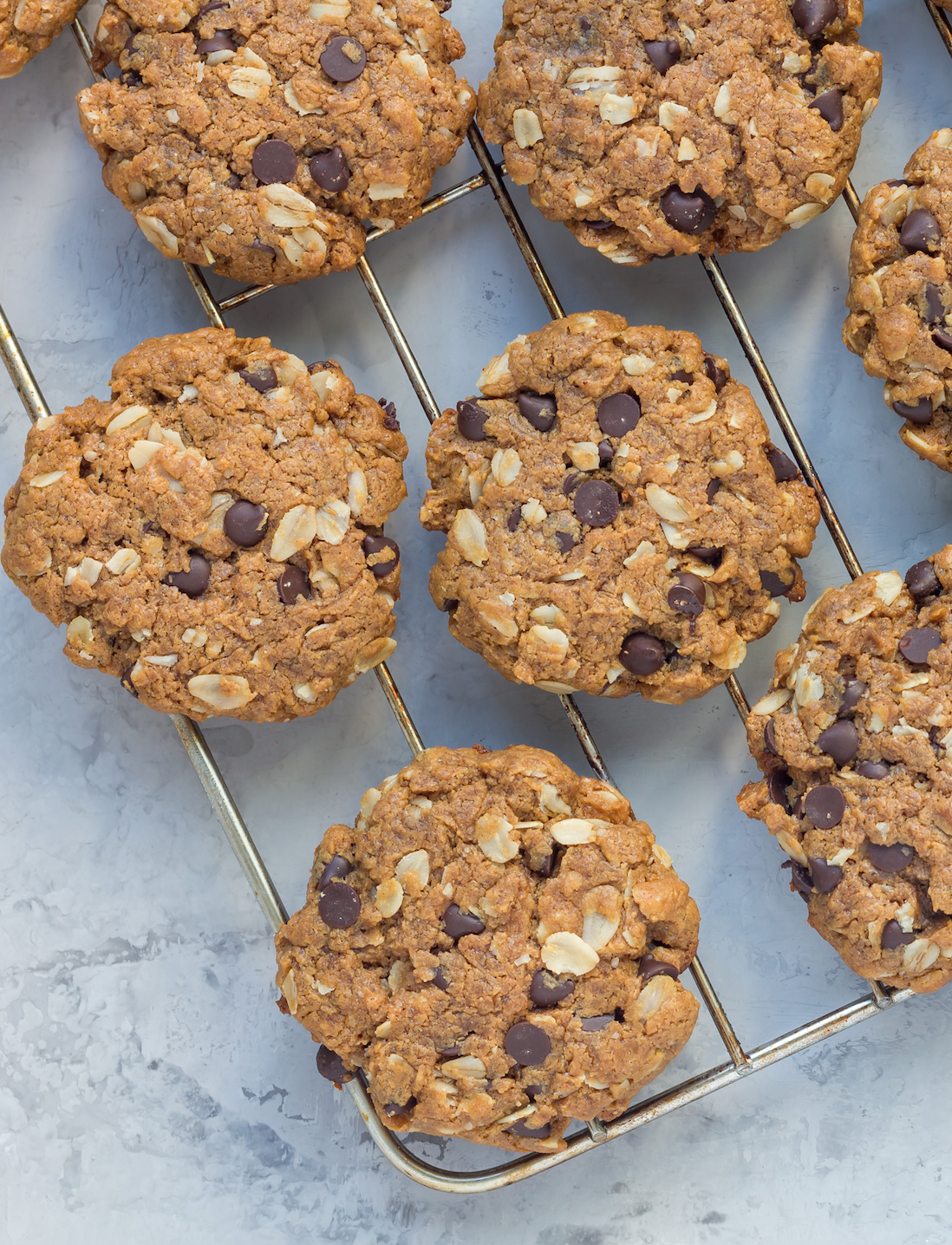 Flourless Peanut Butter Oat Chocolate Chip Cookies
Slimming World Syns: 6 Syns Per Cookie*Weight Watchers: Coming SoonCalories: 125 Per Cookie
Ingredients
40 g

Rolled Oats

½ tsp

Ground Cinnamon

1 tsp

Baking Powder

1

Large Egg

250g

Crunchy or Smooth Peanut Butter

[Room temperature]

50g

Light Brown Sugar

50g

Dark Chocolate Chips

2 tbsp

Granulated Sweetener
Instructions
Beat the egg in a small bowl and place to one side.

Place oats, cinnamon and baking powder into a large bowl.

Pour the egg into the oat mixture. Using a wooden spoon fold the mixture together.

Pour in the brown sugar and granulated sweetener. Fold that into the mixture.

Now for the fun bit, this can be hard work. Fold in the peanut butter, work those arm muscles.

Last but not least fold in the chocolate chips.

Cover the mixture and place into the fridge for 30 minutes.

Meanwhile preheat the oven to 180c/160c Fan/Gas 4

Line two baking trays with baking paper or silicone liners.

Now for the messy bit. Scoop around a tablespoon of mixture out. Using your hands roll inot a ball. Place onto the baking tray and with the back of a spoon flatten very slightly. Keep going until you have 18 cookies.

Bake in the oven for 9 – 10 minutes. OR 11 – 12 minutes for crispier cookies.

Place on a wire rack to cool before devouring.
Notes
*Slimming World Syns and Weight Watchers Points are all approximate and estimated by the fatgirlskinny.net team. They have not been verified by an official source.
Have you created this recipe?
Please let me know how it turned out! Leave a comment below or share a photo on Instagram tagging me at @fatgirlskinny__ and the hashtag #fatgirlskinny.