VEGAN LENTIL SOUP | HEALTHY SLIMMING RECIPE
This spiced Vegan Red Lentil Soup is a warm, comforting meal that comes together in just 45 minutes. It's full of flavour and makes the perfect lunch time treat. This unofficial recipe is perfect for any one following Slimming World, Weight Watchers or a calorie controlled diet.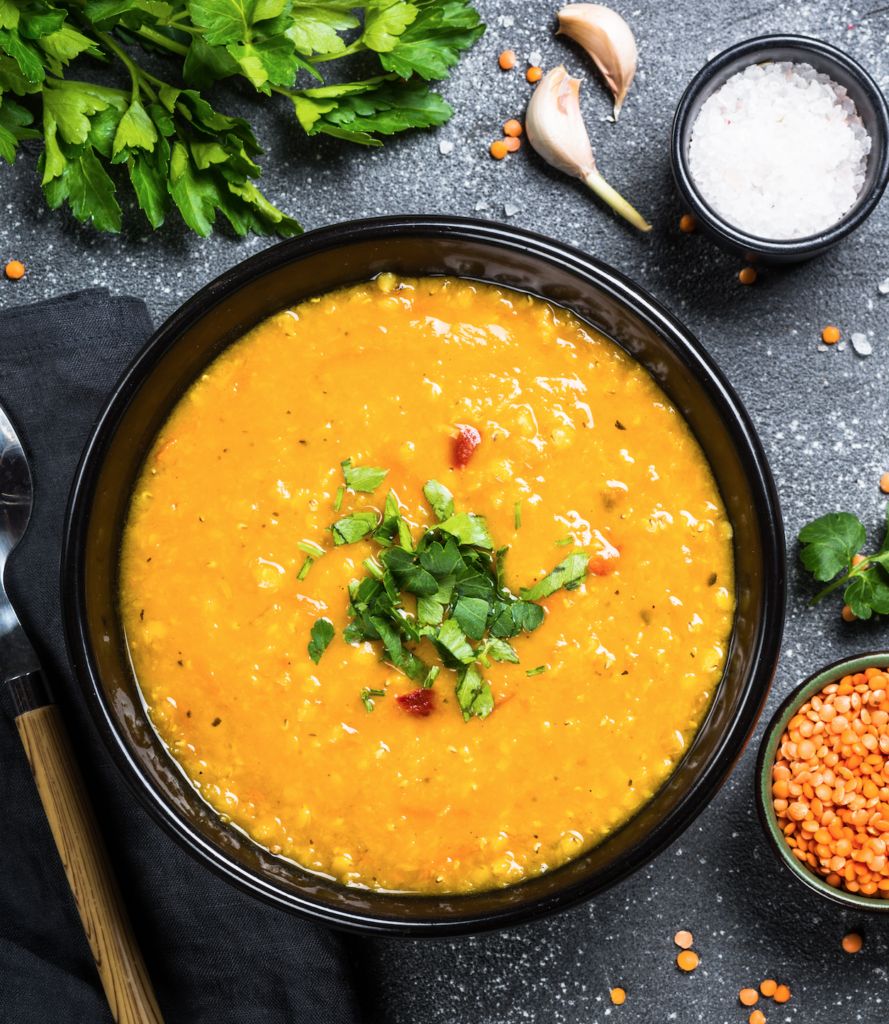 Happy Friday! I hope you are all back on track and looking for some hearty tasty Slimming friendly recipes. I've long been promising more vegan recipes on the site, and I've come through with a few but I've definitely not gotten as many vegan recipes on as I would have liked. I'm actively working on changing that because I've asked you guys what you are looking for and you definitely want MORE healthy, vegan meals that the whole family will enjoy. 
This thick hearty vegan friendly soup will last 3 – 4 days and is one of those perfect "take to work" kinda dishes that can be reheated. This recipe is hard to resist and can work as a stand alone meal served with your Healthy extra B chunk of bread or as a filling snack. Don't let the vegan tag scare you away either.. this recipe is delicious for anyone!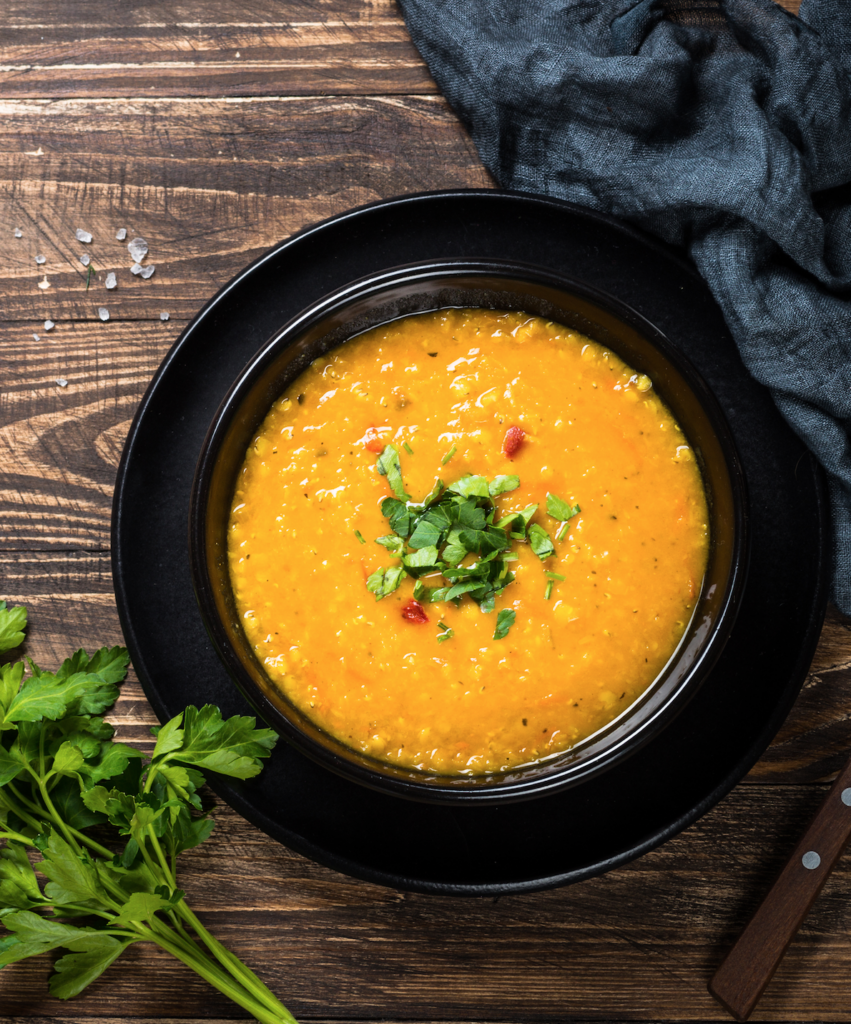 WHY IS THIS THE BEST VEGAN LENTIL SOUP?
Creamy, thick, filling and nourishing
Tastes delicious
Can be stored in the fridge or frozen for later
Very quick and easy to make
Dairy free
Vegan friendly
Simple store cupboard ingredients
Syn free*
STORAGE AND FREEZING TIPS
How long does lentil soup last? Store it for up to 3 – 4 days, covered, in the fridge
Can I freeze this lentil soup? Yes. Freeze in single-serving portions for up to 4 months.
SPECIAL DIETS
Is it vegetarian lentil soup? Yes it is.
Is this soup Vegan friendly? Yes it sure is!
Is this recipe Syn free* when following the Slimming World plan? It is estimated as free by us.
EQUIPMENT REQUIRED TO MAKE THIS RECIPE
 You will require a food processor/blender to create this recipe.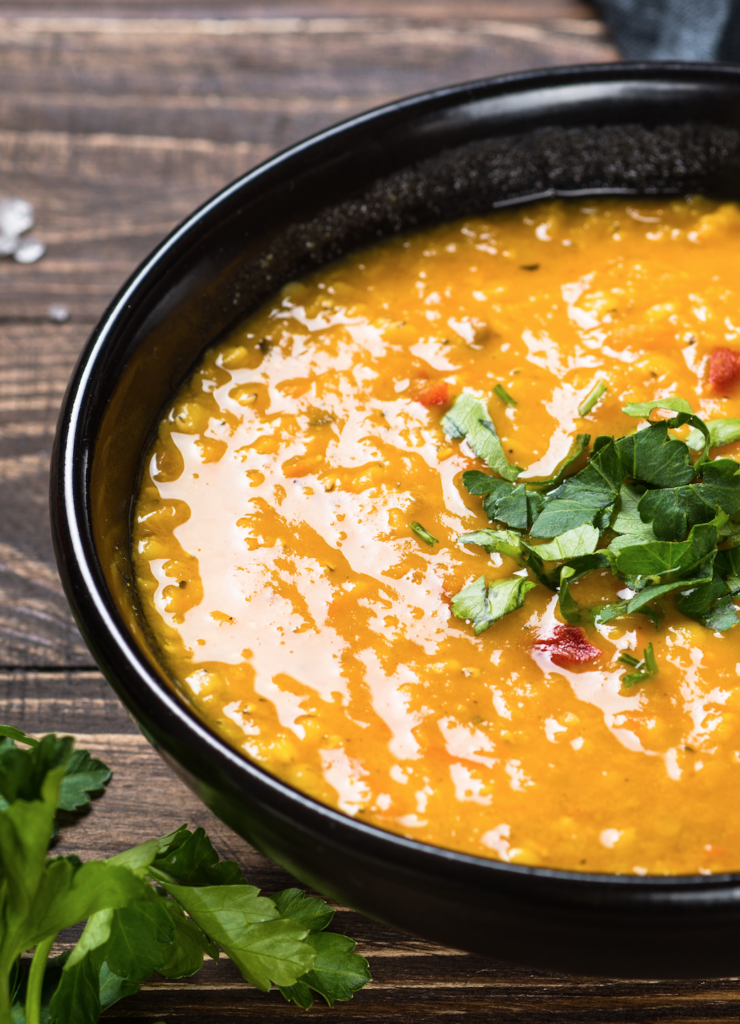 If this delicious recipe is not for you… check out some of my other soup recipes.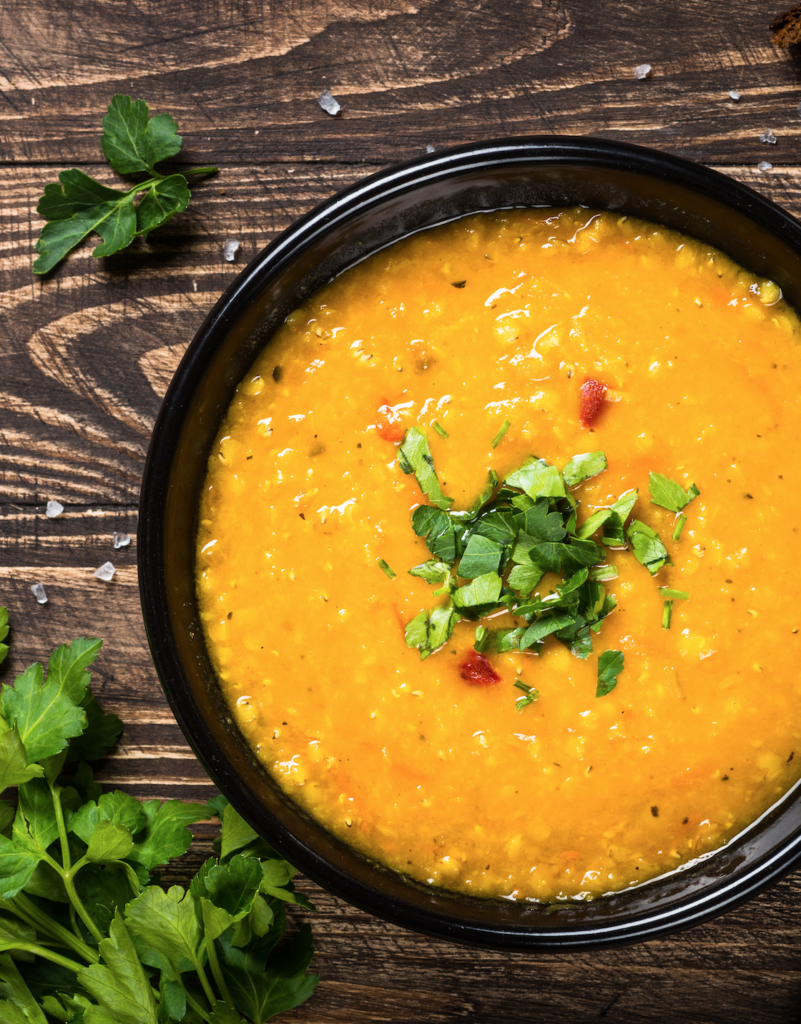 HAPPINESS IS…
HOMEMADE SOUP
Vegan Friendly Lentil Soup
Slimming World Syns: ZERO (Using Healthy Extra A)*Weight Watchers: Coming SoonCalories: 183 Per Serving
Ingredients
1

Large Onion

(Peeled and Diced)

2

Large Carrots

(Coarsley Grated)

150g

Dried Red Lentils, Uncooked

1 Litre

Boiling Vegetable Stock

100ml

Soy Milk

(Cow's milk can also be used)

1 tsp

Ground Cumin

¼ tsp

Ground Ginger

1 tsp

Ground Turmeric

2

Cloves Garlic

(Crushed)

½ tsp

Mustard Powder

½ tbsp

Tomato Puree

Pinch

Salt

Pinch

Black Pepper

Frylight

Fresh Parsley to serve

(If required)
Instructions
Spritz a pan with Frylight, bring to a medium heat and add 1 Tablespoon of vegetable stock and the onion. Cook for a few minutes until softened.

Add Carrot, Cumin, Garlic, Ginger, Turmeric, Mustard Powder, Tomato puree, Salt and Pepper.

Stir in all of the vegetable stock and milk , add the lentils, cover with a lid and allow to simmer for 15 minutes or until the lentils are cooked.

Place straight into the blender/food processor and puree until soft and creamy. If the mixture appears a little too thick add a bit of boiling water and puree again.

Ladle into bowls and garnish with chopped fresh parsley.
Notes
*Slimming World Syns and Weight Watchers Points are all approximate and estimated by the fatgirlskinny.net team. They have not been verified by an official source.
Have you created this recipe?
Please let me know how it turned out! Leave a comment below or share a photo on Instagram tagging me at @fatgirlskinny__ and the hashtag #fatgirlskinny.